It is not possible to note some of the details at once, especially while we travel and do other essential activities. In such a scenario, it is helpful to take a screenshot and record a screen that helps to keep the essential information recorded. If you are also searching for such software, it is good to go with an iFun screen recorder.
This free and easy-to-use software enables easy screen recording, video editing, and screen capture. The best part of the iFun screen recorder is that it supports recording high-quality video for a full screen, a window, or any selected one. Using it, users are able to record the screen with audio and video of their webcam.
Moreover, they can edit the recorded videos and share them with their friends. If they want to record work meetings, it is good to go for an iFun screen recorder free of cost. In this post, we will briefly discuss the iFun features and cost. Without wasting your time, let's take a look at this post.
An Overview of iFun Screen Recorder
iFun screen recorder is free to use software from IOBit. It has a number of options to choose your preferences. The best part of the software is that it allows the choice of the whole screen or a particular region or window to record.
On the other hand, it is easy to set up and configure. In order to use this software, you don't have to pay any charges as it is free of cost.
Market Size of Screen Recorder Software
The global screen recorder software is expected to grow at a CAGR of 10% by 2026. You know that the market growth can be increased. The demand for such software is high for video content creation, e-learning, remote work, and tutorial creation. So, there are high chances that the market size of screen recorder software will increase to a hundred million dollars worldwide, and it continues to expand.
However, the market sizes can change over time because of various factors, such as industry trends, technological advancements, and customer demand. It means the future of screen recorder software is bright.
As a result, many agencies are searching for a software development company that helps them to build a functional app like iFun screen recorder. Moreover, a leading mobile app development firm ensures customer satisfaction and provides the best solutions per clients' requirements.
How Screen Recorders Help to Make Money?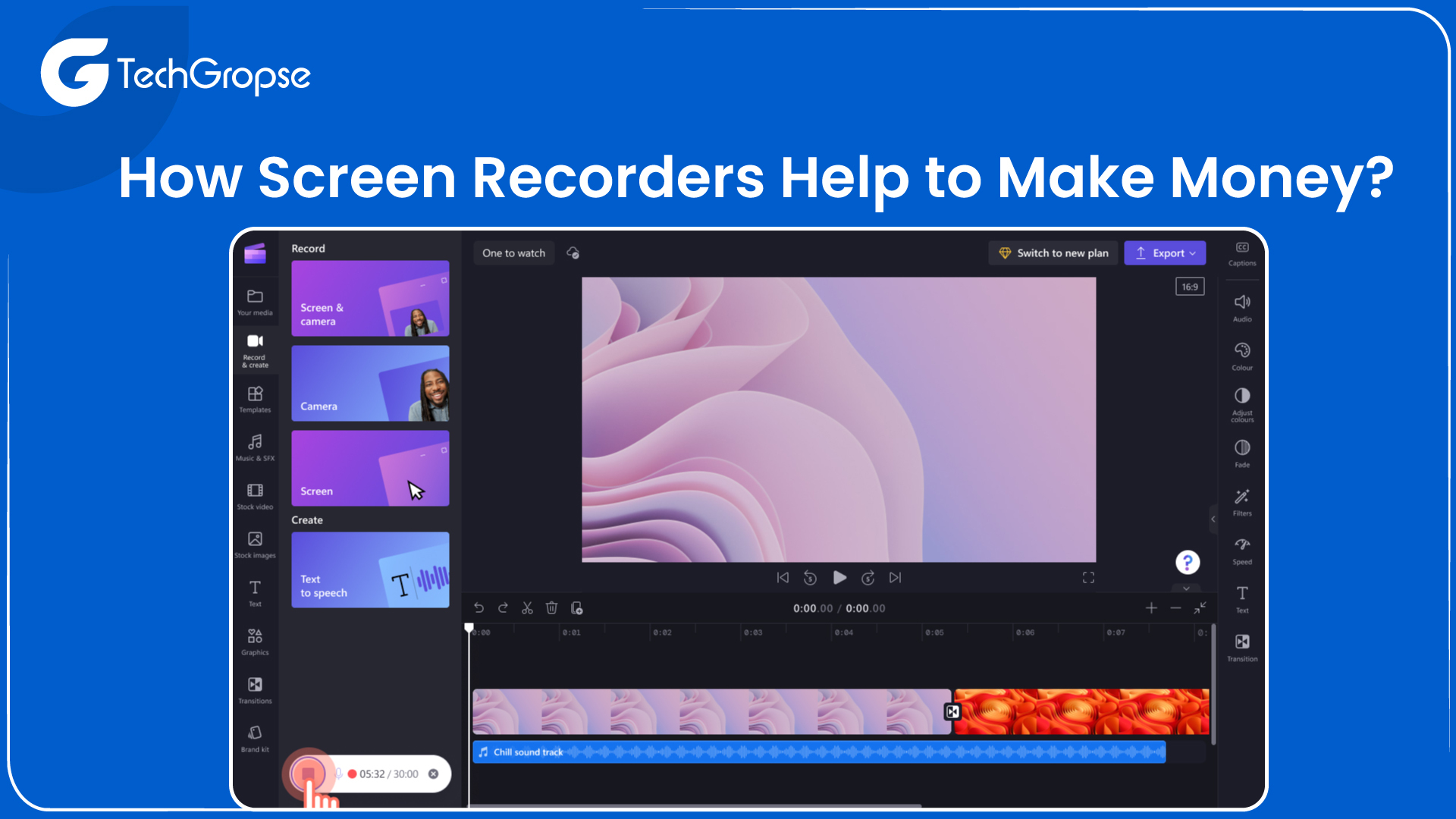 With the help of screen recorder software, it is easy to record screens and edit them as per their requirement. On the other hand, screen recorders can be useful software to make money in several ways:
1. Content Creation
The iFun screen recorder crack version will allow users to capture the screen activities that help them create high-quality video content for their business. With the help of this tool, it is easier to create tutorials, video games, demonstrations, or walkthroughs for various software and online platforms.
And then, they can share valuable and engaging content on platforms such as YouTube or Twitter to attract a large audience. To make money, you can also build your own recorder software. However, doing this job is not easy, so you need to seek the help of an AI development company that will assist you in every possible way.
2. Online Courses
Using software like iFun screen recorder, it is easy to create online courses or educational content. Undoubtedly, many people are willing to pay for courses that teach them specific skills or offer valuable knowledge. Using a screen recorder to record lectures, presentations, or tutorials, users can package their expertise and sell it through online course platforms or their websites.
Selling it as a course, they can easily earn money and profit. Therefore, it is good to use screen recorder software. To make a profit, you can also build your own software by seeking the help of a dedicated team of developers.
3. Remote Work and Freelancing
iFun screen recorder is helpful for freelancers or remote workers who offer services such as virtual assistance, consulting, or software training, by recording screens while performing tasks, providing instructions for clients, or demonstrating procedures. Screen recording makes it easier to serve as a valuable resource for clients and can be charged as part of their service package.
4. Product Demonstrations and Reviews
Companies often pay influencers or content creators to review and promote their services or products. Users can use screen recorders to record themselves using and reviewing products, highlighting their functionalities and advantages.
The recorded screen can be effective for mobile, software, or online platforms. They also can monetize the reviews via sponsored content, earning a commission for each sale generated through referral or affiliate marketing.
5. Bug Reporting and User Testing
There is no doubt that several agencies or developers provide rewards or bounties to individuals who find bugs or offer feedback on their software or website. With the help of a screen recorder, it is easier to show the errors you encounter while using a product and earn money or rewards.
Features of iFun Screen Recorder Must Have
We all know that screen recording software lets users capture and record their activities on their mobile and computer screens. It is useful software for creating demonstrations, tutorials, gameplay videos, and many more. Below we list some features a screen recorder should have:
The software should have a screen capture feature that is able to capture the entire screen or a specific region of the screen according to user preferences. So you have to include this feature while building software like an iFun screen recorder.
In order to make the development task more efficient and easier, you can seek the help of dedicated developers as they have years of experience and good knowledge in this field.
This feature allows recording audio from various sources such as microphones, system sound, or both simultaneously. This functionality enables users to add narration or commentary to their screen recordings.
To include this feature in your app, you need to seek the help of a mobile app development company with a team of dedicated developers proficient in building functional and easy-to-use software.
With this feature's help, users can customize their video settings, such as frame rate, resolutions, and encoding options. This amazing feature permits them to optimize the video quality and file size based on their requirements.
Annotation and Editing Tools
iFun screen recorder software includes tools to annotate or mark the screen while recording. These tools may include arrows, text boxes, shapes, and highlighting options. In addition, some software offers basic video editing features to merge, cut or add a caption to the recorded footage. When a user uses an iFun screen recorder, they will be able to edit the video.
This feature offers an option to record webcam footage alongside the screen recording. This is why it is necessary to include this feature in your app. It is particularly useful for creating video tutorials or vlogs where the presenter wants to appear on-screen.
Henceforth, when deciding to build software like iFun, make sure that the app includes this functionality. In order to make sure that the app should have this feature, you can contact dedicated developers who ensure the software is equipped with rich features.
You have to include a scheduler or timer feature which allows users to set specific start and stop times for their recordings. This can be handy for capturing specific events or automating recurring screen recordings. Henceforth, you have to add this feature to your software.
To make the procedure easier and more convenient, you can contact a dedicated team of developers who are well-versed in doing their job.
Output Formats and Sharing Options
This is the necessary feature an iFun screen recorder should have. It supports various output formats, such as AVI, MP4, or GIF, to ensure compatibility with different platforms and devices. Furthermore, it also provides options to directly share the recorded videos on social media platforms or video hosting sites.
In order to make sure smooth recording without impacting system performance, screen recorders should have this amazing feature. It will make sure that the software ensures system performance. Henceforth, you must include this functionality in your software to make it more attractive.
Cost to Build a Screen Recorder Like iFun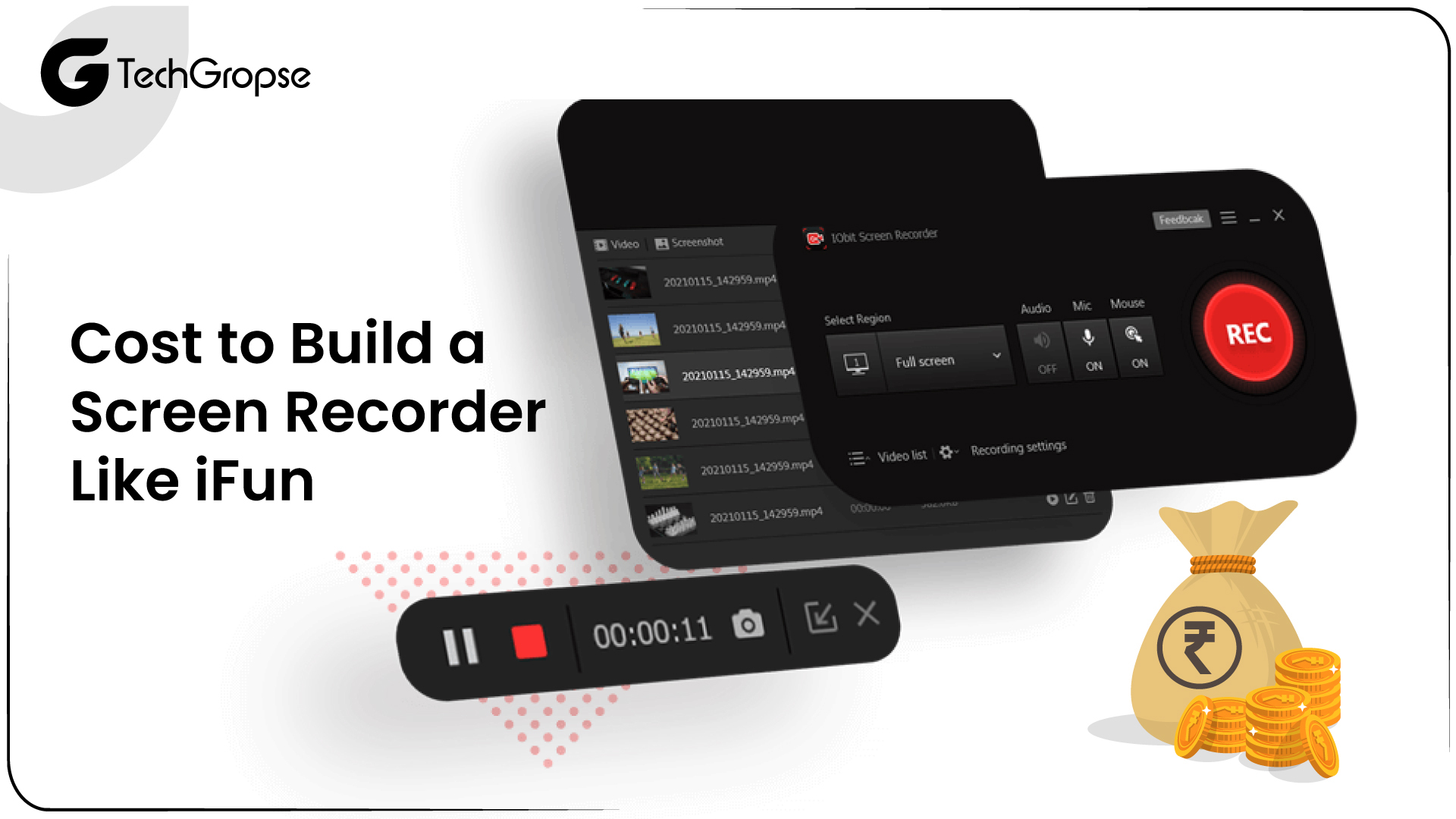 The cost to build a software like iFun screen recorder depends on various factors, such as the features and functionalities you want to include, the platform you want to support, the complexity of the software, and the development resources you have access to. The location of the developers also decides the cost of building a screen recorder software. For your help, we mentioned a list below that will give you an idea of how much you have to spend on the basis of different locations of developers.
| | |
| --- | --- |
| Location | Hourly Cost to Build Screen Recorder Software |
| USA | $40-$120 Per Hour |
| UAE | $35-$100 Per Hour |
| Europe | $45-$90 Per Hour |
| India | $20-$50 Per Hour |
Factors That Affect the iFun Screen Recorder Software Development Cost
When it comes to building screen recorder software, several factors can impact the development cost. Here are some of the factors that can affect the cost:
Platform and Operating System
The choice of platform and operating system affect the overall cost. Undoubtedly, different operating systems have varying APIs and frameworks that can impact the development cost. On the basis of a platform, you have to spend money.
Project complexity is key in deciding the cost of building an iFun screen recorder software. If there is less complexity, you have to pay less. In the case of high complexity, you have to pay lots of money that can make a hole in your pocket.
Features play an important role in deciding the success of a project. If you include the basic features of your software, there is no doubt that you have to pay less. On the other hand, you have to pay more money while including advanced and rich features.
Conclusion
The demand for screen recorder software is higher for video content creation and other tasks. However, building functional software is challenging as it requires many aspects, such as features, functionality, and many more.
If you also want to build software like iFun screen recorder, you need to read out the above-listed information that helps you determine which features you have to include in your software and the cost that helps you set a budget for your project.
FAQs
1. What are the Benefits of Screen Recorder Software?
Screen Recorder allows you to record screen activity and audio narration to create instructional videos, tutorials, or demonstrations. This is especially useful for sharing software training, online courses, or step-by-step instructions.
2. How Much Does it Cost to Build a Screen Recorder Software?
Screen recording software development costs vary depending on several factors, such as feature complexity, platform compatibility, development resources, and development approach.
3. How Much Time Does It Take to Build a Screen Recorder Software?
Developing a working and reliable screen recording software usually involves several phases: planning, design, development, testing, and deployment. Developing a simple screen recording software with standard features can take weeks or months. This period includes capturing screens, recording audio, saving recordings, and providing important settings such as file format options and recording quality.
4. How Does Screen Recorder App Help Business?
Screen recording apps allow companies to create video tutorials and training materials. This is especially useful for remote teams and onboarding new employees. Instead of conducting lengthy face-to-face training sessions, companies can record screens while demonstrating various processes, software usage, or workflows. These records can be shared with employees so they can study at their own pace and refer to the material when needed.