Digital marketing has become a significant element of every organization's user engagement strategy. It helps small to large companies indulge in brand awareness among its audience and make way for leaders to understand the behavioral patterns of their customers, what they like more or less, and what type of content can help them boost their audience.
There are several ways in the corporate world through which an organization can begin its journey in digital marketing. Organizations can analyze the insights of their growth on Social Media platforms or other platforms where they are marketing their products, services, or themselves digitally. These insights help organizations amend their strategies to grow better and learn from the process's loopholes.
Digital marketing can help you know what kind of services your audience is interested in, what is making your competitors get ahead of you, and what you can do to engage more users to your business. You do not need to put more effort, but smartness to learn from the insights and a slight amount of money to avail a few paid campaigns to boost the digital marketing strategy.
Digital marketing provides organizations with several ways to interact with their customers. If the content is good, you are adopting the right strategy and investing adequate resources in time and money. There are several assets a smart organization needs to focus on while planning its digital marketing strategies such as search, social media, and email marketing.
Alongside this, the organization should have other significant components like SEO, SEM, and analytical studies that create the structure of its digital marketing strategy as dynamic content for email automation, retargeting skyscraper content for organic search, and website personalization.
10 Reasons Why You Need Digital Marketing
If you are wondering 'How Has Digital Marketing Helped the Corporate World to Grow,' here is your answer. In recent years, businesses have experienced a dramatic transformation in marketing strategies. The main reason for this transformation is said to be the advent of more technological resources. As the consumption of content on online platforms grows, the importance of digital marketing in the corporate world increases.
Every business wants to create their presence on online platforms using digital marketing elements like SEO, SEM, and others. Increasing utilization has helped both companies and their customers. Customers have an easy way to ask their service provider questions publicly or personally by messaging them directly.
Here are a few ways that would help you understand how digital marketing is playing a significant role in the corporate world;
1. More Alternatives for Creating Successful Business Empire
Digital marketing has helped small-scale organizations or startups market their products and services in the best way possible. They can use several tools and techniques like SEO, SMO, SEM, and others to provide their businesses with a unique identity over the internet. A large section of the users is looking to avail of the products or services they provide. The best thing about digital marketing is that it is more effortless and affordable than any other way to market your business.
2. Best Possibilities of Success for Small-Scale Businesses
For any small-scale business, budget and strategic planning are two significant factors that they consider while taking any decision. To market their products and services, they always want to ensure that these two factors are complied with successfully. They want to opt for the best marketing strategies conforming to their budget requirements and business objectives in the best way possible. Before the advent of digital marketing, it was a crucial task to market your products and services. There was no widespread access to the internet; no one was looking for available services through online mediums. It was hectic, time-consuming, and costlier.
3. Increased Rate of Conversion
Not only digital marketing has widened the marketing options, but it has also improvised the loopholes and rate of conversion. It has empowered marketing with more favorable outcomes. Companies indulging in digital marketing can always see the analytics platforms' insights to analyze their conversion rates and other significant parameters. Whether it is SEO, SMO, SEM, social media marketing, or email marketing, digital companies can analyze the topical insights anytime just by integrating their websites or social media pages to the analytical tools.
4. Better Your Brand Identity
Sustainable brand identity helped companies to become recognizable service providers in their respective industries. In the upcoming years, online presence over the internet will characterize any company's brand identity. A few people wrongly comprehend that brand identity is not a term that came into existence after the advent of digital marketing. However, it has become in talks because of being the ultimate objective of any business.
5. Know the Issues Faced by Your Customers
Customer experience plays the most significant role in any small-scale or established business's growth. Digital marketing has helped organizations with an effective way of interacting with customers. Customers can reach out to their customers over social media platforms or other platforms on what they are available. Companies can extract complete information about a user's issue and resolve it faster. The need for online presence by businesses has also helped customers as their service providers have to become more responsive to their queries and problems.
6. Gain More User Engagement
What if you put the best of your marketing efforts and do not get a valid response from the audience? If you put in the best of your efforts, you may expect dramatic results. Unlike conventional marketing techniques, digital marketing provides companies a widened outreach to a big audience. With the increasing number of mobile users, digital marketing is becoming more impactful.
7. Gain Customer Credibility
If your customers are watching your proactiveness on several platforms, you can eventually become notable in their opinion. Regular activity on social media helps you gain significant benefits of Digital Marketing. Your responsiveness to the audience can enhance your credibility among the audience dramatically. Digital marketing and smart strategies can lead to creating a positive and favorable identity among the customers of your products and services.
8. Indulge In an Increased ROI
Digital marketing is the most viable marketing technique for helping businesses gain the best return on investment (ROI). Smart investments in a digital marketing company can help small-scale businesses to grow far better than they expected. To analyze their performances in terms of ROI and their website's role in empowering it, they can use several web analytics tools and gain sophisticated results.
9. Earn Large Revenues
Concluding what we said in the previous section, digital marketing also helps companies earn high revenues. The more their ROI is, the more the revenues they can earn. IPSOS Hong Kong study shows that digital marketing has helped organizations expand their revenues by 2.8 times.
10. More Precise & Analytical
For any organization, online marketing is important for everywhere to analyze their efforts in any particular process. Digital marketing allows organizations to learn every single insight related to their performance on online platforms. They can improvise their strategies by learning from the loopholes detected through the analytical tools. They can launch new campaigns to boost their digital marketing strategy.
What Does Statistics Say On Digital Marketing?
Companies are integrating digital marketing to the core of their In this section, you will go through some facts indicating the importance of digital marketing in the corporate world. It will also help you understand why organizations focus on digital marketing this much to retain high customer engagement.
Let's have a look at some of the most popular digital marketing insights;
1. Global and Country Internet Usage Breakdown
The International Telecoms Union (ITU) in Geneva prepared a report that shows the growth of internet usage through the years.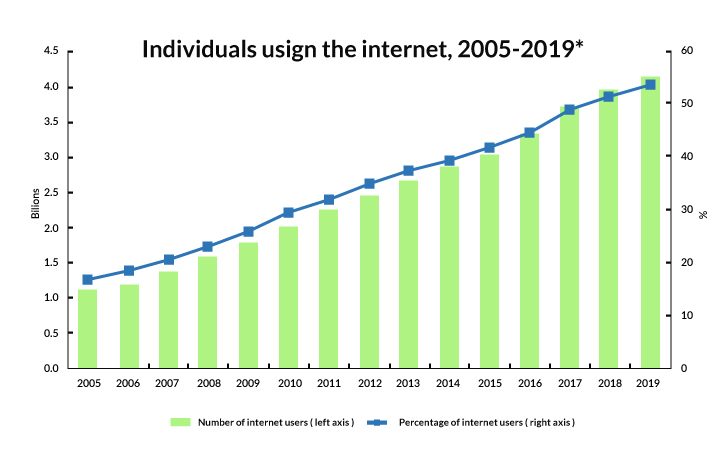 2. International Use of Social Media Sites & Resources
As per the Global Web Index prepared by a collaborative study of Hootsuite and We Are Social, Facebook was the social media platform with the most active users.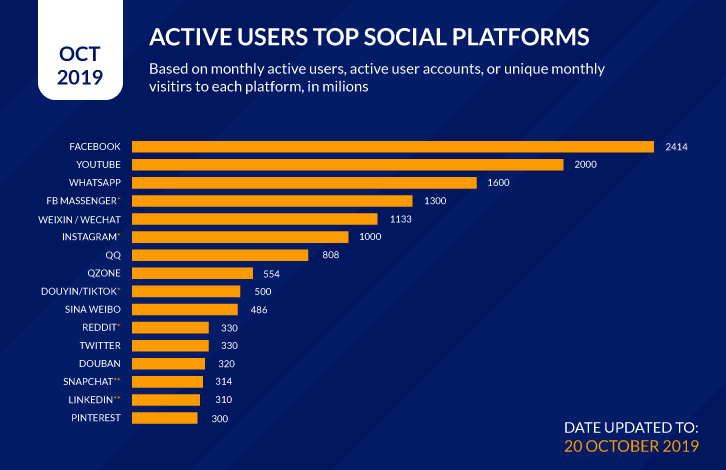 3. European Union Digital Marketing Statistics
European Union did a study on utilizing digital technology for marketing by the companies in the European continent. Eurostat, the statistics website of the European Union, released these insights.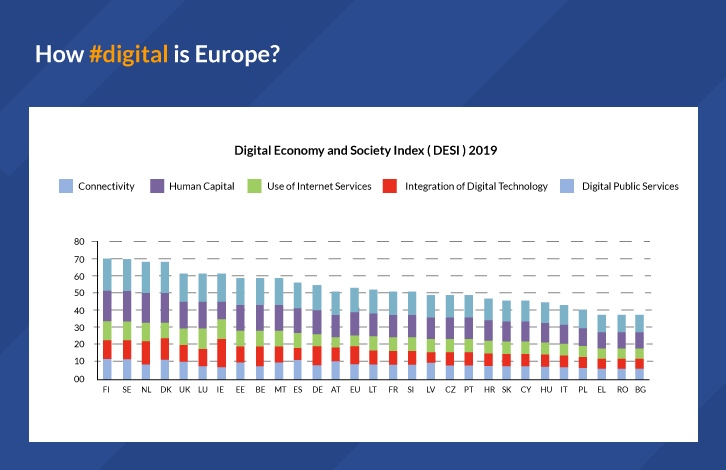 4. Comparison of Traditional and Digital Marketing in the US
A leading market analytical website based in the US, MarketingCharts released insights related to utilizing different resources by the companies in the US to market or advertise their products and services. It will help you understand why digital marketing is important in 2020.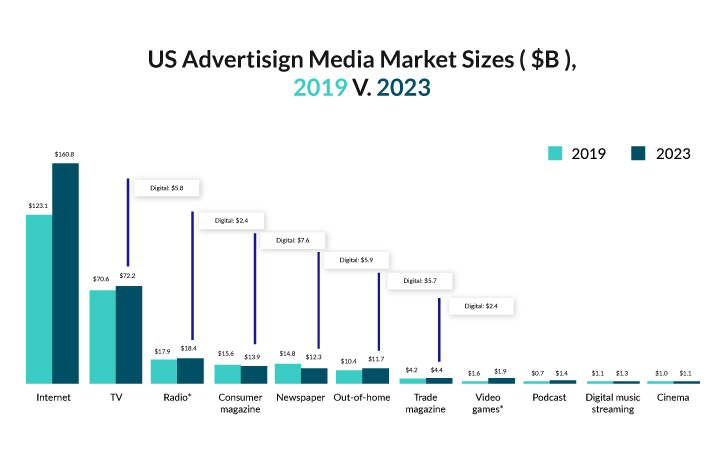 Conclusion
This writeup would help you understand an integrated role of digital marketing in the foundation of the modern-age corporate world. Digital marketing has empowered organizations to indulge in uniqueness in the businesses helping them to grow faster.
It can be the best approach to hire a digital marketing company to handle your digital marketing campaigns. The organizations competing with each other are empowering the role of the internet in business development. This approach has also led to the inclusion of several transformative modules creating a significant impact of Digital Marketing trends on the customer's lives in the 21st century.