On Tuesday, the Reserve Bank of India launched a digital rupee on 1 December 2022. The digital currency would be in the form of digital tokens that represent legal tender.
You know that digital currency can provide access to save money for payment and settlement. In simple terms, you can use digital currency as physical money to buy products and services.
The e-rupee is usually a digital token that is known for representing legal tender. The best thing about this currency is that it can be carried in a  digital wallet on mobile phones and other devices.
However, it is only for those digital wallets that are offered by banks participating in RBI's digital rupee programme that can transact in digital currency.
How Will Digital Rupee Work?
Generally, digital currency is a digital token that makes the transaction secure. This will be issued in the same denominations as coins and paper currency and distributed through intermediaries.
It works similarly to physical rupees, and the users can transfer digital currency through a digital wallet offered by the bank and stored on mobile phones and devices.
The digital transaction can be both person-to-person and person-to-merchant. In order to make payments to the merchants, you can use QR codes.
The best part of digital currency is that it is more secure compared to physical cash. No doubt that there are high chances that you may lose physical rupees, which is not possible with digital currency.
Therefore, the demand for e-rupee is becoming high worldwide. In today's time, many countries have their own currency. So, the RBI also decided to launch a digital rupee.
Key Advantages of Digital Currency
According to experts, the digital rupee will increase efficiency and transparency. This will be based on blockchain technology, allowing for real-time tracking and ledger maintenance.
Moreover, the digital currency will significantly reduce the transaction cost and speed up account settlements as the transaction can be entered into the ledgeDashboardr in real-time.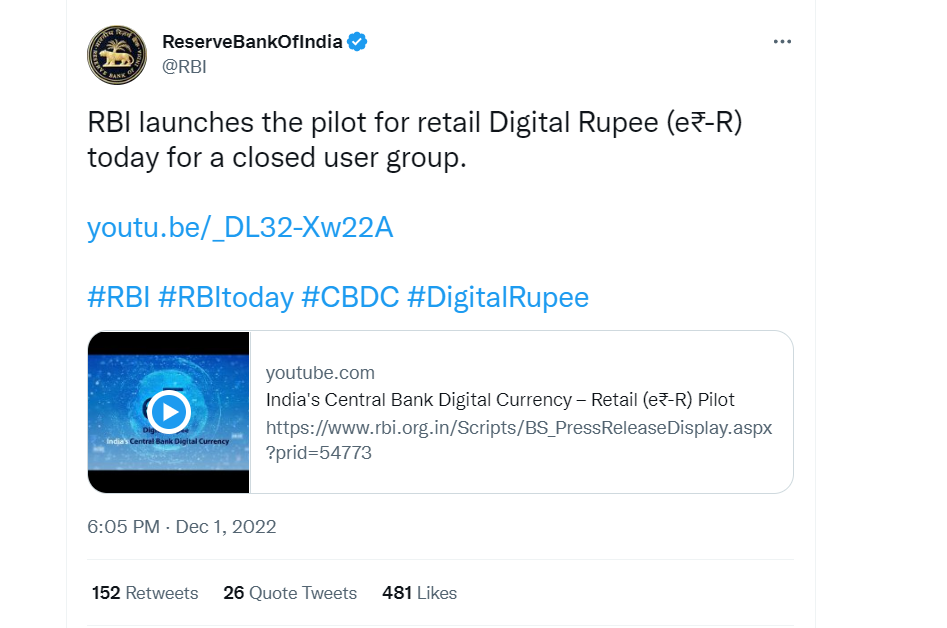 On the other hand, this will also add efficiency to the settlement system, boost innovation in the cross-border payment space, and offer the public the uses that any private digital currency can provide without risk.
We all are aware that the Reserve Bank of India has repeatedly flagged concerns over terror financing, fraud, money laundering, tax evasion, etc., with private cryptocurrencies such as Ether and Bitcoin.
The main motive for launching the digital rupee is to prevent fraud, money laundering and terror financing. Therefore, RBI decided to launch a digital rupee that helps users to make transactions secure and safe.
Conclusion
No doubt that the digital rupee makes the transaction secure and safe. Therefore, it is an excellent opportunity to decrease the chances of fraud and money laundering.
However, it is required to have an e-wallet to store digital assets. Henceforth, companies are showing interest in building digital currencies.
However, it takes a lot of work to build an e-wallet app. In such a case, getting in touch with an e-wallet app development company with years of expertise in building a digital wallet using the latest technologies and trends is good.