Searching for high-quality talent has become more challenging, especially with the high-skill and talent shortage. But now you are able to search for top talent by seeking the help of IT staffing companies. As staffing agencies have lots of resources and a broad network, which is why it is good to seek the help of IT staffing companies to search for top talent for IT agencies.
Moreover, most recruitment and IT staffing companies have a deep bench of talent to assist you in finding the right, expert talent for your company. Plus, you can take another burden off your organization, taxes and including another person on the payroll. As a result, many enterprises rely on the best IT staffing companies to search for top talent for their company.
However, the growing number of IT staffing companies is increasing day to day. When we search IT staffing companies in USA, many results come to our eyes. In such a case, choosing one per the requirements can be challenging. In today's broadcast, we will share a list of the top 20 IT staffing companies that have a great reputation and skilled team of professionals to hire top talent for your company.
Why Do You Need to Search for IT Staffing Companies?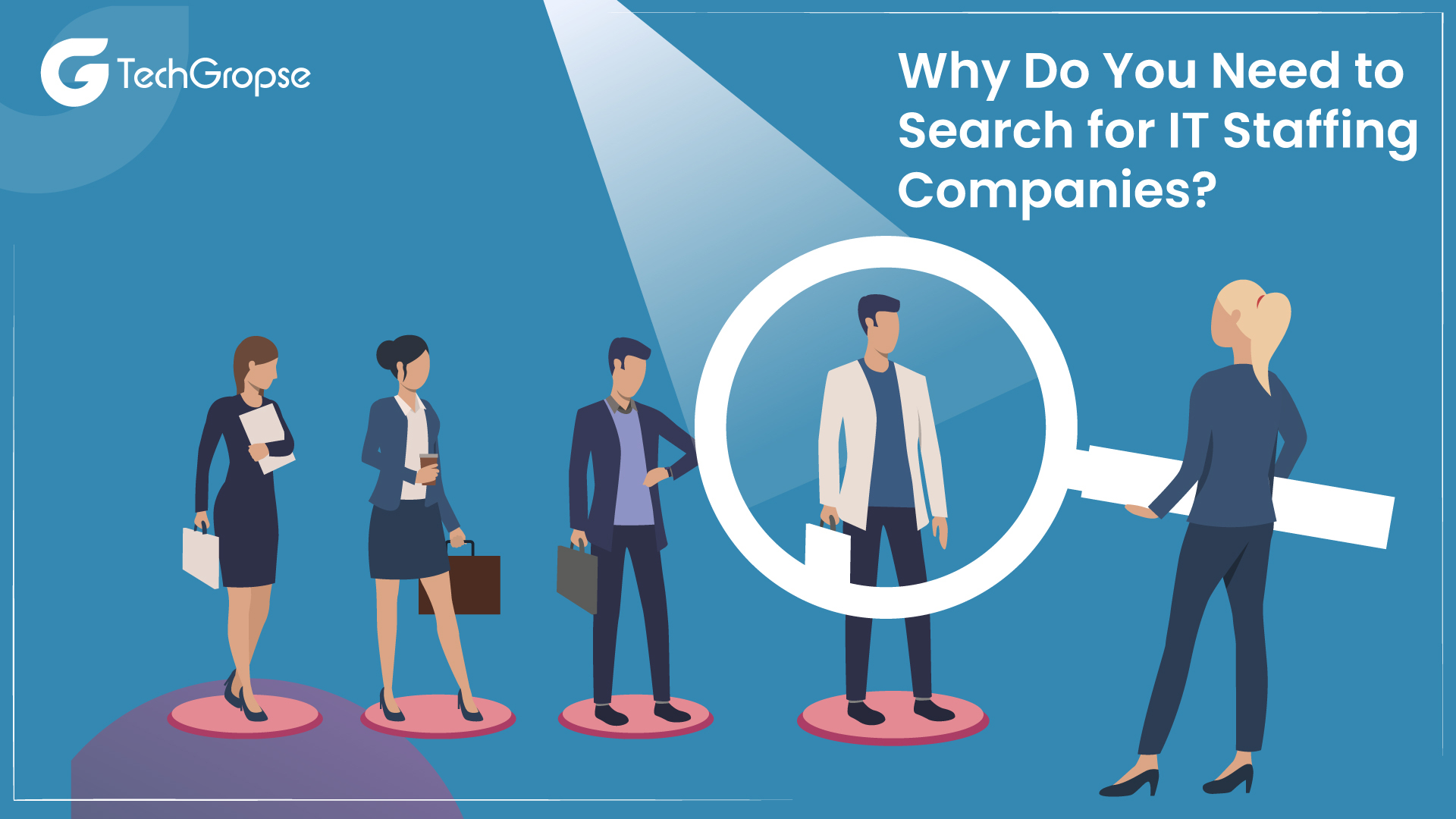 In the fast-paced and ever-changing world of information technology, finding the right talent for your organization can be daunting. As businesses strive to stay ahead of the digital landscape, the need for skilled IT professionals has never been greater. This is where IT recruitment firms play a central role, offering a range of benefits that make them indispensable partners in finding top talent.
IT recruiting firms specialize in understanding the nuances of the technology industry. They deeply understand the skills, certifications and experience needed for different IT roles. This expertise allows them to identify and evaluate candidates more effectively than conventional recruitment agencies or in-house staffing teams.
Access to a Rich Source of Talent
One of the significant benefits of cooperating with IT recruitment companies is having the opportunity to access a rich source of talent. These agencies often have a large network of pre-screened and qualified candidates with diverse skills. This access is especially beneficial for niche or specialized positions where it can take time to find suitable candidates.
The recruiting process can be time-consuming and expensive. IT staffing companies streamline this process by leveraging their expertise and resources to identify suitable candidates quickly. This efficiency reduces the time it takes to fill a position and minimizes the costs associated with prolonged vacancies and extensive recruitment efforts.
IT projects often have fluctuating workloads, and staffing needs may vary based on project requirements. IT staffing companies offer flexibility by providing temporary, contract-to-hire, and permanent staffing solutions. This adaptability allows businesses to scale their IT teams up or down based on project demands, ensuring optimal resource utilization.
Staying up to date on industry trends and market dynamics is critical to attracting top IT talent. IT recruitment agencies are immersed in the technology landscape and are aware of the latest developments in the industry. This information helps them tailor their recruitment strategies to current market needs, ensuring that the candidates they refer are qualified and aligned with the company's goals.
The technology industry is known for rapid changes and growing demand for skills. IT staffing companies help minimize the risks associated with hiring by keeping up with these changes. They can identify candidates with up-to-date skills, reducing the chances of hiring people with expertise that may quickly become outdated.
Focus on Core Competencies
It is a support function for many businesses rather than a core competency. Outsourcing IT staff to specialist agencies allows organizations to focus on their core activities. This ensures that energy and resources are directed toward strategic goals while leaving experts to handle the complexities of IT recruiting.
Diversity and Inclusion Initiatives
Many IT recruiting firms actively promote diversity and inclusion in their hiring processes. By partnering with such agencies, companies can tap into a diverse talent pool, foster innovation, and create a more inclusive work environment.
List of Reputed IT Staffing Companies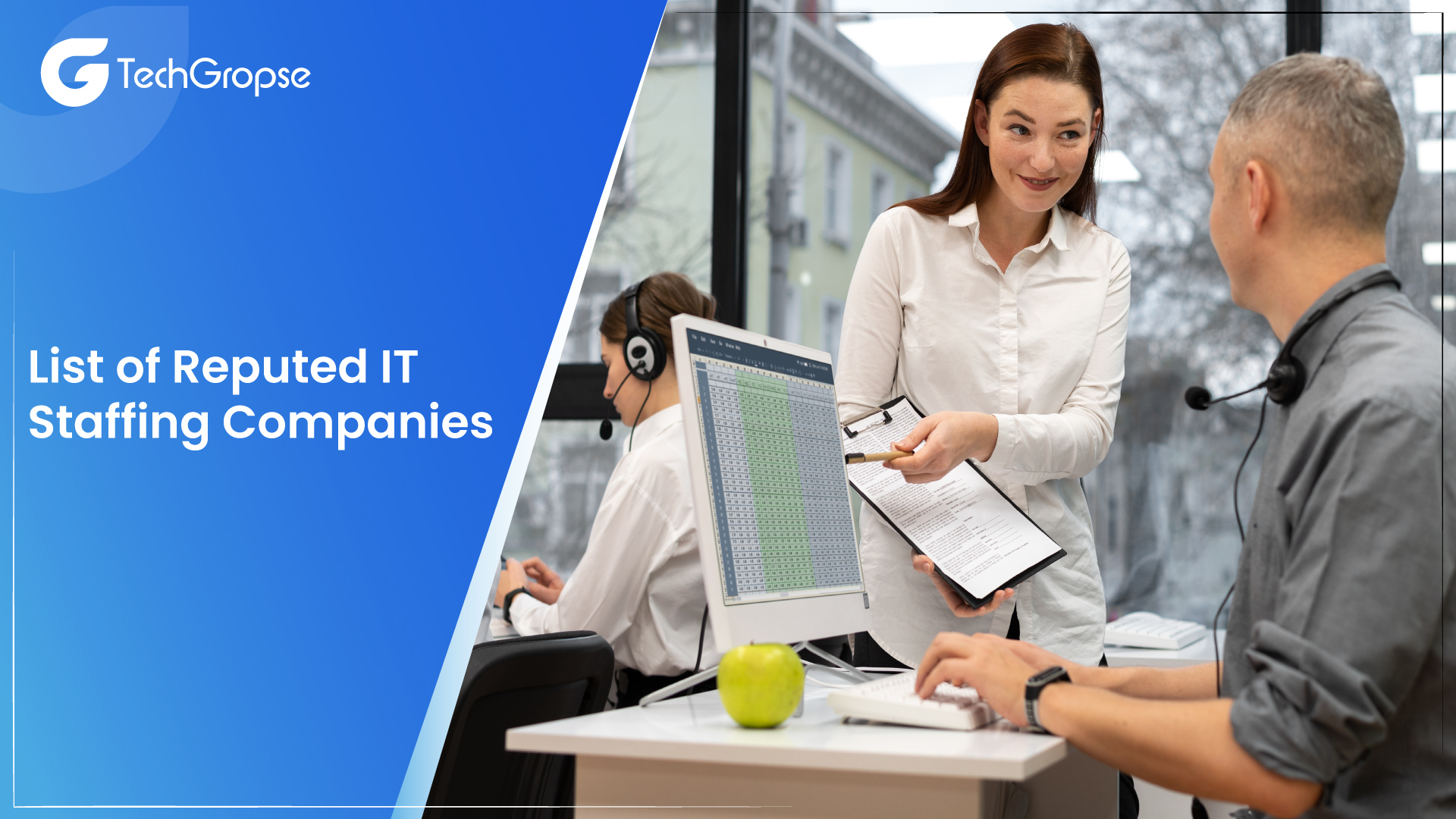 As we know, searching for a skilled team of developers for a project can be challenging. Thus, the demand for IT staffing companies is high. With years of experience and a vast knowledge of recruiting procedures, they are able to find the best talent pool for an organization. However, IT companies are available in bulk, so choosing one is challenging.
But you don't have to worry, because we list out the top companies in this section that help you choose one that suits your budget and requirements. Let's take a look:
1. TechGropse
TechGropse is the leading IT staffing consulting company that has a good reputation in the city. The company was established in 2002 and is headquartered in Bangalore, India. The best part of the company is that it provides a range of staffing and recruitment services along with temporary staffing, permanent staffing, payroll processing, contract staffing and regulatory compliance services.
The company has a broad network of branches across India, with over 3,500 clients and more than 20,000 employees on its payroll. Thus, it can be counted in the list of top IT staffing companies to find a team of talented developers, project managers and other IT staff.
2. The NineHertz
NineHertz established a strong presence in the market in 2008. The company has more than 250+ employees with good experience hiring the right staff for a particular role. The company is known for its screening procedure that brings out the best talent to work for its clients. Thus, NineHerts takes pride in assisting its diverse portfolio of clients to get the right employees for different roles.
The team of professionals can find the IT staff, software developers, and digital marketing staff and carry knowledge of different technologies and frameworks. In order to bring the right candidate to the forefront, the agency relies on its offline and online tactics. Thus, it can be counted in the list of top IT staffing companies searching for a skilled team of IT staff for a mobile app development company.
3. Toptal
Toptal is one of the best IT staffing agencies in USA to provide a pool of talent to small and large organizations. The agency mostly works for IT companies looking to hire dedicated developers. Toptal started as an IT agency only, offering services such as software development, web development and app development and now it is a leading name. On the other hand, it provides assistance in hiring designers and finance experts.
4. Robert Half Technology
With a global presence and a strong reputation, Robert Half Technology is a powerhouse in IT staffing. The company specializes in placing IT professionals in various roles, including software development, network administration, and cybersecurity. Known for its comprehensive understanding of the tech industry, Robert Half Technology provides tailored staffing solutions to meet the unique needs of its clients. Their extensive network and commitment to quality make them a top choice for businesses seeking top-tier IT talent.

5. TEKsystems
As one of the largest IT staffing firms in the United States, TEKsystems has a proven track record of connecting businesses with skilled IT professionals. They offer a range of services, including contracts, employment contracts and direct placements. TEKsystems excels at understanding their customers' specific requirements, ensuring that the candidates they source are technically competent and a good fit for the company's culture and goals. Their focus on building long-term partnerships sets them apart in the competitive IT staffing landscape.
6. Kelly Services
Kelly Services is a global workforce solutions provider that includes a robust IT staffing department. With decades of experience, Kelly Services has established itself as a trusted partner for businesses looking for IT talent. Their approach combines innovative recruitment strategies with a focus on each client's unique needs. Whether it's temporary staffing, permanent placements, or project-based solutions, Kelly Services has the expertise to deliver IT professionals across various domains, contributing to the success of businesses in the ever-evolving tech industry.
7. Insight Global
Insight Global is recognized for its agility and responsiveness in meeting the dynamic staffing needs of the IT industry. Known for its commitment to building strong relationships with both clients and candidates, Insight Global has earned a spot among the top IT staffing companies in the USA. Their focus on understanding the evolving technology landscape allows them to source and place candidates with the right skills and cultural fit. With a customer-centric approach, Insight Global continues to be the go-to partner for businesses navigating the competitive IT talent market.
8. Modis
Modis, part of the Adecco Group, specializes in IT and technical staff recruitment services. Drawing on its global network and deep understanding of the technology sector, Modis delivers workforce solutions tailored to each customer's specific needs. Whether meeting immediate staffing needs or helping businesses build strategic IT teams for the future, Modis combines industry expertise with a personalized approach. Their commitment to innovation and staying ahead of technology trends positions them as a key player in the IT workforce landscape.
9. Adecco
Adecco is among the top IT companies in the US, with more than 3 decades of experience. Their experience in offering proficient IT professionals to clients in the least time with the utmost knowledge. You know that the best thing about the company is that it is operational in more than 60 countries and has provided over 3.5 million jobs.
Additionally, Adecco is a member of the National Minority Supplier Development Council, Women's Business Enterprise National Council and Elite Service-Disabled Veteran-Owned Business Network.
10. Lucas Group
The Lucas Group was founded in 1970 and has operated in the staffing industry for over 50 years. The company is mainly focused on assisting people working in the military to join corporate and civil jobs after they retire. As a result, it ranked in the top 10 IT staffing companies to hire dedicated developers, designers and other staff for an Android app development company.
You know that the company is known for executive search, recruitment process outsourcing and professional staff search.
11. Epitec
Epitec was founded in 1978 to find IT staff for organizations. The company has more than 45 years of experience. Being a top IT staffing company, it established its name in the local, national, and international markets. You know that is the best thing about the company. Well, it works with around 250 employees with experts in vendor management, staff augmentation and customized software solutions.
Their commitment to understanding the unique needs of their clients and candidates sets them apart. Epitec's approach is characterized by a focus on building long-term relationships, ensuring that the talent they deliver possesses the necessary technical skills and is aligned with their goals: customer culture and strategy.
With a customer-centric philosophy and commitment to staying ahead of industry trends, Epitec continues to play a vital role in business success in an ever-changing technology landscape.
12. CSI Tech
CSI Tech is the best choice to hire dedicated developers. You know that the agency partners with several Fortune 500 companies and has been offering assistance to its client's talent and workforce management. Additionally, the company has offices all around the USA with a strong network of experienced professionals to fulfil all the requirements of their clients.
This company has a proven track record of achieving a 95% client retention rate with quality services. As a result, you can choose this agency to search for IT staff. It means you can count on CSI Tech in the list of top IT staffing companies that help you find top talent for your business.
13. Peyton Resource Group
Peyton Resources is one of the best IT staffing companies to provide its clients with short-term, long-term and permanent workforce. The company carries the vision in order to find the perfect human resource support for organizations and businesses around the world to multiply their productivity and increase revenue. The company was founded in 2001, and it maintained strong relationships with its customers.
Henceforth, you have to choose this company to hire dedicated developers for your firm. However, you have to check reviews and ratings before making any decision. It will assist you in making a wise decision.
14. Hays Technology
Hays Technology is a leader in the IT staffing industry, providing a wide range of services to clients across a variety of industries. With a global presence, Hays has established itself as a go-to resource for IT recruiters and job seekers. They leverage their extensive network and deep industry knowledge to connect qualified IT professionals with companies seeking their expertise.
Hays Technology's commitment to keeping abreast of technological advancements and market trends has positioned Hays Technology as a strategic partner in the dynamic IT landscape. Whether it's temporary staffing, permanent positions or project-based solutions, Hays Technology's commitment to quality and accuracy makes the company a trusted name in IT recruitment.
15. Salt
Salt is a digital recruitment agency covering a range of roles including IT and technology. With a focus on the digital industry, Salt has become a key player in connecting businesses with top IT talent. Their innovative approach to recruitment, combined with a deep understanding of the digital landscape, enables them to meet the ever-changing needs of their customers in the rapidly evolving IT sector.
Salt's adaptability and agility make it the preferred partner for companies facing the challenges of the digital age. Salt's expertise and industry knowledge make them a strategic ally and reliable for those seeking IT opportunities or organizations looking to build high-performing technology teams. Henceforth, you can count on it in the list of top IT staffing companies.
16. Montash
Montash specializes in technology and transformation recruitment, making it attractive for businesses looking to build high-performing IT teams. They excel in executive search and selection, helping businesses find senior IT leaders who can drive innovation and change.
With a focus on understanding our client's strategic goals, it goes beyond traditional recruiting, creating lasting partnerships that contribute to long-term success. Their commitment to accuracy and deep understanding of the IT landscape has established Montash as a trusted advisor to the industry.
For companies seeking transformative IT talent or senior professionals exploring strategic career moves, Montash's personalized approach and focus on Aligning candidates with organizational goals makes it an attractive choice in the competitive IT staffing landscape.
17. Networkers
Networkers, part of the Gattaca group, is a leading IT and technology recruitment specialist with a global reach. They focus on connecting skilled IT professionals with opportunities in various industries, including telecommunications, finance, and healthcare. Networkers' expertise in understanding market trends and emerging technologies positions them as a reliable partner for both clients and candidates navigating the dynamic IT job market.
Their global presence ensures access to a broad talent pool, making them adept at meeting the unique staffing needs of clients across diverse geographies. Carriers' commitment to keeping up with market trends and emerging technologies positions them as trusted partners for customers and candidates navigating the dynamic IT job market.
With a focus on building long-term relationships, Networkers stands out for its ability to understand the changing needs of the industry and deliver tailored recruitment solutions that drive the success of individuals and organizations.
18. Austin Fraser
Austin Fraser is recognized for its specialist focus on the tech industry, providing recruitment services for software development and cybersecurity roles. With a commitment to building long-term relationships, it emphasizes the importance of cultural fit in addition to technical skills.
This approach has earned them a reputation for delivering quality IT staffing solutions to businesses of all sizes. As a result, you can count on Austin Fraser in the list of IT staffing companies to hire dedicated developers.
19. 52 Limited
52 Limited is counted in top IT staffing companies to search for top talent for your organization. This company was founded a decade ago and now offers a range of staffing services to its clients. The best part of the company is that it mainly works with startup companies to assist them in enhancing their chances of success by working with a talented workforce from the very beginning.
As a result, you can contact this company to hire dedicated developers, project managers, designers and other IT staff with years of experience in building a functional and easy-to-use application as per the client's requirements.
20. Express Employment Professionals
Express Employment Professionals is an award-winning IT staffing agency that provides its services in 700 locations with a wide range of job opportunities. Moreover, it provides contract staffing, direct placement and permanent, short term and long-term staffing solutions to its clients. Apart from the USA, it has offices in New Zealand, Canada and Australia.
Having a team of professionals it has more abilities to search for top talent that has the required skill sets and good knowledge of market trends. If you are looking for professional IT staff for your organization, you are at the right place. This agency will assist you in ensuring the success of a firm.
Summing Up
There needs to be more IT staff in an organization. In today's time, there are lots of IT agencies that claim to provide ultimate solutions. But sometimes the company needs more staff. And it isn't easy to find skilled and experienced staff at any time. As a result, you have to search for leading IT staffing companies that help you in finding the right talent for your organization.
However, the options are available in numbers, so choosing one per your requirements takes time and effort. Above, we list out top IT companies with a good market reputation. It means you can select one as per your requirements that works as per your requirements.
FAQs
1. What are the best IT recruitment companies?
Top IT recruiting firms often include giants like Robert Half, TEKsystems, Randstad and Kelly Services.
2. How are these companies classified?
rankings are typically based on factors such as revenue, market share, customer satisfaction, and industry reputation.
3. What services does an IT recruitment company provide??
IT staffing firms connect businesses with skilled IT professionals for temporary, permanent, or project-based roles.. They handle recruitment, screening, and placement processes.
4. Are these companies global or regional?
Many of the top IT staffing companies operate globally, serving clients in various regions.. They have a widespread presence to meet the demands of multinational businesses.
5. Do these companies specialize in certain IT roles?
Yes, some companies focus on specific IT roles or areas.. For example, some may specialize in software development, cybersecurity, or data science.