There is no doubt that video content is the future of marketing. Today, people want to read only short content and watch videos. Therefore, many businesses promote their product online and digitally using video editing apps like kineMaster for their advanced features. As a result, the demand for video editing app development services has become high.
Nowadays, 80% of businesses use video content to increase their sales. According to a report, customers use video on social media to help them decide which products to purchase, which is why business models require them to concentrate on satisfying these users' changing wants and boosting brand value.
If you want to create video content, using a video editing app like KineMaster is good. In this post, we will discuss KineMaster's business model, features of KineMaster, benefits, and many more. To get all the details, let's look at this blog.
What is KineMaster?
KineMaster is a popular video editing app for mobile devices. It is compatible with Android and iOS platforms and offers users a wide range of video editing tools and features. This platform allows users to create and edit videos on their smartphones or tablets easily.
The best part of this app is that it provides features such as multiple video and audio layers, adding text and stickers, splitting clips, applying various visual and audio effects, saturation, adjusting colour and many more. Moreover, it supports various video formats and resolutions and high-definition and 4K videos.
You know that it is known for its user-friendly interface that makes it accessible for beginners and more experienced video editors. It offers a timeline-based editing system that allows users to arrange and edit their video clips precisely. It also provides access to a library of additional assets such as transitions, effects and music tracks.
These assets can be used to enhance the visual and auditory elements of the videos. You know that this application is free. However, you must pay subscription charges to unlock additional features and remove watermarks from the edited video. When you choose the premium version of the application, you have access to more advanced tools.
In simple terms, KineMaster is a powerful and convenient video editing app for mobile apps that allows users to create and edit videos on the go. It has gained popularity among content creators, vloggers, and social media enthusiasts who want to produce high-quality videos using smartphones.
If you want to build such an app, it is good to search for a video editing app development company committed to providing you with the ultimate solutions per your requirements.
Benefits of Video Editing App for Business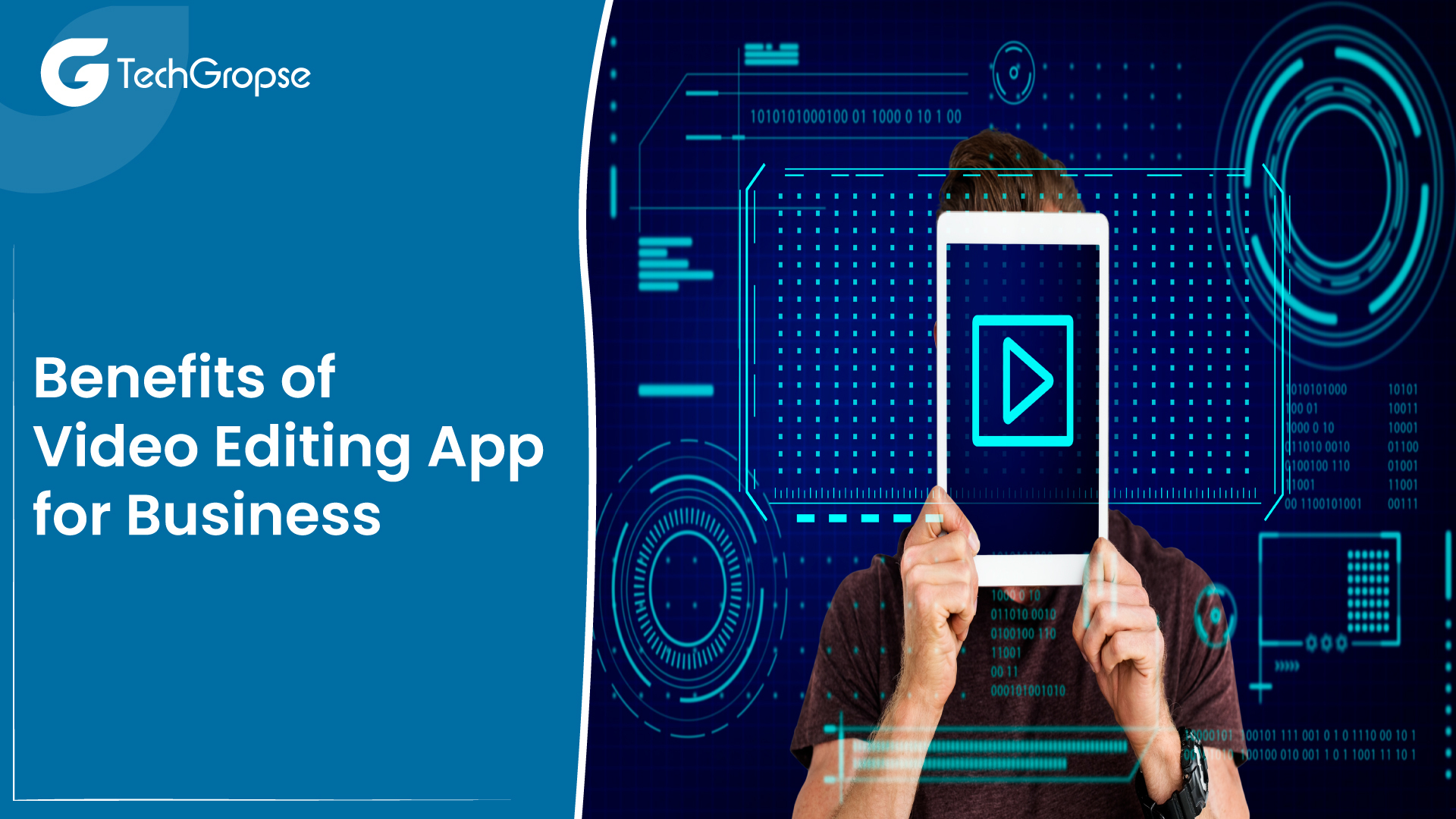 We all know that a video editing app is useful for creating video content for promotion. But you know that such an application brings amazing advantages to businesses, especially in marketing and communication. Here are some key advantages of using video editing applications for business:
Professional Looking Videos
No doubt, video editing applications offer tools and features that permit businesses to build high-quality and professional-looking videos. Moreover, they provide various editing options such as cutting, trimming, merging, adding trans, text overlays and visual effects.
By using these tools, companies can enhance the visual appeal of their videos and make them more attractive and engaging for their target audience. Therefore, video editing app development is becoming more popular today.
Cost-Effective Production 
In the past, video production needed specialized equipment and dedicated professionals, which could be costly for a company, especially for startups. However, video editing apps have democratized the video editing procedure, allowing companies to build videos without requiring expensive tools or hiring professional editors.
This significantly reduces production costs and makes video content accessible to organizations of all sizes. But building your own video editing app is a challenging process. In such a scenario, you have to search for an on-demand app development company committed to providing ultimate solutions per your requirements.
There is no doubt that traditional video production often involves a lengthy shooting, post-production and editing process. With video editing applications, businesses can significantly reduce the time it takes to create and publish videos.
These applications offer intuitive interfaces and streamlined workflows that enable businesses to edit videos instantly and efficiently. This instant turnaround time is particularly beneficial when businesses must respond promptly to market trends or time-sensitive events.
Suppose you want to build your own app like KineMaster. In that case, it is required to seek the help of dedicated developers who are professional and well-versed in creating a functional and easy-to-use app for various businesses.
Customization and Branding 
Video editing applications enable businesses to customize their video according to brand identity and messaging. They provide features such as watermarks, logos, and custom tests, allowing companies to create professional videos that align with their marketing strategy. Consistent branding across videos helps build brand recognition and strengthens the business's identity in the minds of its target audience.
Social Media Optimization
Undoubtedly, video content plays an essential role in social media marketing. The video dating applications provide presets and templates optimized for various social media platforms, making it easier for businesses to create videos that meet the specific needs of each platform.
When you use a video editing app, you will get amazing features such as aspect ratio adjustment, video resizing and subtitle options that ensure that videos are optimized for maximum reach and engagement on social media channels. As a result, the demand for photo editing app development services has become high.
Video editing applications empower businesses to tell compelling stories via their videos. With amazing features such as audio editing, voiceover capabilities, music selection and resonance with their audience, it is easier to build a functional app. Effective storytelling can assist businesses in connecting with their customers on a deeper level, increase brand loyalty and foster engagement.
Analytics and Performance Tracking 
There is no doubt that video editing applications integrate with analytics platforms that allow businesses to track the performance of their videos. They can monitor metrics such as engagement, views and conversion rates, gaining insights into the effectiveness of their video content. By analyzing these metrics, companies can refine their video marketing strategies and optimize future video campaigns for better results.
These are some advantages of video editing apps. Such apps offer cost-effective and accessible solutions to build professional videos. You can easily engage your customers and promote your brand by building engaging videos. It is a good idea to get the help of an editing app.
You can build your own app instead of using a third-party video editing app. For this, you can seek the help of mobile app developers who provide the best services and ensure the project's quality.
Features a Video Editing App Must Have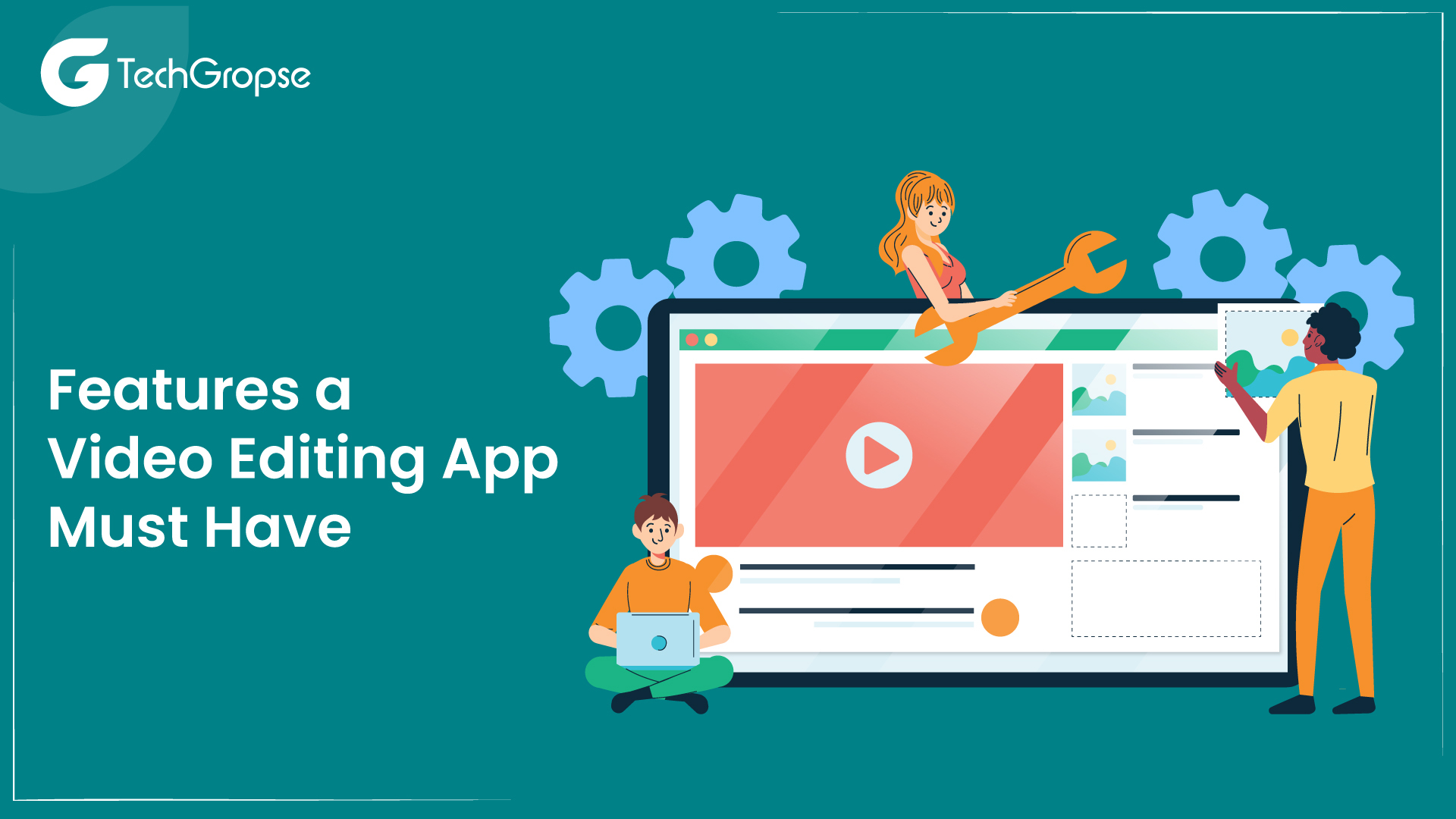 Features help businesses to make it easier to create engaging and professional videos. So, when investing in a video editing app, you must choose features carefully. Features such as real-time recording assist the users in shooting fresh videos and integrating them into the editing procedure. One can even add many audios to make things look more beautiful and interesting.
Trimming/Cutting Segments 
This is an essential feature a video editing app must have. You know that every piece of video app on the market offers you an option to cut clips into smaller chunks. This fantastic feature will let you remove footage you don't want. Moreover, this feature is required to edit longer videos users shoot into short ones and is especially useful if you intend to share online.
Therefore, when deciding to build an app, ensure the application includes this feature. In this task, you can seek the help of professionals experienced in photo editing app development.
Contrast adjustment is another essential feature a video editing app must have. This feature allows the users to adjust the brightness and contrast levels to add visual definition to a scene. While it won't work miracles, a contrast adjuster can save footage you would otherwise have to remove and re-shoot.
Therefore, it is essential to include this feature in your application. In order to make the job easier and more convenient, you can seek the help of a mobile app development company committed to providing you with the ultimate solutions as per your requirements.
Visual and sound effects features should have a video editing app. While you might have played around with the simple filters that come with essential media software, professional video software generally has many HD effects that you can use in high-resolution projects.
Therefore, you need to add this essential feature to the app. However, you must know the KineMaster business model that helps you make wise decisions.
The business presentation is a fantastic feature, so the video editing app should have this feature. You might want to edit or replace any sound you capture when shooting a video. This feature can handle both tasks with ease. On the other hand, you can create your own sound effects if you want to use something other than the ones that came with the program.
However, building an app is a challenging task, so you can seek the help of professionals who will help you build an app like KineMaster. They also make sure that you get quality results on time.
This feature will allow you to sort clips into any order you select. You can import clips from other projects or shoot new footage before adding it to the existing video. Therefore, this feature is an essential part of a video editing app, so while deciding to build a functional app, remember to add it.
Business Model of KineMaster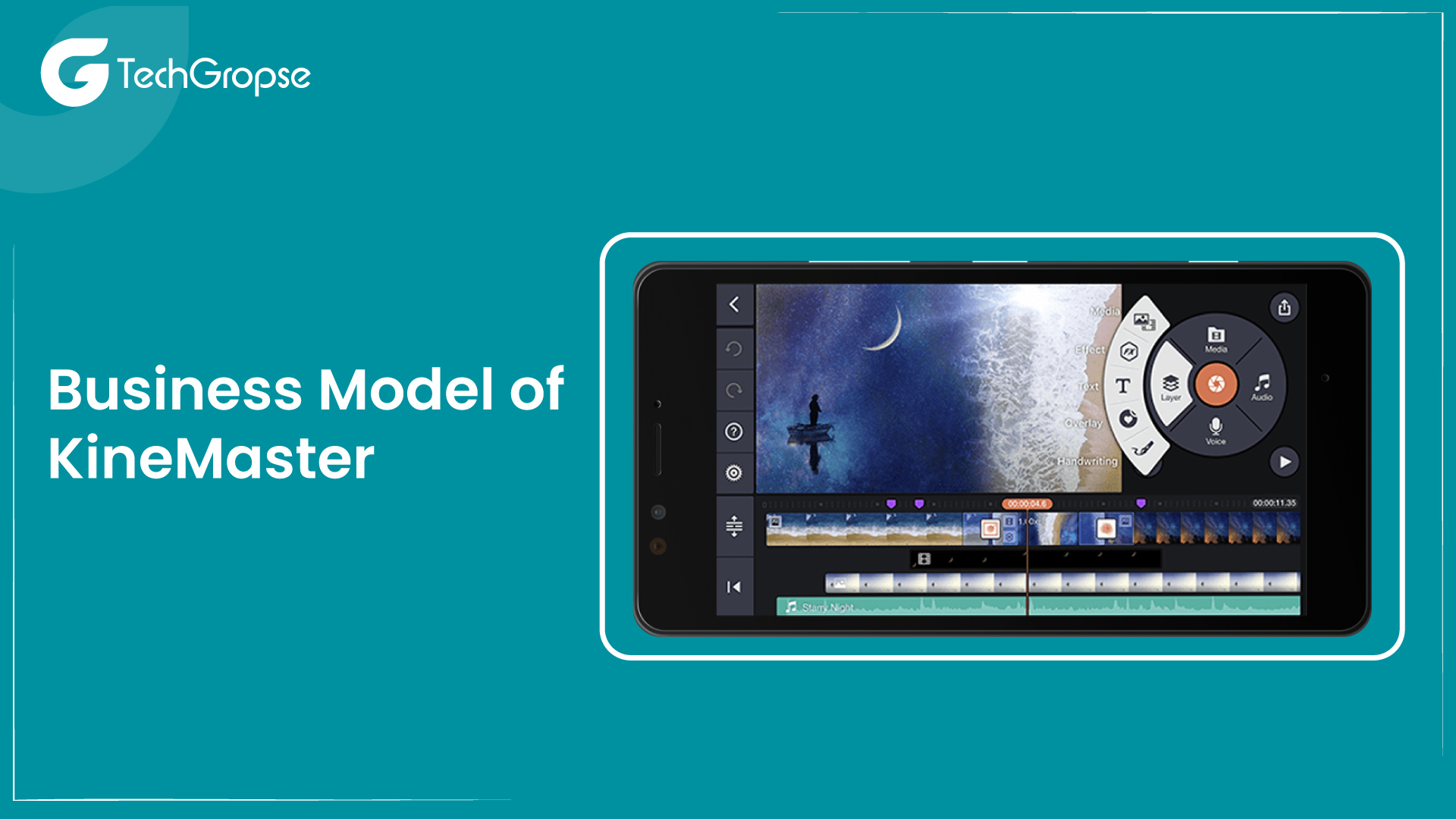 As we all are aware that KineMaster is a popular video editing app that is gaining more popularity in today's time. But when it comes to building an app like KineMaster, you have to check the KineMaster business model that helps you make a wise decision.
Usually, KineMaster operates on a freemium business model, which means that the app is free with certain limitations and provides additional premium features and content through in-app purchases or subscriptions. Here are some aspects of KineMaster's business model:
There is no doubt that KineMaster allows users to download and use the application free of cost. The free version includes basic video editing features but may have limitations such as a watermark on exported videos, limited export options and restricted access to certain effects or content.
There is no doubt that KineMaster provides various in-app purchases that users can purchase to enhance their editing experience. These purchases may include transitions, additional effects, stickers, music and overlays. Users can select to purchase these items individually to customize their editing toolkit.
KineMaster always offers subscription plans that unlock the premium features and remove limitations for a specific duration. These plans generally provide advantages such as accessing the full library of effects and content, removing watermarks and enabling high-quality video exports. However, subscription duration, such as monthly, annual or other options, can vary.
If you also want to build your application like KineMaster, you can follow this KineMaster business model that helps you build robust and innovative solutions.
The best part of KineMaster is that its business model includes an asset store where users can buy additional transitions, effects, stickers, fonts and other elements to enhance their videos. These assets are often available for individual purchase or as part of subscription plans.
So, you can follow this KineMaster business model. It will assist you in building a functional and robust application that helps you build a video editing app that makes the editing task easier and more convenient for users.
Like many video editing apps, KineMaster may display advertisements to generate revenue. Ads can be shown within the application during editing or at other appropriate moments. Advertisements may be removed or reduced for users who opt for premium subscriptions.
If you want to build an app like KineMaster, you have to know the cost to build an app like KineMaster. It will help you set a budget to easily build an app that is compatible with working on different devices.
Conclusion
Over the years, the demand for video editing apps has become high. As a result, many companies have decided to build an app like KineMaster. If you want to develop a functional and easy-to-use app for your business, following the KineMaster business model is good.
As the popularity of the KineMaster is increasing, it is a good idea to follow its business model that helps you build an app that not only helps generate more revenue but also ensures that lots of visitors come to your website.
FAQs
1. What is the Cost of a Video Editing App?
The cost of a video editing app can vary depending on various factors such as its features, platform compatibility, licensing model, and target audience.
2. How Much Does a Video Editing App Take to Build?
The time and effort required to build a video editing app can vary significantly depending on several factors, including the complexity of the app, desired features and functionalities, a platform targeted (e.g., mobile, web, desktop), the development team's experience and size, and the resources available.
3. Why Invest in Video Editing App Development?
The popularity of social media platforms, online streaming services, and video-sharing websites is rapidly increasing the demand for video content. This trend presents a huge opportunity for video editing apps as users demand tools to create, edit and enhance their videos.
Video editing apps offer convenience and accessibility to users who want to edit videos on the go. With smartphones becoming more and more powerful, users can now edit videos directly on their mobile devices. Developing an easy-to-use and intuitive video editing app can appeal to many users, including amateurs, vloggers, and professionals.
4. How to Hire Dedicated Developers for Next Project?
Here are some steps to help you find and hire dedicated developers:
Define project requirements
Determine the team size
Choose the hiring model
Search for candidates
Evaluate skills and experience
Check references
Collaboration and communication