Have you ever struggled with math homework or test preparation? Kuta Software is the solution you need. Kuta Software is a math education software company that creates interactive, customizable math solutions for students and educators.
Kuta Software has become famous for math teachers and students looking to enhance their performance and streamline their workflow.
Moreover, its user-friendly interface makes it easy for anyone to navigate, regardless of their math experience level. In short, Kuta Software is a game-changer in tackling complex math problems with ease and efficiency.
Keep reading to learn more about Kuta Software, its features, its available products, and how it can benefit educators and students. We will also discuss the benefits Kuta Software provides educators and students and look at reviews and user feedback.
Whether you are a math teacher or a student, this post will help you understand everything there is to know about Kuta Software.
What is Kuta Software
Kuta Software is an incredible tool for mathematics and is the perfect solution for students and teachers alike who want to take their math skills to the next level. It has multiple customizable features, including multiple-choice and short-answer options and helpful step-by-step solutions to even the most challenging equations and problems.
Kuta Software offers a suite of math education software products to help students of all levels understand and learn math concepts. The software includes tools like equation editors, graphing calculators, and worksheet generators to help students improve their math skills.
Kuta Software was launched in 2002 by Jason Shattuck, a mathematics software who wanted to create software that would help students learn math in a fun, attractive way. Since then, the company has grown and now serves over 50,000 teachers in 90 countries.
Must-Have Features of Kuta Software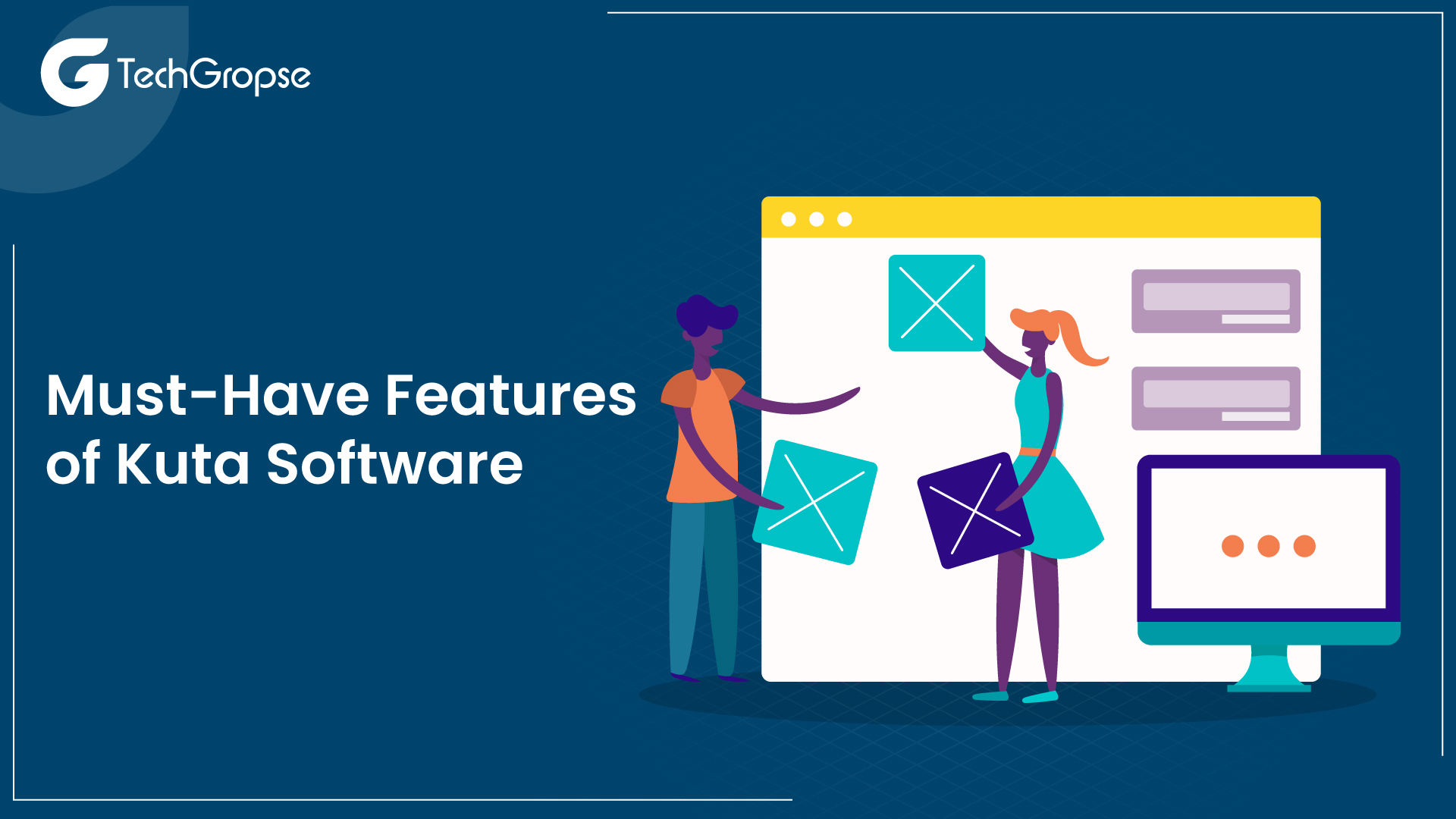 Kuta Software offers a range of features that make it easy for students and educators to use and learn from its products.
1. Customization Options
One of the unique features of Kuta Software is its customization options. Teachers can make personalized worksheets and assignments tailored to their students' requirements. Customization options include selecting various difficulty levels, choosing specific problem types, and adding custom questions.
2. Multiple Platforms and Devices
It is software for math teachers and is available on numerous platforms and devices, including Windows, Mac, iOS, and Android. This means that students and teachers can access the software on various devices, making it easy to use both in and out of the classroom.
3. Interactive Math Solutions
Kuta Software offers interactive math solutions that help students understand math concepts through visual representation. Tools such as graphing calculators and equation editors make it easy for students to visualize equations and graphs, helping them better understand the material.
4. Unlimited Questions
Did you know that with Kuta software infinite algebra 1, you can make new questions for your assignments with just one click? Yes, it is accurate, and the best part is that the further questions will differ from the original ones but still follow the same rules. You can select the type of questions you want, and the software makes them for you. You can even create new questions for just one part of your assignment or the whole thing.
5. Presentation Mode
Kuta Software is helpful for teachers when they use it with a modern screen that shows pictures and stuff. It offers one to four questions at a time on the net. When you are teaching, you can use this tool to make your examples and then show the questions on the giant board. This saves time when planning and teaching, making it easy to show tough questions with pictures and charts.
You can display one question at a time, and you can do the following:
Change the zoom level so that students can read it easily
Draw lines beside the question to help you organize your work if you want to solve the question
You can move to another question. It is helpful while reviewing homework
Reveal the answer
Show/hide the question number and the directions.
What is the Different Type of Kuta Software Products
Kuta Software offers a range of products designed to satisfy the requirements of different types of users.
1. Kuta Works
It is an online platform that lets teachers create and assign personalized worksheets and assignments to their students. It also provides real-time grading and analytics to help teachers track their students' progress.
2. Kuta Software for Math Teachers
Kuta software – infinite calculus evaluating limits worksheet answers is a suite of fantastic software products designed specifically for math teachers. It includes tools like a worksheet generator, graphing calculator, and test generator, making it easy for teachers to create and assign work to their students.
3. Kuta Software for Test Prep
It is a suite of products designed to help students prepare for standardized tests such as the SAT and ACT. The software includes practice tests, quizzes, detailed feedback, and analytics to help students recognize areas they must enhance.
How Kuta Software Can Benefit Educators and Students
Kuta Software can benefit both educators and students in various ways.
1. Enhancing Student Performance
Kuta software Infinite Algebra 1 interactive math solutions can help students better understand math concepts and boost their math skills. Personalized worksheets and assignments help students work on areas where they require the most help, while real-time grading and analytics help teachers monitor their students' progress.
2. Streamlining Teacher Workflow
Kuta Software's suite of products for math teachers streamlines the process of creating and assigning work to students. The software makes it easy for teachers to make personalized worksheets and assignments, track students' progress, and provide detailed feedback.
3. Accommodating Different Learning Needs
Kuta Software's customization options and attractive math solutions accommodate various learning needs and styles. Teachers can create personalized worksheets and assignments, and students can interact with the material in a way that best suits them, whether through visual representation or practice tests and quizzes.
Math Learning Software Kuta Software Games
Kuta Software Games is a math learning software that is designed to help students learn math in a fun and exciting way.
1. Math Learning Environment
The software consists of games tailored to help students learn math concepts like algebra, geometry, statistics, and trigonometry. The games are designed to be engaging and challenging, allowing students to develop essential math skills useful for their future studies and careers.
2. Unlimited Words Game
The Unlimited Words Game in Kuta Software is a versatile and advanced tool for students to sharpen their skills. It is the best software tool for those not good at writing. It also has a custom mode, where users can add words and definitions. The game presents words in different forms like synonyms, antonyms, homophones, and multiple meanings, ensuring a comprehensive understanding of word choice in other contexts.
3. Unlimited Math Calculations
The Kuta software infinite geometry supports different mathematical disciplines like algebra, calculus, trigonometry, and geometry. It also features customizable templates to suit the specific requirements of various users. The platform's ability to handle numerous computations helps save time and boost productivity. Another notable feature is its integration capabilities with tools like Microsoft Excel and Google Sheets.
4. Word Search 
Kuta Software is a complete educational software that allows teachers and students to access and work on different math-related assignments. One of Kuta Software's many features is Word Search, an activity that improves vocabulary retention while enhancing spelling skills. With Kuta Software's Word Search feature, teachers can create custom worksheets for their students or choose from a library of pre-made word searches.

5. Divide and Conquer game
The Divide and Conquer game is a problem-solving tool in the Kuta Software that breaks down complex problems into smaller, manageable parts. This strategy helps individuals tackle complex tasks by allowing them to focus on specific subsets of the problem. The Divide and Conquer game works systematically, where every subproblem is solved independently before being integrated with other parts of the problem. This approach offers an organized and structured method to solve challenging mathematical equations or other specialized tasks for professionals in engineering or finance.
Using Kuta Software Login to Simplify Online Classroom Use
We are all aware online learning has become a prevalent method of education worldwide. In this context, Kuta software login has emerged as a practical approach to simplify online classroom use.
Kuta software login is a simple and user-friendly platform that allows students to access online resources and study materials. With Kuta software login, students can access a range of subjects like mathematics, science, and social studies.
The platform allows teachers to create and share assessments with students, monitor progress, and provide personalized feedback. Moreover, it offers a comprehensive database with expansive problem-solving questions, making it an ideal choice for distance learning.
One of the significant benefits of using Kuta software login is its ability to personalize learning experiences. With Kuta software login, teachers can create customized assessments and track the progress of individual students. By personalizing learning experiences, Kuta software login helps students enhance their academic performance and achieve their learning goals.
Another significant benefit of using Kuta software login is the ease of use. The platform is user-friendly and can be easily accessed on multiple devices. Students can access their assignments and course materials from any location at any time, thus providing them with flexibility and convenience. Moreover, Kuta software login is customizable, enabling teachers to streamline their online classrooms efficiently.
In addition to providing personalized experiences and ease of use, Kuta software login also improves the accuracy and efficiency of grading. The platform's automated grading system saves teachers' time and effort by grading assessments quickly and accurately. This allows teachers to focus on providing feedback and addressing the individual needs of their students.
Kuta software login is a powerful tool that has revolutionized online learning. Its user-friendly interface, personalized learning experiences, ease of use, and automated grading system make it an ideal choice for teachers and students. With Kuta software login, teachers can enhance their teaching methods and facilitate student learning, making it an essential tool for distance education.
Kuta Software Pricing and Availability
Kuta Software is a powerful suite of math software programs designed for educators and students. It is available on the Kuta Software website, and the pricing is based on the number of licenses purchased.
The more rights purchased, the lower the cost per license. Kuta Software is available for both Windows and Mac operating systems.
Subscription Options: For those interested in subscribing to Kuta Software, flexible subscription options are available. You can also cancel a subscription at any time, and it is charged monthly or yearly, depending on the user's preference.
Free Trial Availability: Kuta Software offers a free 14-day trial for users who want to test the software before purchasing. This trial version has all the features of the full version, allowing users to fully consider the software before purchasing.
Customer Support and Resources for Kuta Software Users
Kuta Software offers comprehensive customer support and resources to guide educators and students to get the most out of their software.
Support Options: Kuta Software provides a dedicated support team that can answer any questions or issues that users may have. Support can be reached through email or phone, and a response is usually received within 24 hours.
FAQs and Knowledge Base: An extensive knowledge base includes FAQs, user guides, and other helpful resources. Users can search this knowledge base to find answers to their questions.
Community Forum: Kuta Software also has an active group forum where users can ask questions and find help from other educators and students. This community is an excellent resource for those who want to connect with others using Kuta Software.
Reviews and Feedback on Kuta Software
Kuta Software have obtained positive reviews from educators and students around the world.
Testimonials from Educators and Students: Many educators have reported that Kuta Software has helped them to create engaging and effective lesson plans. Students have also provided positive feedback, stating that the software has made math more fun and accessible.
Online Ratings and Reviews: Kuta Software has received high ratings on popular review sites like Trustpilot and Capterra. Users report that the software is easy to use, effective, and provides excellent value for money.
List Of Top Competitors of Kuta Software 
Kuta Software is a leading educational software provider for math teachers and students. However, it operates in a highly competitive landscape with several other prominent players.
Have a quick look at top companies, including.
| | | | |
| --- | --- | --- | --- |
| S. No. | Application Name | Rank | Visitors |
| 1 | mathworksheets4kids.com | 35,600 | 1.2M |
| 2 | Math-aids.com | 76,811 | 595.1K |
| 3 | Math-drills.com | 53,690 | 821.1K |
| 4 | Lavc.edu | 146,890 | 332.1K |
| 5 | K5learning.com | 10,749 | 3.5M |
Conclusion 
Kuta Software is an excellent math software that offers educators and students powerful tools to help them succeed. The software is affordable, easy to use, and has a range of helpful resources to support users. As Kuta Software continues to grow and develop, it becomes a more valuable tool for math educators and students.
With its customizable options, innovative features, and various subscription plans, Kuta Software makes learning math easy, efficient, and enjoyable.
Kuta Software is worth considering if you are looking for math software to help you improve your math skills and streamline your workflow.
FAQ: Know Everything About Kuta Software
1. Can I try Kuta Software before purchasing it?
Yes, Kuta Software provides a free trial of its products that you can use before deciding to purchase a subscription.
2. What types of math does Kuta Software cover?
Kuta Software covers various math topics, from essential addition and subtraction to advanced calculus and trigonometry.
3. Is Kuta Software suitable for both individual and classroom use?
Yes, Kuta Software is suitable for both individual and classroom use. It provides options for single-user licenses as well as classroom licenses.
4. What kind of support does Kuta Software offer?
Kuta Software offers various support options, including email support, community forums, and a knowledge base with frequently asked questions and tutorials.