Fantasy sports app have become a worldwide phenomenon, capturing the dreams of millions of fans and revolutionizing the way people engage with their favorite sports. The fantasy sports app development is an opportunity for enthusiasts like us to dive into a vibrant world filled with technical innovation, immersive user experiences, and unparalleled excitement.
By selecting from various collections of sports leagues such as basketball, football, and baseball, players embark on a strategic journey of team creation. Skillfully navigating a virtual draft, users assemble a roster of real-world athletes, every selection carrying the weight of potential victory.
On demand app development company focus to build fantasy sports apps that have revolutionized the way sports lovers engage with their favorite games. These imaginative platforms allow users to draft players, make their virtual teams, and compete against others in fantasy leagues and contests. Beyond the thrill of competition, fantasy sports apps also offer the opportunity to make money.
From choosing the right app to researching player performance, creating winning teams, and implementing winning strategies, we will explore different factors that contribute to a successful and profitable fantasy sports experience.
So, let's dive in and unlock the potential of fantasy sports apps as a lucrative avenue for sports enthusiasts to monetize their passion.
Understanding the Concept of Fantasy Sports
When it comes to fantasy sports, think of it as creating your dream team, but without the hassle of actually having to be a professional athlete. In fantasy sports, you get to be the general manager, coach, and owner of your own team.
The concept is simple: you outline real-life players to be a part of your virtual team, and their individual performance in actual games defines your team's success. It offers a strategic and dynamic way for sports enthusiasts to immerse themselves in the excitement of real-world sports while showcasing their managerial skills.
The Rise and Popularity of Fantasy Sports Apps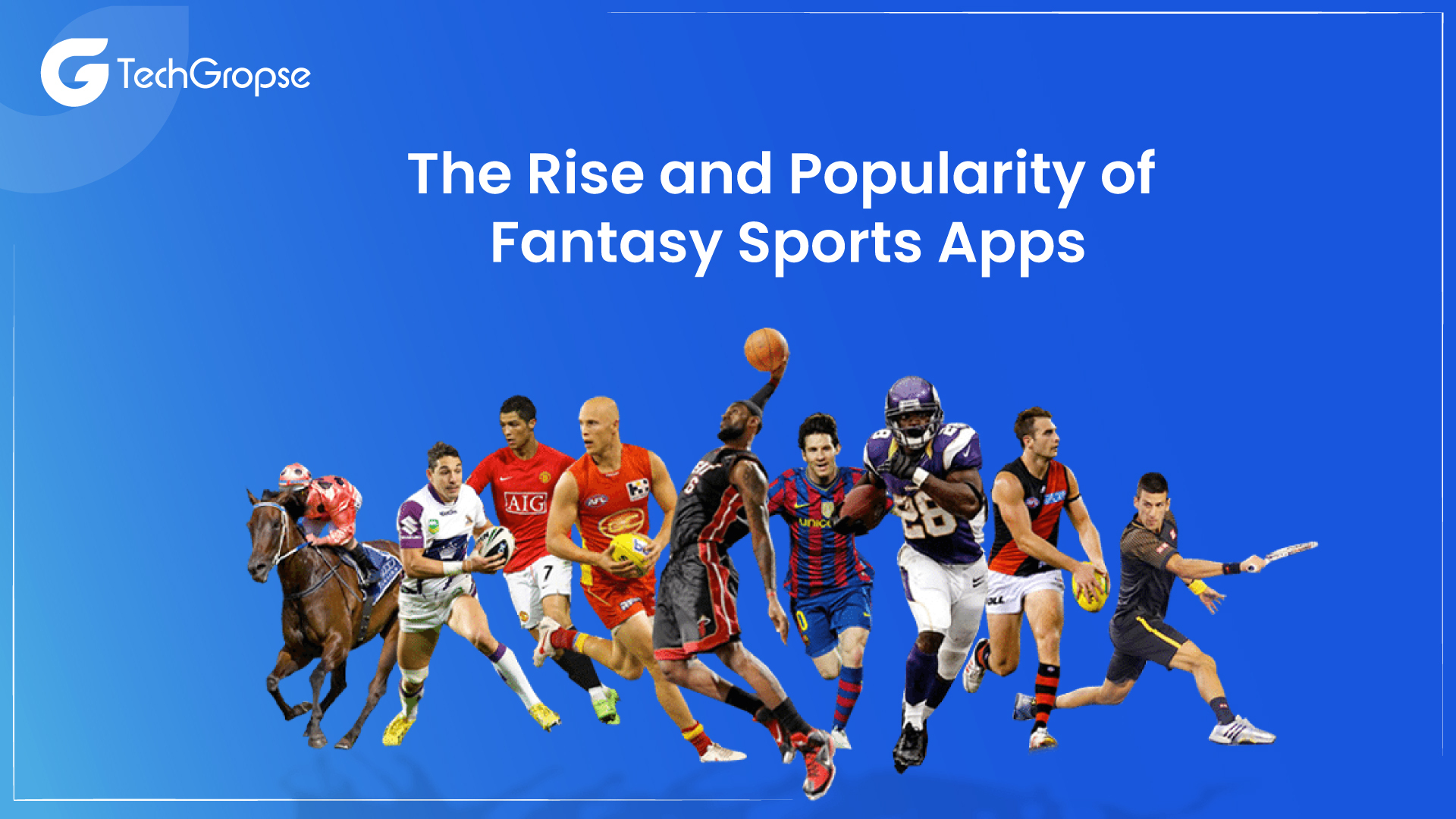 Fantasy sports have been around for quite a while, but the upgrade of fantasy sports app has made them more accessible and convenient for enthusiasts. These apps allow you to participate in leagues, make roster changes, track player performances, and compete with friends or other players, all from the comfort of your smartphone or tablet. The convenience and thrill of fantasy sports app have contributed to their growing popularity among sports fans worldwide.
Engaging Experience
Strategic Gameplay
Real-time Updates
Community Interaction
Global Reach
Mobile Accessibility
Enhanced Engagement
Monetary Incentives
Partnerships and Sponsorships
Constant Evolution
Crossover with Sports Betting
What is the Statics of Fantasy Sports Market?
The fantasy sports market has experienced remarkable growth over the years. It has evolved from a niche hobby to a multi-billion-dollar industry.
| | | |
| --- | --- | --- |
| Aspect | Data/Statistic | Source |
| Global Market Value by 2024 | $9.34 billion | BusinessWire |
| Europe's Projected Market Value by 2030 | $13.89 billion | Straits Research |
| User Base in Canada and the US | 59.3 million | Fexle |
| Male Players in USA and Canada | 66% | Fantasy Sports & Gaming Association |
| Female Players in USA and Canada | 34% | Fantasy Sports & Gaming Association |
| Major Establishments in the Market | Rotoworld, Fan Duel Group, FantasyPros, GoodGamer Corp, Fantrax | EMR |
| Projected Market Value in India by 2025 | ₹1,65,000 crore | Deloitte report in collaboration with FIFS (Federation of Indian Fantasy Sports) |
| Player Base in India | Over 13 crores | Deloitte report in collaboration with FIFS (Federation of Indian Fantasy Sports) |
*Please note that the data and figures provided are based on the sources mentioned. For the most accurate and up-to-date information, it's recommended to refer to the sources directly.
How Does Fantasy Sports App Make Money?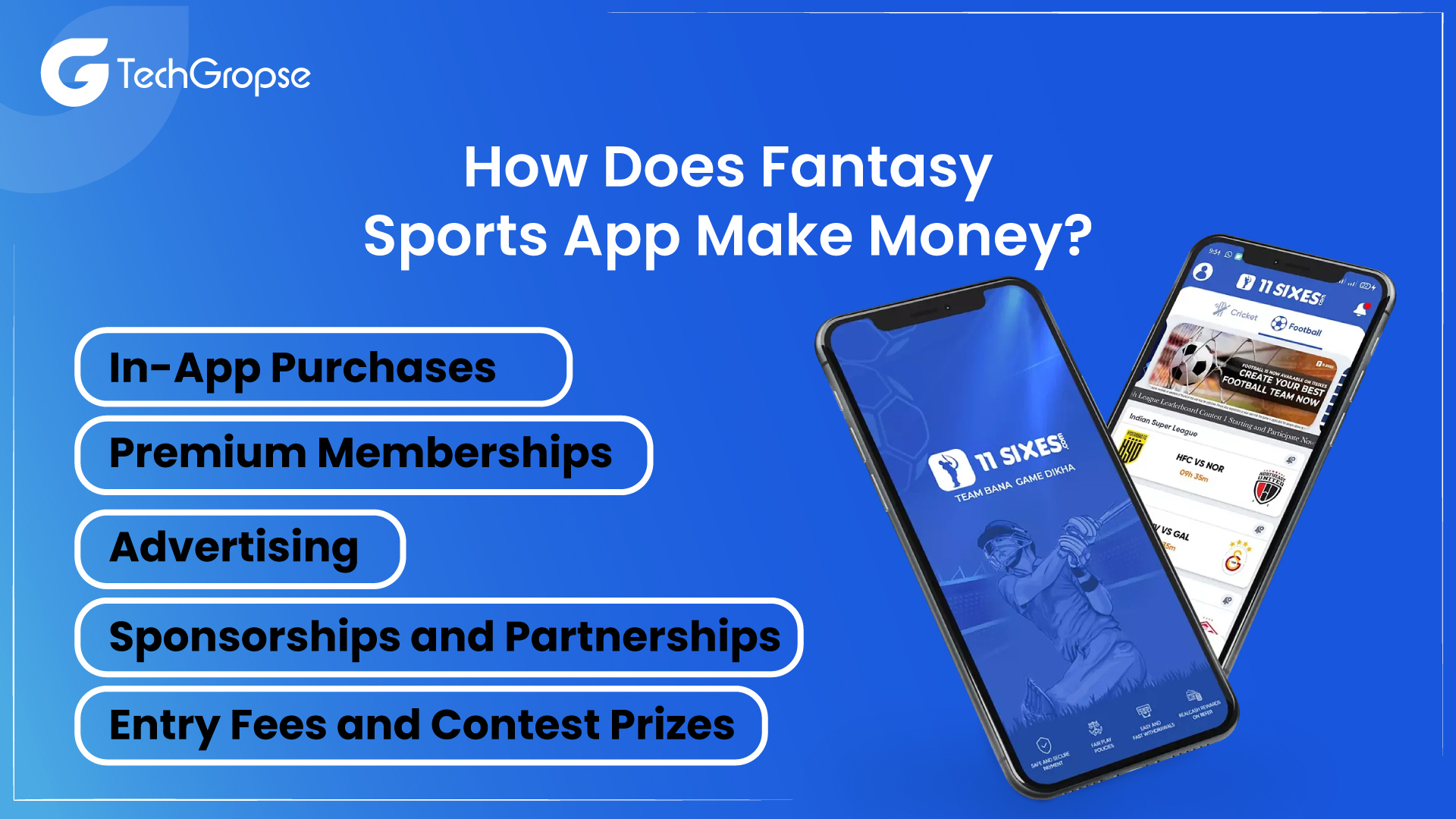 Fantasy sports app development company employs various monetization strategies to generate revenue. Here are some common ways fantasy apps make money:
1. Entry Fees and Contest Prizes
The fantasy sports app hosts paid contests where users pay an entry fee to participate. An amount of the entry fees contributes to the prize pool, which is then distributed among the winners based on their fantasy team's performance. The app takes a percentage of the entry fees as its revenue.
2. In-App Purchases
Many fantasy game apps offer in-app purchases of virtual goods, like power-ups, premium features, customizations, or virtual currency. These purchases improve the user experience and deliver an additional revenue stream for the app.
3. Premium Memberships
Some apps offer amazing premium subscription plans that give users exclusive features, insights, and benefits like personalized advice, advanced analytics, early access to specific contests, and reduced entry fees.
4. Advertising
Advertising is a primary revenue source for fantasy apps. They can display ads within the app, including interstitial ads, banner ads, or video ads. Advertisers pay the app for the exposure to the app's user base.

5. Sponsorships and Partnerships
Fantasy sports apps can enter into sponsorship or partnership agreements with teams, sports leagues, or other brands. These collaborations can involve promotions, branding, or exclusive contests, bringing in additional revenue.
What are the Steps to Build a Highly Successful Fantasy Sports App?
Building a highly successful fantasy sports app mobile app development company following detailed planning, strategic execution, and a deep understanding of both the sports industry and the app market.
Here are the essential steps to consider when developing a successful fantasy sports app:
1. Market Research and Conceptualization:
Hire mobile app developers to understand the latest trends, user preferences, and competition in the fantasy sports app market.
Identify a unique selling proposition that differentiates your app from existing competitors.
Determine the scope of the app, including the features of sports covered, target audience, and platforms (Android, iOS, or both).
2. App Design and User Experience
Design a user-friendly and visually appealing interface that caters to both new and experienced users.
You can hire dedicated developers who focus on intuitive navigation, smooth interactions, and a seamless user experience throughout the app.
Prioritize responsive design to ensure the app works well on different devices and screen sizes.
3. Backend Development
Create a robust backend infrastructure to handle user data, real-time updates, and integration with data sources.
Many mobile app development companies hire iPhone app developers to account management, implement user authentication, and security measures to protect user information and transactions.
Integrate APIs for real-time sports data feeds and scoring updates.
4. Core Features Development
Build exciting features such as team creation, user registration, player selection, drafting, and contest participation.
Implement a real-time scoring system that accurately estimates and updates users' fantasy team scores based on actual player performances.
5. Testing and Quality Assurance
Conduct comprehensive testing to determine and fix glitches, bugs, and performance issues.
Test the app across various platforms, devices, and scenarios to ensure a seamless experience for users.
6. Launch and Marketing
Create an effective marketing strategy to build awareness and attract users to the app.
Leverage influencer partnerships, social media, content marketing, and paid advertising to promote the fantasy sports app.
Create a compelling app store listing with clear descriptions, engaging visuals, and positive user reviews.
7. User Feedback and Iteration
Continuously collect user feedback and analyze app usage patterns.
Use user insights to make data-driven decisions for app advancements and feature enhancements.
Regularly update the app to address user needs, fix issues, and introduce fantastic features.
Exciting Features to Include in the Fantasy Sports App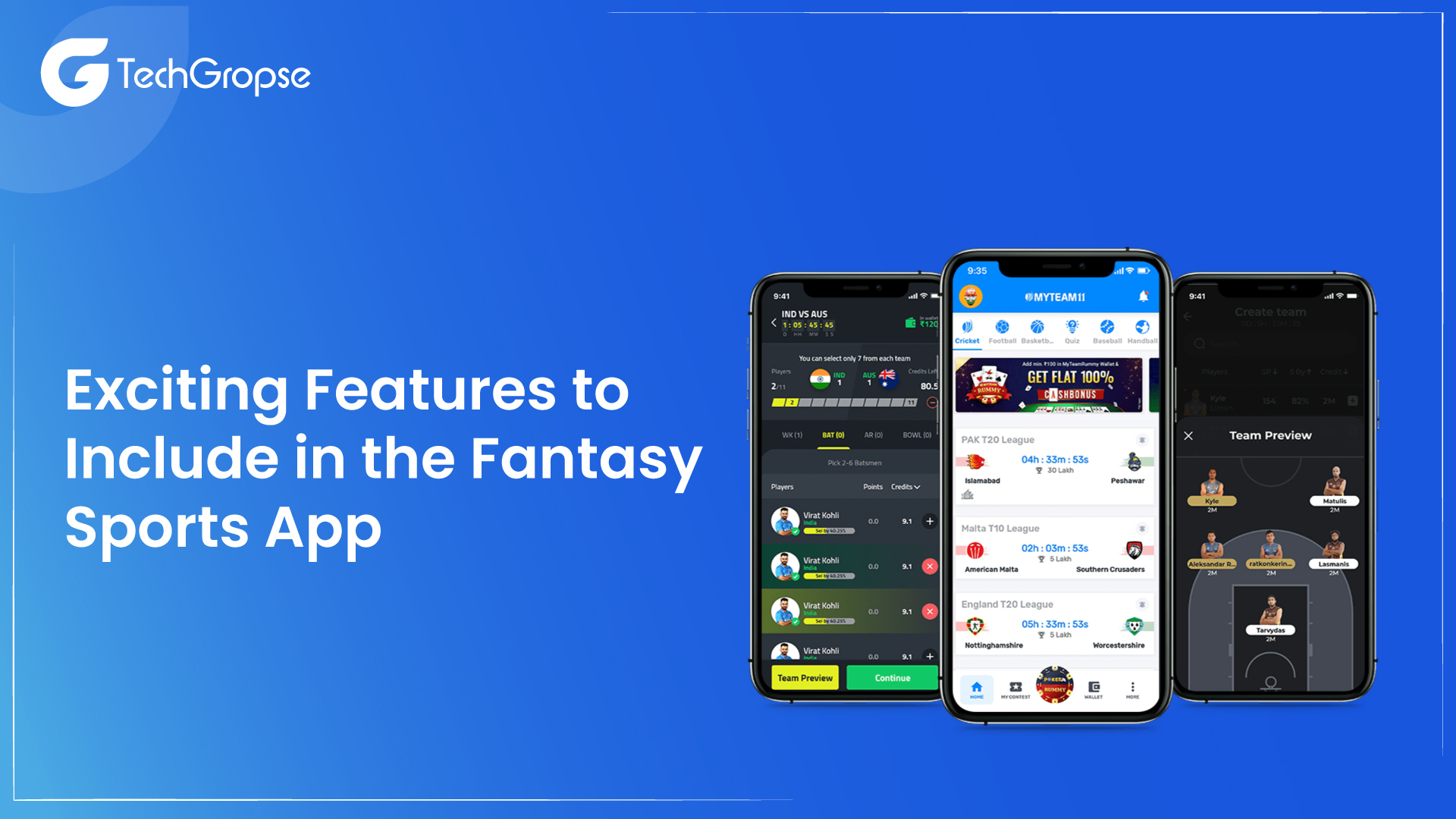 The fantasy sports app offers a collection of exhilarating features to elevate user engagement. Building a highly successful fantasy sports app requires careful planning, strategic execution, and a deep understanding of both the sports industry and the app market.
Here are the essential steps to consider when developing a successful fantasy sports app:
1. Features for the Participants
Feature Category
Must-Have Features
User Experience
User-friendly dashboard
Player selection and lineup management
Real-time updates and live scoring
Contest participation
Contest details and rules
Analytics and Insights
Performance analytics and historical data
Insights and projections for decision-making
Social Interaction
In-app chat rooms or forums
Social media integration for friend connections
Competitive Elements
Leaderboards and rankings
Cash management and secure transactions
Communication and Notifications
Push notifications for match updates and reminders
Rewards and Incentives
Fantasy shop for redeeming rewards
User Support
Help center with FAQs and resources
Customer support channels
Premium Features
Access to advanced analytics and insights
Subscription plans for enhanced features
Personalization
Customizable profiles and avatars
Multiple fantasy teams for different contests
Multilingual Support
Option for multiple languages
2. Features for the Admin
Feature Category
Must-Have Features
User Management
User registration and profile management
Ability to view and edit user details
User activity tracking and analytics
Contest Management
Create, edit, and manage contests
Define contest rules, entry fees, and prize structure
Monitoring contest participation and performance
Player and Team Management
Manage player database and data integration
Update player statistics, injuries, and status
Team and lineup management for fair gameplay
Scoring and Analytics
Define scoring criteria for different sports
Real-time scoring updates and analytics
Insights into user engagement and contest trends
Communication and Notifications
Send notifications and alerts to users
Announcements, reminders, and updates
Financial Management
Manage payments, entry fees, and prize distribution
Secure payment gateways and transaction monitoring
Generate financial reports and revenue tracking
Content Management
Update and manage content such as FAQs and guidelines
Control promotions, advertisements, and in-app content
Support and Assistance
Handle user inquiries, feedback, and customer support
Respond to user issues and resolve disputes
Security and Compliance
Ensure data security and user privacy
Compliance with legal regulations and responsible gaming
Analytics and Reporting
Access to comprehensive analytics and performance data
Generate reports on user activity, contests, and revenue
Technical Management
Monitor app performance, uptime, and server resources
Troubleshoot technical issues and perform updates
How Much Does Mobile Game Development Cost?
The cost of fantasy sports app can differ depending on elements such as the app's complexity, features, platform, design, development team rates, and location.
Many sports app development company that offers an approx estimate of the cost breakdown for creating a fantasy sports app.
Development Phase
Estimated Cost Range
1. Planning and Design

●       Requirement Analysis

●       UI/UX Design

$10,000 – $30,000
2. Backend Development

●       User Management

●       Database Integration

●       Scoring and Data Feed Integration

$20,000 – $40,000
3. App Frontend Development

●       User Registration and Login

●       Player Selection and Drafting

●       Real-time Updates and Live Scoring

$25,000 – $45,000
4. Testing and Quality Assurance

●       Bug Testing and Debugging

●       Performance Testing

$10,000 – $20,000
5. Deployment and Launch

 

●       App Store Submission

●       Server Setup and Hosting

$5,000 – $10,000
6. Additional Features

 

●       Social Interaction

●       In-App Purchases

●       Analytics and Insights

●       Push Notifications

Variable
Total Estimated Cost
$70,000 – $155,000
List of Top Fantasy Sports Apps
By blending the excitement of real-world sports with strategic gameplay, all these apps empower users to become virtual team managers. Participants draft real athletes to assemble their dream teams, competing based on athletes' actual performances.
Have a quick look at the best fantasy sports app across the world.
| | | |
| --- | --- | --- |
| Fantasy Sports App | Sports Covered | Notable Features |
| DraftKings | Multiple sports | Daily and weekly contests, live scoring |
| FanDuel | Multiple sports | Quick-pick contests, user-friendly interface |
| ESPN Fantasy Sports | Football, basketball, baseball, hockey, soccer, and more | Customizable leagues, real-time updates |
| Yahoo Fantasy Sports | Football, basketball, baseball, hockey, soccer, and more | Mock drafts, in-depth player news |
| CBS Sports Fantasy | Football, basketball, baseball, hockey, soccer, and more | Commissioner tools for private leagues |
| Sleeper | Football, basketball, baseball, hockey, soccer, and more | Dynasty leagues, innovative game formats |
| NFL Fantasy Football | Football | Exclusive NFL content, player highlights |
| NBA Fantasy | Basketball | Real-time stats, player analysis |
| MLB Fantasy Baseball | Baseball | Advanced statistics, team management tools |
| NHL Fantasy Hockey | Hockey | Live draft and scoring, player updates |
| Dream11 (India) | Cricket, football, basketball, baseball, hockey, and more | Largest fantasy sports platform in India |
| MyTeam11 (India) | Cricket, football, basketball, baseball, hockey, and more | Popular fantasy app in India |
Final Words
Fantasy sports apps provide an exciting and potentially profitable opportunity for sports enthusiasts to immerse themselves in the world of competitive fantasy leagues. By following the steps outlined in this post, from selecting the right app to making strategic decisions, handling your budget, and maximizing your profits, you can improve your chances of success.
Stay informed, explore player performance, and adapt your strategies as needed. To hire android app developers, research, and a bit of luck, you can turn your passion for sports into a rewarding and lucrative venture via fantasy sports apps.
So, get ready to embark on an exhilarating journey of fantasy sports and start making money today!
FAQ: Steps to Make Money Through Fantasy Sports App
1. Can I make money from fantasy sports apps?
Yes, you can make money through fantasy sports apps. Many platforms offer rewards, cash prizes, and the opportunity to participate in paid contests. With unique strategies, research, and expert team management, you can improve your chances of winning and making profits.
2. How do I choose the best fantasy sports app?
To choose the right fantasy sports app, consider factors such as user experience, available sports, app features, bonuses, and rewards. Research different platforms read user reviews, and compare their offerings. Look for apps that align with your preferred sports and provide a seamless and enjoyable experience.
3. How much budget should I allocate for fantasy sports?
The budget for fantasy sports depends on several factors, such as your financial situation, risk tolerance, and commitment level. It is essential to set a realistic budget that you are comfortable with and can afford to lose. Consider your goals and hire dedicated developers team for your profitable income specifically for fantasy sports activities.