Looking for milk delivery app development?
In the technology driven world of today, there is a digital solution for almost everything, making our lives simpler and easier. On-demand apps help you to book yourself a ride- anywhere, anytime, shop online, order groceries and much more. The busy lifestyle of today demands time-saving solutions, and milk delivery apps have transcended as the new time savior.
Imagine being able to order milk, butter, cheese, etc. using mobile apps. Isn't it innovative and practical? Everything including milk and other dairy items must be delivered to people's doorsteps. With its robust features and flexible delivery schedules, the milk delivery app is gaining popularity every day.
A client's application to bring milk to their doorstep is referred to as a "milk delivery app." The app also includes technically innovative features that give consumers a high level of viability. The milk delivery app is unique compared to other applications because it depends on daily human activity.
If you too are looking out for ways to expand your business, developing a milk delivery app is the perfect idea for it since its market is constantly growing. With this blog, we are here to help you learn everything about Milk Delivery App Development. Now all you have to do is keep scrolling, and we will take care of the rest.
Explaining Milk Delivery App Development: Its Functionality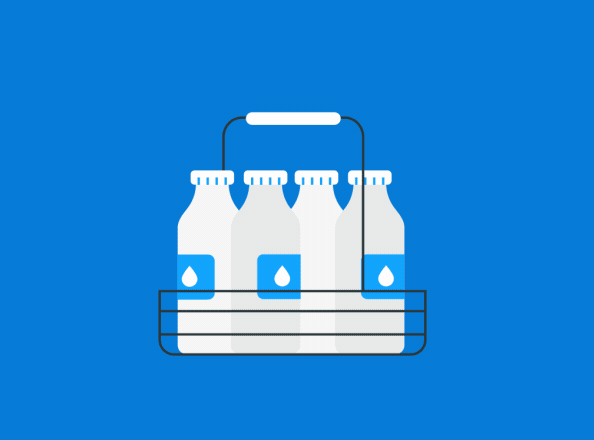 The idea behind milk delivery apps is quite self-explanatory. The person can download the app on their smartphone and utilize it to access the milk delivery services, much like many other on demand industry concepts.
Since everyone asks, "Milk Delivery Near Me," the services are extremely location-specific and can vary from place to place. However, they all operate in a similar way, allowing you to enter your address and browse the range of products, including milk and milk products. The things will be delivered to the user's doorstep after being ordered.
The process of creating a milk delivery app is referred to as milk delivery app development. And this is a well-liked solution serving a majority of people already with names like MilkBasket and Daily Ninja.
Why should you Invest in Milk Delivery App Development?
Consumer interest is the prime motivator for investing in a milk delivery app. People love on demand app development services and an app for online milk delivery is no exception.
After public demand, the potential for the on-demand market has no bounds. As we described in the beginning of the blog, this industry is predicted to flourish immensely. It is expected to generate hundreds of billions in the future.
An online milk delivery app can serve as an addition to your company and help you significantly raise your earnings if you run a milk delivery app.
It is a straightforward solution that didn't cost much to develop, but the advantages much outweigh the disadvantages. Further we will discuss the benefits of investing in Milk Delivery Apps from user and business perspective.
User's Perspective
Easy Access
People need milk every day because it is a necessity. To get milk, customers typically have to go to a supermarket or a nearby grocery store. The issue has been permanently resolved by a useful app. Dairy product can readily be delivered to users' doorsteps.
Hassle-Free Transactions
The issue of running out of money when making offline purchases continues. You may quickly pay with a variety of online payment methods, including debit cards, credit cards, net banking, and more, while using milk delivery applications. These apps also offer a wallet option; simply recharge your private wallet and pay for the essential goods.
High Flexibility
Apps that supply fresh milk are quite popular since they offer more flexibility with timing. The majority of businesses accept orders until late at night and deliver your stuff the following morning. For those who return home from work late or who prefer to have their milk delivered at a later time, scheduling flexibility is quite helpful. Additionally, users can pause or unpause their subscriptions based on their needs.
Business Perspective
Simple to Use
Milk delivery applications operate the most simply when compared to all the other business models. Those already operating in the dairy industry can optimize their processes, provide reports, and gain insightful analysis to increase revenue.
Branding
Businesses may easily grow their following by advertising their brands through mobile apps, as people are more likely to trust a company that has an app. Extreme marketing has led many consumers to believe that branded goods and services are invariably superior, and that branding your services will drive them to use them.
Personalized Insights
Any business needs some clever insights to organize its future operations. Your milk delivery business may expand significantly with an app. Apps can provide you with pertinent information about different user groups, subscribers, non-subscribers, and more that you can utilize to create fresh tactics.
Features you get with Milk Delivery App Development
Every time a user picks an app, they focus on the features first. As a result, make sure the features you include in the development of your milk delivery app impress users. Ask your on demand app development company to provide the same features for you when you add new features to your app to draw consumers. Additionally, a number of features should be needed when creating the milk delivery app.
With a few more complex ones, we will discuss the features for the specific 3 application stage participants. The user panel, admin panel, and delivery man are these 3 participants. Let's first examine the features in great detail.
User Panel
Registration: Allow people to instantly register with your milk delivery app by providing their name, age, phone number, or email address. Users should also be given the option to register with their social media platform.
Manage Address: Users can set up their profile on the milk delivery app and add or manage various addresses. Users occasionally need to change things like their name, home location, payment information, etc.
Select Milk Products: View a variety of milk items Find the products that consumers demand. Ensure that users can quickly find their preferred products on your milk delivery app. hire mobile app developers to develop such a feature.
Place an order:  Following completion, users can place the order for the products they want to buy through the app.
Live tracking: Users can keep a check on their orders and be informed about their delivery with the help of these live tracking services.
Reviews and Feedback: Users can rate and review both the service provided by the app and the delivery man. Users can also mark their ratings for each order, though.
Payment Portals: The ability for users to pay for their chosen things using a variety of payment options is one of the nicest features. Users have a variety of payment options with custom android app development, including net banking, credit/debit cards, and more.
Order History:  Users may occasionally need to review their previous orders in order to place new orders, if necessary. This raises the level of manageability a little.
Admin Panel
Registration and login: The administrator must additionally log in to the app using the information requested.
Order management: Allow administrators to control user orders based on quantity, location, and other factors. The administrator must update information regarding the numerous user orders and other details. They can also monitor how the milk and other dairy products are picked up and delivered.
Admin dashboard: The master dashboard enables the admin to keep track of app activity in real-time.
User management: Administrators are in charge of overseeing platform users. The administrator keeps a tight eye on each user's registration, purchases, and activity while using the app.
Track deliveries: Monitoring the order delivery procedure and handling items are crucial. Hire dedicated developers to include this feature in your app.
Payment management: This aspect is handled entirely by the administrator. Let's say you want to add a new payment option or update the payment gateway, you can do this only when you hire on demand app developers and ask them to integrate a robust payment management dashboard.
Manage Discounts and Offers: Admin oversees the entire task. Discounts and Coupons: Admin uploads the newest discounts and offers to the milk delivery app.

Reviews and Ratings: The administrator oversees every review and rating that customer provide to the delivery person. These functions are very beneficial for the development of the app and delivery personnel.
Report Generation: Create a report since a good report is essential for company decision-making. The manager provides significant metrics, such as weekly and monthly financial data. The total number of requests, the most popular requests, the major social media sites that drive traffic, and many other factors.
Delivery Boy's Panel
Signup: The delivery man must join up for the app and create a profile, following the same method. The delivery person requests that you complete the necessary forms for information collection and verification.
Availability Feature: When the delivery person has finished the registration procedure, they should use the availability toggle to indicate when they are available.
Check Order Details:  The delivery person examines the order information. By observing the parties, the delivery person will occasionally approve or disapprove the delivery request.
Customer Detail: The delivery person has access to extensive information on the customers, including name, phone number, address, nearest landmark, and more. The delivery person will really benefit from this functionality because it will make deliveries easier.
Call or Chat: Customers can be called or chatted with by the delivery person if issues arise. When the delivery person does not know the users' precise location, the features are quite beneficial.
Receive payment: The users' money is given to the delivery guy. The platform requires that the earnings from each delivery be listed and digitally saved. For the delivery person, this earning report's section describing their overall salary is crucial.
Map/Navigation:  You can get this feature with On demand app development. This allows users to get driving instructions to their delivery location.
Milk Delivery App Development Cost
What kind of investment is required for a milk delivery app? We discovered that this question lacks definitive answers after doing a thorough research.
However, the cost of developing an on-demand milk delivery app might vary depending on a number of factors, including;
Platform: Android or iOS
Type: Native, Hybrid, Cross-Platform
App Features and Functionality: More features, higher cost
Technologies, APIs used
Development Team of Mobile App Development Company
However to give you an rough idea we have formulated a tabular format of cost of milk delivery app development in various countries
| | |
| --- | --- |
| Country | Estimated Cost  |
| Europe | $90 to $180 |
| Asia | $40 to $90 |
| USA | $140 to $280 |
Conclusion
In conclusion, choosing the best milk delivery app development company is extremely important if you've decided to launch a milk delivery app. We have highly skilled and experienced developers with knowledge of mobile apps here at TechGropse. Additionally, Our professional staff employs cutting-edge technology. We have talked about different features and app development costs. Contact us now to avoid wasting time.