The arrival of mobile apps began in the late 1990s when the first color phones began to get into the hands of wealthy consumers. Downloading apps from the cellular network from the device was a new experience for customers during these days. It was during this phase when nerds and semi-nerds started the mobile marketing concept. In short, mobile applications without app marketing strategies are just like smartphones without internet connectivity: boring & damp.
Companies know that a diligent marketing campaign is just the way out of today's smartphone market with a variety of mobile applications available. There are a staggering four million mobile applications available on the smartphone app market. So it's necessary to concentrate on mobile app creation and an app that works well because if people do not realize that your product exists then your hard work is meaningless.
Guide for Mobile App Marketing Strategies
So, you have developed the next defining application in the world? Everything left now is to get it into people's hands. However, this isn't a simple job. What should you do to stand out and push downloads from the crowd with more than four million applications available on the App Store and Google Play? This is where mobile app marketing plans come into play. Mobile app marketing might be a daunting process but it's worth every penny.
The mobile app marketing process isn't a slingshot that will happen overnight and it's neither a miraculous potion that will show effective results in a single day. Mobile app marketing is smartly planned and subtly executed suits of strategies. In this article, we will go through the chronological phases of marketing apps along with optimal infographics at the end of every phase. The phases to be discussed in this article are:
'App development' phase
'1-2 month/months before mobile app launch' phase
'Week of the mobile app launch' phase
'Post-launch' phase
So, let's begin with your one-stop mobile app marketing guide.
1. 'App Development' Phase
The app development phase is the initial building block in which you decide upon the best marketing strategies that are best suited for your entire app development. Make sure that your efforts during this phase don't concentrate only on developing the application. There are a certain number of functionalities that can be added right after the development.
The amount of extensive research about customers and the market will give you a better insight into knowing the demands of your customer in a better way. The objective of the application must be defined to determine the underlying thinking and pertinence of the marketing mission.
It is useful to implement these vital app marketing strategies for pushing the app marketing strategies in the right direction during the development phase:
Sharing is caring and you must implement this old proverb in your newly built mobile application. Social sales are one of the best-in-class marketing tools. People mostly speak about their goods and services and their businesses. This should be embedded natively in your app when it comes to growth. Integrate with services that enable you to send the application through text and social media platforms.
Encourage users to allow friends, relatives, employers, and other acquaintances to use the app you. Make it sure to incentivize the referrals done by your customers by sending them $5 for every individual they refer to your app. When their referral scans the first receipt from the cash, make sure that they receive the incentive payment. Also, lure them towards your application by showing the amount that they can earn just by simple referral methods.
Implement Mobile App Analytics
Understand this thing before it's too late: you need to implement the most efficient analytics frameworks in place for knowing how your app is performing. Integrate your software development kits (SDKs) with standard analytics like Google Analytics and AppsFlyer, and various other partners.
It is easier to personalize the experience and service of the user through analysis. You can also see how the app interacts and reacts to the recent trends, such as screen retention and the interaction with some features. It is important to keep your customers loyal by understanding their attitude towards your services and making them feel valued.
Enable Push Notifications
Push notifications are enormous and open more than email so make sure that when the app is live, you get the chance to speak to the users in-depth. The effectiveness of push notifications increases when your application is completely GPS-based. Enabling push notifications is always a logical option as your customers feel nearer to your brand because of these notifications.
Make sure that your application is registered with the operating system's push notification services. The OS service must offer an API to connect with your app and it is enabling your app to communicate with the respective services. Connect the app's SDK. SDK is a specialized code library for the OS push operation.
Ensure Users Find the App Feedback Mechanism
People can pitch or offer feedback if they know that a simple and realistic feedback option is in place and that they know how to do so. As an app owner, it is therefore important for you to create a feedback option in the app. Direct them in the review section of the iOS or Android App Store.
If they liked it then it will help users to share their positive reviews and to facilitate more downloads for new customers. If they do not like it, please display a quick and general feedback form in the app that allows users to submit data for internal processing to the specified backend team for facilitating a proper review. This is a vital mobile app marketing strategy.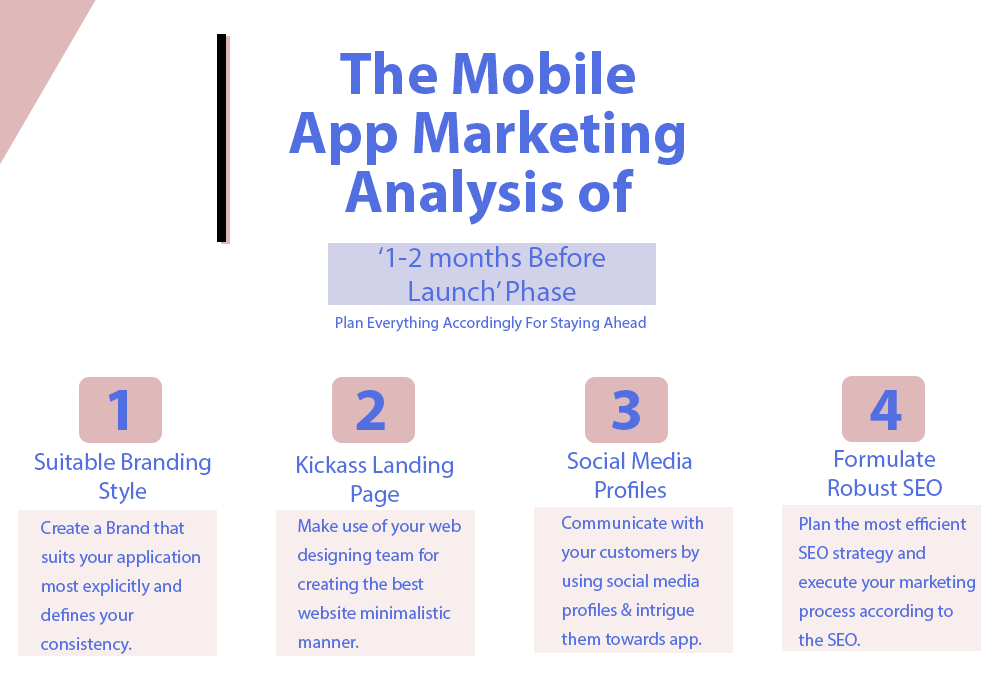 Key Takeaways for 'App Development' Phase
2. '1-2 Month/Months Before Mobile App Launch' Phase
This is an engaging period for most application developers and entrepreneurs; you will incorporate final changes in the program on the product side and search for bugs, etc. In this phase. you will attempt to build excitement on the marketing side to get user downloads very easily.
Many mobile app companies trust this old saying: create the app and the users will come. It's a legend. In reality, develop the app, follow users and then they're going to come. Here are a few points using which you can ensure robust mobile app marketing strategies in this phase:
Create the Most Suitable Branding Style
Branding implies consistency; the same message must be transmitted throughout. Do this with a brand style guide, which shows the world what exactly your product means. Your story and logo are the two most critical aspects of brand designs. You must also use guidelines to ensure continuity in the production of your brand logo.
Have a good brand story about what you're interested in, and how your app solves a certain problem. It expresses what you recommend to potential customers and makes them persuade your app to be connected to and to use because it instantly solves a problem.
Create a Kickass Website According to Your Brand
To explain your app idea and to track the overall app performance, app landing pages are required. All data collected from your landing page should be used to increase the conversion of applications. The number of downloads from app stores should be increased over time in this case.
Begin to collect emails from your website before your app goes live to excite people. Feed them regularly and they will be ready for download by the time you launch your application. Informational and relevant content on landing pages will increase your search engine ranking.
Create Social Media Profiles for Showcasing Your Services
In this era of social media marketing, social media profiles and the content posted on social media profiles makes sure of customer engagement. Numerous apps that are chartbusters on various application stores but the developers of these applications never cared to use social media profiles for increasing the number of downloads.
If used properly and strategically, social media profiles can turn the tables around by their effectiveness. Make sure that you are heading towards social media profiles at least one month before the app launch. This will intrigue your customers and they'll regularly check your social media profile for any further announcements.
Formulate a Robust SEO Strategy
Many people are unaware of the importance of SEO. Formulate an SEO strategy 1-2 months before the launch because it takes between 60-90 days for Google to collect everything. It is much better to rank in the SERPs than to lose 2 months of downloads due to a delay.
Create original content for uploading and sharing via social media networks on your website. These can become interconnected assets that are perfect for linking building. You can also make use of the paid tools that allow you to see the organic ranking of your rivals and where the links come from.
Key Takeaways for '1-2 Month/Months Before App Launch' Phase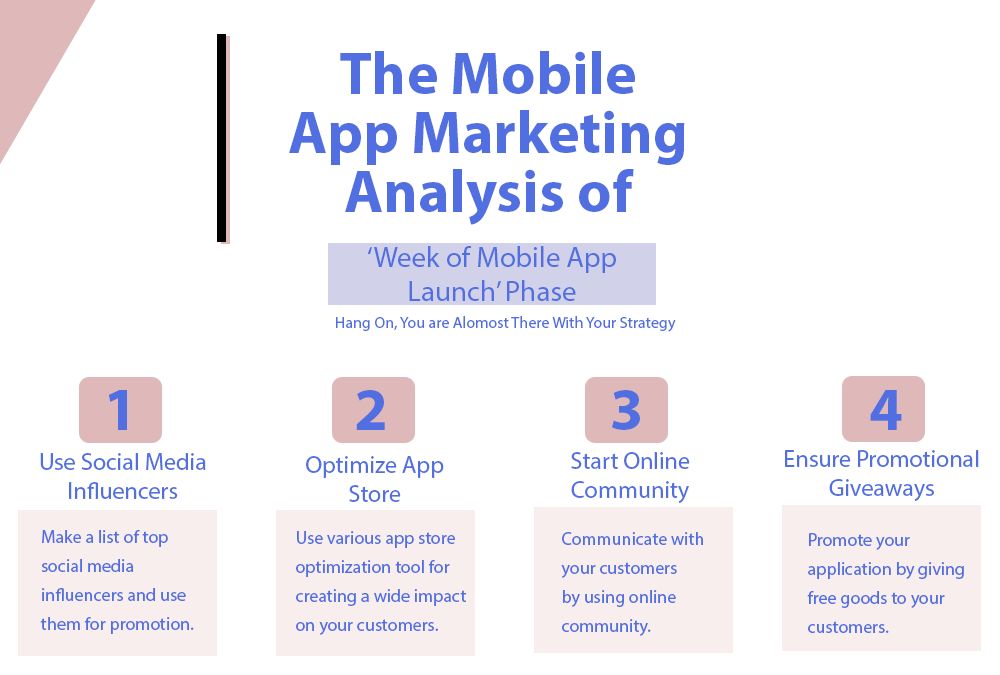 3. 'Week of the Mobile App Launch' Phase
Now you are almost done. You have done your proper research work and implemented them according to the need of your application. As 'labor reaps reward', the hard work done by you and your team at the beginning of the app development phase will seem legit now. The following methods should be implemented for app launch marketing plan:
Make Use of Social Media Influencers
Make a list of best suited social media influencers according to your app marketing ideas and reach out to them via emails or any other means. For reaching out to them on any social media platform, like and comment on their posts. You should also make sure to reply to your social media posts with messages and comments.
For reaching out to social media influencers through email, submit your list of influencers who plan to make a shout out to your application 2 emails per week. You want influencers ready to post and push traffic to your application on the day of your launch.
Make Sure to Optimize App Store
Write a short, sweet, and complete overview of apps including the keywords of your product and brand, so that they can be put in the right category. Customers don't read huge blocks of text when they browse app stores. It takes only a few well-built phrases to encourage someone to download.
The software also needs to be advertised with simple screenshots. They should be self-explanatory and captivating to draw users to downloads and promote it. You should expect to see your mobile app downloaded if the app is easy to use and the benefits resonate with the user. Make sure of taking the help of top ASO tools.
Start an Online Community
The major motive is to become worthwhile before the app is launched to prevent spamming. This covers online as well as offline groups. Answer questions on Quora and Reddit threads regarding questions related to your application. Make sure not to spam answers. Keep your answers short, yet informative.
Connections between individuals are also essential to success. Build or enter an existing community to which your software may be useful. Get ahead of people who care and become their friends for your app. You can set up or find an event on websites like Reddit to chat about your product.
Ensure Promotional Giveaways
People love free things more than any other thing. A few weeks before the app starts to make items, including hats and caps, that you can give away in the promotion. Give your squad and mates to wear to help you get some downloads on launch day.
T-shirts work fine too, but only when the quality is high. If not, it gives consumers the feeling that their brand is cheap and poor in quality, that it does not fit well when a new product is launched. Enter the logo and motto of your brand on your shirts.
Key Takeaways for 'Week of the Mobile App Launch' Phase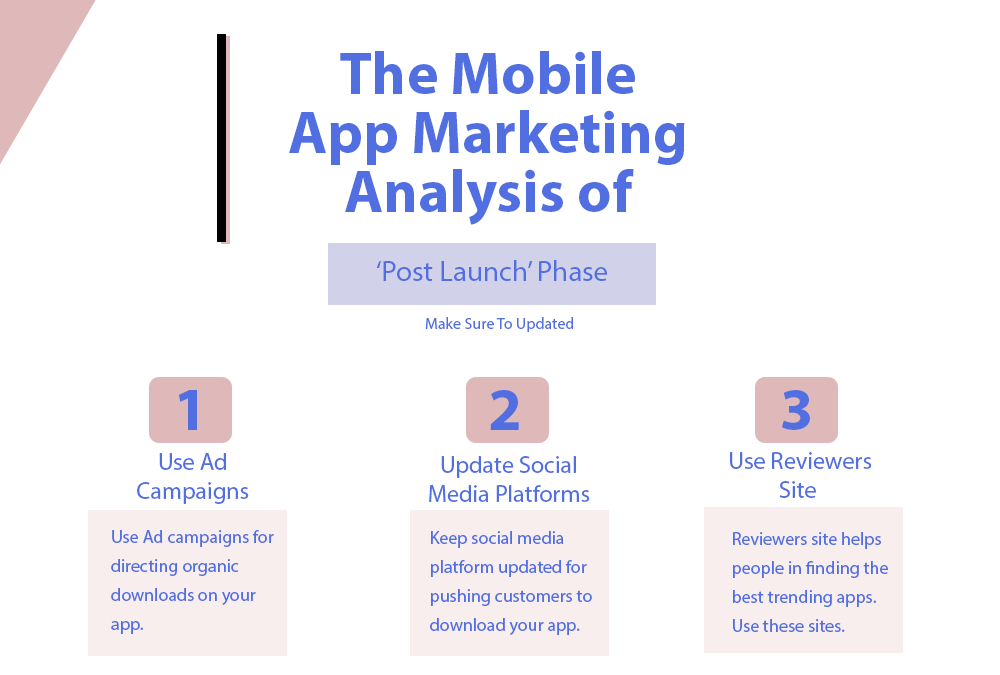 4. 'Post Launch' Phase
This is the final stage of your mobile app marketing strategy. In this phase, you will cover the aspects that were left to ensure during the last three phases. The success of this phase will ensure that your mobile app stands out from the crowd of various other applications present in the application market. You should implement the following strategies during this phase:
Either searching or general browsing provides organic downloads. Your keywords are therefore crucial to people who discover the app. Inorganic downloads, on the other hand, come from paid offers. An important factor in ASO is the overall number of installs.
You'd like at least 200-300 users to get through paid social media campaigns at the outset. You will organically evolve afterward. After a lot of installations, you have the opportunity to get many more users in the app store.
Keep Updating Your Social Media Platforms
Your individualizations are perfect ways to inspire customers to download your application. Connect your email signature links to the App Store. Adjust your corporate voicemail to allow callers to review the submission.
Upload your portfolio and background photos to an innovative framework for your social media accounts. You know far more about them than you do, regardless of whether you see them or not, to ensure that everybody knows that the second mobile app is live.
Sites for app reviews help people to find cool and useful mobile applications. They generate strong traffic and can also make your app accessible on different websites, attracting additional downloads.
Only visit the website and apply your application for review to the admin teams. If your application can not be sent, contact the support team using the techniques described previously with personalized emails.
Key Takeaways for 'Post Launch' Phase

Stay Ahead in the Market Using App Marketing Strategies
It is now beyond doubt that mobile is an important part of your company's marketing mix and growth. We, therefore, need to go beyond the mindset to get an app to learn more about the effect they can have on increasing brand recognition, raising sales, and even creating traffic in stores.
This article provided you with a better insight of the systematic approach for marketing strategies for an app. These best mobile app marketing strategies will surely take the time, resources, and costs but will push your app one step closer to being a chartbuster. These best marketing strategies for an app will also improve highly uncharted areas of your mobile application as far as possible.