So you finally made your boss offer you a promotion. Your friends come over for a celebration, the music is lit and it's party hour. Now when you pour yourself a drink you realize it's the last bottle and last drops. What do you do but drive halfway across the town all alone? Well thanks to on-demand liquor delivery mobile apps, you don't have to take a bummer anymore.
We have an app for everything in today's technologically advanced world. Everything can be done with just a few clicks, from hiring a cab to ordering your favorite food to reserve laundry services. Why not also have a smartphone app for liquor delivery? Matter of fact, the liquor sector is one of the largest in the world, with sales expected to reach USD 222,098 million in 2020.
In this post, we'll go through the different components of creating an on-demand alcohol delivery app, such as features, revenue options, app development expenses, and more.
The Market Size of On-Demand Liquor Delivery Mobile Apps
As per sources, liquor delivery appl sales figures increased by 291 percent for the week ending March 28th and then increased by 387 percent for the week ending April 11th, 2020. Similarly, Drizly, one of the most popular alcohol delivery services in the United States, had a significant increase in sales commencing on March 9th. By the 6th of April, the company had seen a 550 percent raise over the previous month.
In 2017, the global alcoholic beverage market was worth $1,439 billion. And by 2025, this is expected to reach $1,684 billion, indicating a CAGR of 2.0 percent between 2018 and 2025. The spike in the worldwide young-adult demographic, increase in disposable income, and rise in consumer demand for premium products are all driving this expansion.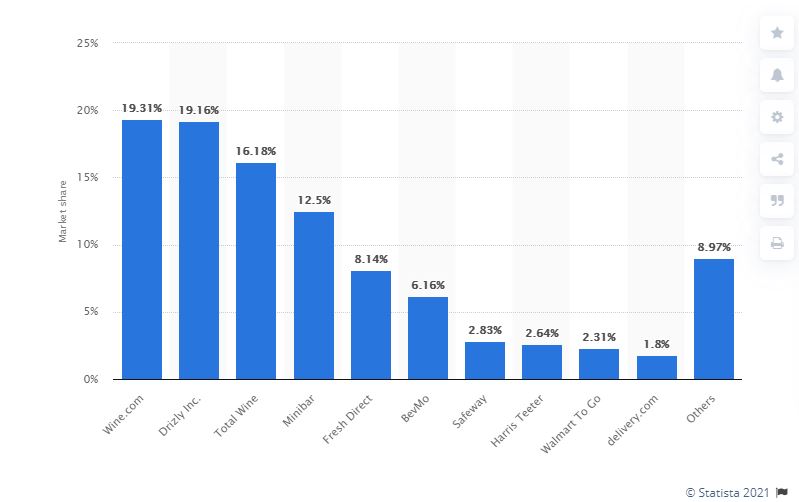 The same factors have fueled a massive increase in the Indian alcohol market. By the end of 2026, the Indian Made Foreign Liquor (IMFL) category is expected to be worth over INR 3,000 billion, with a CAGR of 5.2 percent.
Because of the rise in alcohol consumption, the above-mentioned figures demonstrate that India is an attractive market for creating strong revenue growth in the alcohol industry. As a result, the on-demand liquor delivery mobile app concept has proven to be extremely profitable.
Alcohol delivery apps help businesses attract more clients and increase income by offering unique and simple services. These apps provide a greater return on investment, allow for cashless transactions, and allow administrators to keep track of daily transactions. As a result, investing in the development of an on-demand liquor delivery mobile app will undoubtedly pay off handsomely.
How Did COVID Impact The Market Size Of Alcohol Delivery Apps?
Covid might have restricted the daily lives of people, however, it made the internet more powerful than ever. As the world slipped into lockdown, the bulk of shoppers went online, causing the eCommerce alcohol business to boom.
People all around the world switched to different online sites to stock up on their favorite liquor when they were compelled to stay indoors to prevent the spread of the deadly virus. This enhanced the on-demand liquor delivery mobile app concept and a surge was seen in its market.
How Does an On-Demand Liquor Delivery Mobile App Work?
An app that delivers alcoholic beverages In India, liquor dealers can use a mobile app to provide an eCommerce platform. Users may use the app to search through a variety of liquor filters, including whiskey, gin, vodka, wine, beer, and more.
After selecting the required quality and range of liquor brands, the customer may quickly schedule the delivery of all of their orders. The store can either manage the delivery themselves or employ a third-party delivery service to handle everything.
Revenue Techniques For On-demand Liquor Mobile Apps 
This is one of the most important components of creating an alcohol delivery app because it governs how the app will make money. These apps can use some of the most prevalent monetization tactics, such as:
Payment of Commissions
This is an effective and arguably the most basic method of monetization. The owner of the alcohol delivery app in this case charges a set fee for each order placed through the app.
Highlighted Listing
Another common way to make money with your app is to sell it. In this case, the app's owner gives top slots in the app to liquor shop merchants willing to pay a certain amount of money. Many shops choose these locations because the companies that show at the top generate the most sales.
Managing Ads
Customers can also earn money by advertising-related and comparable items and services through the on-demand alcohol delivery app. The app owner can charge advertising companies a fee in exchange for reaching a larger consumer base.
Enabling eStores
Another wonderful strategy to expand your income sources is to include an e-commerce option in your alcohol mobile app. You may utilize the app to sell beer mugs, wine glasses, and other similar things to keep users interested while also increasing the app's ratings and popularity.
Delivery charges
A subscription-based delivery model can be another source of revenue by dynamically charging delivery costs based on a customer's distance from the restaurant, or surging the fee based on unplanned occurrences such as pandemics, strikes, and unusual times.
General Features On-Demand Liquor Delivery Mobile App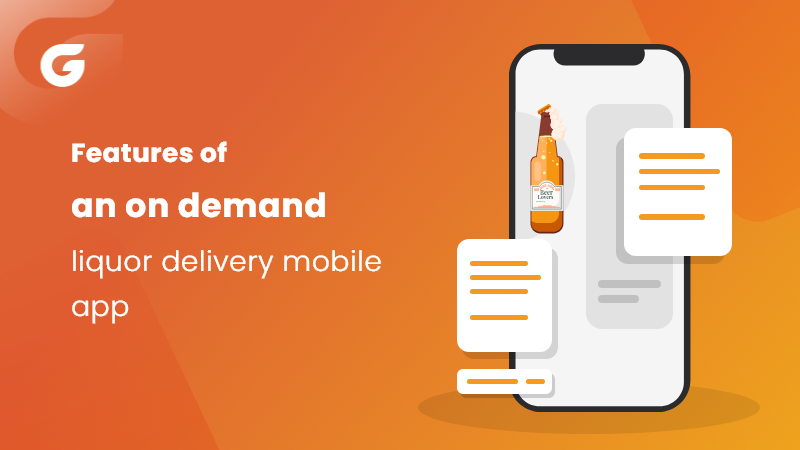 Innovators who are new to the sector and have no idea what they're doing should seek the assistance of a reputable alcohol delivery app development firm. They can assist you in developing a feature-rich on-demand liquor delivery mobile app with their skilled team of designers and developers. Let's speak about all of the cool features that need to be included in the app.
While placing orders for anything, the user panel facilitates communication between the app and users. User panel features make it easier for users to do operations such as making orders, tracking, applying filters, browsing the menu, and so on. Hire the best Android and iOS app developers to avail following features.
User Panel
Sign-up/Login
Users of the app must create a user profile by providing a phone number or email address, or they can sign up using other social network accounts. They'll be able to log in using their credentials the next time.
Search the Liquor Database
This feature is available in on-demand apps, allowing users to view all of the products mentioned, as well as their specifications and prices.
Filters 
Users can't possibly look at all of the available liquor goods, thus this function allows them to search only for the ones they need on an on-demand liquor delivery mobile app.
Placement of Orders
Users can place their orders and plan an appropriate delivery time and location after selecting the needed products. They can also choose from their wish list to place orders.
Gateways for Payments
Customers must pay for their orders online or use the cash-on-delivery option after placing an order. They have a variety of alternatives for this, including e-banking, credit or debit cards, UPI, and many others.
Previous Orders 
Users may occasionally feel compelled to review their order history to see the details of previous orders. It allows them to double-check their drinks, orders, and prices, among other things.
Tracking Orders
This function is used in mobile alcohol delivery app development services to make it easier for users to check their orders.
Product Evaluations and Reactions
Users like to buy things from a reputable site, therefore feedback and reviews are indicators of the app's legitimacy. According to surveys, 86% of users examine internet reviews before placing an order.
Discounts and Special Offers
Offers and discounts are critical components in attracting new clients and retaining existing ones. These offers entice them to buy your products on an on-demand liquor mobile delivery app since they are profitable.
Notifications in Real-Time
How would you know if an app has something fresh or offers a discount? Push notifications will allow you to receive real-time information on the on-demand liquor delivery mobile app.

Admin Panel
Creating an account and logging in
Admin must first register for the app, following which he or she can log indirectly. The account can be created by the administrator using the email address, shop details, phone number, and other information.
Management of a Liquor Store
By adding, removing, or modifying products in the item list, the liquor store administrator can manage the product online via the dashboard.
Management of Orders
Admin controls all of the orders placed by users, as well as their previous orders, as well as their current status and changes.
Reporting in Real-Time
Admin can see all of the statistics related to the orders that are made from various regions, including which region places the most orders and the top delivery hours.
The Payment Management 
Admin gets access to all of the users' payment transactions. By the admin end, he/she checks all payment activity.
Product and Price Management
Every service's price and product specifications, including advertisement and marketing, email templates, banners, and others, are handled only by the admin.
Delivery Panel
Status 
This function is provided in the delivery guy panel of online alcohol delivery app development solutions, allowing them to indicate themselves as available or unavailable for delivering items or services.
Orders accepted/rejected
When the delivery boy receives an order delivery request, he has the option of accepting or rejecting it at his discretion.
Keep track of customers 
The delivery guy may view the customer's location and other data such as contact number, name, and so on after accepting an order request.
History of Orders
The delivery boy has access to the history of all the orders he has delivered. It can also be handy in the event of a problem or a misunderstanding during order delivery.
Also Read: Daily Deals App Development – Cost and Key Features
Monetization Strategies of On-demand Liquor Delivery Mobile Apps
The main goal of any app development is to make a lot of money and generate the most income. Various company owners overlook the cost of developing a booze delivery app since they have discovered an excellent app revenue technique. Take a peek at what they are-
Listing Highlighted
It is a widely used strategy by business owners when utilizing an app to develop their firm. Businesses spend a large sum to have their outlet appear at the top of the app screen. It gives them the best opportunity of making the most money.
Based on  commission
It is the most straightforward and straightforward strategy, in which the app owner charges a set fee whenever a business places an order through the on-demand liquor delivery mobile app.
Factors Influencing On-demand Alcohol Delivery Mobile App Development Cost
The complexity of the app, the platform you choose, the advanced features you choose, the location, and other factors all influence the cost and time of on-demand alcohol delivery app development. Let's take a closer look at each of these elements.
Platform and App Complexity
The first decision each company must make is what they want and who they want to target. If they require iOS or Android app development services, what should they do? To assess the app development cost, all of these questions must be answered. A hybrid mobile app will set you back a lot of money, so if that's not an option for you, you can stick to one platform.
Features that are required
In today's technologically evolved environment, firms must be able to meet high user expectations. This is why companies choose significant and cutting-edge features, even if they come at a greater cost. If you're on a tight budget, MVP services are also an option.

Technological Stack Used in On-demand Alcohol Delivery App Development Cost
As a user, would you choose an app that didn't use the latest technology? Obviously, no! Integrate new technology into your booze delivery app to set it apart from the competition; however, this will increase the overall cost of development. Hire the best app developers to get robust on-demand liquor mobile delivery apps.
Let's have a look at the technological stack used in the on-demand alcohol delivery mobile app
Cloud Environment: AWS and Google
Front-end Development: CSS3 and Bootstrap
Back-end Development: Angular JS, Python, or JavaScript
Database: Cassandra, Postgres, MongoDB, HBase, MySQL
Data Management: Datastax
SMS, Voice & Phone Verification: Nexmo, Twilio, Sinch
Real-time Analytics: Spark, IBM, Apache Flink, Hadoop, Cisco, BigData
Data Storage & Security: Amazon data servers or Google Cloud Storage
Payment Methods: Braintree, Stripe, & PayPal
Real-time Notifications: APNS
Programming: Google Web Toolkit
MailChimp Integration
Development Cost of On-Demand Alcohol Delivery App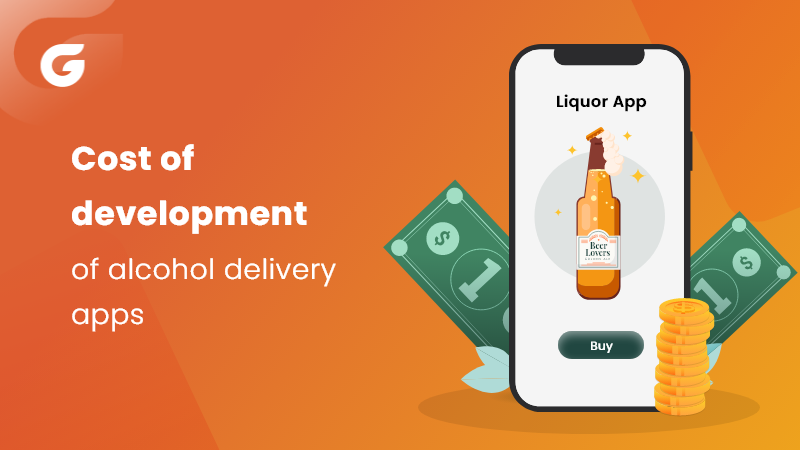 All of the components that affect the overall pricing have been well-defined above. Based on this, we may estimate the cost of developing a booze delivery app to be between $25,000 and $60,000. However, if you just create apps for one platform, such as Android or iOS, the cost of both basic and additional features will be significantly lower.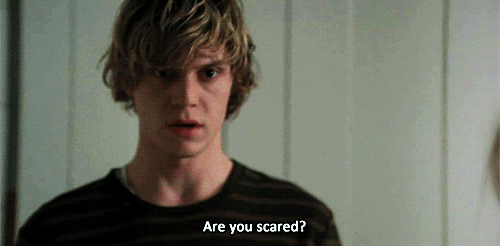 For top-notch on-demand liquor mobile apps hire a top app development company. Hiring a development company will help you in framing your app's development cost with requirements integrated.
Aside from the aforementioned considerations, the hourly cost is the most significant component that might affect your entire budget.