As technology continues to revolutionize various industries, the parking management sector is no exception. Parking management software has become a key tool for parking operators, facility managers, and even cities to increase efficiency, optimize revenue, and provide customers with a seamless parking experience.
There are several parking management softwares available in the market. So it is difficult to determine which one is suitable for you. In this blog post, we examine the best parking management software solutions that have made a big impact in 2023 and helped parking companies stay ahead of the curve.
What is Parking Management Software?
Parking management software is a purpose-built software solution designed to streamline and automate many aspects of parking management. It is widely used by parking operators, property managers, and local governments to efficiently manage parking spaces, increase revenue and improve the overall parking experience for their customers.
Users can pre-book parking spaces through the website or mobile app, ensuring availability and convenience. The software can automate parking enforcement by integrating with parking meters, access control systems, or license plate recognition technology. You can raise tickets, track violations, and manage the entire enforcement process.
The software collects and analyzes data on parking occupancy, sales, customer behaviour, and other relevant metrics. Generate reports and insights that help operators make informed decisions and optimize parking operations. As a result, the demand for parking permit management software is becoming high.
The List of Top Parking Management Software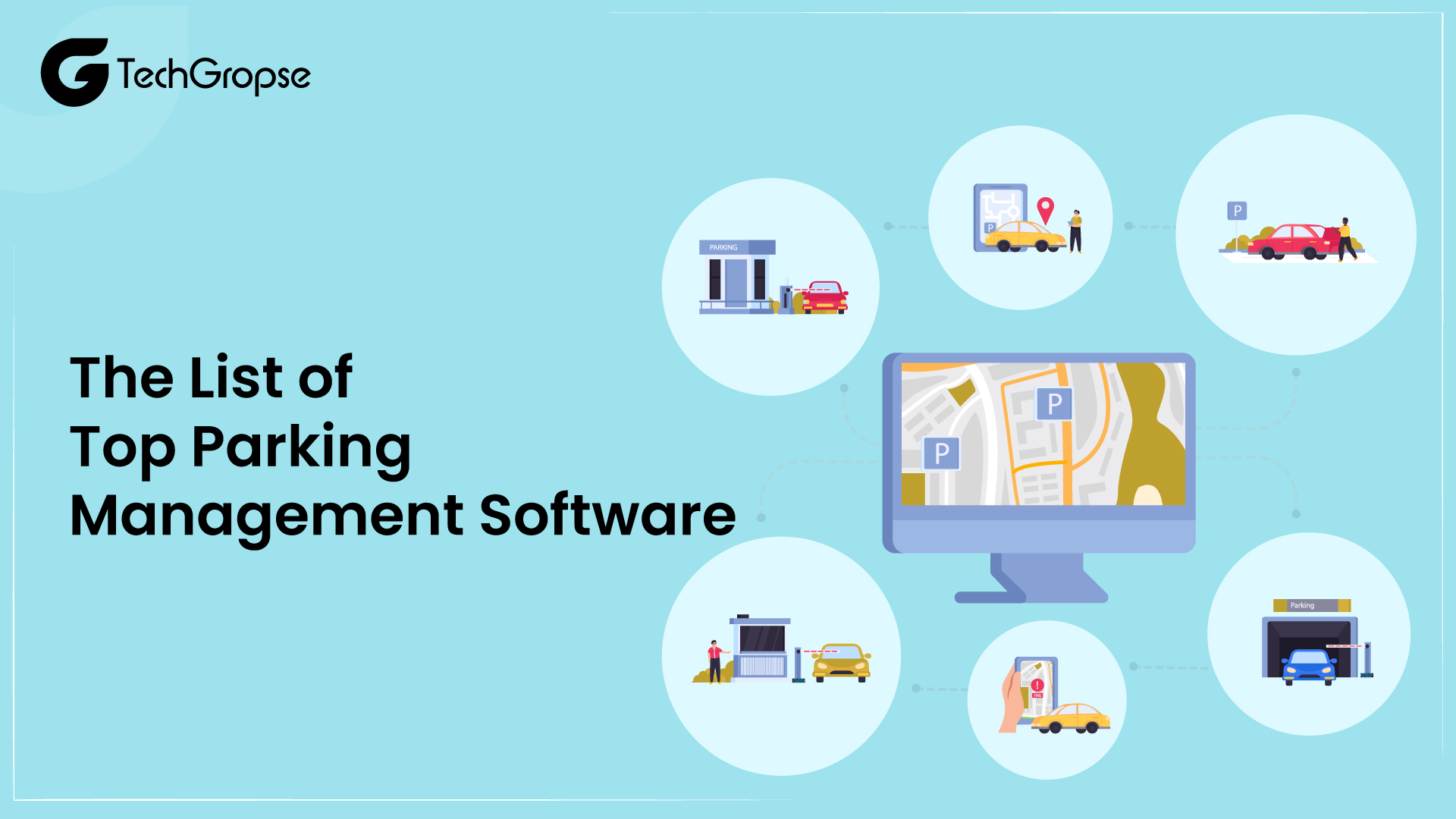 Well, there are several parking management software in the market. Therefore, you may face difficulty in choosing the right one for your business. If you are searching for a leading solution, then you are at the right place. Below we mention a list of  parking management softwares:
1. Passport
Passport is a US-based company that builds a system to power and manage parking, permit, enforcement, and micro-mobility. It helps cities collect data on their transportation network and manage the flow of goods, people, and services.
You know that the parking management system supports the improvement of parking operations, revenue, customer and employee experience, and zone activity reporting. Its RV park management software enables the management of parking enforcement, mobile pay parking, digital permitting, and payment through one platform.
If you are looking for parking management software, you can count on this to make parking management easier and more convenient for your employees. The software helps parking administrators enforce parking regulations by offering tools to monitor parking space, citations for violations, and manage the overall enforcement procedure.
2. Skidata
Skidata is a mobile home park management software for managing parking facilities. The software is generally designed to assist in monitoring and controlling car park access locally and remotely. This software can be utilized to optimize work procedures and offer timely and professional customer service.
Using Skidata parking management software, you can handle cash payments and access all data, such as turnover and number of parking customers. Moreover, it is easy to use, so anyone can use it to manage parking facilities. The best thing about the software is that it provides a range of features and functionalities designed to streamline parking operations, enhance customer experience and optimize revenue generation.
3. CAME Parker
CAME Parker's is cloud-based car parking management software that provides real-time monitoring and real-time control in order to access car parks and other parking facilities. Moreover, the system controls various payment methods, including parking, cash, and cashless smartphone payments.
You can use this app on tablets, pc, and smartphones. Additionally, it provides web-based reporting services such as goods, statistical information on payments, invoices, and receipts. The software enables remote monitoring of a single or several parking lots. This software facilitates ticketing, enabling ticket issuance and validation at entrances and exits.
It can also be integrated with access control systems such as barriers and gates that regulate vehicle ingress and egress. If you also want to build an app like CAME Parker, you can seek the help of a software development company with a team of professionals to build a functional app.
4. Design
This software has features or collections of functionalities that may be customized to fit specific requirements. The best thing about the software is that its features are organized into four sections: operate, drive, pay, and report. This software may be used in both large-scale facilities with hundreds of terminals and small-scale facilities with just a few devices.
The software provides useful data for improving parking traffic or launching new parking services. It also offers real-time data on the number of cars in each parking lot and specific information on individual vehicles, such as colour, model, and license plate number. On the other hand, it tracks how long a vehicle is parked in each area and gives information on use patterns over time. Therefore, it is the best parking management software.
You can also take an idea from this app and build your own application, including rich features and modern technology. However, you need to hire software developers who are well-experienced and trained to build a functional application.
5. Flash Parking
This is a cloud-native parking application in the United States. The software was established in 2011 and headquartered in Austin, Texas. With the help of this software, the parking lot managers' day-to-day operations. The cloud-based configuration and controls allow the management of parking locations from anywhere.
By offering real-time location data, customer support capabilities, and automated enforcement, the software is intended to boost efficiency and reduce expenses. Its cloud-native approach makes it easy to update, deploy and maintain the system while always being scalable to meet the requirements of any size operation.
6. Flowbird
The software facilitates ticketing, enabling ticket issuance and validation at entrances and exits. It can also be integrated with access control systems such as barriers and gates that regulate vehicle ingress and egress. With the help of this parking management software, you can control the day-to-day tracking of all operations.
It is responsive and can automatically resize to fit any device, including smartphones and tablets. This way, parking lot managers are eligible to monitor the system's performance in any connected environment. This parking management software always helps to analyze parking lot trends, adjust rates and optimize pricing based on usage patterns. So you can use this software to manage the parking.
7. Hectronic
This parking management software uses a camera or sensors to assist in optimizing the utilization of parking spots. It provides central parking monitoring and administration by allowing service integration, combination, and scalability based on the organization's requirements.
In simple terms, this software enables users to control parking facilities in real-time and make preliminary analyses of the data collected by the parking equipment. On the other hand, it has amazing features that make it the first choice for parking management. You can use this software to manage parking or take an idea to build your own parking management software. However, you have to hire dedicated developers who will help you in every step of mobile app development.
8. Hub Parking
Hub parking improves parking space management and business operations, optimizes operational performance, and maximizes lot resources. The amazing solution can be scaled to fit any size parking facility with a single or multi-level configuration. It means using this software; you are able to manage the parking more efficiently.
This parking management software is designed to streamline and automate many aspects of parking operations, including ticketing, access control, revenue management, and reporting.
The company is a firm believer in the value of conservation and sustainability, and it creates parking solutions that help you manage your business more effectively while reducing your carbon footprint.
9. Swarco
Swarco's primary goal is to enhance people's quality of life by making transport safer, ecologically friendly, and more convenient. The software allows parking operators to monitor and manage the availability of parking spaces in real-time. It can track the occupancy of individual parking spots and provide information on available spaces to drivers.
Swarco's software enables automated payment and ticketing processes. It can handle various payment methods, such as cash, credit cards, mobile payments, and contactless options. The system generates tickets or receipts for drivers and facilitates revenue collection. This parking management software integrates with access control systems to regulate entry and exit from the parking facility.
It can involve technologies like barrier gates, license plate recognition (LPR) systems, and proximity cards to manage access for authorized personnel and registered vehicles.

10. Parker Lot
Parkalot is a comprehensive parking management software offering various features to simplify parking. It offers real-time tracking of parking space availability, an online booking system, and mobile payment options. Parkalot also includes a parking monitoring module to manage violations and issue reminders. Its analytics and reporting capabilities help administrators understand parking patterns and optimize resource allocation.
11. T2 System
T2 Systems provides a robust parking management software platform suitable for various parking environments such as universities, airports, municipalities, and commercial facilities. The company's solutions include capabilities such as permit management, subpoena processing, revenue management, and online parking reservations. T2 Systems also integrates mobile payment apps and license plate recognition systems to improve efficiency and user convenience.
12. Ski Data
Skidata specializes in providing intelligent parking management solutions for various industries. The company's software provides seamless integration with access control systems, payment terminals, and parking guidance systems. Skidata's platform enables real-time monitoring of parking space occupancy, supports a variety of payment methods, and offers advanced reporting and analytics tools. Additionally, it provides an easy-to-use interface for both administrators and end-users.
13. Park Hub
ParkHub is a cloud-based parking management software solution that simplifies parking operations for venues, stadiums, and large parks. The platform includes features such as online booking, mobile payments, and ticket scanning for smooth entry and exit. ParkHub's analytics dashboards provide real-time revenue, occupancy, and customer behaviour data, enabling operators to make data-driven decisions.
14. Spot Hero
SpotHero is a popular parking management software focused on optimizing parking space usage and providing drivers with a seamless booking experience. Users can search, reserve and pay for parking spaces in advance on the platform. SpotHero integrates with navigation apps so drivers can easily find and navigate to reserved spots. The software also provides reporting tools for park operators to track revenue and monitor customer feedback.
15. Wayleadr
This parking management software aims to assist businesses in automating the parking reservation process across many sites. It is designed to help businesses and organizations effectively manage and control their parking facilities. It typically includes features such as parking space allocation, payment processing, ticketing systems, real-time monitoring, reporting, and integration with other systems.
With the help of this software, companies can administer workplace parking with proper distribution, infractions management and optimal occupancy. The best thing about the software is that it helps your business save money with good management.
16. Park Office
This software enables businesses to increase parking availability, minimize costs, earn income from staff parking, enhance sustainability and raise staff morale. This software is generally designed to streamline and optimize parking operations for businesses and organizations. It offers a range of features and tools to improve parking utilization, enhance the parking experience for your employees and visitors, and reduce parking-related costs and inefficiencies.
The Final Note
Efficient parking management is essential to optimizing revenue, improving customer satisfaction, and reducing traffic congestion. The top parking management software solutions listed above offer a variety of features designed to streamline your operations, improve accessibility, and increase your bottom line.
Whether you are managing a university parking lot, an airport, or a venue, deploying a robust parking management software solution can greatly improve efficiency and create a positive parking experience for your users. Consider reviewing these top solutions and choosing the one that meets your specific parking management needs.
FAQs
1. What is Parking Management Software?
Parking lot management software is a tool that supports the automation and efficiency of parking lot operations. It offers features such as parking reservations and reservations, permit management, enforcement, payment processing, reporting, and analytics.
2. What are the benefits of using parking management software?
Benefits of using parking management software include increased efficiency and accuracy in managing parking operations, improved customer experience with features such as online booking and payment, real-time data and analytics for informed decision-making and enforcement, security, and cost savings through automation.
3. What are the popular parking management software options?
Common park management software options include ParkMobile, T2 Systems, SpotHero, ParkAlto, Passport, ParkOffice, FlashParking, Skidata, OPark, and SecurePark.
4. What features should I look for in parking management software?
What features you should look for in your parking management software depends on your specific needs. However, key features include parking reservations and reservations, payment processing, permit management, enforcement tools, real-time availability tracking, reporting and analytics, integration with hardware (such as parking meters and access control systems), Includes easy-to-use features.