With the help of online dating apps, it is easier to find a perfect partner whose likes and dislikes match with you and he/she is understanding. As a result, online dating apps are a boon for bachelors who are looking for a partner for a long-term relationship or hooking up. In today's time, you will find numerous options in the market to find a partner who understands you better.
Dating applications are generally a popular and convenient way to meet people, and it's not just swiping to start a chat message anymore. This application has amazing features, such as video chats and similar tools, that can assist you in getting to know someone remotely before you choose whether you would want to meet up in person.
By choosing the best app, users can find a romantic connection. But as we mentioned before, there are numerous options. In such a scenario, it isn't easy to choose the best online dating apps. If you are looking for the best app, you are at the right place. Today, we will discuss the top online dating apps that can help you in chatting and dating with your selected person.
List of Top Online  Dating Apps
There are lots of dating apps in the market where you can find someone to date. Therefore, it is really important to choose the right option that suits your desire. In this section, we introduce some dating apps. Which means you can select an option that is suitable for you.
1. Hinge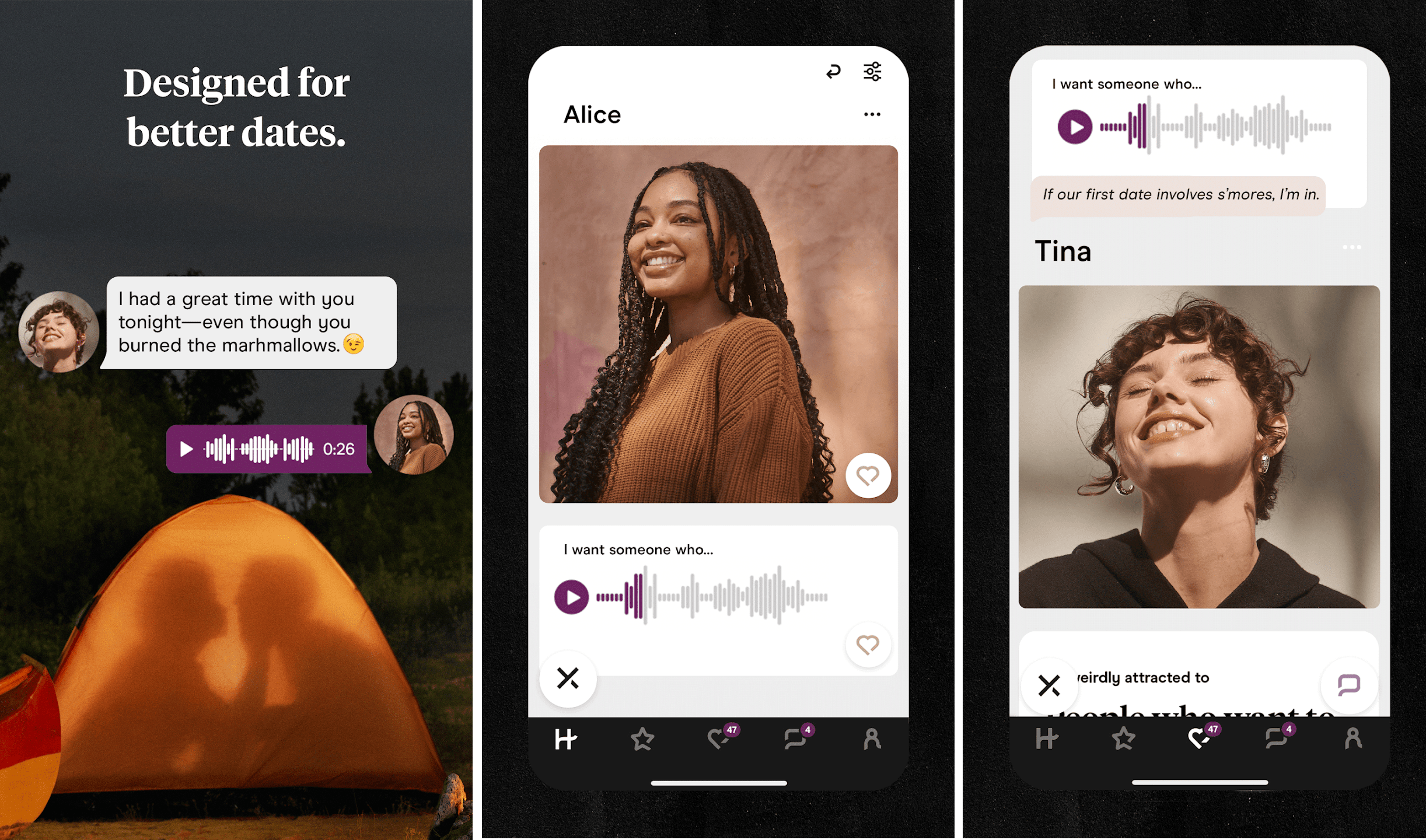 If you are looking for casual dating or more serious relationships, Hinge is a fantastic option for you. This app is particularly well-reviewed by young people and those searching to have quality conversion. This app is designed to make the user profile more engaging than on applications such as Tinder.
There, will you find an option that displays a lot of important information that could be deal breakers? Henceforth, it can be selected to find a romantic partner. The best thing about this app is that it is included in the list of free online dating apps, so you don't have to pay any amount to use this app. However, it only allows for ten matches a day, so users can't become serial swipers, but by getting paid internships, it is easy to chat with lots of people in a day.
Key Features of Hinge
Hinge allows users to get a better sense of who someone is beyond their images.
It encourages creating more detailed profiles.
Help to connect people who have mutual FB friends or share a mutual friend on the app.
Users are able to set specific preferences for their matches along with age range, ethnicity, distance, religion and many more.
2. OkCupid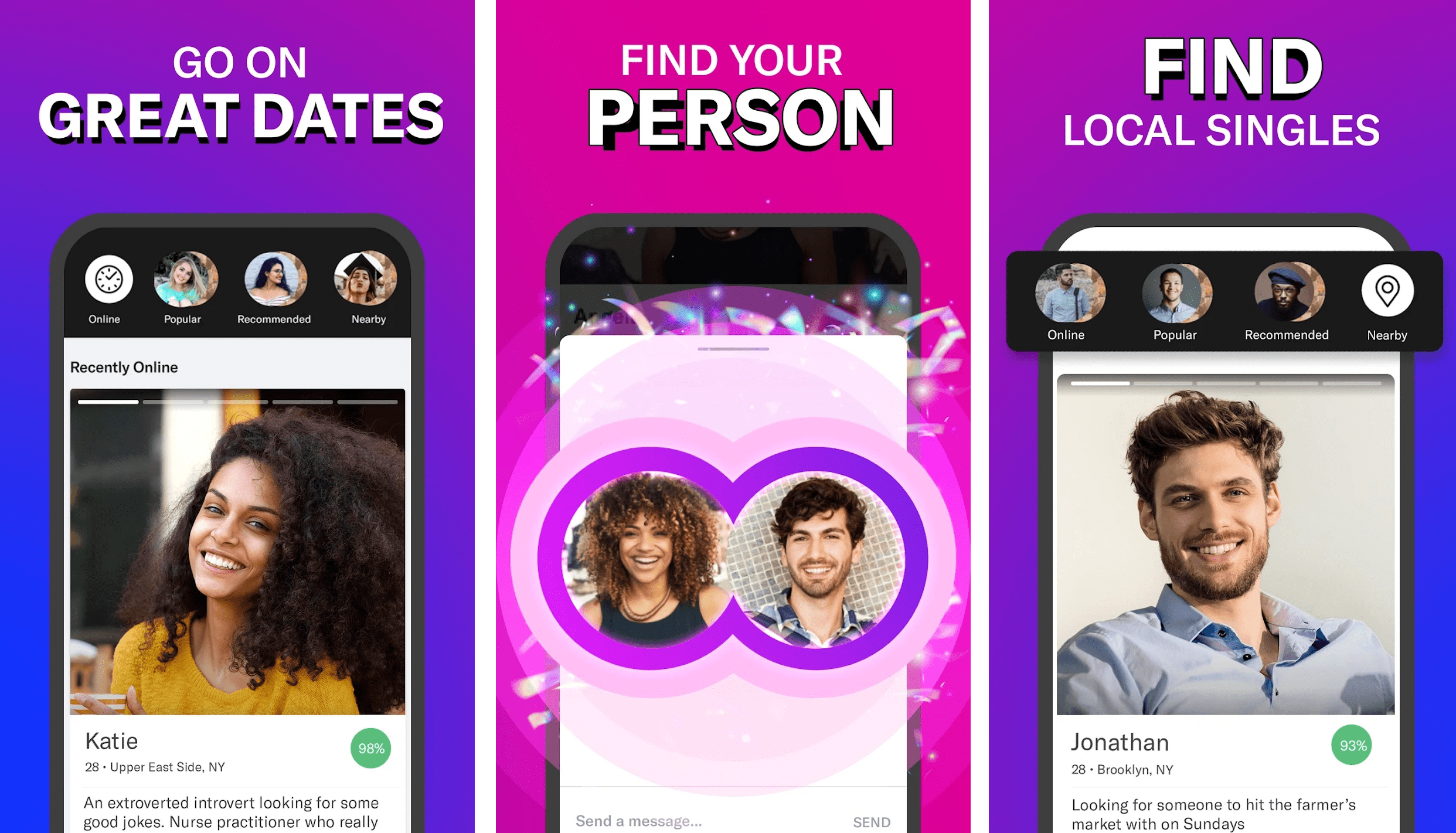 Another great online dating app is OkCupid, which has great tools and features that make it more popular among people. Henceforth, it is an ideal choice if you want a deep connection with someone and a relationship that lasts. This app focuses on connecting individuals who are looking for serious relationships.
Furthermore, there is a screening process to assess compatibility. While you don't have to pay for the application's basic plan if you want an enhanced experience, you can upgrade your account, add deal breakers to your profile, send unlimited likes, and browse anonymously. As a result, you can include this app in the list of top online dating apps.
Key Features of OkCuivpid
Its boost feature gives permission to the users to be one of the top profiles in the user's area for 30 minutes.
OkCupid shows someone that you are interested in them.
The read receipts feature will let you know whether your crush or potential match has read your message.
3. Feeld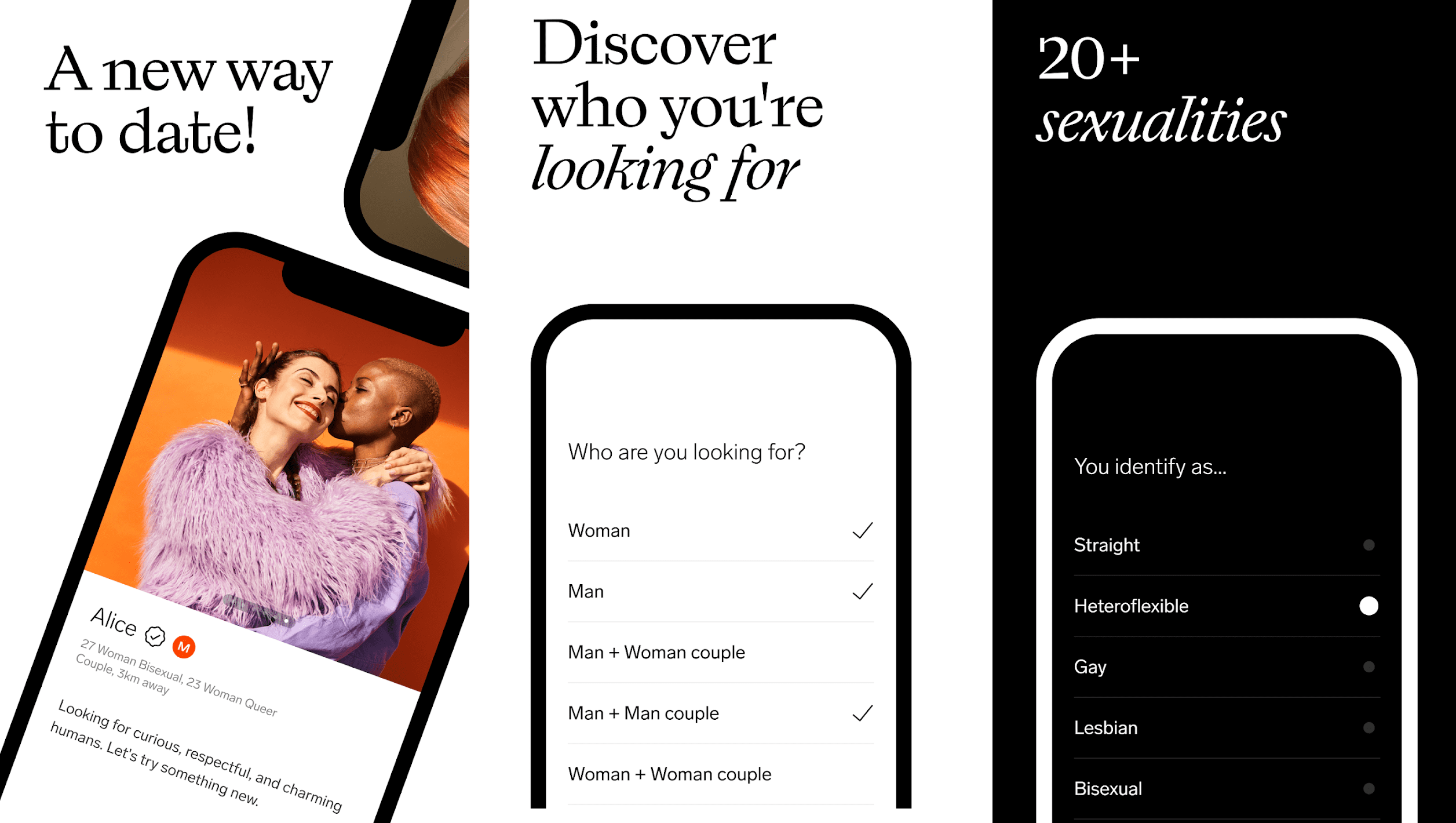 This is the best online dating app that is ideal for non-monogamous people who are searching to have fun with people who feel similarly about dating. Whether you end up in a romantic connection or keep seeing a person to look where things go, this app will assist you with just that.
This application was launched in 2014 with a focus on helping people find threesomes and other forms of consensual, non-monogamous relationships. This application is generally known for its open-minded and inclusive approach to dating and relationships. It gives permission to specify their desires and interests along with couples, singles and people in open relationships.
With the help of this app, users can always choose from a wide range of gender and orientation options to better match with potential partners who can share their preferences. As you can count, it is one of the top online dating apps.
Key Advantages of Feeld
Users are able to create profiles indicating their relationship status, sexual orientation and what they are looking for in terms of connections.
This app uses a swiping system similar to other apps that allow users to browse through profiles and swipe right to indicate interest or left to pass.
It has a discovery feature that allows users to browse profiles beyond their immediate geographical area.
4. Match.com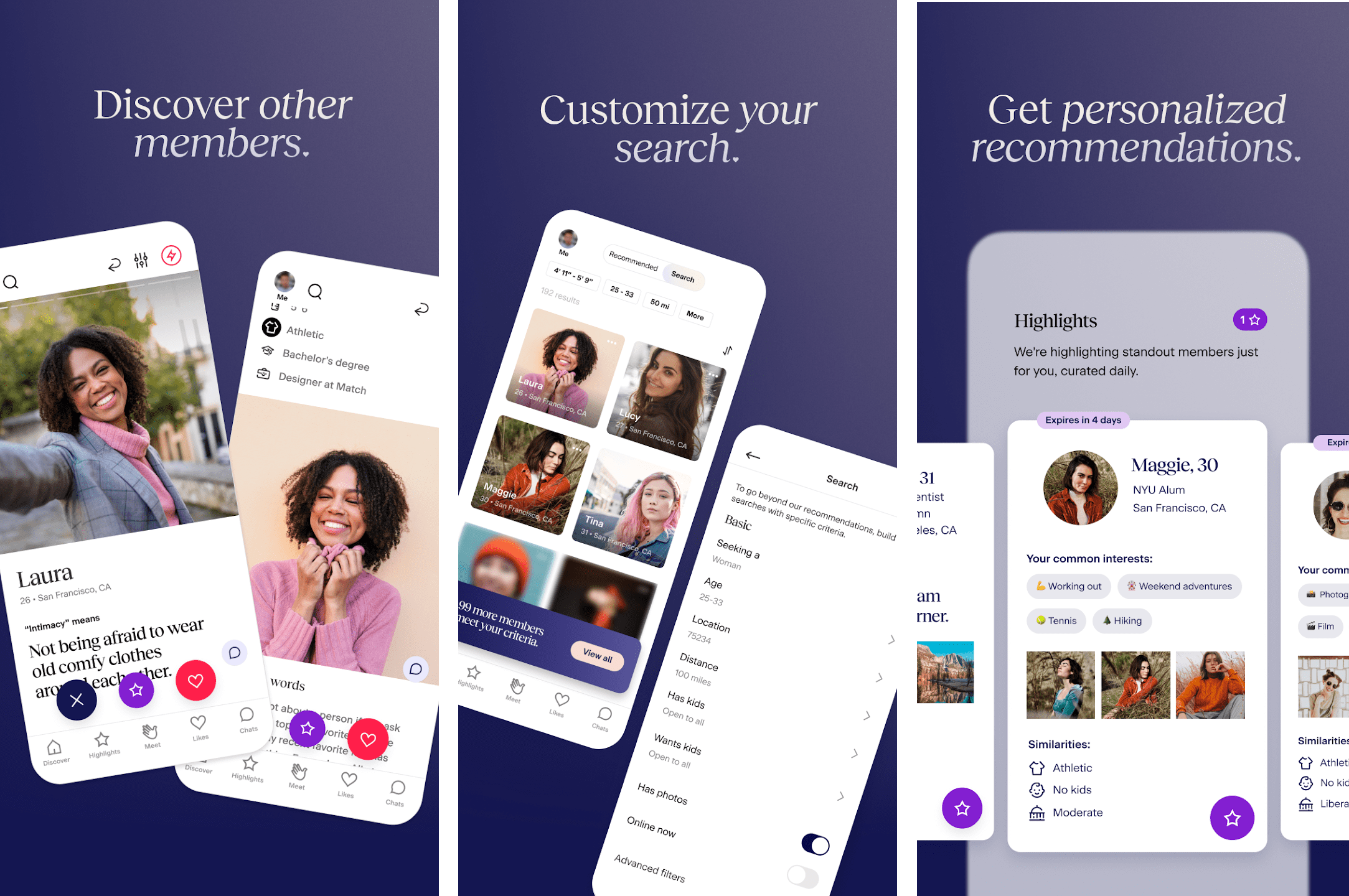 This online dating app provides a freemium dating experience on iOS and Android. Through the help of this app, users can set up an online profile and upload a few photos of themselves. After that, engage in some online flirting with "winks". Moreover, it has amazing features that make it more popular among the users.
Using this app, users can chat with and date a person who takes an interest in their profile. As a result, it is the best choice for those who are looking for a partner for hookups or long-term relationships. You can build your own app by seeking the help of a dating app development company.
Key Features of Match.com
Users can create detailed profiles with information about themselves.
com provides a search feature that allows users to search for potential matches.
It has a matching algorithm that takes into account the information provided in user profiles to suggest potential matches.
Users can communicate with their matches through private messaging, allowing them to get to know each other before deciding to meet in person.
5. Her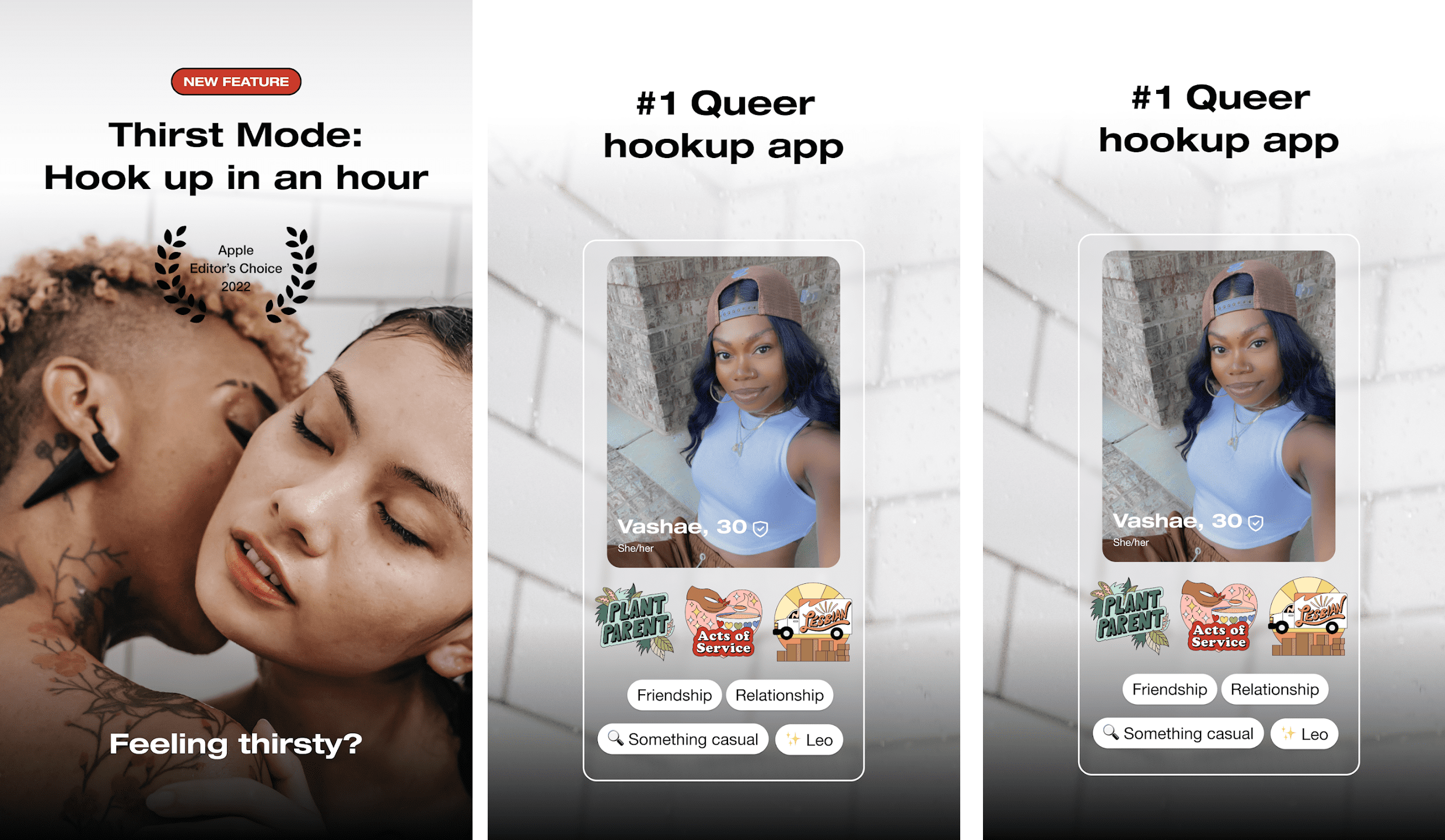 Her is a great dating and social network application designed with bisexual, lesbian and queer users in mind. In order to use this app, users can sign up with social media accounts like  Facebook or Instagram and then view a stream of activity from other verified users in your area and globally.
With the help of this app, users can like photos of other users, and if the interest is mutual, this application will link you up to chat. This is why it is the best application for dating. Enterprise can also take an idea from this app and build a dating app like Her.
Key Features of Her
Users are able to create detailed profiles with images, personal information and other things.
It allows users to specify their gender identity and pronouns.
Her application provides a swiping feature similar to many other dating apps.
When two users mutually liked each other, they were considered a match and could start chatting.
6. eHarmony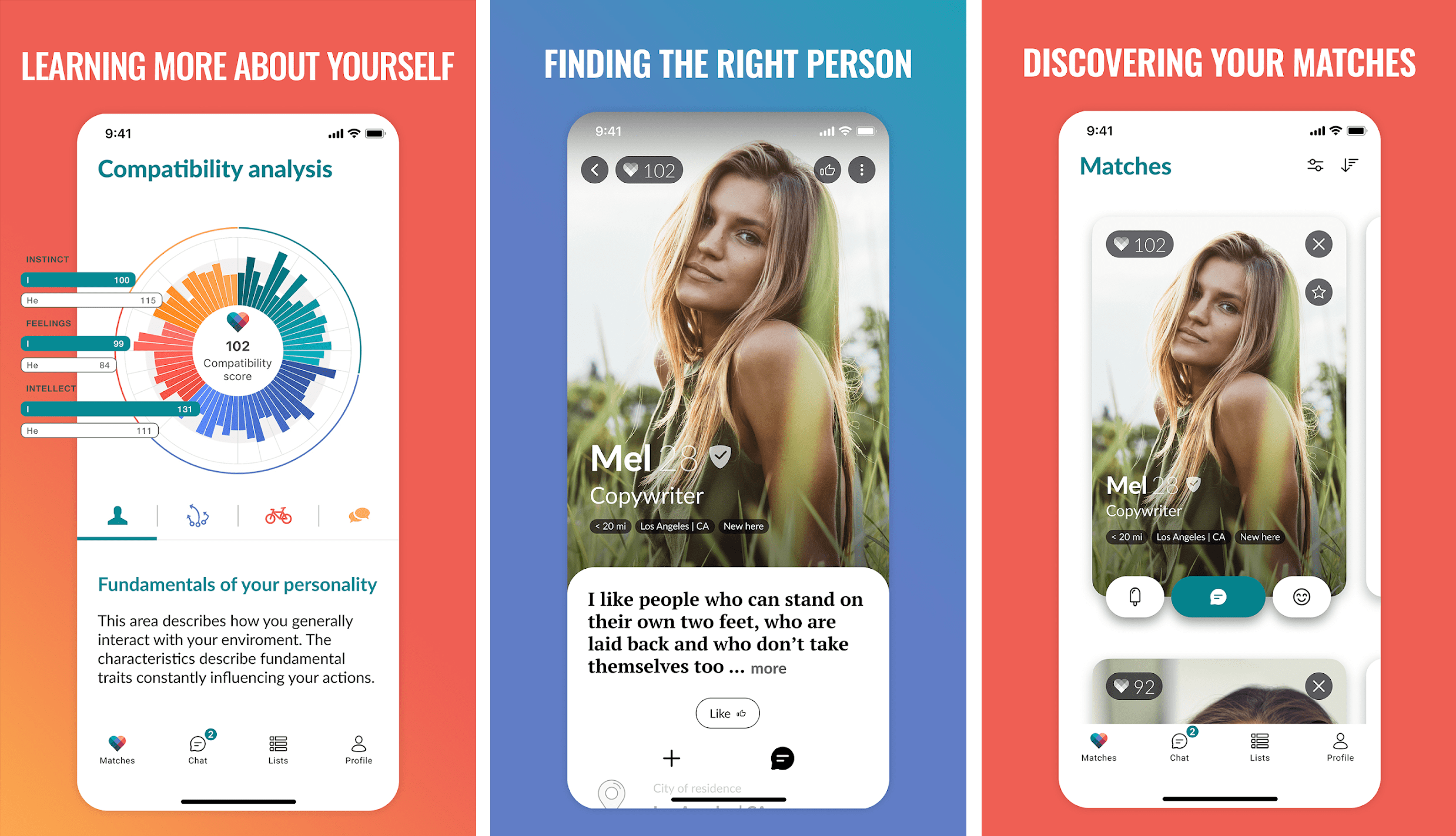 eHarmony is an online dating game that helps users make the best possible dating matches for eharmony members. Once you create an account, you go through a "relationship Questionnaire" to make personality profiles that match you with other users. This app always offers a selection of matches and your areas of compatibility; you have the option to connect if the interest is mutual.
By taking premium subscriptions, you get expanded matching and discovery options and other functionalities, such as being able to see who has recently viewed your profile. You can also build your own app by taking some ideas from this app.
In order to ease the development process, you can search for an on-demand app development company that will provide you ultimate solutions within your budget.
Features of eHarmony
eHarmony is known for its comprehensive personality assessment.
You are able to create a detailed profile with information about yourself.
eHarmony offers various ways for users to interact with their matches.
The application prioritizes user safety and privacy, implementing measures to protect user data.
7. Thursday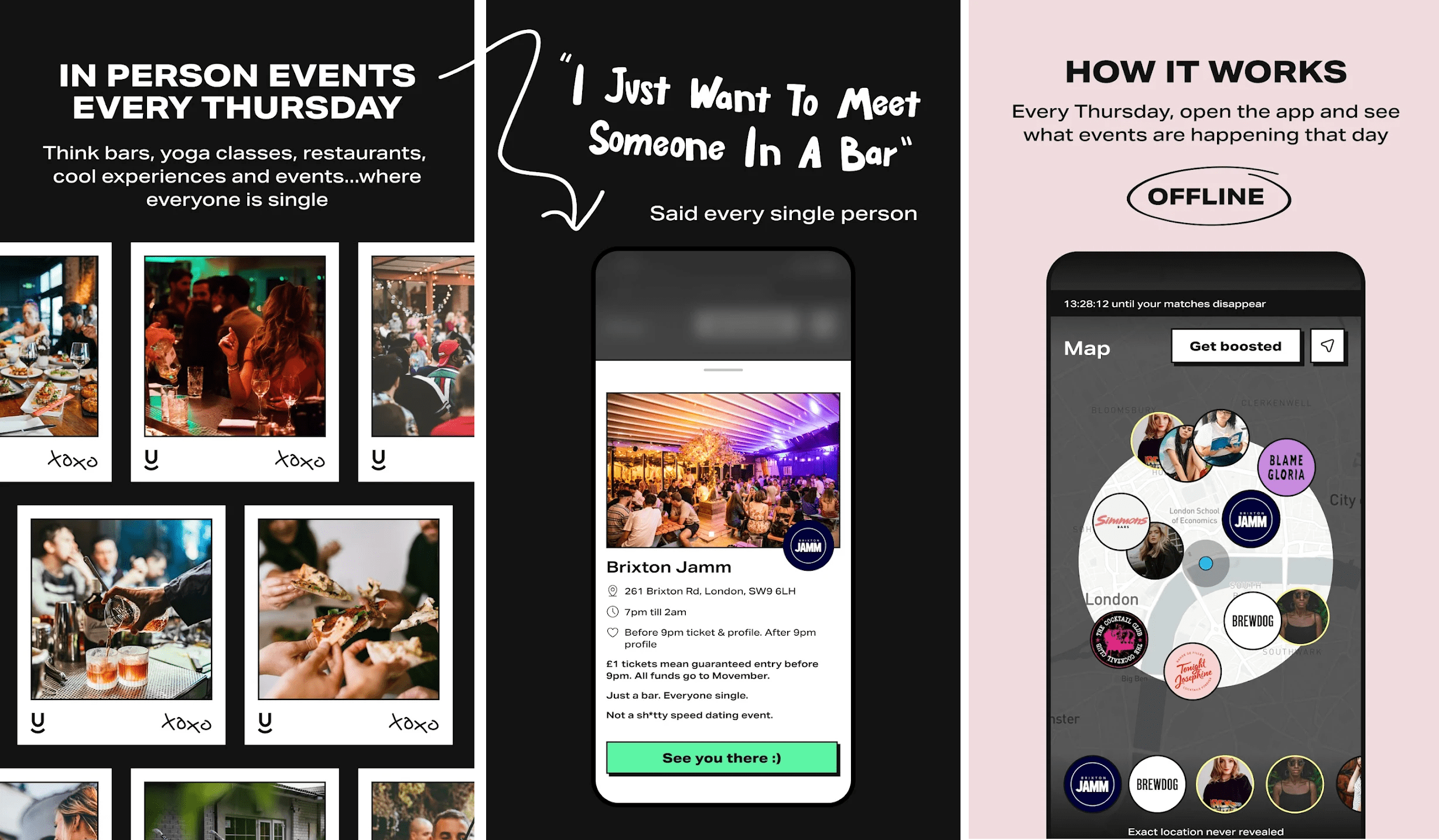 Thursday is included in the list of top online dating apps. We all know that most apps take several hours of combing through potential candidates and conversations before successfully scheduling in-person data. You know what makes it amazing! Well, it only functions on Thursdays. Within 24 hours, users who are interested in each other must commit to meeting up that day or wait another week to continue chatting online.
The founder of this app realized that the world is spending too much time on dating applications, so they created an alternative that invites users to match, flirt and date all in one day. However, this app is suitable for those who live in London and New York.
Key Features of Thursday
Users are able to create profiles with information about themselves.
It helps to match users based on their preferences.
User can communicate with their match through a messaging system
Use a swiping or liking system where you can indicate your interest in potential matches.
8. Zoosk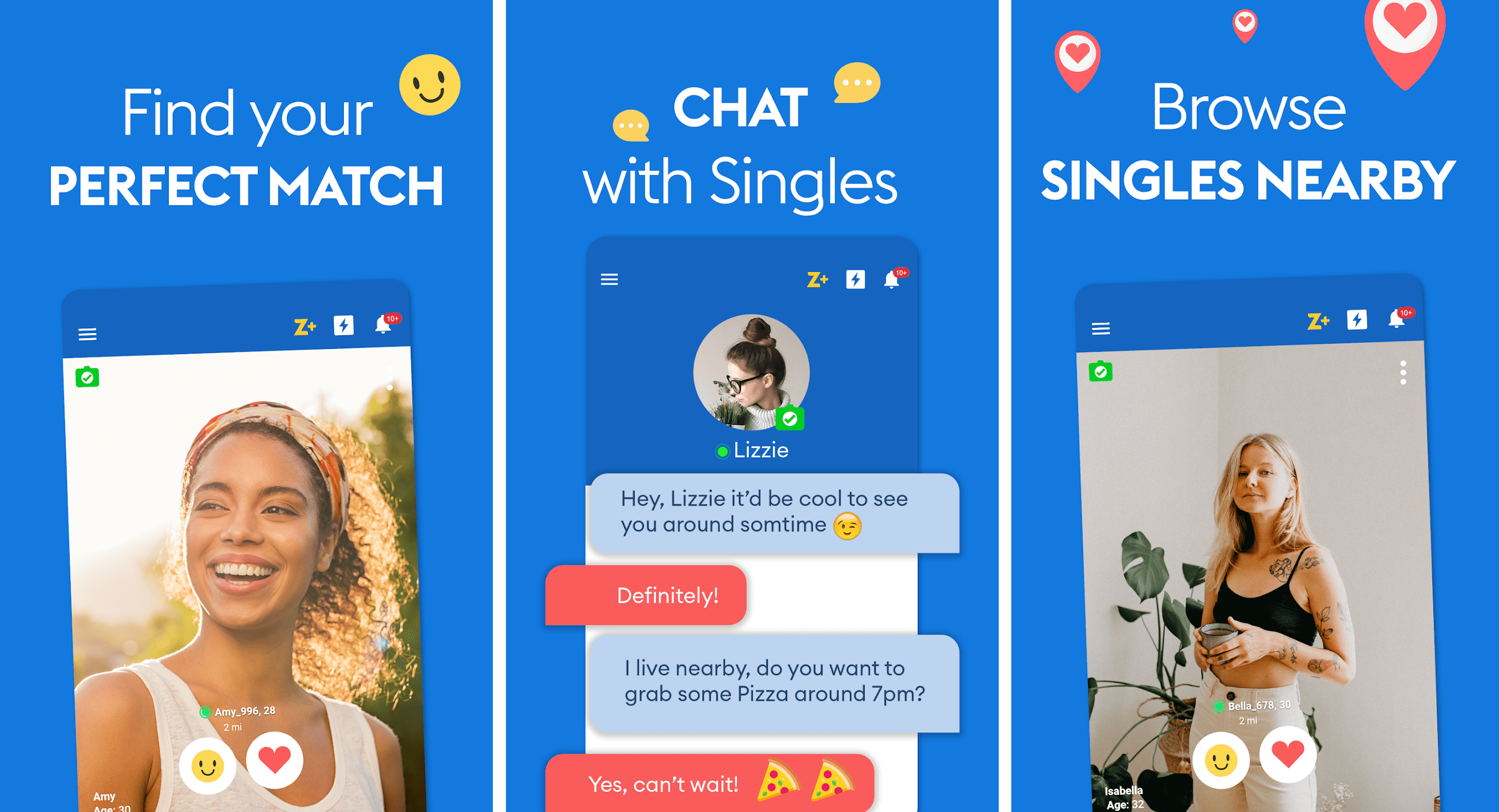 Zoosk is ideal for those who want to find someone for a filing or a serious commitment. It also has a behavioural matchmaking algorithm that tracks your preferences, such as likes and dislikes. After that, it sends you one profile per day that the algorithm thinks would be a good match.
On the other hand, its "Great Dates" feature provides interactive things you can experience from your home, such as attending a virtual cooking class in Italy or a wine tasting in France. Moreover, it is easy to use. You know that its layouts are designed with users in mind, which makes exploring simple. Therefore, it can be counted in the top online dating apps list.
Suppose you also want to build an app like Zoosk. In that case, it is good to hire dedicated developers who are well-experienced and knowledgeable about creating a functional app per your business requirements.
Key Features of Zoosk
This app provides a variety of search filters, allowing users to narrow down their search criteria based on factors such as location, age and many more.
It offers a photo verification feature to encourage users to verify their photos by submitting a short video selfie.
Zook provides both free and premium subscription plans.
9. BeNaughty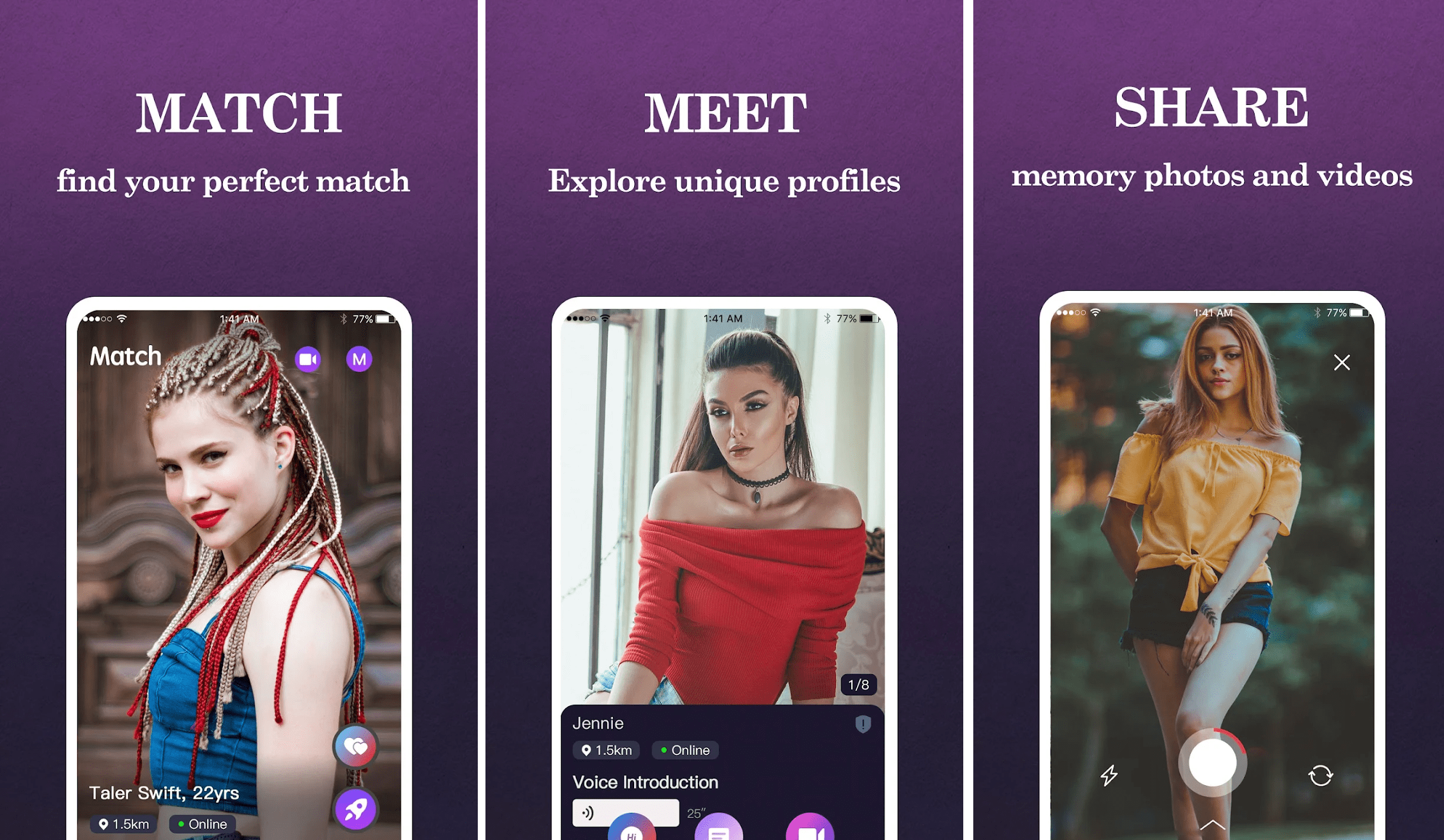 BeNaughty is an ideal dating app for those interested in casual fillings. You know that it has a database of 500,000 active members, and people are always online searching for someone to flirt with. Via the help of this app, users can send virtual gifts to other users to show they are interested in them. It can be a subtle way to break the ice and start a conversation.
If they match you with someone and you are chatting, you are able to invite them to a private video call. It has a variety of forums where you can discuss different topics with other members. Thus, it is a great dating app.
Key Features of BeNaughty
BeNaughty provides an instant and straightforward registration process, allowing users to create an account and start browsing profiles with minimal hassle.
Users had the option to create detailed profiles with information about themselves.
It provides search and matchmaking features to help users find potential matches based on their preferences.
BeNaughty allows users to send messages and engage in private conversations with other members to get to know them better.
10. Hey baby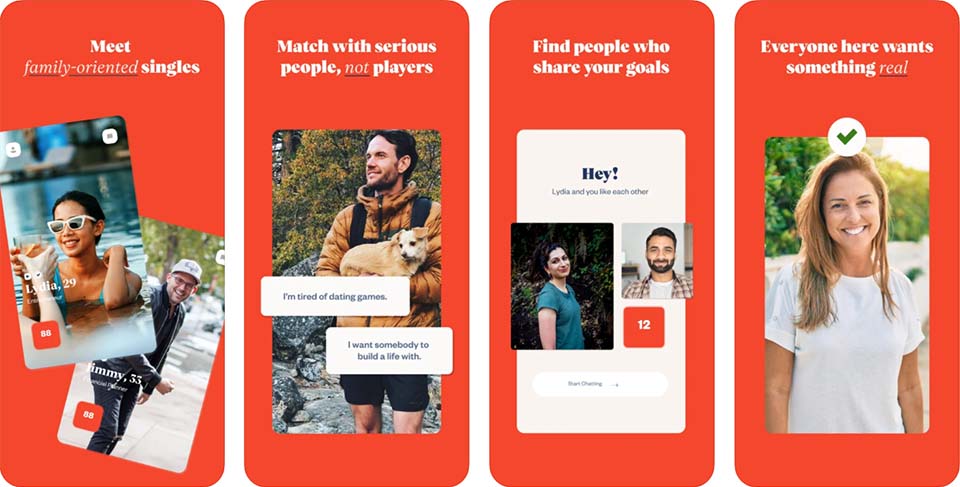 This is an ideal dating app for those with kids or those who know they want them someday. If that's you, you are lucky. In simple terms, this is a great place for single parents to connect with others as well as for those who are thinking about starting a family in the near future. This application was founded by Diko Daghlian, Rene Van De Zande and Chas McFeely, three dads who decided "the kid conversation" should be front and centre when dating.
Its recently added features include recording a 10-second video for verification purposes and introducing yourself to others. You can also take an idea from this and seek the help of mobile app developers to build an app like Heybaby.
Key Features of Heybaby
Verification processes such as photo verification or social media linking can enhance trust among users.
Users receive notifications when they receive messages, likes or matches.
Users can rate and give feedback on their dates, which can help improve the app's quality.
11. Plenty of Fish Dating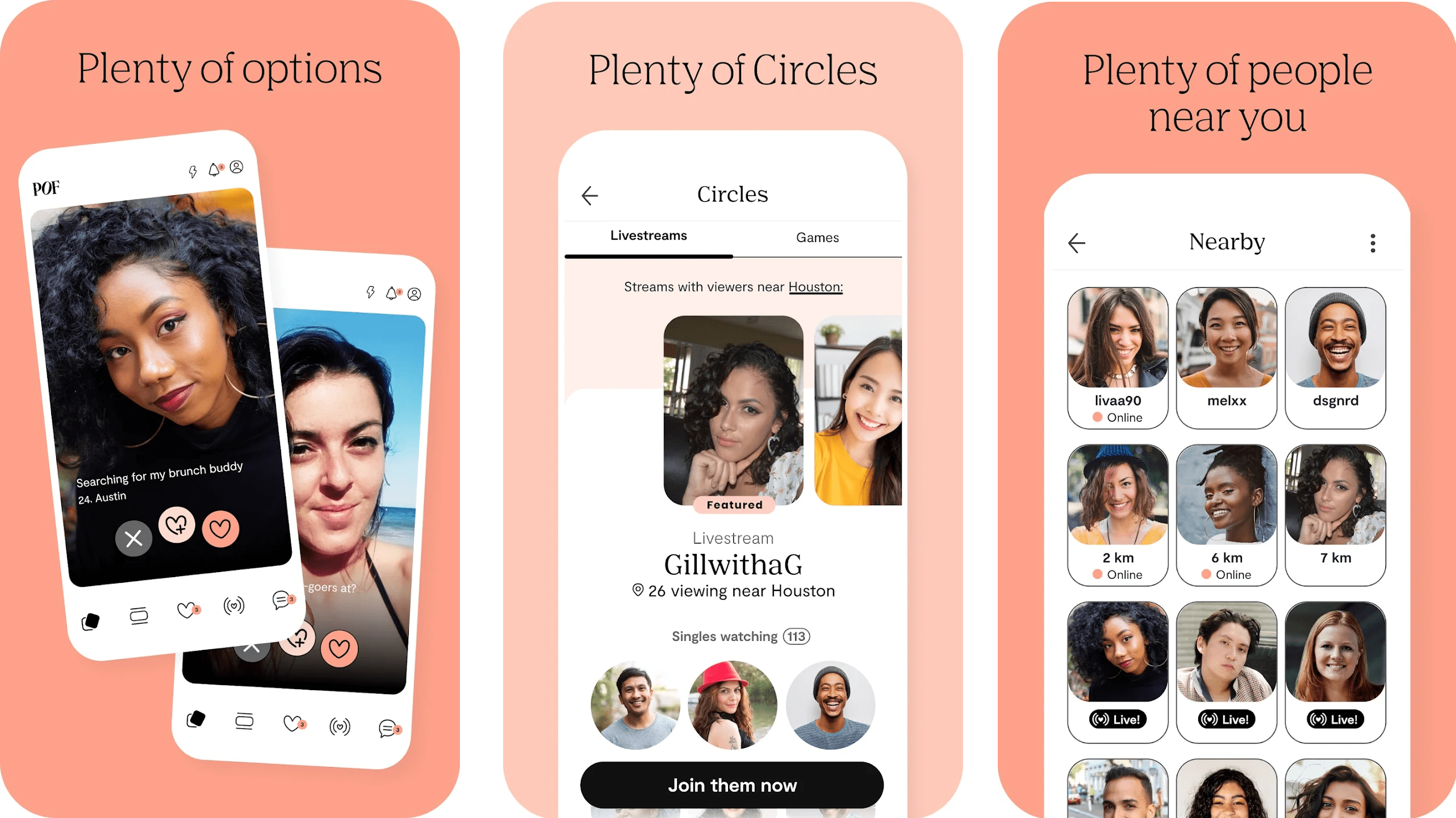 This is one of the best free dating apps worldwide. It has more than 70 million members worldwide. Users set up a simple profile including their age, education, and profession, then search through potential matches and message them. You know that it keeps adding small tweaks to its app along with chat heads for Android users, VoIP calling for premium users and Instagram image upload.
It also has the latest feature called shar my date, which allows the application to seamlessly share details about upcoming in-person dates with selected friends and family.
Key Features of Plenty of Fish Dating
It offers free registration, allowing users to create profiles, upload images and browse other user profiles without any initial cost.
Plenty of fish dating uses a sophisticated matching algorithm to suggest potential matches based on users' preferences and behaviour on the platform.
It allows users to send and receive messages with other users for free
Users can create detailed profiles along with their interests, lifestyle, hobbies and relationship preferences.

Conclusion
In today's time, you will find thousands of dating applications launched in the market. As a result, it isn't easy to choose one as per your requirements. If you are single and looking for a partner for a serious relationship or hookup, the above-listed apps are helpful to you. As per your choice, you can select one.
You can also take an idea from these apps and build your own app. However, it is suggested to search for a reputed dating app development company committed to providing you with ultimate solutions per your requirements.
FAQs
1. What are Some Popular Online Dating Apps in 2023
There are several popular online dating apps like Tinder, Bumble, Her and many others; you can choose one as per your preference.
2. How do Dating Apps Work?
Online dating applications allow users to create profiles and matches, browse potential and communicate with others. Users typically provide personal information and preferences, and the app uses algorithms to suggest compatible matches.
3. Are Online Dating Apps Safe to Use?
Online dating applications have safety measures in place, but users should take precautions. It includes not sharing too much personal information, trusting your instincts and meeting in public places for initial dates.
4. What Should I Include in My Dating App Profile
You must include accurate information about yourself, such as your interests, hobbies, and what you are looking for in a partner. You must include high-quality photos and a well-written bio to make your profile more appealing.