QDOBA: Unleash your inner flavor explorer today!
QDOBA, where flavor knows no boundaries! Step into a world of  QDOBA business model and culinary excitement, where Mexican cuisine becomes a thrilling journey for your taste buds. They are all about crafting moments that explode with taste and passion.
From amazing sizzling, and customizable burritos to QDOBA vibrant and zesty salsas, every bite is an adventure. They take pride in the freshest ingredients, creative recipes, and a menu as diverse as your cravings.
QDOBA Mexican Eats is part of online ordering app development, a well-known fast-casual restaurant chain specializing in Mexican-inspired cuisine. The QDOBA business model has been a recipe for success in the competitive food industry.
With its roots dating back to 1995, QDOBA has established itself as a leading brand known for its flavorful Mexican-inspired cuisine.
Spice it up or keep it classic – the choice is yours. Let's ignite a fiesta of unforgettable flavors.
A Brief History of QDOBA
QDOBA, pronounced "kew-doh-bah," is a popular fast-casual Mexican restaurant chain that has been serving up delicious flavors.
QDOBA's journey began in Denver, Colorado, in 1995 when Anthony Miller and Robert Hauser opened the first restaurant, Zuma Fresh Mexican Grill. The concept was simple: offer fresh, flavorful, and customizable Mexican dishes to customers.
In 1997, the name was changed to QDOBA Mexican Grill, and the brand's expansion began.
QDOBA app development quickly gained a reputation for its commitment to high-quality ingredients, including handcrafted salsas and guacamole, made in-house daily.
In 2003, Jack in the Box, Inc., a major restaurant company, acquired QDOBA, further accelerating its growth.
By 2018, QDOBA had become an independent brand, continuing to build on its legacy of serving delicious Mexican-inspired dishes.
QDOBA's Mission and Core Values
At QDOBA, the mission is to bring flavor to people's lives. With a commitment to quality ingredients, culinary innovation, and exceptional customer service, QDOBA strives to create a memorable dining experience for every guest. Their core values revolve around authenticity, teamwork, growth, and fun, which is reflected in their vibrant and energetic restaurant atmosphere.
Market Statics of the QDOBA Business Model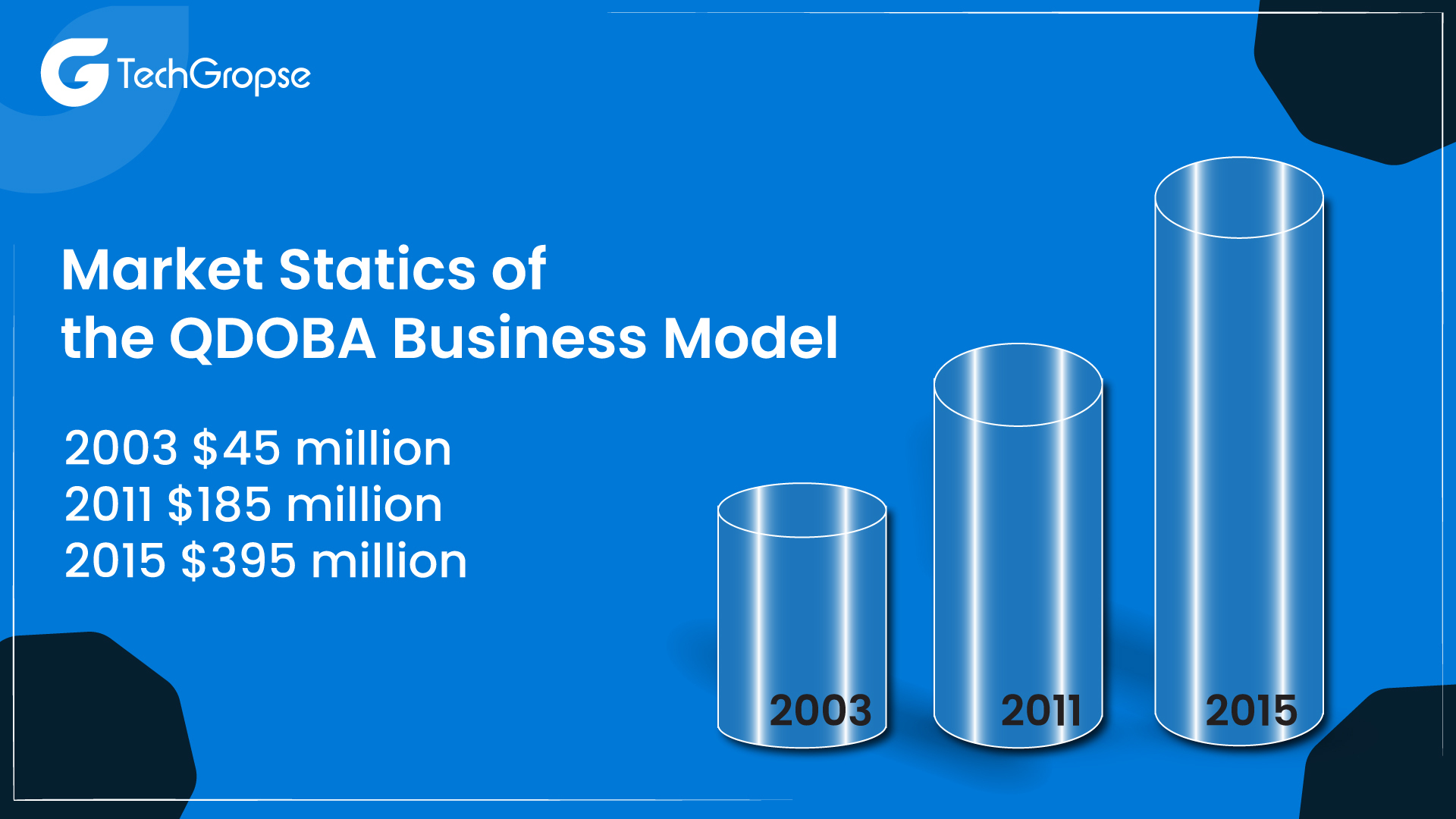 Back in 2003, Jack in the Box bought Qdoba Mexican Grill for a whopping $45 million. At that time, Qdoba had about 85 restaurants and made $65 million.
Now they have a whopping 661 restaurants, with some owned by the company and others owned by franchisees.
In 2015, Qdoba made a crazy $395 million in revenue, which is a huge increase from the $185 million they made in 2011. They even changed their name to Qdoba Mexican Eats in October 2015.
If you want to build an app like QDOBA you should know its money-making process. Just like Jack in the Box, Qdoba makes money in three main ways.
First, they make money from their restaurants.
Second, they get money from renting out their franchises.
And finally, they earn money from royalties and other things related to their franchises.
| | | | |
| --- | --- | --- | --- |
| Revenue Segment | 2011 Revenue (in millions) | 2015 Revenue (in millions) | Growth (%) |
| Company-owned Restaurant Sales | $169 | $374 | 121.7% |
| Franchise Royalties and Others | $19 | $21 | 9.1% |
| Franchise Rental Revenue | $0.2 | $0.7 | 245% |
QDOBA's Approach to Fast Casual Dining
QDOBA embraces the fast-casual dining concept, combining the convenience of fast food with the quality and customization options typically found in full-service restaurants.
Unlike traditional fast-food chains, QDOBA takes pride in preparing meals to order with fresh, high-quality ingredients.
It allows customers to customize their meals exactly how they want them, from choosing the protein to adding toppings and sauces.
The Benefits of QDOBA's Fast-Casual Experience
The fast-casual experience at QDOBA offers several advantages to customers.
Firstly, the ability to personalize your meal means you can create a dish that suits your unique preferences and dietary needs.
Whether you are vegan, gluten-free, or just love extra guacamole, QDOBA has got you covered.
Additionally, the food is prepared right in front of you, ensuring transparency and freshness. This, combined with speedy service, allows for a quick and satisfying dining experience.
The Key Components of QDOBA Business Model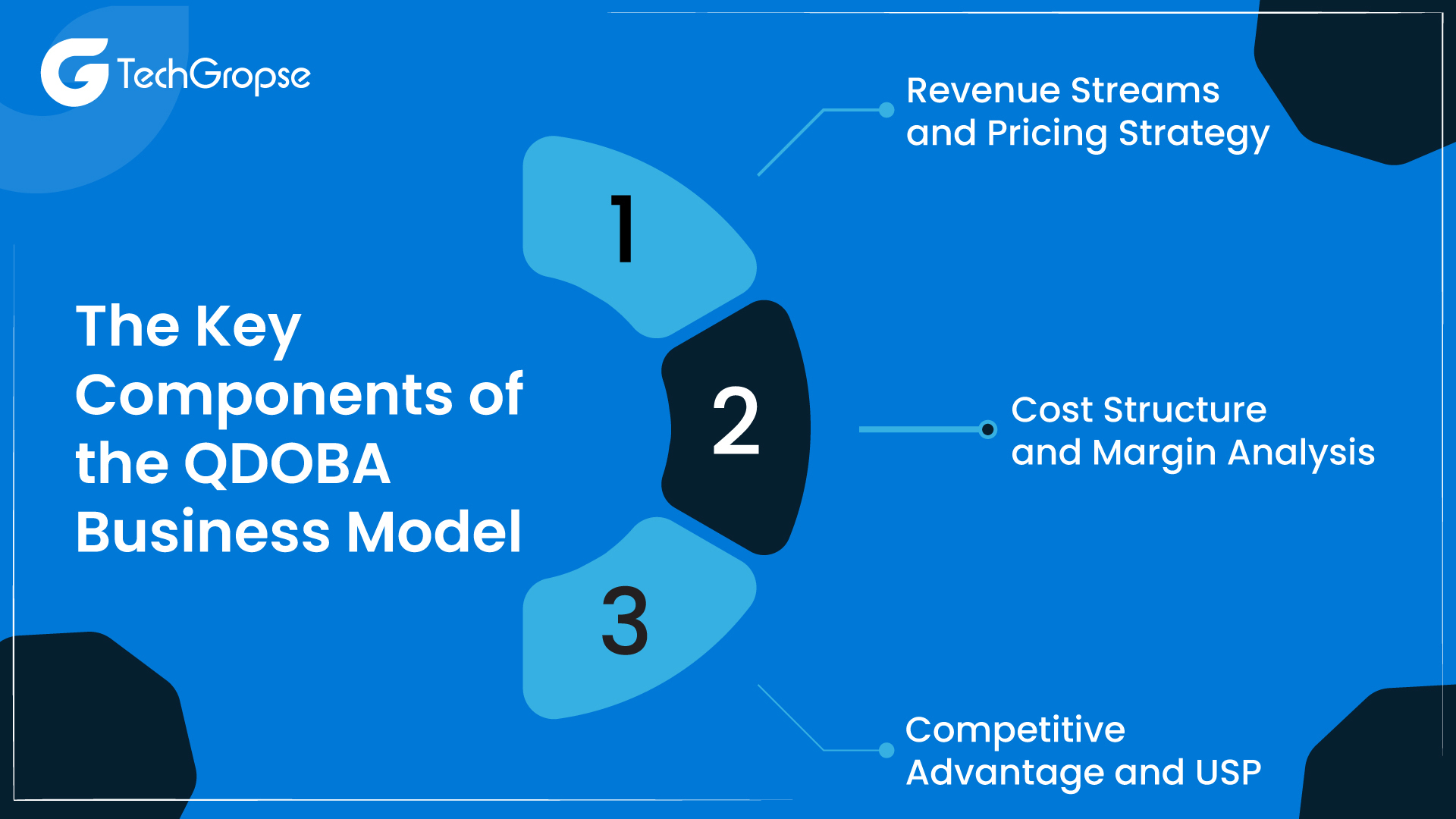 QDOBA's business model in action can be best understood by exploring how it functions in key areas:
1. QDOBA's Revenue Streams and Pricing Strategy
As we know nowadays mobile app development company focus on developing apps like QDOBA that generates revenue primarily through the sale of its delicious food and beverages.
The pricing strategy is designed to offer value to customers while ensuring profitability for the business.
With a range of menu options and portion sizes, customers can find something within their desired price range without compromising on taste or quality.
2. QDOBA's Cost Structure and Margin Analysis
QDOBA focuses on maintaining a cost structure that aligns with its commitment to high-quality ingredients. However, mobile app development cost can vary based on the various aspects.
By sourcing fresh produce, premium meats, and other quality ingredients, they ensure that their food stands out from competitors.
While these ingredients come at a cost, QDOBA's margin analysis ensures that the prices remain reasonable for customers while allowing the business to thrive.
3. QDOBA's Competitive Advantage and USP
One of QDOBA's key competitive advantages is its emphasis on customization. Customers appreciate the ability to tailor their meals to their liking, setting QDOBA apart from other fast-food options with limited menu choices.
Additionally, QDOBA's dedication to using fresh ingredients and bold flavors adds to the appeal and sets them apart as a top choice for Mexican-inspired cuisine.
QDOBA's Menu Innovation and Customization Strategy
QDOBA hire dedicated developers to take menu innovation to the next level by constantly exploring new flavor combinations and culinary trends. Their team of chefs and food experts work tirelessly to create exciting dishes that cater to various tastes and dietary preferences.
With a focus on fresh ingredients, QDOBA ensures that its items burst with flavor while maintaining a wholesome and nutritious appeal.
QDOBA understands that everyone has their own unique preferences and dietary needs. That's why they place great importance on customization and personalization.
From choosing the protein, toppings, sauces, and even the type of tortilla or bowl, customers can create a truly customized meal. It not only satisfies individual tastes but also ensures that QDOBA remains an inclusive and accommodating dining option for all.
So, go ahead and build your dream burrito with the top on demand app development – it's all about making it your own at QDOBA!
QDOBA's Market Positioning and Target Audience
So who exactly is QDOBA trying to win over with their delicious burritos and flavorful Mexican-inspired cuisine? Well, their target demographic is as diverse as their menu options.
QDOBA aims to cater to busy professionals looking for a quick and tasty lunch, college students seeking a break from cafeteria food, families in need of a hassle-free dinner option, and anyone with a love for bold flavors and customizable meals.
Whether you are a meat lover, vegetarian, or have dietary restrictions, QDOBA has something for you. Their menu offers a wide range of proteins, toppings, and salsas to satisfy everyone's taste buds.
So, whether you are an adventurous eater looking to try something new or someone who likes to stick to the classics, QDOBA has got you covered.
QDOBA's Competitive Analysis and Market Differentiation
In a world of fast-casual Mexican restaurants, QDOBA stands out with its commitment to quality ingredients and a personalized dining experience.
They take pride in using fresh, hand-cut ingredients and offering a variety of menu items that can be customized to suit individual preferences.
QDOBA also differentiates itself from the pack by embracing innovation and staying ahead of the curve. They are constantly introducing new items and flavors to keep things exciting for their customers.
Additionally, with their online ordering and delivery options, QDOBA ensures that you can enjoy their delicious food wherever and whenever you want.
QDOBA's Franchising Opportunities and Expansion Plans
Have you ever dreamed of owning your very own QDOBA restaurant? Well, good news! QDOBA offers franchising opportunities for aspiring entrepreneurs who want to bring their passion for Mexican cuisine to their local communities.
QDOBA's franchise program provides comprehensive support to franchisees every step of the way. From site selection and lease negotiation to training and ongoing operational assistance, QDOBA is there to ensure that franchisees have the tools they need to succeed.
They also offer marketing and advertising support to help drive foot traffic and build brand awareness in new markets.
Look At QDOBA's Growth Strategies and Plans for Market Expansion
QDOBA has big plans for the future. They are focused on strategic market expansion and have identified key cities and regions where they see tremendous growth potential.
With its successful QDOBA business model, proven track record, and strong brand recognition, QDOBA is well-positioned to take the fast-casual Mexican dining experience to new heights.
Their growth strategies include a combination of company-owned and franchised locations, allowing them to tap into various markets and capitalize on local market knowledge.
Key Partnerships
– Suppliers of fresh ingredients and food products.
– Local farmers and ranchers for sourcing fresh, quality ingredients.
– Delivery and logistics partners for supply chain management.
Key Activities
– Menu development and innovation.
– Food preparation and cooking.
– Restaurant operations and management.
– Marketing and promotions.
Value Proposition
– Fresh, customizable Mexican cuisine.
– Quick and convenient dining experience.
– High-quality ingredients and flavors.
– Affordability and value for customers.
Customer Relationships
– Friendly and attentive staff.
– Rewards and loyalty programs for potential customers.
– Feedback and suggestion channels for continuous improvement.
Customer Segments
– Individuals and families seeking fast-casual Mexican food.
– Health-conscious consumers are looking for fresh and customizable options.
– On-the-go professionals and students.
Key Resources
– Skilled chefs and kitchen staff.
– Prime restaurant locations and real estate.
– Strong brand and reputation.
– Proprietary recipes and cooking techniques.
Cost Structure
– Ingredients and raw materials costs.
– Labor costs for kitchen and service staff.
– Rent and overhead expenses for restaurant locations.
– Marketing and advertising expenses.
– Supply chain and logistics costs.
Revenue Streams
– Sales revenue from food and beverage items.
– Catering and delivery sales.
– Franchise fees and royalties (if applicable).
– Merchandise sales (e.g., branded apparel or sauces).
– Loyalty program memberships and app-based sales.
Channels
– Physical restaurant locations.
– Online ordering and delivery platforms.
– Social media, website, and mobile apps.
– Marketing and advertising campaigns.
Whether it's opening new stores, exploring non-traditional locations, or expanding its delivery and digital ordering capabilities, QDOBA is determined to make its flavorful mark in the fast-casual industry.
Operational Efficiency and Technology Integration at QDOBA
1. Streamlining Operations and Enhancing Efficiency
QDOBA knows that when hunger strikes, you don't want to wait around. That's why they are committed to streamlining their operations and enhancing efficiency to ensure a smooth and speedy dining experience.
They hire mobile app developers who carefully design kitchen layouts, QDOBA takes every opportunity to optimize its operations.
They focus on minimizing wait times, ensuring consistent food quality, and maintaining a clean and inviting dining environment.
So, whether you are grabbing a quick lunch or enjoying a leisurely dinner, you can count on QDOBA to deliver a satisfying experience.
2. The Role of Technology in QDOBA's Operations and Customer Experience
QDOBA recognizes the importance of technology in today's fast-paced world. They have embraced digital innovation to enhance the customer experience and make ordering more convenient than ever.
With their user-friendly website and mobile app, you can easily customize your meal, place an order, and even earn rewards for your loyalty.
QDOBA's integration of technology also extends to their kitchen operations, as they utilize advanced systems to manage inventory, track orders, and ensure consistency across their locations.
So, whether you are a tech-savvy foodie or just looking for a seamless dining experience, QDOBA has you covered.
Sustainability and Social Responsibility Initiatives at QDOBA
So, when you choose QDOBA, you not only get a satisfying dining experience but also contribute to a company that values sustainability and social responsibility.
QDOBA's Commitment to Sustainable Sourcing: QDOBA understands the importance of protecting our planet and preserving its resources for future generations. That's why they are committed to sustainable sourcing and environmental stewardship.
They work closely with suppliers who share their values and are dedicated to providing responsibly sourced ingredients. From ethically raised meats to organic produce, QDOBA prioritizes quality and sustainability.
They also strive to minimize waste and implement eco-friendly practices across their operations, such as energy-efficient equipment and compostable packaging.
QDOBA's Social Responsibility Programs and Community Involvement: Beyond their commitment to the environment, QDOBA believes in giving back to the communities they serve. They actively engage in social responsibility programs and community involvement initiatives.
QDOBA partners with local organizations, supports charitable causes, and encourages employee volunteerism.
Whether it's donating food to local shelters or participating in community events, QDOBA goes beyond just serving delicious meals to make a positive impact on the lives of others.
Factors Contributing to QDOBA's Success
Several factors have contributed to QDOBA's success within the competitive restaurant industry:
Customer-Centric Approach: QDOBA places a strong emphasis on customer satisfaction by offering a customizable menu, listening to feedback, and constantly innovating to meet evolving customer preferences.
Commitment to Quality: QDOBA's dedication to using fresh ingredients and in-house preparation is evident in the taste and quality of their dishes.
Diversity and Inclusivity: The brand's menu caters to a diverse range of dietary preferences, including vegetarian, vegan, and gluten-free options. This inclusivity improves its appeal to a wider audience.
Convenience: The ability to order online or through a mobile app offers convenience to busy customers, further solidifying QDOBA's position as a fast-casual dining choice.
Location Strategy: QDOBA strategically places its locations in various settings, allowing it to reach a wide array of customers, from students on college campuses to travelers in airports.
Marketing and Promotion: Effective marketing campaigns and promotions have helped raise brand awareness and drive customer engagement.
Sustainability Initiatives: QDOBA has incorporated sustainable practices into its operations, including reducing waste and sourcing eco-friendly packaging.
Challenges and Opportunities
While QDOBA has enjoyed considerable success, it also faces challenges and opportunities in the evolving food industry:

Challenges:
Competition: The fast-casual dining sector is highly competitive, with several established and emerging players.
Evolving Consumer Preferences: Staying attuned to changing consumer preferences, including dietary trends and sustainability concerns, is an ongoing challenge.
Supply Chain and Sourcing: Maintaining a consistent supply chain for fresh ingredients, especially in the face of supply chain disruptions, can be challenging.
Labor and Operational Costs: Labor costs and operational challenges are common in the restaurant industry, and QDOBA is not immune to these issues.
Opportunities:
Digital Transformation: The digital landscape offers growth opportunities, such as expanding online ordering and delivery services.
International Expansion: Exploring international markets can be a growth avenue for QDOBA.
Innovative Menu Offerings: Innovating with new menu items can attract and retain customers.
Sustainability Initiatives: Strengthening sustainability initiatives can resonate with eco-conscious consumers and promote a positive brand image.
Final Thought
the QDOBA business model is a testament to the company's commitment to delivering high-quality, customizable, and flavorful Mexican cuisine in a fast-casual dining setting. Remember that Android app development cost differ to build a food app with various features.
By prioritizing fresh ingredients, menu innovation, and operational efficiency, QDOBA has positioned itself as a go-to choice for customers seeking a satisfying and personalized dining experience.
With its franchising opportunities, expansion plans, and dedication to sustainability and social responsibility, QDOBA is poised for continued growth and success in the ever-evolving restaurant industry.
Whether you are a prospective customer, franchisee, or industry enthusiast, understanding the QDOBA business model provides valuable insights into the factors contributing to its thriving presence in the market.
FAQ: Know the QDOBA Business Model
1. What sets QDOBA apart from other fast-casual dining options?
QDOBA stands out in the fast-casual dining landscape due to its emphasis on customization and menu innovation. Unlike traditional fast food chains, QDOBA allows customers to build their own meals by choosing from a variety of fresh ingredients, sauces, and toppings.
2. Does QDOBA offer franchising opportunities?
Yes, QDOBA does offer franchising opportunities for individuals interested in owning and operating their own QDOBA restaurant. The company provides comprehensive support and resources to franchisees, including training programs, marketing assistance, and ongoing operational guidance.
3. How does QDOBA prioritize sustainability and social responsibility?
QDOBA is committed to sustainability and social responsibility initiatives. The company focuses on responsible sourcing practices, including partnering with suppliers who prioritize animal welfare and sustainable farming methods. QDOBA also actively engages in community involvement and charitable efforts, supporting local organizations and initiatives.