When a person looks for a property in a city, be it for buying or renting, s/he has to deal with brokers or property agents first. Including brokers or agents while buying a property does nothing but add on a considerable amount to the already loaded budget. This is where real estate app development comes into the picture. In the coming future, real estate mobile apps are expected to take over the need of brokers and agents and replace them with smartphones and technology. 
Real estate app development not only helps you in building a high-functioning app but also will help your users in finding properties without having to pay agents heavily. 
Over time the tech world has noticed a huge demand for such apps. Users tend to download property apps on their devices such as phones, tablets, laptops, etc. With this blog, we will help you understand everything about real estate app development- its market size, the cost of development, and much more.
Why is real estate app development so popular?
Starting from the basics, let's rule out the most obvious fact that the real estate industry has been blooming with vibrant colors ever since the beginning of its concept. A significant section of today's population engages in migration to bigger cities. Another factor that needs consideration is the increasing population and growing families. To sum it up someone is always looking for better property and your app can be the one to help them discover it. Hire the best mobile app development company to launch a robust real-estate app.

To help you understand the popularity and need for property apps in today's world, let's take a look at some major points that contribute to the growth of the real estate market.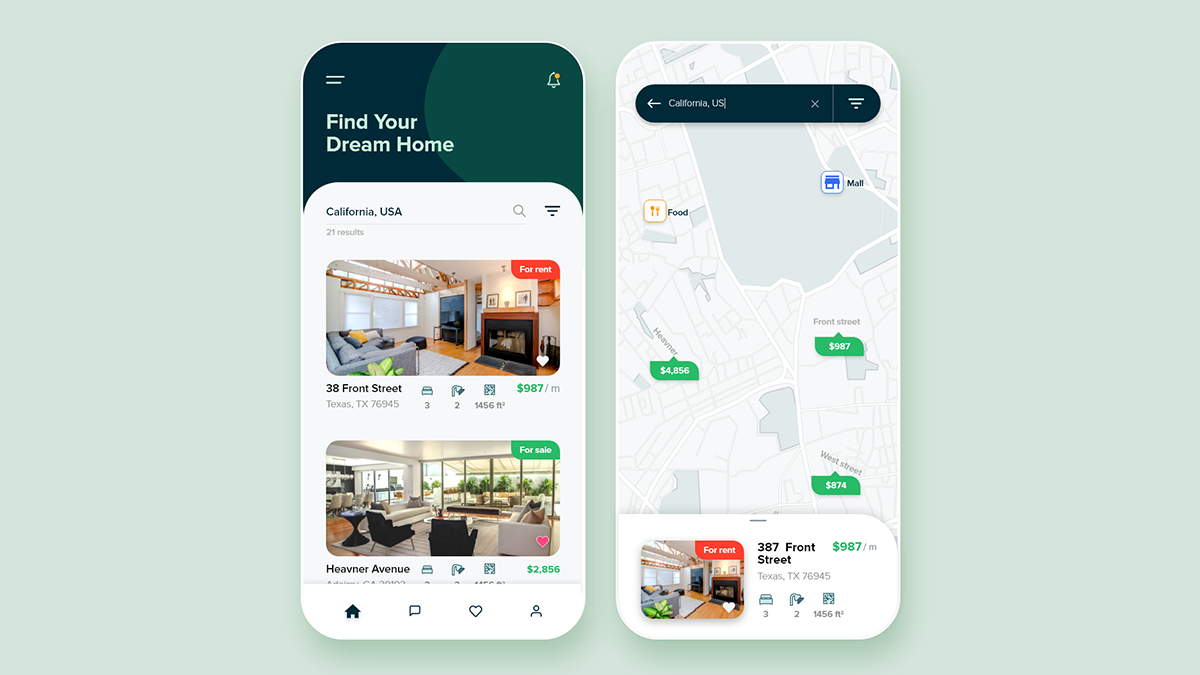 1. More traction for the sub-urban cities
The housing market in huge urban areas has been seeing huge development however for the last decade, few urban areas and rural areas are posting acceptable interest for new properties. For example, The housing market in Indian urban communities like Pune, Bangalore, Hyderabad, and Chennai have seen an ascent and it is plausible of urban areas like Goa and Coimbatore additionally do great in the area by the following year.
2. Growth in the residential and commercial sector
This year has added to both the private and business areas' development. With the rising interest in the business area like IT and other middle-class occupations, office spaces have been selling out quickly. Also, individuals move to greater urban areas on account of open positions. These individuals are consistently watching out for better lodging offices at a sensible expense and land portable applications are consistently there to help.
3. Concept of co-working spaces and co-living seeping in
The Indian public is gradually moving towards the idea of co-residing, which is conservative when contrasted with leasing a whole house or loft to themselves. This has assisted them with saving expenses and the properties are likewise acquiring a ton from this. Additionally, the pattern of cooperating spaces has likewise been presented in the country this year. Urban areas like Bangalore, Pune, Maharashtra, and Delhi have invited this move.
4. Technology Advancement
With the improvement in innovation with the presentation of, IoT, Artificial Intelligence (AI), and information assembling, the manufacturers are making a point to make shrewd houses give the best to their clients. Houses worked with the most recent innovation are an enormous foothold for the clients. The nature of development has powerfully improved, which assists the customers with getting ownership of the houses booked by them ahead of time.
5. Redefining the concept of luxury housing
Individuals are additionally showing interest in the shift made by extravagant lodging. It is tied in with being savvy and utilizing brilliant innovation. It obliges a raised living involvement with society.
Also read: Top Real Estate Apps to download in 2021
Top Real Estate Mobile Apps and Market Share
Why Invest in Real Estate Mobile App Development – Market Size and Stats
It has been noticed that the market size of the professionally managed global real estate investment market has topped the bars by 7.8%. It rose from

$8.9 trillion in 2018

to

$9.6 trillion in 2019

. Evidently, the surge in the growth increased more as compared to 2018 when the market grew by 4.1%

By the year 2025, it is expected as per the report of Grand View Research that the global real estate market will bloom with a revenue of USD

4,263.7 billion by 2025. 

There are

938,714

Real Estate Sales & Brokerage Businesses in the US in 2020

Real estate is a major part of the UK economy – in 2019, it employed

514 thousand people.

There are

130.4 K

Real Estate Businesses in the United Kingdom.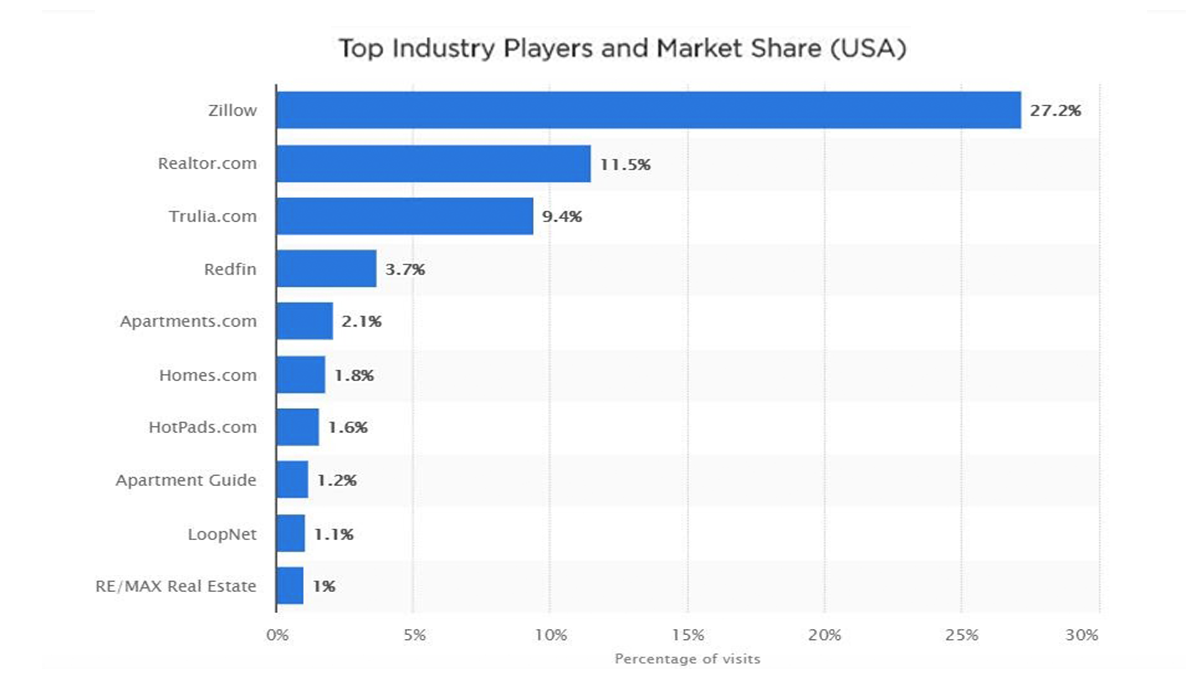 Source: Statista 
Monetization Opportunities Provided By Real Estate Mobile App
Wondering how real estate apps generate revenue? Read further to learn more about monetization opportunities through real estate apps:
1. Advertisements
Putting up advertisements for a third party is a way of making good money for real estate apps. Look at the three ways these apps can earn money:
Charging a fair amount of money from the property management companies for their advertisements.

Paid membership plans for the real estate agents.

Earning money through paid advertisements on the app.
2. Featured Listings
Real Estate can segregate the pricing of the posts according to the space the seller wants his ad to be displayed. These featured listings allow the sellers to place their post that gets the maximum visibility in return for some price.
3. Premium Subscription
The apps offer monthly, quarterly and annual subscriptions to the users. If a user is willing to stick to the app for the long term, he would have to pay accordingly and likewise. It helps in generating a good amount of revenue for the real estate app.
4. Commissions
Finally, the most important and interesting way of earning revenue for the real estate apps is through the commissions which they earn after a deal is carried out between a seller and a buyer.
Know more: Doctor on-demand app development- cost and key features 
Advance Features & Functionalities of Real Estate App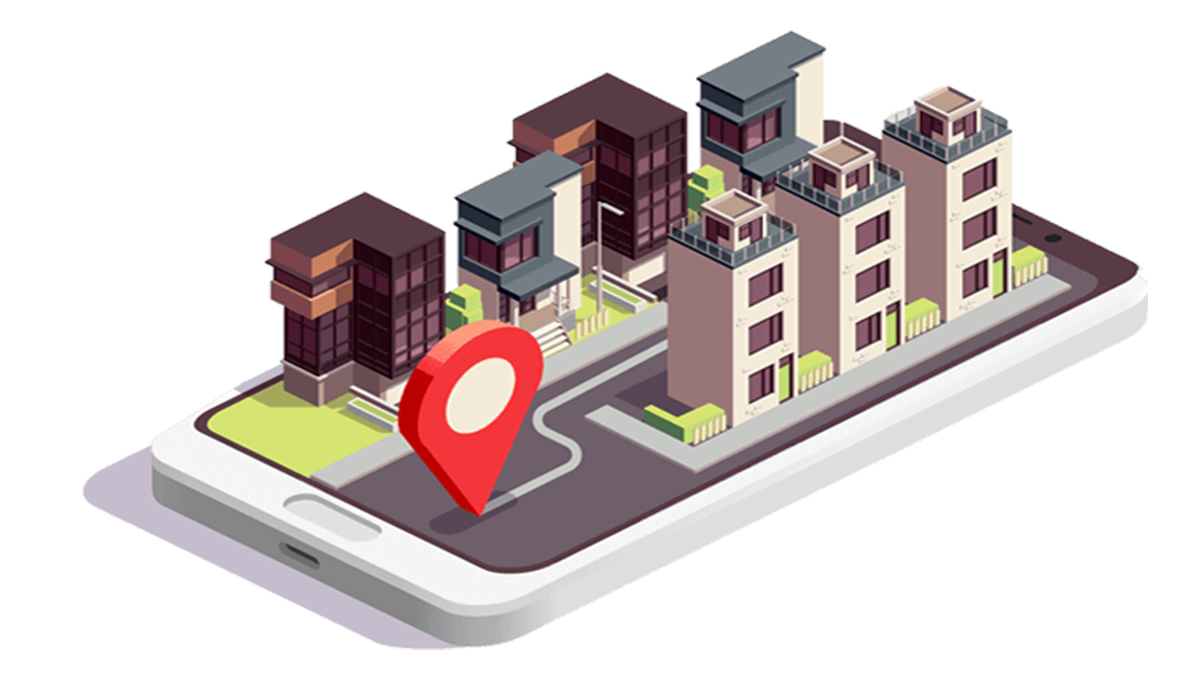 To combat the advanced digitalization of the app development world you must integrate your real estate app development with a platter of advanced features. When you hire a top real estate app development company, you can expect the following advanced features in your app- 
1. Social Login & Sign Up
To be able to enjoy the features of any app, the users have to first register to the app. The registration process should be kept as user-friendly as possible. Users can log in to the app with a number or an email. They can also integrate their social media platform, it makes the signing up process convenient. 
2. Behaviour Tracking
Using this feature, app owners can easily analyze the user behavioral pattern and allow the app to provide users with the exact solutions they are looking for. Users can initiate a search process by applying filters and preferences to find the most optimal options. 
3. Push Notifications
Push notifications are one of the most common yet most effective in real estate app development. This feature keeps the users informed and updated with the properties that could interest them. Users are informed about the app through pop-up notifications sent by the apps. 
4. 3D Property View
The advancement in technology has made it possible to provide users with a better service with 3D property views. With a 3D property view, users can have a better understanding of the location with a virtual visit.
5. Multiple Listing Service (MLS) Integration
This feature allows users to see a detailed list of properties of different categories. With MLS Integration users are given a much more efficient searching for the availability of properties.
6. IDX Integration (Internet Data Exchange)
IDX allows the Integration of MLS on various platforms more functional. With IDX, brokers, and dealers also attach a link to their website
7. RETS Software (Real Estate Transaction Standard)
RETS establishes a link between the real estate app and the data on the app. The real estate transaction standard is an important tool for streamlining the data on the mobile app. 
8. Geolocation Tracking
The users should be able to get an idea about the location of the property; thus, this tool is included as a feature to assist the customers in doing so.
9. Interactive Map View
This is an unquestionable requirement have included in real estate app development, as it helps the new individuals in the city get the hand of the bearings in a city and survey the area. The coordination of this element should be possible by an outsider.
10. Property View (VOD)
The most recent innovation allows the clients to take a virtual visit through the properties and get a vibe of what it resembles from an external perspective and inside. Supposedly, 70% of those purchasing houses interestingly accept these virtual visits are a significant element.
11. Mortgage EMI Calculator
Clients can be twofold certain of a property when the application helps them in computing the EMI they would need to pay against a credit on the property. This instrument provides them with a lump sum idea about the cash they should pay every year to the bank.
12. Interest Rate Calculators
Interest Rate Calculators is yet another advanced feature that you get in real estate app development. This feature calculates and presents interest rates that are formulated by other banks. 
13. LMS Module
With the Lead Management System, users are sent information that is descriptive and more relevant as per the searches.  
14. Custom Mail Reminder System
Custom Mail Reminder System is a vital step in real estate app development since it acts as an email sender to the users. With this system, users are continuously reminded of the deal they were interested in. 
15. Real-time Analytics
Real-time  Analytics in real estate app development ensures notifying when a buyer seems interested in available properties.  
16. Roll Based Dashboard
A Roll Based Dashboard is easily manageable and extremely useful when it comes to the analysis of an app. Hire a top real estate mobile app development company to get advanced features in your real estate app. 
17. CRM Integration
For a positive user experience, you must communicate with users. During real estate app development the developers must ensure installing CRM integration in the app. 
18. CMS Integration
Managing large amounts of user data such as profiles of buyers and sellers can be a hectic task. With CMS Integration of real estate app development managing data can be turned into a hassle-free task. 
ERP Solutions (Enterprise Resource Process)
A real estate app's use is diverse and its diversity demands that the app gives a plethora of services to its users. Integrating ERP solutions for large-scale operations ensure lead management, employee management, payment management, etc. In all, implementing ERP solutions for large-scale projects can be impactful for your business operations.
20. Loyalty Programs
Users tend to use apps more when they are offered tempting loyalty points. Using such a feature can make your real estate app popular. 
How much does it cost to Develop a Real Estate App?
The cost of the development of a real estate mobile app depends on various factors that contribute to its complexity and size. These factors include the mobile app development company, the location of the company, period of app development, etc. Different app development companies charge differently- 
US based app development company's charge- $130 to $230/hour 

Eastern based app development company's charge- $90 to $190/hour 

India based app development company's charge- $20 to $70hour