In today's time setting up and administering multiple servers for apps and business purposes has become an easier task because of advancements in cloud technology.
In today's time, enterprises are selecting to operate a large number of servers both in the cloud and in their data centres in order to meet the increasing demand. As a result, the demand for server monitoring software has become high.
But when it comes to choosing a server monitor software, there are lots of options available in the market. As a result, you may face difficulties in choosing software as per your requirement and business need. In this blog post, we will explore the best server monitoring software available on the market. Moreover, we will discuss how to choose the best one for your business.
What is Server Monitoring Software?
Server monitoring software makes it easier to track and monitor the performance of a server. In simple terms, this software enables the users to identify and solve any app hosting and performance problem and track changes in the server's function. 
The server monitoring software is made possible through monitoring elements such as memory allocation, CPU usage, and many more, then comparing the monitored items to performance benchmarks set either by the software itself or by server administrators. Software for server monitoring is generally used by server administrators to optimize server performance and diagnose problems to avoid downtime.
software for server monitoring will be integrated with log analysis software, IT alerting software, and other IT issue resolution products to flesh out the Infrastructure maintenance ecosystem more. 
List of Top Server Monitoring Software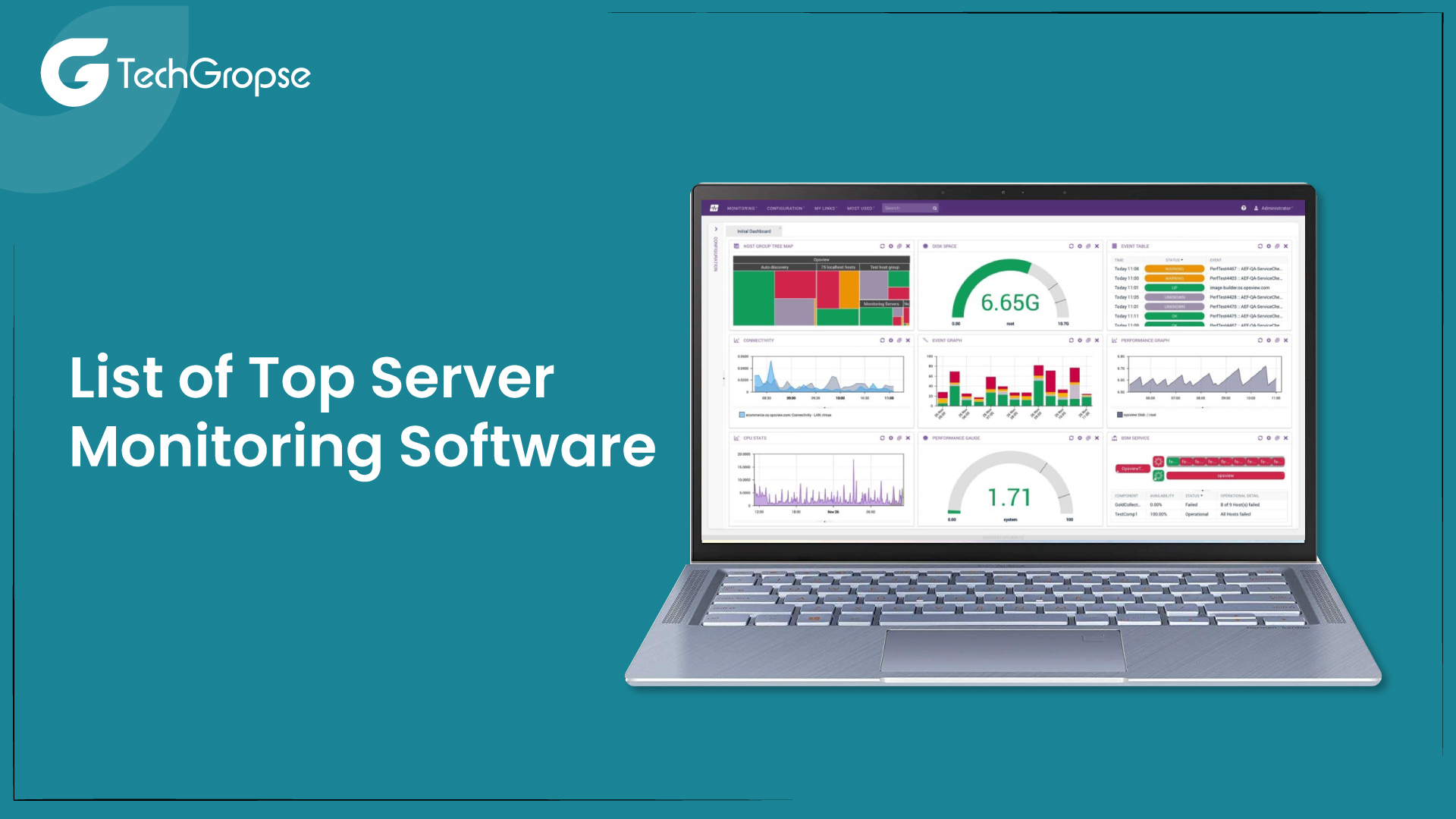 As there are many best server monitoring software available in the market. But it is difficult to determine which one is better for your business. If you are looking for software for your business, you obviously face difficulties. Therefore, we list out some server monitoring software available in the market. Take a look at the following software:
1. Sematext Monitoring 
Sematex server monitoring software provides comprehensive and easy-to-understand dashboards for activities, statistics and logs, enabling users to obtain valuable insight into their server's operations. This tool typically tracks metrics such as CPU usage, memory usage, disk space, network traffic, and other relevant indicators to ensure servers are running optimally and to detect any potential issues.
In simple terms, the software offers them everything they need in one location for faster and more efficient troubleshooting. This server monitoring software has amazing features that make it profitable. Some of the features are listed below:
The best thing about Sematext is its comprehensive observability platform that has the ability to send alerts to various platforms, ranging from PageDuty to Slack. 

Integrations with cloud providers, containers, Kubernetes and other technologies are supported. 

Anomaly detection and alarms are supported. 

Metric correlation between performance measures, database records, and log analytics. 
2. Ninja One 
NinjaOne is a leading server monitoring software that is widely used by managed service providers and IT professionals. This amazing software offers a comprehensive suite of tools for managing, monitoring, securing and improving all of your network devices as well as desktop, servers, laptops and macOS devices.
It means you can count on this free server monitoring software to make your task more easier and convenient. You can build your own app including rich features that make it more attractive and easy to use.
Features of Ninja One
Through IT automation, users are able to set up standardised devices, install and manage. 

All Windows servers and macOS systems may be monitored for health and performance. 

Use a comprehensive set of tools to manage all the devices without disrupting end users. 

All the networks, switches, gateways and other SNMP devices may be monitored by the platform. 
3. Prometheus 
There is no doubt that several server monitoring software are available in the market. If you are looking for the best tool, it is suggested to count on Prometheus which is particularly well-known for server monitoring. In order to submit metrics to Prometheus, you will need to deploy a plethora of data-gathering agents known as exporters. 
The best thing about the software is that it is free of cost. It means, there is no requirement to pay an amount for using this software. Therefore, this is the best choice for those who are looking for top server monitoring software. You can also take an idea from this software and build your own one. 
However, you have to contact a software development company that has a good reputation in the market, a great portfolio and a team of experienced software developers. It will make sure that you get quality solutions within your budget. 
With time series data, Prometheus employs a multidimensional data model. 

Prometheus uses a pull model to extract metric data from various targets. 

Prometheus provides a powerful query language called  PromQL that allows users to query and manipulate collected time series data. 

Prometheus supports notifications based on custom rules. These rules can be written in PromQL and can trigger alerts based on specific conditions and thresholds. 
4. Atera
Atera is cloud-based server monitoring software that provides IT consultants, and IT teams a comprehensive and integrated services. The best part about the software is that it allows it to attract and administer all servers throughout the managed networks using the Atera agent.
If you also want to build your own app, it is suggested to hire software developers who are well-experienced and knowledgeable. Once you hire dedicated developers, you don't have to compromise on the quality of the project.
Key Features of Atera
With Atera, you can monitor the health and performance of your servers, workstations, and other network devices from a centralized dashboard. 

The platform provides an integrated ticketing system that allows you to track and manage your support requests, enabling you to effectively prioritize and resolve issues.

Atera automates the process of applying software updates and patches to help keep your systems secure and up-to-date.

Provides detailed reports and analytics on system performance, utilization, and other key metrics to gain insight into network health. 

5. SolarWinds Server & Application Monitor
If you are looking for the best server monitoring software in 2023, you can count on SolarWinds server & application monitor. This software works in the cloud, hybrid settings and on-premise. The best part of the software is that it offers insight into your server consumption metrics and app performance metrics, based on the situation. 
It means this software is an excellent choice for those who not only want to monitor the server but also want to complete infrastructure. You can build your own software to monitor the server. However, you have to hire software developers who are well-versed in building a functioning and easy-to-use application.
Key Features of SolarWinds Server & Application Monitor 
It lets you monitor the health, performance, and availability of your applications and servers in real-time. 

Supports a variety of server types and applications including Microsoft Exchange, Microsoft SQL Server, Apache, and VMware.

This tool provides a wide range of server and application performance metrics, including CPU utilization, memory utilization, disk I/O, network traffic, and response time.

It allows you to set customizable alerts based on specific thresholds and conditions. In the event of a problem, the system can notify IT staff through various channels such as email, SMS, and other methods.

This software can automatically map your application's dependencies to show you how various components and services interact. This feature helps you understand the impact of a problem on your application's overall performance. 
6. eG Innovations 
This software is an ideal choice for those who are looking for the best server monitoring software. It offers consolidated operational visibility for remote, physical and cloud servers. You know that this software works with more than ten operating systems including AIX, Linux, Windows and others.
Via the help of this software, users are able to diagnose, track, and report on all of their servers in one place. If you want to get an idea to build your app, you can also pick some amazing things from this software and build unique software. However, you have to hire dedicated developers to make the job easier.
Key Features of eG Innovations
Monitor real-time server performance metrics such as  CPU utilization, memory utilization, disk I/O, network traffic, etc.

Set customizable notifications based on thresholds to notify you of critical issues through email, SMS, or other channels.

Generate reports and view historical data to identify trends and patterns in server performance over time.

It provides a centralized dashboard with graphs and charts to easily visualize server health and performance. 
7. Dynatrace
Dynatrace is offered in both on-premises and SaaS versions. This amazing server monitoring software is able to handle most of your monitoring requirements, as it can monitor both server metrics and server logs. This solution is easy to set up as it takes a few minutes to feed the metrics into stunning dashboards and obtain insights into the CPU. This means you can count on this software to monitor the server.
Features of Dynatrace
Dynatrace continuously monitors your servers, applications and infrastructure, providing real-time insight into performance and health.

The software automatically discovers and monitors all components of your IT environment including physical servers, virtual machines, cloud instances, containers and applications.

Dynatrace provides advanced performance analysis and diagnostics to quickly identify and troubleshoot performance issues.

The platform leverages AI-powered analytics to automatically detect anomalies, pinpoint the root cause of performance issues, and reduce troubleshooting time. 
8. Site 24*7
Site 24*7 is cloud-based software that generally comes in a variety of packages for connectivity, server, app monitoring, multi-cloud and website end-user tracking. It aims to help businesses monitor their websites, servers, applications, networks and other critical resources in real-time. Site24x7 offers a variety of tools and features to ensure the availability, performance and user experience of your online services.
Key features of Site24x7 are
Track the availability and performance of your website and web applications from multiple locations around the world.

Monitor server performance metrics such as CPU usage, memory, disk space, and network usage.

Provides insight into the performance of various applications, both on-premises and in the cloud. 

Monitor network devices, interfaces, and bandwidth usage to ensure optimal network performance. 
9. Datadog
Datadog is a popular cloud-based monitoring and analytics platform that enables businesses to monitor their applications, infrastructure and services in real-time. It is designed to provide comprehensive observability of complex distributed systems, enabling organizations to identify performance issues, troubleshoot problems, and gain valuable insight into their IT environment. make it possible.
Features of Datadog
Datadog allows users to monitor a wide variety of metrics, logs and traces from various sources such as servers, containers, databases, cloud providers and custom applications. This comprehensive monitoring helps users track the health and performance of their systems and services.

The platform offers powerful alerting capabilities that allow users to set custom thresholds and triggers. When certain metrics or events cross these thresholds, Datadog sends notifications through various channels (email, Slack, PagerDuty, etc.) to alert your team to potential issues or anomalies.

Datadog offers her APM capabilities to monitor application performance in real-time. It helps developers identify bottlenecks, slow queries, and performance issues in their code to improve application efficiency and user experience.

Datadog enables centralized log collection, storage, and analysis. Users can search, analyze, and visualize logs, making it easier to investigate and troubleshoot application and infrastructure issues. 
10. Icinga 
Icinga is open-source network and infrastructure monitoring software that enables businesses to closely monitor the health and performance of their IT systems. It helps you monitor the availability and performance of various resources such as servers, network devices, applications and services.
Features of Icinga 
It can check hosts and services using various protocols such as ICMP (ping), SNMP, HTTP and SMTP to ensure they are accessible and working properly.

With Icinga, you can configure notifications to be sent to you or your team when certain events occur, such as service outages or performance degradation.

Provides a web-based user interface that presents monitoring information in a visually appealing way. Users can customize dashboards to view relevant information at a glance.

Icinga supports a variety of community-provided plugins, making it extensible and adaptable to different monitoring needs. 
The Final Note
Choosing the right server monitoring software is critical to ensuring optimal performance, availability, and reliability of your IT infrastructure. Each software solution described in this blog offers unique features and benefits that meet the diverse needs of businesses and organizations.
 No doubt that an efficient server monitoring solution will undoubtedly improve your server's performance. It also increases the efficiency of your IT team and contributes to a seamless user experience for your customers. Therefore, you have to choose the best solution for you. If you are confused about which one is the ideal server monitoring software, look out for the above-listed software and choose the best one as per your requirement.
FAQs
1. What is server monitoring software?
Server monitoring software is a tool or application designed to track and analyze server performance and health in real-time.
2. Why is server monitoring important?
It helps identify performance bottlenecks, hardware failures, and software errors before they become serious problems. By continuously monitoring servers, administrators can take preventative measures to avoid unplanned downtime that can be costly and damaging to the business. 
3. Can I remotely monitor my server using this software?
Yes, most server monitoring programs support remote monitoring functionality. Monitoring agents or collectors deployed on servers can communicate with a central monitoring server or cloud-based service over the Internet, giving administrators access to real-time data and alerts from anywhere with an Internet connection. 
4. How does server monitoring software work? 
Server monitoring software works by deploying agents or collectors on the servers to be monitored. These agents collect data such as performance metrics, resource usage, and system logs from your servers. Collected data is sent to a central monitoring server or cloud-based service for processing and analysis.