Nowadays, every modern business tries to meet IT requirements to ensure the success of their business and stay ahead of the competition. In order to manage all IT activities effectively and stay focused on providing their core services, companies refer to professional IT outsourcing agencies. However, some have the question: what is better staff augmentation than Outsourcing?
Generally, IT outsourcing solutions give permission to optimize their spending on IT services, complete daily IT tasks on a professional level as well increase operational efficiency. On the other hand, staff augmentation is a type of software outsourcing service where staff augmentation agencies offer their specialists on a temporary basis in order to enhance in-house team performance.
In this post, we will discuss Augmentation and Outsourcing and which one is better: Staff augmentation Vs. Outsourcing. To get the right answer, stay tuned with us.
An Overview of Staff Augmentation
A report shows that the IT industry is set to hit $7 trillion in 2021. While the US is still the largest tech market in the world, other regions, along with India, Asia-Pacific, and even Latin America, have been gaining significant technical ground over the years. Staff augmentation is the outsourcing strategy that allows agencies to fill the skill gaps within the organization.
Generally, this is all about hiring experts on a short-term basis. Staff augmentation services are less expensive compared to in-house development teams. Flexible team augmentation services can not help you save money but always speed up the software development project.
On the basis of project or contract needs, you can hire employees on your team who have in-depth knowledge in a specific area. The best thing about staff augmentation is that the staff may join the team at various stages of development. The team's main goal is to use their skills to move your project forward.
You can even upgrade your local team with an IT workforce based on your current requirements. On the other hand, staff augmentation provides you the flexibility and scalability you want. You don't have to waste time searching for experienced candidates with the required skill sets to complete your project.
Moreover, you don't need to interview candidates to check if they have a particular skill required for your project. You can hire dedicated developers from staff augmentation agencies to complete your in-house team.
Staff Augmentation Benefits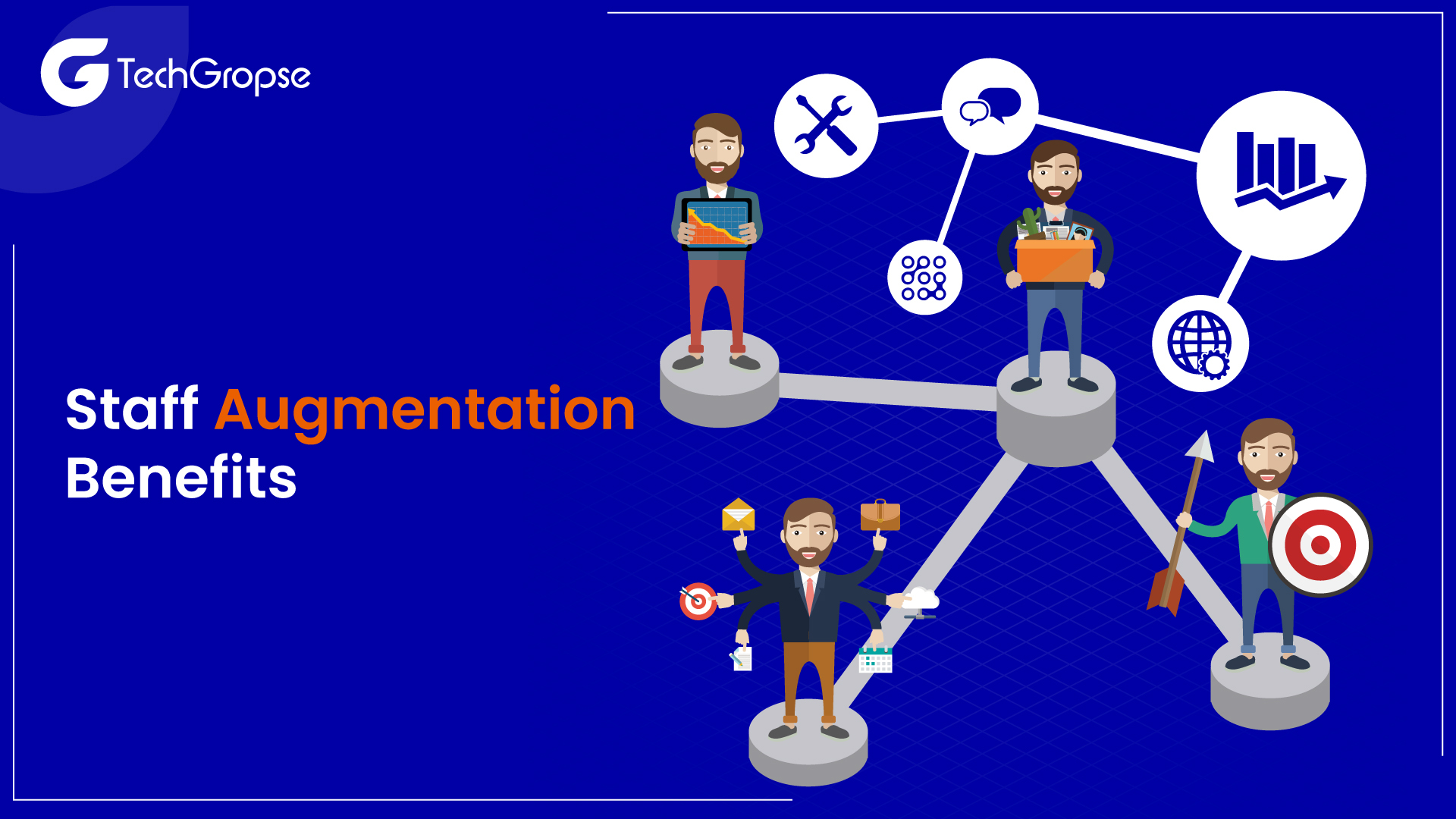 Once you understand staff augmentation, we will discuss its advantages in this section. So, look out for the listed perks:
1. Cost Effective
The first advantage of staff augmentation is that you have to pay for the job that needs to be done. It will save money, and you don't have to worry about the quality. Moreover, you are able to pay for what you want. In addition, you can avoid recruitment and hiring costs, which is the great advantage of staff augmentation.
If you are searching for an Android app development company to complete your project on time, it is good to choose staff augmentation.
2. Expertise
Expertise is another great advantage of staff augmentation. As a result, you don't hire someone with the right skills and experience; you choose someone who matches your expectations. You have to ensure that the app is clear for potential workers and follows the staff augmentation model.
Additionally, it gives you control over growing your business. So, you can easily hire mobile app developers for your project success.
3. Geographical Limitations
If there is an issue with a specialist in your place, you can search for an Android app development company from another country. Regarding communication issues, you can search for someone from your client's country who will provide a hand and support your cooperation.
Furthermore, staff augmentation provides flexibility and cost-effectiveness even if you outsource the IT project team from abroad. No matter whether you are searching for a project manager or a whole dedicated team. Henceforth, staff augmentation is good. Still, many have a question about which is better: staff augmentation Vs. Outsourcing.
If you have the same question, you will get the answer in this post. So, read the complete blog till the end.
4. Scalability
If your project grows with time, you don't need to worry about additional employees who may lose their jobs once the project is completed. You can easily choose people with the required development skills and continue the project without worrying about high-level delivery.
Staff Augmentation Drawbacks
We read the advantages of staff augmentation that help us complete our job. But it also has some disadvantages. Here, we mentioned some disadvantages below:
1. High Cost of Training
No doubt that there is a huge difference between your internal team and the augmented team, even though it may look like the augmented workforce is a part of your team. You have to introduce them to your company's aim.
Once they are familiar with this, it is time to teach the team to assist you in achieving your objective, necessitating spending a lot of resources.
2. Possible Delays
It is obvious that onboarding and training require a lot of time, and it can delay your project's progress. Additional work may always be difficult if your augmented employees will only work there for a short time.
3.Risk of Low-Quality Production
When you search for a team that is highly experienced, there are some risks. Getting your augmented employees familiar with the project can be difficult if your IT project requires context in bulk. If there is a requirement for familiarity, hiring dedicated developers for your project is a good idea.
4. Long-Term Costs
If your project requires more time than expected, staff augmentation could be better for you as augmented staff costs more per hour than regular in-house staff. It may increase your budget if you hire long-term augmented experts.
An Overview of Outsourcing
Outsourcing is hiring an external agency or individual to perform a task or function that is typically carried out internally by a business. Moreover, it can be used for various activities, including manufacturing, customer service, accounting, human resources, and IT support.
Many businesses use Outsourcing because it is cost-effective, access to specialized expertise, and increases flexibility. On the other hand, by outsourcing non-core activities, agencies can focus on their core competencies and allocate resources efficiently. Furthermore, it can assist businesses to reduce labor costs.
Apart from this, Outsourcing can take many forms along with nearshore, onshore, and offshore Outsourcing. This model always involves hiring a third-party mobile app development company in the same place. While nearshore Outsourcing includes hiring professionals from nearby countries, typically at the same time zone and cultural values.
On the other hand, offshore Outsourcing includes hiring expertise in a different country, often with significant time zone differences.
Advantages of Outsourcing
Unlike staff augmentation, Outsourcing also has amazing benefits that make it a popular choice for business. Here are some of the benefits of Outsourcing:
The first advantage of Outsourcing is that it reduces costs. When you choose Outsourcing, it gives permission to access skilled developers at a lower cost than paying to hire and train full-time employees. It is a good idea to choose an outsource.
Another advantage of Outsourcing is that it helps agencies to improve their efficiency. As it allows businesses to focus on their core components, it is an excellent perk of Outsourcing. By outsourcing non-core activities, companies can free up resources for activities that help to generate more revenue.
Access to Specialized Expertise
Outsourcing helps businesses access specialized expertise that may be available in various ways. It also can assist enterprises in improving the quality of their product, services, and their competitive position in the market.
Another great advantage of Outsourcing is that it gives businesses permission to be more flexible in their operations. Plus, it can scale up or down its operations as required without investing in new infrastructure or hiring new candidates.
Outsourcing helps agencies reduce their risk exposure by transferring some operational risks to outsourcing partners. Moreover, it includes risks related to security, compliance, and data privacy. Therefore, Outsourcing is beneficial for businesses.
Businesses can save their time and resources to focus on their core competencies. Moreover, it can assist agencies to improve their competitive position in the market and achieve their strategic objectives.
Drawbacks of Outsourcing
Outsourcing has lots of advantages, such as increased efficiency, cost saving, and access to specialised expertise. However, it has some drawbacks. Here are some of the most common drawbacks of Outsourcing:
Outsourcing includes entrusting certain functions to an external entity. As a result, it can lose control over the quality and delivery of the services. It can lead to problems with coordination, communication as well as assurance.
Another drawback of Outsourcing is a significant risk when sensitive or confidential data is involved. If the third-party agency experiences a data breach, it can have serious consequences for the companies.
Outsourcing can cause communication issues, particularly if the contracted company is based in a different nation or time zone. Because of this, it could be challenging to organize duties and ensure everyone is on the same page.
While Outsourcing can result in short-term cost reductions, additional expenses may be involved, such as managing the relationship with the outside company, adjusting to the new system, and monitoring and evaluating the services.
Outsourcing can result in quality issues, particularly if the contracted company has a different degree of experience or standards than the company itself. This might lead to shoddy work and harm the company's reputation.
Outsourcing to a company in another nation may result in cultural misunderstandings that compromise the effectiveness and quality of the services.
Since some duties or responsibilities are transferred to the outside company through Outsourcing, jobs may also be lost. The morale and motivation of the surviving employees may suffer as a result.
Staff Augmentation Vs. Outsourcing – Key Differences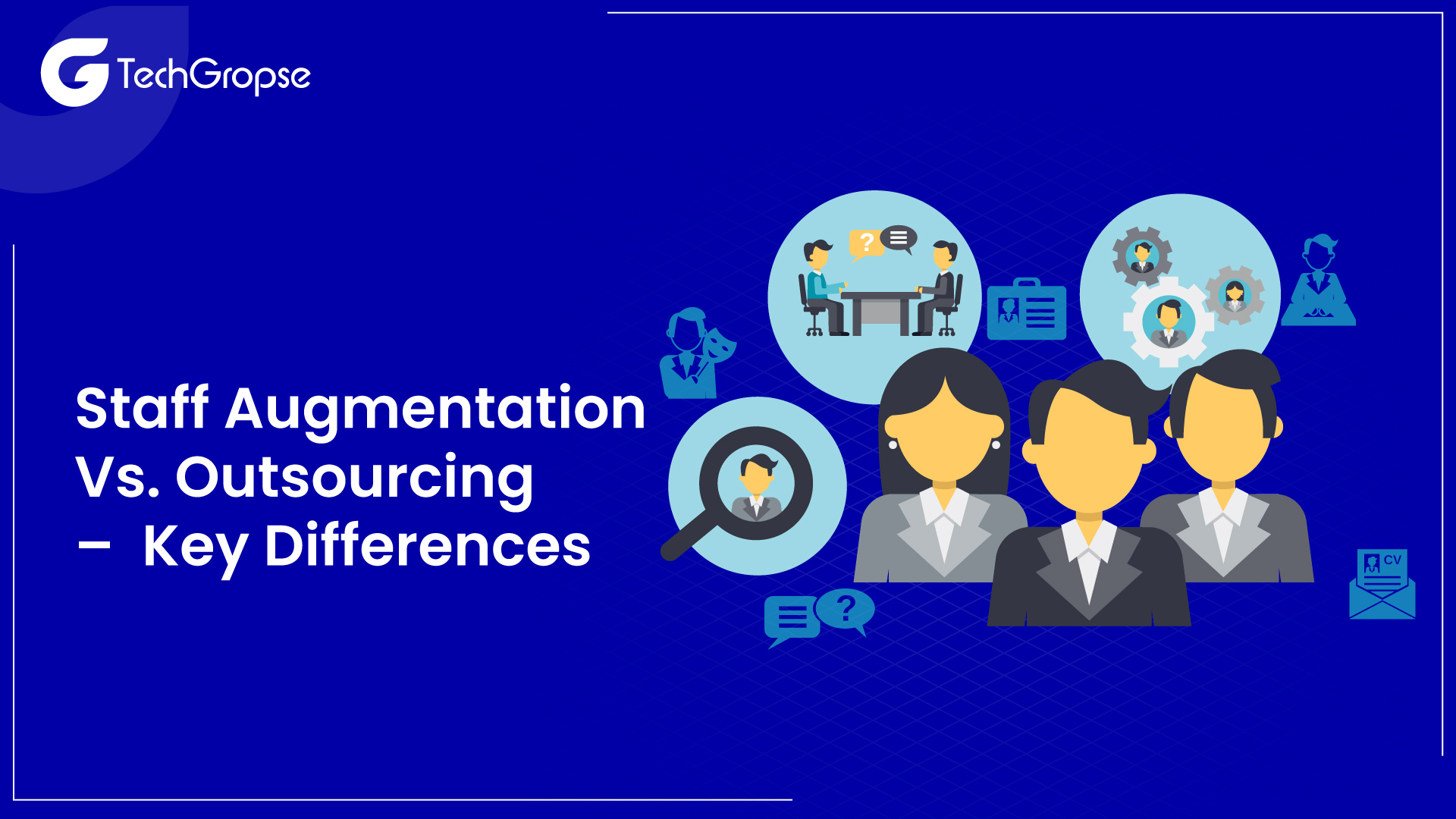 Staff augmentation and Outsourcing are two different business models that help companies fulfill their staffing needs. But the question is which one is better: staff augmentation vs. Outsourcing. Well, both have some advantages as well as disadvantages.
Here we mentioned some key differences between both, so it will be helpful to you to understand which one is better, staff augmentation vs. Outsourcing:
1. Definition
Usually, staff augmentation refers to hiring additional staff to an agency's existing team. It includes hiring temporary or contract-based developers with your existing team. On the other hand, Outsourcing refers to hiring a third-party mobile app development company to perform certain tasks or functions for the business.
2. Control
When you choose staff augmentation, you have complete control over the project and your chosen staff. In simple terms, you are eligible to manage and supervise the team and the work performed. On the other hand, when you select an outsourcing model, companies have lower control over the work performed.
3. Timeframe
Staff augmentation is generally a short-term solution, while staffing requires lasting from a few weeks to many months. However, Outsourcing is a long-term solution that can last several years. This will help to understand which is better: staff augmentation vs. Outsourcing.
4. Expertise
Generally, staff augmentation is used when a business requires additional expertise for a specific project and task. On the other hand, Outsourcing is used when an agency needs expertise that they need in-house.
5. Cost
Staff augmentation is expensive compared to Outsourcing since an agency is searching for staff on a temporary or contract basis. Outsourcing is more cost-effective since an agency only makes payment for the services provided by the service provider.

6. Risk
Staff augmentation carries a lower risk since the developers hired are under the company's control and are integrated with the existing development team. Outsourcing includes higher risk since the agency is entrusting the work to a third-party agency which may have a different level of accountability and commitment than the agency's internal development team.
In conclusion, staff augmentation is ideal when you want additional staff to work alongside existing staff. On the other hand, Outsourcing is more suitable when an agency needs specialized expertise that it does not have in-house.
Staff Augmentation Vs. Outsourcing – Which Model Is Best For Your Business?
Undoubtedly, newly occurring IT projects can bring about an overload of work and stress for your company. When it happens, companies must decide whether they require an outsourcing or staff augmentation model to complete a particular project.
The primary difference between Outsourcing and staff augmentation lies in who is responsible for project management and who is held accountable for results. When using Outsourcing, service providers can easily manage projects and are accountable for delivering results.
On the other hand, staff augmentation needs in-house project management and leaves your own agency accountable for the results achieved. Overall, each model has its own strengths and drawbacks. So it depends on your business requirements as well as your interest. In simple terms, which one is better, staff augmentation Vs. Outsourcing depends on you as per your desire.
Summary
Nowadays, the demand for skilled software developers is growing faster, but companies must wait to hire dedicated developers. This is why many agencies need help hiring people with the right skill set.
Staff Augmentation is the ideal choice for companies as it helps hire a whole team or full-time employees that you must let go of when particular tasks are done. On the other hand, you can hire offshore specialists who will do the job instantly. But people need an idea of which is better: staff augmentation vs. Outsourcing.
FAQs
1. What is the Difference Between IT Staff Augmentation Vs. Outsourcing?
The primary distinction between the two modes of utilizing IT resources, Outsourcing, and IT staff augmentation, is the degree of control the client has over the resources.
Adding more IT personnel to an existing team is known as IT staff augmentation. The administration of the project and the actual resources are completely under the client's control. Delivering the required resources to satisfy the client's needs falls on the staff augmentation firm. The client establishes goals, dates, and milestones, and the augmented team follows their instructions.
On the other hand, Outsourcing entails contracting with a third-party business to carry out particular duties or oversee a whole project. The outsourcing firm manages the project, and the client has little control over the resources used. The outsourcing firm ensures that the project complies with the client's specifications, meets deadlines, and produces high-quality work.
In conclusion, adding IT workers enables the client to maintain control over the project, whereas Outsourcing cedes such authority to a third party.
2. How Does Staff Augmentation Work?
Staff augmentation is an approach for temporarily boosting a company's existing workforce of qualified experts. It entails hiring qualified individuals through contracts with a third-party service provider or organization to assist with certain projects or continuous operations.
The normal process for staff augmentation is as follows:
Determine the necessary staffing: The business determines the abilities and assets required to finish a project or satisfy operational requirements.
Look for a staffing company: The business seeks a staffing supplier with the necessary experience, knowledge, and resources to meet its demands.
Recruitment and selection: The staffing provider locates possible individuals in accordance with the needs of the business, and the business then chooses the best fit.
Onboarding and integration: After being chosen, the applicants go through onboarding and training to become familiar with the business's procedures, systems, and culture.
Management and supervision: To ensure the increased personnel is achieving project needs and abiding by business standards, the company manages and supervises them.
Project completion and transition: The augmented employees may be discharged, or some may be moved into permanent positions once the project is over or the staffing requirements have been met.
Staff augmentation generally offers businesses a flexible and scalable option to access extra personnel and knowledge to suit their business demands.
3. What is the Type of Outsourcing?
Outsourcing can be categorized into different types based on the scope and nature of the outsourced services or processes. Here are some common types of Outsourcing:
Business Process Outsourcing (BPO)
Information Technology Outsourcing (ITO)
Knowledge Process Outsourcing (KPO)
Manufacturing Outsourcing
Logistics OutsourcingOffshore Outsourcing
Nearshore Outsourcing
4. Why is staff augmentation important?
As the demand for staff augmentation is increasing day to day. As a result, it is important for a business. Staff augmentation is essential for several reasons, including:
Flexibility: Employing staff augmentation enables businesses to scale up or decrease their workforces in response to shifting business requirements. Without committing to hiring full-time workers, it enables businesses to access more talent and resources as needed.
Cost-effectiveness: Staff augmentation can be a viable option for businesses that must carefully control their budgets. It enables businesses to avoid the overhead expenditures of providing benefits, equipment, and office space, as well as the costs related to finding, hiring, and training new employees.
Obtain specialized capabilities: Companies can obtain various specialized skills and expertise through staff augmentation that they might not otherwise have. This can be especially useful for businesses that need to finish a project or activity that calls for knowledge in a particular field.