The usage of smartphone applications for different day-to-day chores has increased as technology has advanced and people's access to the internet has increased.
Similarly, commuting has become substantially easier than previously, thanks to the widespread availability of taxi booking applications in the app stores.
There are a plethora of taxi booking apps available in app stores these days, and there is always room for newer and better ones.
We live in an era where everything is available with a single click, from ordering lunch at home to taking a cab to work.
The on-demand taxi booking app is rising in popularity and has resulted in a significant improvement in taxi services.
What does Market Statistics Say?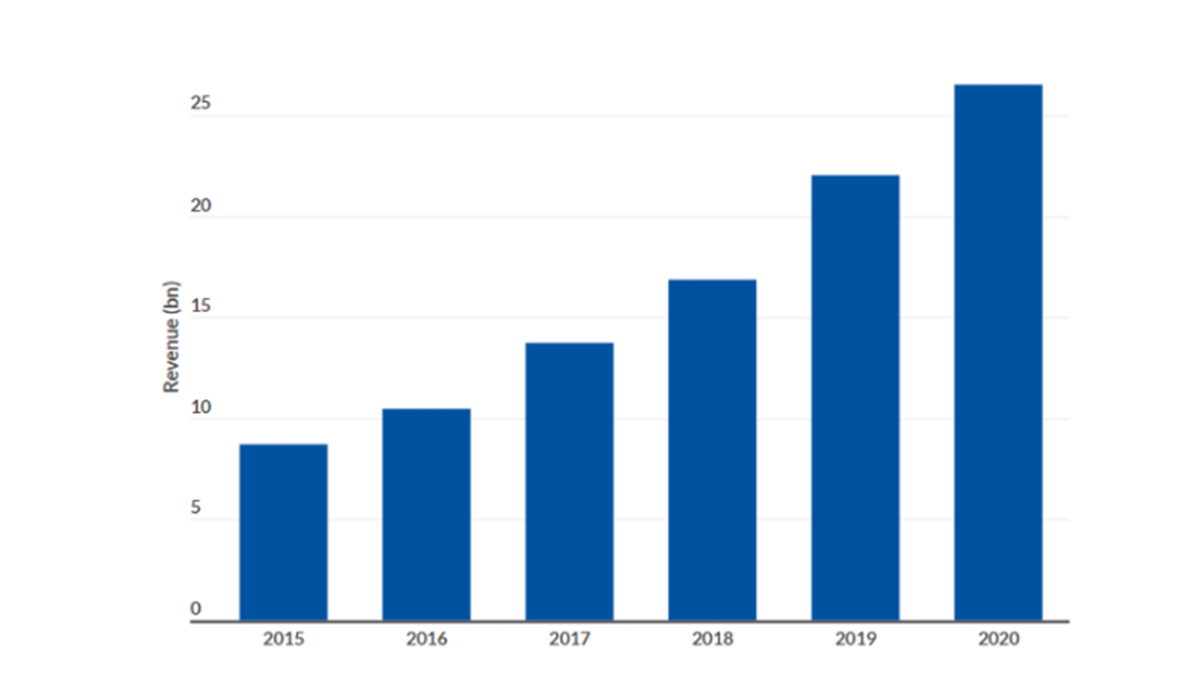 According to Statista, the income from on-demand taxi services in the United States will reach $30,839 million in 2021.
By 2025, revenue is predicted to expand at an annual rate of 18.8%, bringing it to roughly $73,120. In general, on-demand app development has been a popular trend in recent years.
It has made people's lives easier because they can get a car delivered to their door with a single click.
The worldwide ride-hailing and taxi industry revenue are expected to reach $192,276 million.
There are several reasons to consider a mobile app for your offline taxi service if you are pursuing a digital transformation plan.
Take Uber, for example, the business model has developed by leaps and bounds in recent years, and the app is now used in several nations across the world.
Who needs a car when they can make use of convenient and affordable taxi services?  Uber has risen to the pinnacle of success in less than ten years, with a market capitalization of USD 72 billion. This is their market value on a worldwide scale.
The nice thing about on-demand taxi booking app development is that it benefits both businesses and customers.
It allows clients to hire a premium vehicle and, on the other hand, allows companies to increase profits and sales. Given the abundance of taxi services offered, it is unlikely that any of them will be successful.
What is a Taxi App?
Taxi services have taken a back place in today's society, and new techniques of reserving transport for oneself have emerged.
On-demand taxi booking apps abound in the app stores, each boasting features that entice users to book only via them.
The rise of these apps has been fueled by the hard work and tenacity of mobile app development businesses. When it comes to scheduling a ride for oneself, they can be completely trusted.
Advantages Of Using An On-Demand Taxi Booking App
Taxi booking apps offer a solution to several issues, like saving time spent waiting on the road, seeking cabs in the heat, and so forth.
There are various advantages to using these applications. Aside from the passengers, there are several benefits for the drivers. Take a look at the following advantages:
For Drivers
They don't have to waste gas driving around the city looking for riders. Meanwhile, they can simply wait for a booking to arrive before departing from where they were stopped.
The majority of payments are made through online banking or mobile wallets, eliminating the need for the drivers to carry large amounts of cash or change.
The drivers have the authority to provide each passenger with ratings and comments. As a result, if they have a naughty passenger in their car, they may rate him appropriately and save the other drivers the agony.
Because these apps are GPS enabled, it is simple for drivers to locate their passengers rather than wandering around asking for help.
There are fewer risks of wasting time because the driver will only arrive at the specific area and transfer his car once a reservation has been made.
For Passengers
The app notifies the passengers of the actual position of the cab and the estimated time it will take to arrive. As a result, they can put that time to better use.
Passengers may plan their journeys electronically, so they don't have to leave their homes.
The payment method is very convenient for the passengers, as they do not have to carry cash around with them. They may pay with their debit or credit cards online, or just attach their digital wallets to the app.
With the use of the app, there is more transparency because passengers can evaluate and rate cab drivers.
They don't have to stand on the side of the road, waiting for a cab. This saves them a significant amount of time and effort.

Monetization Techniques for Taxi Booking Apps
1. Commission
The drivers are the source of this money. The app's proprietors charge the drivers a fee on each booking, which may range from 20% to 25%.
Aside from that, aggregator apps charge users/passengers a service fee for using the app and booking a cab through it.
This fee is concealed and added to the total amount. Finally, the cancellation fees are how these apps make money. When a user cancels a ride, they are required to pay a set amount as cancellation costs.
2. Advertisements
Allowing adverts from other brands on your app is the most frequent approach to generate cash. Third-party promotions are vital for long-term survival.
You can work with a variety of brands and effectively promote them on your app's home page. If you don't charge these third parties any money, you can make money through other methods such as cost-per-click or cost-per-mile.
Top Market Leaders of Taxi Booking Mobile Apps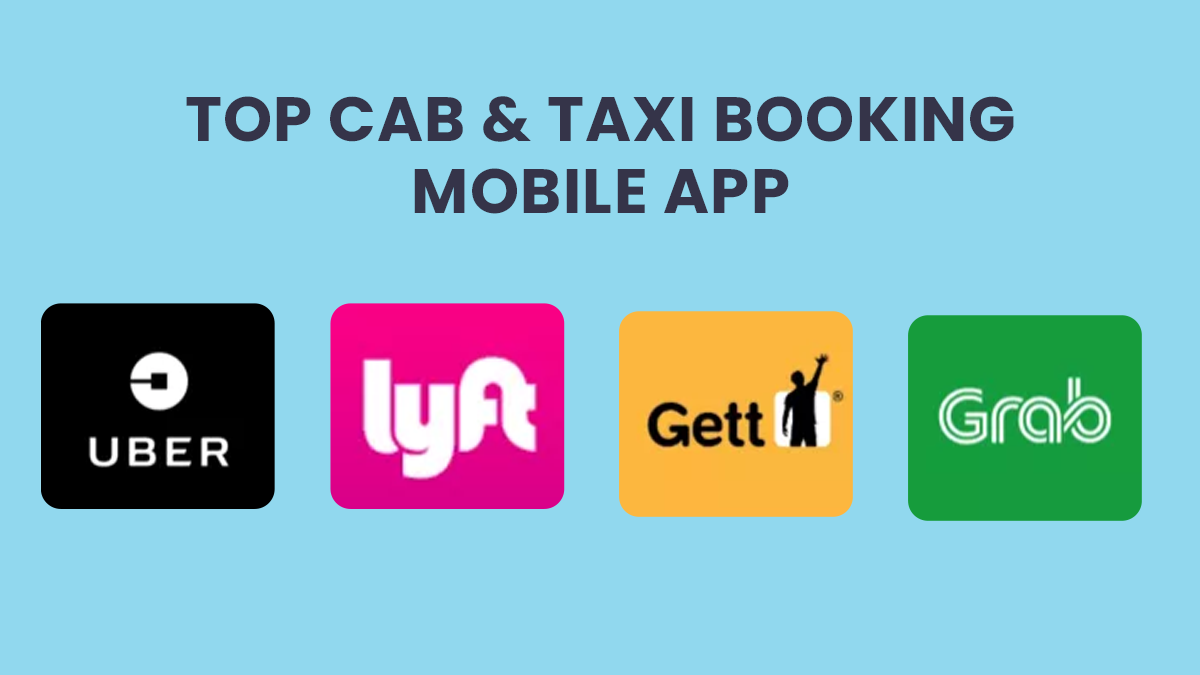 Since there is a lot of room for new travel and hospitality mobile applications, there are already a lot of them out there that are doing well and producing money. Let's take a look at some of the most popular taxi booking applications.
Both iOS and Android versions of the software are available. This app's services are available in about 445 cities in 70 countries.
It takes cash in several places in India, the Philippines, and Kenya, and it is connected with internet payment systems.
2. Lyft
Because it is available in over 200 cities across the United States, the app is best suited for users in that country. It is available for both Android and iOS and allows users to divide fares within the app.
3. Gett
This one also competes with Uber and is available on several platforms. The cab company thinks that passengers and drivers should treat each other with respect.
One of the finest aspects of this software is that customers may schedule their transport up to two weeks ahead of time and avoid surge pricing. This one is offered in more than 100 locations across Europe and the United States.
4. Grab
Do you want to drive safely? You should use the Grab taxi booking app since the developers have put a lot of effort into ensuring transparency between drivers and passengers.
It accepts cash, credit cards, and Grab credits as payment methods. On iOS, the app may be downloaded via the app store as well as the play store.
Features in a Taxi Booking Mobile App Development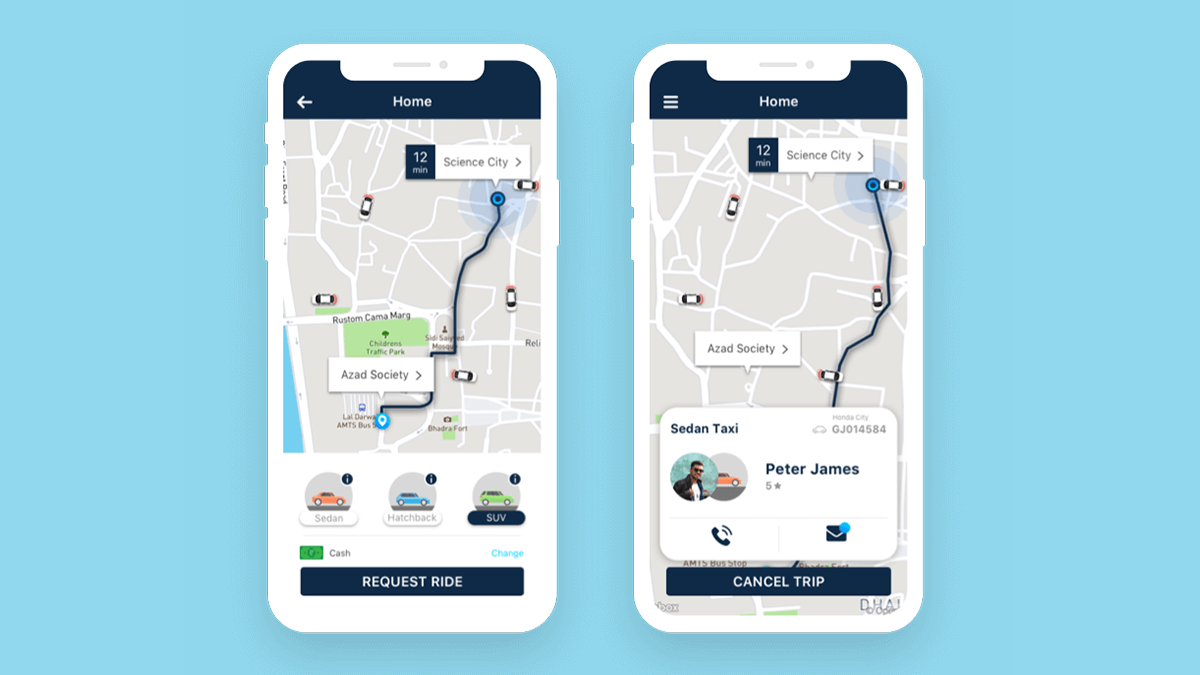 Admin Panel
Manage a master list of services, including nation, city, and vehicle information.
They may create their drivers, customers, and employees.
Make a reservation, change it, or cancel it.
Manage driver work assignments and cancellations.
Admins can form business partners.
Assign duties to Business Partners, as well as a small master plan.
Admins can route chat to certain drives.
Set various charges for different categories of customers.
Manage the account of the driver for various transaction kinds.
Incorporate transactions for consumers and drivers.
Administer Transaction reports, Job reports, Payment histories, and App use.
Driver Panel
Accept and perform the work that the admin has assigned to you.
Their request will be forwarded to other drivers.
Accept the request for drivers who have been nominated by the company.
Take a look at the job's route map.
User interface that is pleasant to drivers.
The rides will be notified in advance.
Drivers and clients can communicate via live chat.
It is possible to make a broadcast request (paging).
User Panel
Vehicles can be reserved for airport arrivals and departures.
They should keep track of their money.
Make a reservation for their ride in the future.
Make arrangements for other people to ride with you.
Rides are available on an hourly basis.
Take a look at their future and past rides.
Make changes to their forthcoming rides.
Take advantage of affordable membership options for the rides.
They can book a ride without registering.
Take advantage of the deals to get free extra trips.
Various Demographics
Verification of Flight
Pick-up from the Airport
Find out where the driver is.
What are some advanced features of a Taxi App Development?
Because there is fierce rivalry in this field, one must always strive to enter the competition. Including innovative and complex features, on the other hand, can help you remain ahead of the competition and grow your user base.
Take a look at the advanced features that your app must have to reach the top of the rankings.
Driver's Authorization
This function allows drivers to get permission to drive the car while using the app. They are given access to accept reservations and link to the mobile app.
Auto Dispatch Software
This benefits the drivers since they can handle all of their appointments from one app. They don't have to go back and forth; instead, they can keep track of all of them in one spot. It also assists them in receiving suitable instructions regarding the location for which they have gotten a reservation form.
Driver Queue Algorithm
This one is great for aiding taxi service providers in determining the number of drivers and cabs available in one location, which can then be sent out as alternatives to users looking to book a cab. This is a relatively rapid process, as the user must be intimidated by the taxis in the area within 2-5 minutes.
Surge Pricing
If there aren't enough taxis available on particular days due to strong demand, taxi operators can raise the price and make more money on that day.
Pricing by Zone
Each zone of a city may have its own set of rules, regulations, roadways, and schedules. As a result, the pricing of these zones may differ. This feature aids taxi drivers in making a profit.
View of the Heat Map
The app owners may utilize this function to learn about the automobiles that are offering services to consumers throughout the busiest times of the day. More cars and drivers can be assigned in this manner.
Phone Number Masking
If you don't want to share your contact information with a driver or vice versa, you should be aware that the app allows you to keep it private. One can protect his phone number by using an in-app call option.
 Loyalty Programs
Why not give your drivers and passengers an extra push by offering them loyalty programs such as incentives, discounts, and coupons? This feature always attracts users, encouraging them to use the app more frequently.
How Much does it Cost to Develop a Taxi Booking App?
| | | |
| --- | --- | --- |
| Development | Android | iOS |
| Native Development | $10,400 | $13,500 |
| UI/UX Design | $3,000 | $4,600 |
| Backend Development | $4,000 | $5,400 |
| Admin Panel Development | $4,200 | $5,200 |
| Quality Assurance | $7,600 | $8,700 |
| Project Management | $4,100 | $3,700 |
| Total | $33,300 | $41,100 |
The cost of developing a taxi app is determined by several things. They are the core technical knowledge of the development team, the team's location, and the number of features.
Core technical competence denotes that the development team has completed similar projects in the past and is familiar with the technologies required to complete them.
It also means that taxi app developers will spend less time conducting preliminary research, resulting in a lower cost and faster delivery of a mobile taxi app.
The hourly rate of a taxi app developer is determined by the location of the taxi app development team.
Developers in the United States and Canada charge between $100 and $250 for ride-hailing app development services, while developers in Eastern Europe charge between $35 and $50 per hour of coding.