Did you know that the eCommerce sector is projected to grow by $ 5.5 Billion in 2022? Even since the onset of the Covid-19 pandemic, the eCommerce apps and software market has witnessed remarkable growth. 
The ongoing outbreak of Covid has caused an enormous rise in online shopping on a global scale. In the near future, there are no indications that the eCommerce sector will halt anytime soon. By 2022, Statista projects that the worldwide eCommerce market will generate revenues of $6.54 trillion which is over $3.53 trillion more than in 2019.  
If you too wish to invest in eCommerce Apps and Software and wish to look at the top competitors, this is the place you should be at. In this blog, we will discuss the top eCommerce Apps and Software in 2022 and everything else that concerns eCommerce apps and software. Let's start by understanding what an eCommerce platform is. 
What is an eCommerce Software Platform?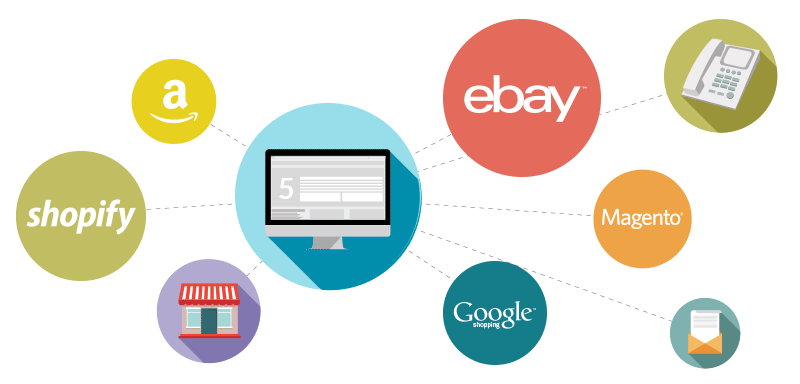 Learn about the eCommerce industry before actually participating. Online purchasing and selling of goods and services are commonly known as an eCommerce business. Selling their goods and services online has advantages for everyone, including self-employed contractors and small and large organizations.
Retail, drop shipping, digital goods, wholesale, services, subscriptions, crowdfunding, etc. are typical eCommerce examples.
Everything an eCommerce does is to make running an online business's website, marketing, and sales easier (eCommerce store). If you wish to create a highly functional and popular eCommerce app or software, you must keep these 4 points in mind- 
Growth:

How quickly your company expands.

Costs:

Include the price of creating an eCommerce platform as well as continuing development costs.

Consumer Engagement:

Controlling your customers' interactions with your company is known as customer engagement.

Objectives:

You can offer the services of your choosing using an eCommerce platform. Eventually, you must include all the elements in your solution that can empower your online business seamlessly. 
Now if you want to create an app or an eCommerce software it is important that you also understand the types of eCommerce software. 
Market Statistics of Top Ecommerce Apps 
Thanks to the internet, buyers today have the power to buy items virtually from any retailer in the world.  Because of this, the e-commerce sector has been flourishing.
Technology advancements are also transforming consumer behaviour and the way individuals make purchases of goods and services. Now let's take a look at the current market stats of top eCommerce apps- 
E-commerce app sales increased by 22% from the prior year to $3.56 trillion in 2021. The US accounted for 10% of worldwide e-commerce, second only to China in terms of overall spending.

In the US, mobile e-commerce accounted for 7.3% of all retail in 2021. That percentage in the UK was 15.6%.

In the US and India, Amazon was the most well-liked online shop in 2021. Over the previous two years, e-commerce app usage and downloads have increased, particularly during the coronavirus outbreak.
It is not clear that top eCommerce apps create a fortune of revenue. If you too wish to try your luck in the eCommerce app sector consult a mobile app development company. 
Types of Top Ecommerce Apps 
Hosted
A hosted platform is available with several website builders. It entails no hassle, no muss of dealing with third-party hosting, and no extra costs! A fantastic illustration of hosted platforms is the Shopify shop. These platforms are user-friendly, and you can enhance the user experience with optimized eCommerce website design.
Self-hosted
Self-hosted eCommerce businesses use their own servers or pay a hosting company to rent space from them. Does it complicate website management more? Yes. The owner is in charge of making sure that all upgrades, maintenance, and bug fixes are made.
You must pay a fee to a third party who hosts the website data. With upgrades, the expenditures will soon mount. This could occasionally be left hanging and drying at important times like when a website is boosting traffic sales. 
You can create either of these top eCommerce apps while partnering with an on demand app development service. 
Top Ecommerce Apps in 2022 
1. Amazon 
This 1994-founded American e-commerce giant receives 2.5 billion hits on average each month. It offers a wide range of products and services—just about anything you can imagine. Simple payment methods, including COD, net banking, and bank cards. Online streaming and cloud computing are also provided by Amazon which is one of the top eCommerce apps. With privately branded brands, Amazon provides products for niche markets, such as Vedaka from Amazon India, which sells everyday food. It's the go-to app for the majority of shopping needs because it is a one-stop solution for every need. 
Features 
It works with both Android and iOS devices.

You can quickly compare prices and reviews before placing an order. Receive a notification as soon as a new offer is made available.

Amazon's safe servers handle all transactions.

With this software, you can present Amazon gift cards to your contacts.
2. Sephora 
The world is well-known for the multinational cosmetics brand Sephora. It is a top cosmetics company that offers a wide range of high-end cosmetics all over the world. On its mobile apps, digital multimedia features have been released. One of them includes augmented reality. Users of the smartphone application can virtually try on things before making a purchase thanks to an augmented reality (AR) feature called "Sephora Virtual Artist." As a result, they are better able to select the ideal product and confidently make their own buys.
Features 
Available for Android 

Augment Reality allows virtual makeup try-on 

Personalized skincare recommendations 

Location-based content 
3. Wish
American website Wish is one of the top eCommerce apps, well known for selling clothing, accessories, and electronics. They frequently offer steep discounts and promotions to entice clients to buy now. Customers like it because of the user interface and simple shopping process.
It is accessible because there are mobile applications for both Android and iOS. Customers have access to global brands, which they can buy or distribute among friends. It was able to earn positive client feedback and a spot in the top eCommerce apps because of its outstanding features.
Features 
It works with both Android and iOS devices.

There are options for quick refunds and free returns.

Earn points, then trade them in for gift cards.

People that provide excellent customer service reply right away.

Credit cards, PayPal, and Android Pay are all secure ways to pay.
4. eBay
When a malfunctioning laser printer was sold in 1995, everything got started. Pierre Omidyar founded Auction Web, the forerunner of eBay, in San Jose, California. He put the faulty printer up for auction for $1 and was shocked to see the price jump to $14.83 as people competed to purchase it online. The business was performing so well in 1997 that a venture capital group gave it a $6.7 million boost. It connects buyers and sellers, with a fee for any transaction that was made. Since then eBay is known as the mother of all online shopping apps. With this platform, users can score deals for  apparel, household appliances, furniture, outdoor camping needs, and much more
Features 
It works with both Android and iOS devices.

Tracking of your online purchase orders in real-time.

Get through the checkout procedure quickly and safely.

Use the features like custom notifications and Dark Mode to tailor your settings.

You can save a lot of money by taking advantage of daily bargains.

Buy products of superior quality from reliable suppliers.
5. Groupon 
The concept behind Groupon is that a sizable group of people can negotiate more effectively. Groupon established itself as a "deal of the day" company after offering its initial bargain (2 for 1 pizza). Everyone would be eligible for a bargain if a specific amount of people signed up for it. If not, the agreement was reached. While some were concerned that Groupon buyers may overwhelm small businesses, 88% of merchants accepted more customers. Groupon market is identifying, reviewing, and partnering with successful businesses to provide their users price breaks. 
Features 
Available for Android and iOS

Book discounted travel plans 

Buy discounted products 

Score tickets for hot events
Reasons Why your Business Needs to be Amongst Top eCommerce Apps 
If you are the owner of an eCommerce business, you must recognise this truth. Your eCommerce store would never succeed without the inclusion of a mobile app because everything is heading in the direction of mobile. Here are some justifications for why your company needs eCommerce app development services.
Higher Conversion Rates
Mobile eCommerce Apps undoubtedly lead to higher conversion rates. In the end, it is all that matters since it brings in money. So, if you run an online store, you might be asking, "Why do I need a mobile app?" The remedy is conversion rate optimization. Customers demand a perfect shopping experience when they buy a product, which you can give them with a mobile app.
The amount of information that clients must enter during the checkout process is decreased by these applications. Because of this, eCommerce is seen as a simpler and more practical way than other channels, increasing businesses' overall profitability.
Enhancing the Customer Service
Applications for mobile devices are quick and easy to use. Whether the consumer is at work, at home, or at a cafe with friends, he only needs a few clicks to start the app. This greatly increases the possibility that a customer will make a purchase from your online business. A flawless user experience and top performance for customers are guaranteed if the app is designed for a certain platform (such as iOS or Android). More potential clients will be drawn to an e-commerce application that loads quickly and is simple to use.

Customized User Experience 
The ecology of digital commerce depends on the collection of data. The system will have access to the user's purchasing history, browsing habits, demographic profiles, and personal preferences, among other identifiers, when they enter any digital commerce site. As technology develops, it will become easier to generate individual-level profiles of consumer behaviour, which will enable personalisation to provide better, real-time reactions to changes in the route to purchase.
AI and machine learning are quickly changing the retail industry in terms of data mining and customized experiences. These technologies profit from customer preferences towards logical interactions. Retailers may utilize sophisticated applications to customize their offerings to customers' changing tastes. Businesses may also use contextual marketing techniques that are both
Increased Brand Recognition 
One of the most compelling advantages of mobile commerce and a compelling reason to create a mobile eCommerce app is brand recognition. A mobile e-commerce platform makes it simple for businesses to interact with their customers because the majority of them spend their time on their mobile devices. A company must, however, offer a fantastic mobile app experience that users like. You must answer every customer inquiry if you want your eCommerce app branding to be as successful as possible. The more knowledge a company has about its customers, the more effectively it can address their problems.
Conclusion 
Without any prior technical prowess, you can easily build an eCommerce app with the assistance of an eCommerce app development company.  You can sell to anybody, anywhere, and your business is always open. In addition, you save time, money, and resources compared to operating a shop. With that said, all you need to do is hire eCommerce app developers that will work best for you and guarantee a speedy return on your investment.