Middle-class people in India have always wanted a hotel room that is super clean and has fresh stuff like soap and shampoo. People also want to wake up to a simple breakfast. That's where Treebo Hotels comes in. They started in 2015 to give people what they want and constantly focus on the Treebo business model in a unique way.
Treebo Hotels is a big hotel chain in India that started with three smart guys who went to IIT Roorkee. Their motto is "Good rooms. Good service. Good Price." They wanted to make hotels that were affordable for everyone. 
They got some big investors to give them $57 million to help them out. These investors are called SAIF Partners and Matrix India Partners. They have about 400 hotels in more than 70 cities. Treebo offers a remarkable business model that has been successful in the highly competitive hospitality industry.
This means they want to offer their customers a great experience by giving superior rooms, valuable service, and affordable prices. It operates on a franchise model and is present in many large cities across India. 
This article will delve into the Treebo business model, including its revenue streams, marketing strategies, expansion plans, and hotel booking app development.
"Even though there were a number of companies in the market trying to do the same thing as us, we didn't change what we were doing. We got twice as many places to work with us. Successfully we went to the next level from working with 413 places to 820 in just one year."
Introduction to Treebo
Treebo is a well-known Indian hotel chain that offers standardized stays to budget-conscious travelers. 
Treebo is a rapidly expanding Indian budget hotel chain that aims to provide affordable and high-quality accommodations to travelers. 
They have a franchise model where they partner with independent owners and provide them with support and resources to improve their brand image and guest experience. 
| | |
| --- | --- |
| Year | Milestone |
| 2015 | Treebo Hotels was founded in June 2015 by Sidharth Gupta, Rahul Chaudhary, and Kadam Jeet Jain with its headquarters in Bengaluru, India. |
| 2016 | In June 2016, Treebo raised $16.7 million in a funding round led by SAIF Partners and Matrix Partners India. |
| 2017 | Treebo expanded its presence across multiple cities in India and focused on providing quality budget accommodations to travelers. |
| 2018 | In April 2018, Treebo raised $34 million in a funding round led by Hong Kong-based investment firm Ward Ferry Management. |
| 2019 | Treebo continued to expand its network of partner hotels and enhanced its technology platform for seamless hotel operations. |
| 2020 | Despite the challenges posed by the COVID-19 pandemic, Treebo continued its operations, implemented safety protocols, and adapted to changing market conditions. |
Treebo Hotels is super high-tech and they take care of everything at their hotels. They use modern technology to make sure they make lots of money and keep everything top-notch. 
In India, the hotel business is getting bigger and bigger, so Treebo Hotels and Oyo are making it easy for people to book a room for a pretty cheap price, usually between Rs. 3,000 to Rs. 5,000. This means you can get all the cool things a hotel has to offer without any problems.
"The founder of Treebo, Sidharth Gupta said that they had to let a few people go from their company. They don't want to say how many people it was, but it was enough to make them feel bad. Even though they had to do it, they tried to make it as easy as possible for the people who were leaving. They gave them some extra money and tried to help them find new jobs."
Key Services of the Treebo App Development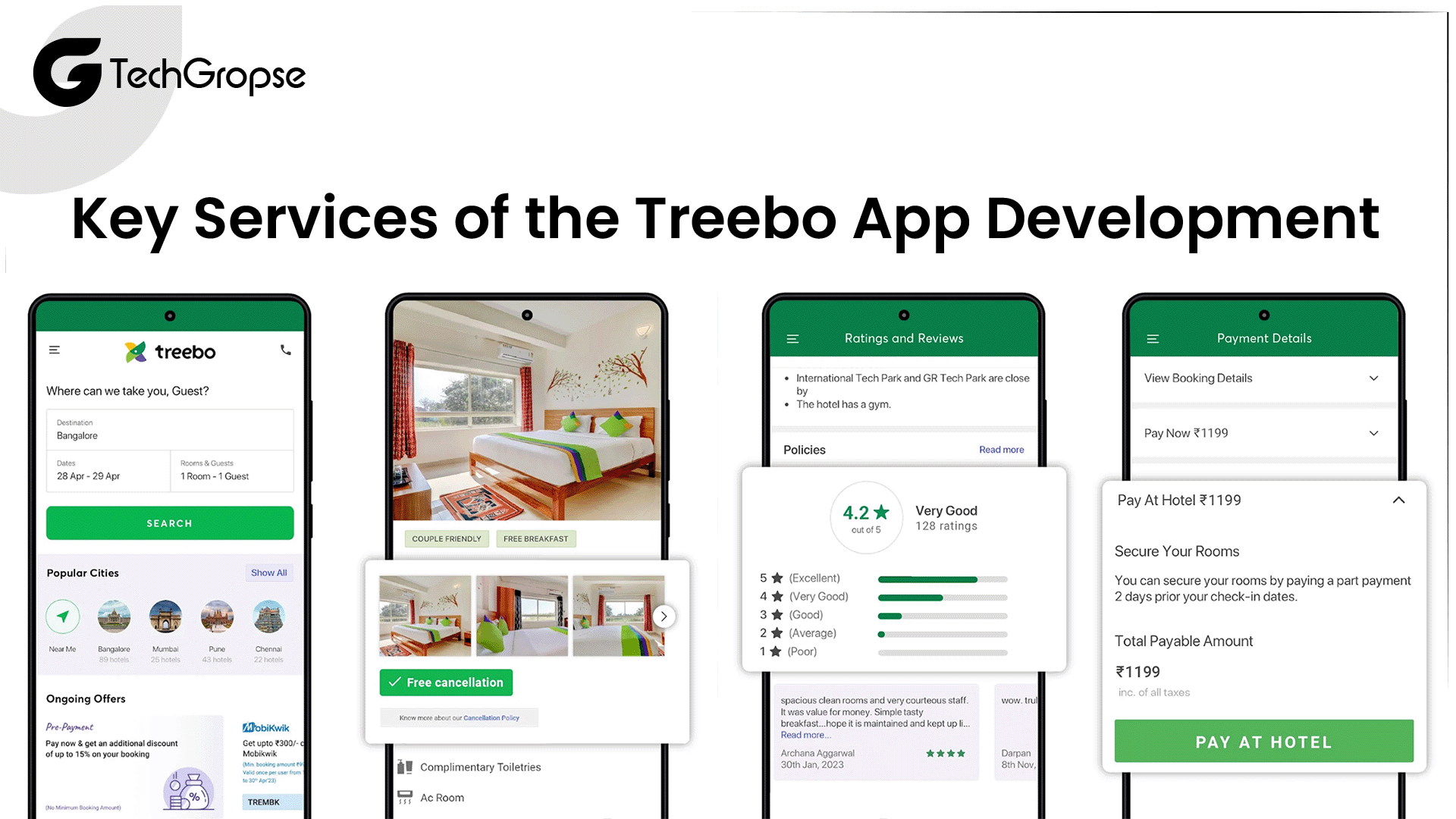 The key services offered through the Treebo Hotels website (optimized for mobile) include:
1. Hotel Search and Booking
Users can search for available hotels based on their desired location, travel dates, and other preferences. The website provides detailed information about each hotel, including room types, amenities, and pricing. Users can make bookings directly through the website.
2. Reservation Management
Once a booking is made, users can manage their reservations through the website. This includes viewing booking details, modifying or canceling bookings, and accessing reservation confirmations.
3. Account Management
Users can create an account on the Treebo Hotels website to manage their personal information, preferences, and past bookings. This allows for a personalized and streamlined booking experience.
4. Deals and Offers
Treebo Hotels may provide exclusive deals, discounts, or promotional offers on its website. Users can explore these offers and take advantage of special pricing or perks.
5. Customer Support
The Treebo Hotels website provides contact information and customer support options for users to reach out with any queries, requests, or concerns they may have. This may include a helpline number, email support, or an online contact form.
What's Unique About the Treebo Business Model?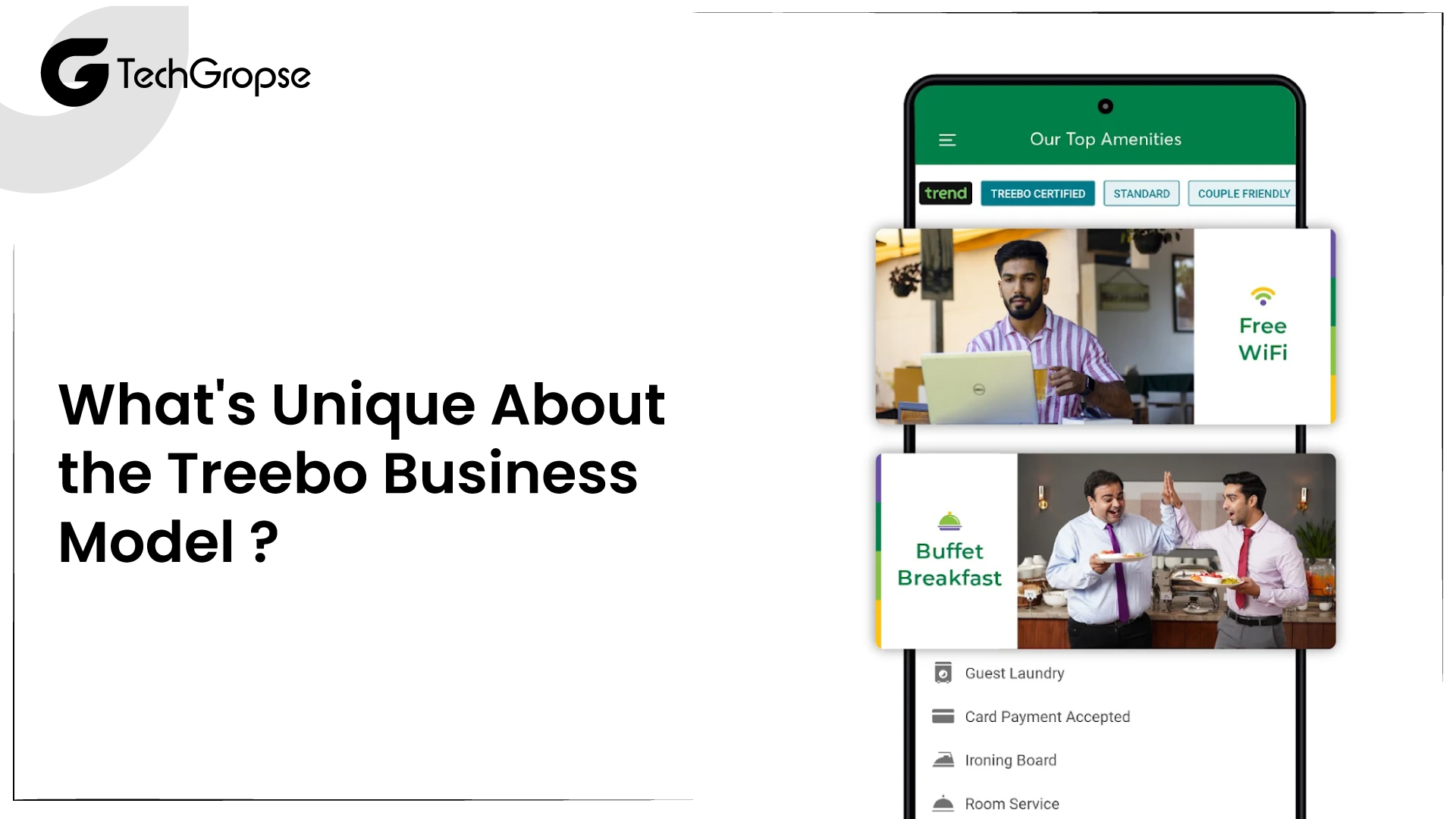 If you are planning to build app like Treebo you must consult with the best mobile app development company that understands your needs and give excellent business services.
Well, the business model of Treebo Hotels revolves around delivering great budget accommodations with a focus on quality and standardized services. 
Here are some key aspects of Treebo Hotels' business model:
1. Aggregator Model
Treebo Hotels follows an aggregator model, partnering with independent budget hotels across different cities. These partner hotels are carefully selected, and Treebo works closely with them to ensure quality standards and a constant guest experience.
2. Quality Assurance
Treebo maintains a strict quality assurance program, where partner hotels are audited and must meet certain criteria related to cleanliness, facilities, service quality, and amenities. This helps ensure that guests have a consistent and satisfactory experience across different Treebo properties.
3. Technology Platform
Treebo leverages technology to streamline operations and enhance the guest experience. They provide a technology platform to partner hotels, enabling them to manage bookings, inventory, and pricing efficiently. Additionally, guests can use Treebo's website or mobile app for seamless booking and managing their reservations.
4. Standardized Amenities
Treebo Hotels aims to provide a consistent set of amenities across their properties, including essentials like clean beds, complimentary breakfast, free Wi-Fi, air conditioning, and 24/7 customer service. This helps create a standardized experience for guests and builds trust in the brand.
5. Direct Distribution
Treebo primarily focuses on direct distribution channels, such as its website, mobile app, and call center, to connect with customers and facilitate bookings. By minimizing reliance on third-party online travel agencies, Treebo can maintain control over the guest experience and build direct customer relationships.
6. Revenue Sharing
As an aggregator, Treebo Hotels follows a revenue-sharing model with their partner hotels. They earn a commission or a percentage of the booking revenue generated through their platform. This incentivizes both Treebo and its partners to work together to maximize occupancy and revenue.
7. Market Expansion
Treebo Hotels continues to expand its presence in various cities across India, targeting both leisure and business travelers. By increasing their footprint, they aim to provide a reliable and affordable accommodation option to a wider customer base.
8. Focus on Budget Segment with Quality
Treebo Hotels targets the budget segment of the hospitality market but aims to provide a superior guest experience compared to typical budget accommodations. By offering clean rooms, essential amenities, complimentary breakfast, and reliable service, Treebo bridges the gap between affordability and quality, providing a unique value proposition.
10. Guest-centric Approach
Treebo prioritizes guest satisfaction and aims to provide a positive experience throughout the customer journey. They emphasize personalized customer service, 24/7 support, and a hassle-free booking process. This guest-centric approach helps differentiate Treebo Hotels in the highly competitive hospitality industry.
Treebo got $57 million, on the other hand, OYO got way more – $1.6 billion. It's worth almost $10 billion and has SoftBank as one of its investors. Fab Hotels is cool too, but they only got $37.3 million from four other funding rounds.
Additional Revenue Generation Strategy of the Treebo app
An overview of the revenue generation strategy typically employed by hotel booking apps like Treebo, which may also apply to a hypothetical Treebo app if it were to be developed in the future. Here are some common revenue-generation strategies for hotel booking apps:
Commission from Bookings
Hotel booking apps typically earn revenue by charging a commission or fee from the hotels for each booking made through their platform. This commission is usually a percentage of the total booking value and can vary depending on the agreement between the app and the hotels.
Featured Listings
Hotel booking apps may offer a paid feature to hotels that allow them to appear prominently in search results or be featured on the app's homepage. Hotels willing to pay for enhanced visibility and exposure to app users can benefit from increased bookings, while the app generates additional revenue from these featured listings.
Advertising and Promotions
Hotel booking apps often monetize their platform by allowing hotels or other relevant businesses to advertise or promote their services within the app. This can include banner ads, sponsored content, or targeted promotional campaigns. By charging for advertising space or promotional opportunities, the app generates revenue.
Loyalty Programs and Subscriptions
Some hotel booking apps offer loyalty programs or premium subscription options to users. These programs may include benefits such as exclusive discounts, rewards, or access to additional services. Revenue is generated through subscription fees or by partnering with hotels or other businesses to provide special offers to loyal or premium users.
In-App Services and Add-ons
Hotel booking apps may offer additional services or add-ons that users can purchase within the app. These can include services like airport transfers, room upgrades, or travel insurance. By providing these value-added services, the app can generate additional revenue.
It's important to note that the revenue generation strategies can vary depending on the specific business model, market, and objectives of the hotel booking app. The strategies mentioned above are commonly used in the industry but may not necessarily apply to Treebo Hotels specifically or any future Treebo app.
List of the Top competitor of the Treebo App
Consults with a professional hotel booking app development company to build an amazing app like Treebo.
Before build hotel booking app you must analyze the top competitors of Treebo app development.
Here is a list of some of the top competitors of Treebo Hotels in the hotel booking app industry:
Competitor
Description
Features

OYO Rooms

OYO Rooms is a popular budget hotel chain and booking app that operates in multiple countries. It offers affordable accommodations with standardized amenities and has a wide network of partner hotels.

– OYO Townhouse concept:

A hybrid hotel model that combines hotel-like amenities with the comfort of home.

– OYO Wizard: A subscription program that offers exclusive benefits to members, such as discounts, cashback, and other perks

MakeMyTrip

MakeMyTrip is a leading online travel company that provides hotel booking services through its app. It offers a wide range of accommodation options, including budget hotels, luxury resorts, and more, along with additional travel services such as flights and holiday packages.

– Value+ Stays:

A curated selection of budget-friendly accommodations that offer good value for money.

– MyWallet: A digital wallet feature that allows users to store money and enjoy faster and hassle-free bookings

Goibibo

Goibibo is a travel app that offers hotel booking services along with flights, bus bookings, and other travel-related services. It provides a wide range of accommodation options across various budgets and has a user-friendly interface for easy booking.

– GoStays:

A collection of certified hotels that meet specific quality standards, offering a reliable and comfortable stay experience.

– GoCash+: A virtual travel booking currency that users can earn and use to get discounts on future bookings.

Cleartrip

Cleartrip is a travel app that allows users to book hotels, flights, and other travel services. It offers a variety of accommodation options and provides a seamless booking experience through its intuitive interface.

– Quickly:

A feature that enables users to book hotels for shorter durations, such as a few hours, for a quick stay or layovers.

– Flexible: A flight booking feature that allows users to choose flexible dates within a range, helping them find the best deals on flights

Booking.com

Booking.com is a popular online travel agency that offers a wide range of accommodation options, including hotels, apartments, and more. It has a user-friendly app and provides access to numerous properties globally.

– Genius Loyalty Program:

Offers benefits to frequent bookers, such as additional discounts, free room upgrades, and early check-ins.

– Verified Reviews: Provides user-generated reviews from verified guests, helping users make informed decisions about their accommodation choices.

Hotels.com

Hotels.com is a well-known hotel booking platform that offers a vast selection of accommodations worldwide. It provides detailed hotel information and customer reviews, and competitive pricing through its user-friendly app.

– Hotels.com Rewards:

A loyalty program that offers a free night's stay after collecting a certain number of nights booked through the platform.

– Secret Prices: Exclusive discounted rates available only to Hotels.com app users.

Airbnb

is a global online marketplace that enables people to rent out their properties, including apartments, homes, and unique accommodations. It provides a unique alternative to traditional hotels and offers a diverse range of options for travelers.

– Experiences:

Provides a platform for users to book local experiences and activities organized by hosts in various destinations.

– Unique Accommodations: Offers a wide variety of unique stays, including treehouses, castles, houseboats, and other unconventional properties.
How Much Does Cost of Treebo App Development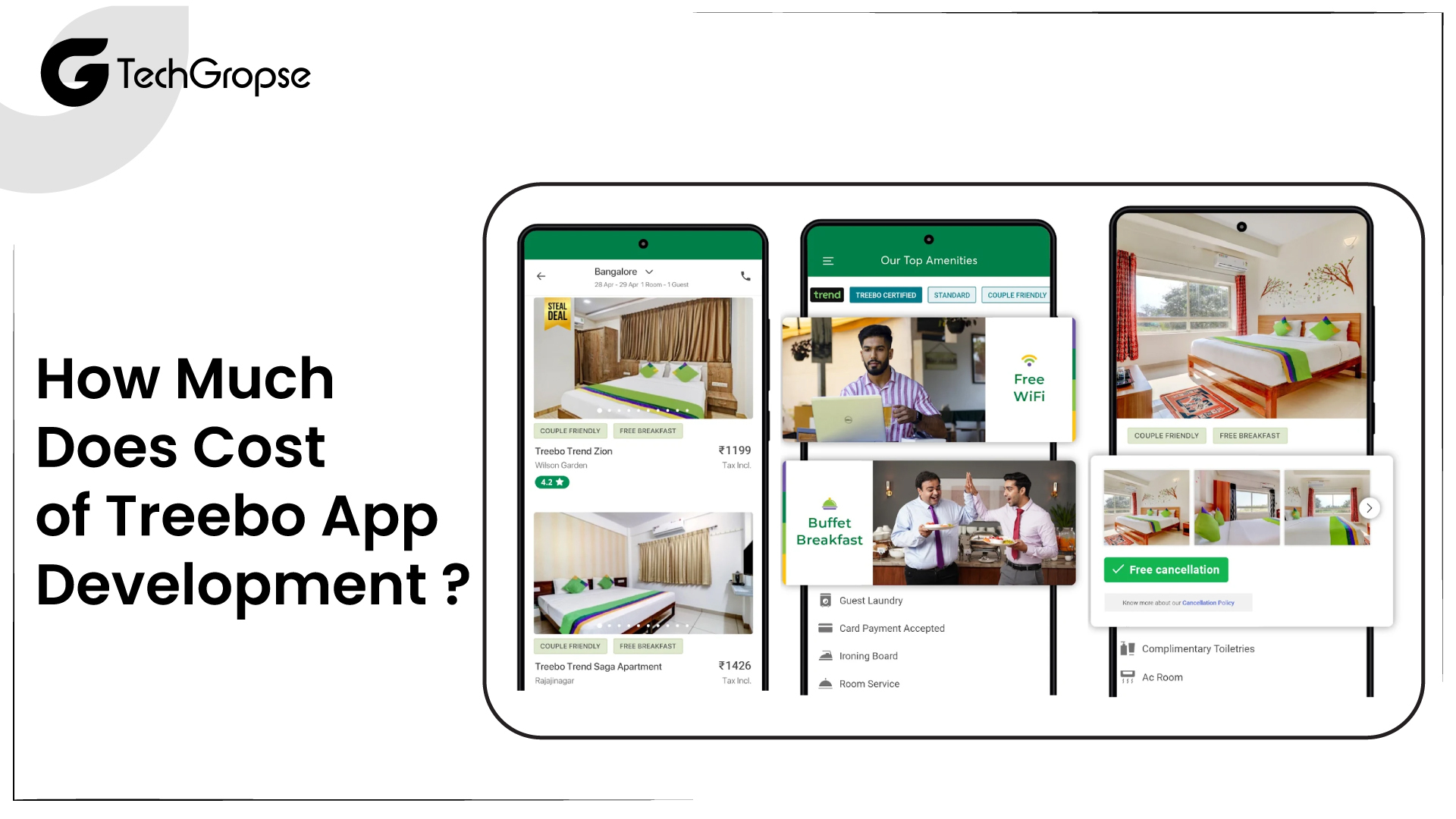 The Treebo app development cost can differ depending on various factors like the complexity of the app, the platform (iOS, Android, or both), the features and functionalities required, the design and user interface, and the development company or hire dedicated developers?
App Features and Complexity: The complexity and the number of features you want to include in the app will affect the development cost. Features like user registration, hotel search, booking, payment integration, user reviews, push notifications, and more will contribute to the overall cost.
Platform (iOS, Android, or Both): Developing the app for a single platform, either iOS or Android, will typically be less expensive than developing for both platforms simultaneously.
Design and User Interface: A visually appealing and user-friendly design will require more effort from the design and development team, which can increase the cost.
Development Resources: The cost can vary depending on whether you hire an app development company, freelance developers, or an in-house team. The hourly rates charged by developers in different regions can also influence the cost.
Additional Services: Integrating third-party services like payment gateways, map integration, or analytics tools may involve additional costs.
To get a more accurate estimation of the cost, it is advisable to consult with an on-demand app development company or freelance developers. 
They can deliver detailed project proposals and quotes based on your specific needs and preferences.
Typically, the cost of app development is determined based on the time and resources required to develop the app. 
However, complex apps with advanced features and intricate designs will generally require more development time and thus, cost more to develop.
Conclusion
Treebo has emerged as a strong player in the Indian hospitality industry, thanks to its innovative business model and customer-centric approach. 
While the company faces challenges, its future outlook remains bright, and it is well-positioned to continue its growth trajectory in the coming years.
The innovative Treebo business model has allowed it to establish a strong presence in the Indian hospitality industry. Its focus on quality, affordability, and technology has helped it to differentiate itself from competitors. 
While Treebo faces challenges, such as market competition and operational issues, its future outlook remains strong. With its expansion plans and commitment to providing excellent service, Treebo is poised for continued success.
FAQ: Know the Treebo Business Model
1. What makes Treebo different from other budget hotel chains?
Treebo determines itself by offering standardized stays that are both comfortable and affordable. Unlike many budget hotel chains, Treebo highlights quality and cleanliness and uses technology to streamline its operations.
2. What are Treebo's growth plans?
Treebo plans to continue growing its presence across India, with a focus on tier-2 and tier-3 cities. It also plans to extend its offerings to include affordable stays for business travelers and families.
3. How does Treebo generate revenue?
Treebo makes income through a number of channels, such as room bookings, and commissions from travel agents, and its corporate clients. It also uses technology to generate revenue by offering its in-house property management system to other hotels.