Twitter is the best social media platform where people can easily share their thoughts and ideas. People can also advertise their businesses, which is why many have Twitter accounts. If you also have an account on this platform, you heard that Twitter has rolled out its premium subscription service, Twitter Blue, for users in India. 
The paid subscription includes the coveted blue checkmark next to the user's profile name and always gives them early access to features introduced by the microblogging platform. The best thing about the blue tick is that it is available on iOS and Android devices, while those using twitter's website can always buy it. 
However, the monthly subscription charge for iOS and Android users in India is  ₹ 900, while the fee has been kept lower at ₹ 650 per month for the web.
The users are also eligible to subscribe to the premium services for an annual fee of ₹ 6,800, which will cost approximately ₹ 566 per month. However, this plan is only available on the web.
You know that a Twitter subscription in the US costs $11 per month on Android and iOS devices and $8 on the web. In simple terms, the annual plan charges $84 in the US. 
What Else Do You Get With Twitter Blue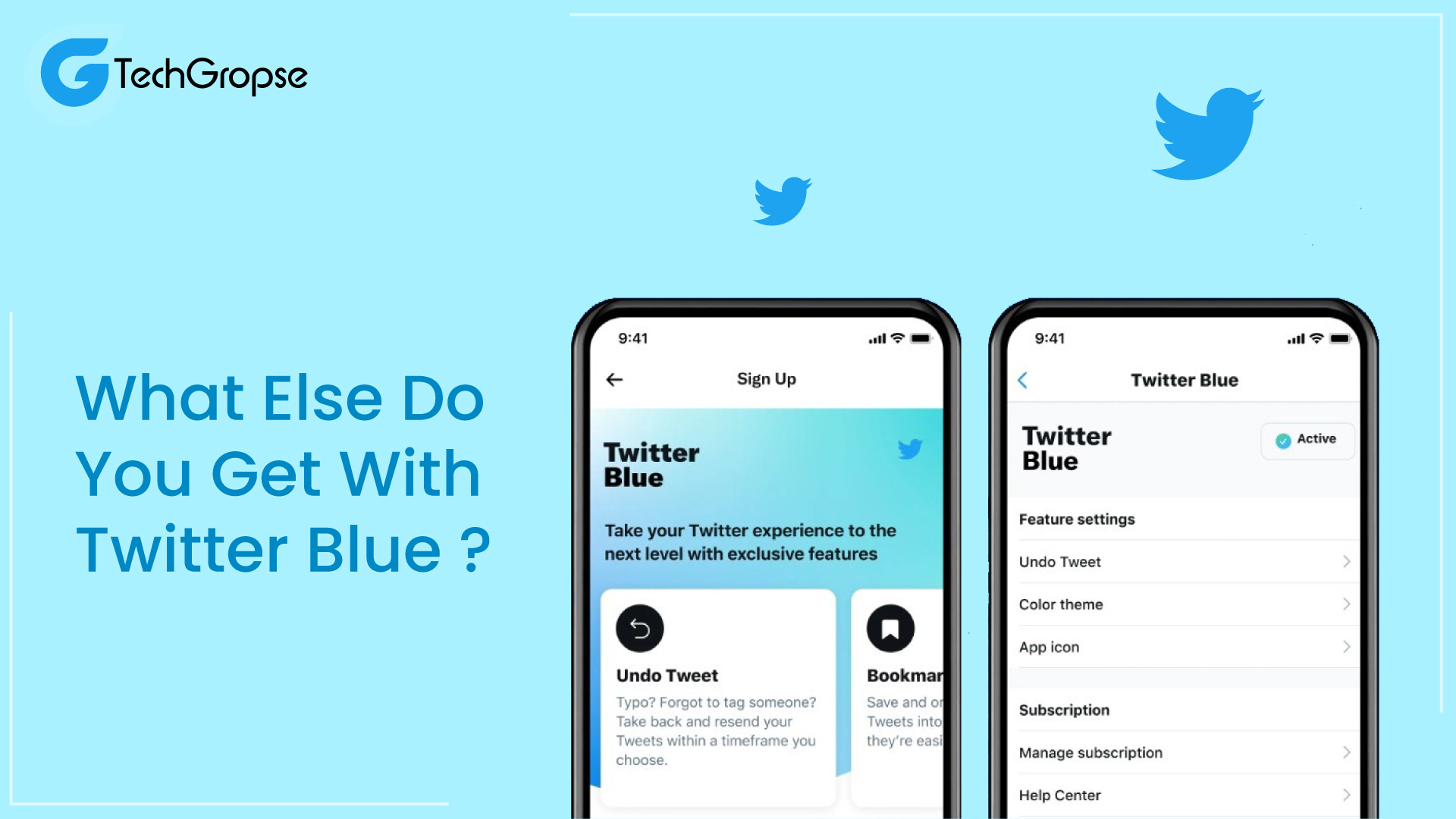 In addition to the automatic blue badge on the profile, Twitter blue promises fewer ads, longer posts, and early access to upcoming features. Twitter says tweets from verified users will be prioritized to "fight scams and spams." It essentially means that tweets by Twitter blue members will be prioritized. 
Moreover, Twitter blue lets users edit tweets up to five times within 30 minutes of publishing. Users are eligible to share videos in full-HD resolution. 
How to Get Twitter Blue?
In order to get Twitter blue, you need to open the application, click on the profile picture on the top left, and choose Twitter blue. The Twitter accounts created over 90 days ago can sign up for Twitter blue.
However, Twitter blue subscribers must confirm their phone number as part of the sign-up. Once you subscribe to Twitter blue, you have to change your profile image, display name, or username, which will result in the loss of the blue checkmark until the account is validated as continuing in order to meet our requirements and no further changes will be allowed during this review period. 
You know that Twitter had earlier said that existing members with a verified badge would always require a Twitter blue subscription. But Twitter is yet to offer a timeline for when users require to subscribe to retain their prestigious Twitter badge. 
Features of Twitter Blue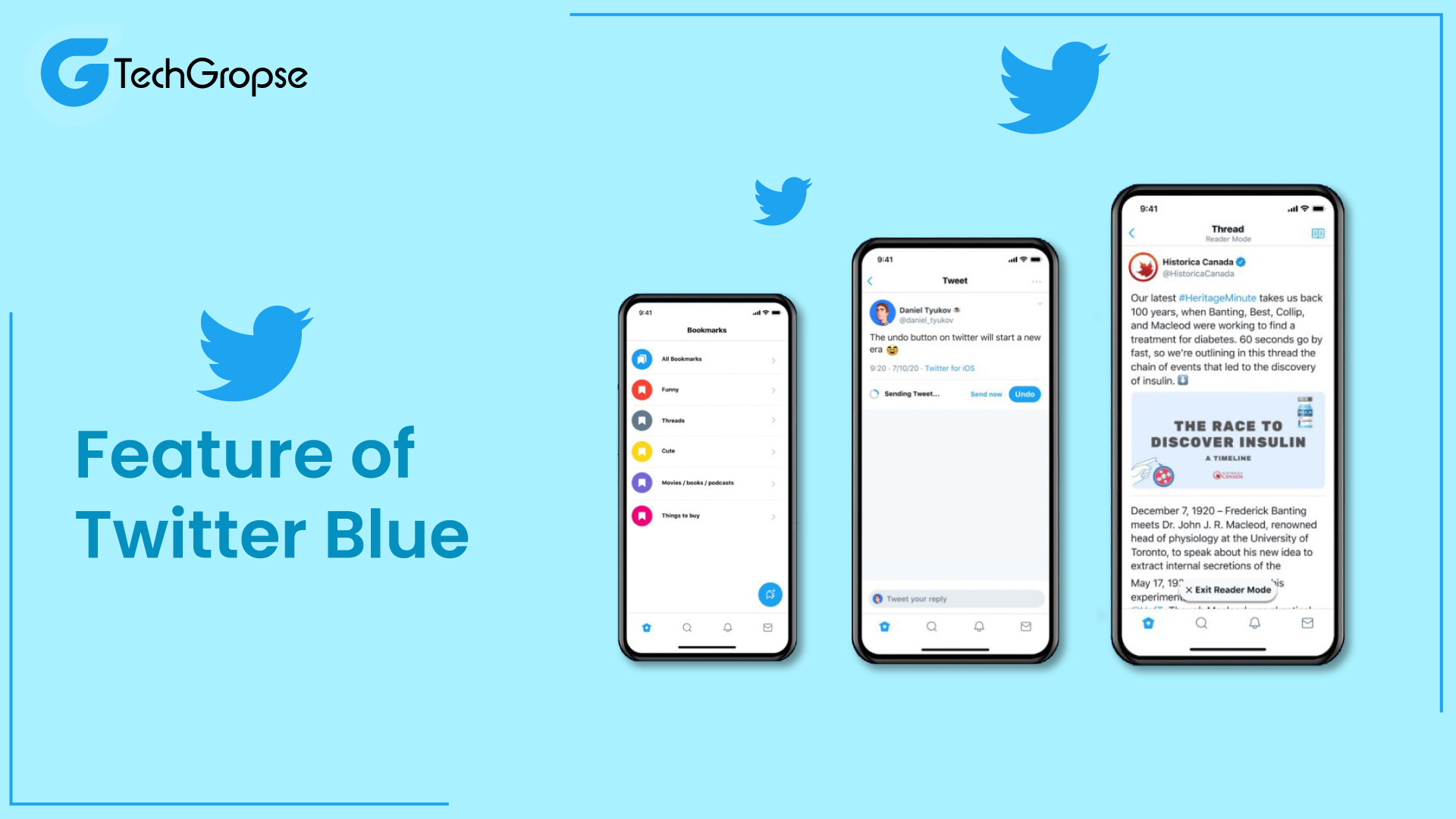 As you know how to get Twitter blue, you have to know the features. It offers subscribers a way to enhance and customize their Twitter experience. These powerful controls are usually designed in order to help personalize Twitter and provide early access to the newest features.
This feature will give you a 30-minute window in order to make a limited number of changes to published Tweets. In simple terms, you can use it to tag someone, make updates or record the media you attached. You know that edited tweets only apply to original and quoted tweets. 
It allows subscribers to organize bookmarked tweets into folders for faster discovery. Twitter blue allows you unlimited bookmarks and bookmark folders, which are always private.
With this feature, users can change how their Twitter app icon displays on their devices. They can choose from several color options and check their setting regularly for new featured looks available for a limited time. 
This feature allows Twitter blue users to show off the NFTs they own in a hex-shaped profile picture on their Twitter account. After a temporary connection to your crypto wallet, they can set up an NFT as their profile picture. 
Moreover, their digital asset is displayed in a special hexagon shape that identifies you as the owner of that NFT.

Twitter blue themes let you choose from colorful options for your application theme. 
This functionality allows the users to choose what appears in your navigation bar, which is why you get instant access to the content and Twitter destination you care about most. You can choose at least 2 and up to 6 items in order to keep in your bottom navigation bar to restore to default if you change your mind. 
This feature is only available to Twitter blue subscribers on iOS and Android devices and choose a number of people globally. This is a great functionality of Twitter blue. 
This is a shortcut to the most shared articles in your network. This function automatically lists the most shared articles from people you follow and those they follow. Henceforth, you can easily find the type of content you want in order to read. 
Twitter launches its subscription Blue in India. pic.twitter.com/RhOuZk7YOS

— Manish Singh (@refsrc) February 8, 2023
This function allows you to react to a tweet after you send it before it's visible to others on Twitter. However, it is not an edit button but a chance to preview and revise your tweet before it's posted for the world to see. 
If the undo period is over, the Tweet is viewable to your followers, and you can either leave it or delete it like you normally would on Twitter. 
Longer Video Uploads and Longer Tweets
Twitter blue subscribers can easily upload videos up to 60 minutes long and up to 2GB file size. Moreover, tweet up to 4,000 characters. You are eligible to compose longer tweets in quote tweets or replies. In addition, standard features such as posting media, creating polls and using hashtags still apply. 
Conclusion
This information will help you understand the cost of a Twitter blue subscription in India and its features. On the basis of this information, you can easily determine whether you should have a subscription plan for you and your business.