"Connecting Hearts in the Digital Age"
Back in the day, it was weird to find love on the internet. But now, things have changed. Dating apps have made it easier for us to find that special someone. It's possible you heard about Waplog dating app business model.
Do you remember when meeting someone you talked to online was really scary? You might have felt nervous before going to the coffee shop where you planned to meet. Your friends might have given you weird looks, and you might have felt really nervous in your tummy.
If you wanted to find a special someone, your best bet was to go to events in your town and hope you saw someone you liked. Maybe you met them at a party or a gathering with friends.
Guess what?
Things are different now!
People used to think online dating was weird, but now it's totally normal. Lots of people use dating apps on their phones, which shows that the dating world is changing.
Can you believe there are over 1,500 app like Waplog that help people find love online? And get this – in 2020, there were 270 million people using these apps.
That's a lot of potential matches.
Entrepreneurs looking to break into the online dating industry and investors seeking to understand the business potential of Waplog will find this post insightful.
In this post, we will dive deep into the Waplog business model, exploring the key features of the app, its revenue streams, competition, market share analysis, Waplog app development, and future outlook.
History and Founding of Waplog Dating App
In today's digital age, dating app development company have revolutionized the way people connect and find potential partners. Among the variety of dating apps available.
Waplog has emerged as a famous platform for people seeking significant connections and relationships. Waplog was founded in 2010 by Volkan Yazicioglu and his team with the vision of making a dating platform that would connect people from various backgrounds, and cultures.
The app was initially introduced in Turkey and quickly gained popularity, spreading to other regions such as Europe, Asia, and the Americas. Today, Waplog has over 100 million registered users worldwide and is available in more than 50 languages.
The app is designed to be user-friendly and accessible, with a simple and intuitive interface that facilitates easy navigation.
Waplog also offers a range of features like personalized profiles, matchmaking, and in-app communication tools that enhance the user experience and make it easier to find compatible partners.
How does Waplog Dating App work?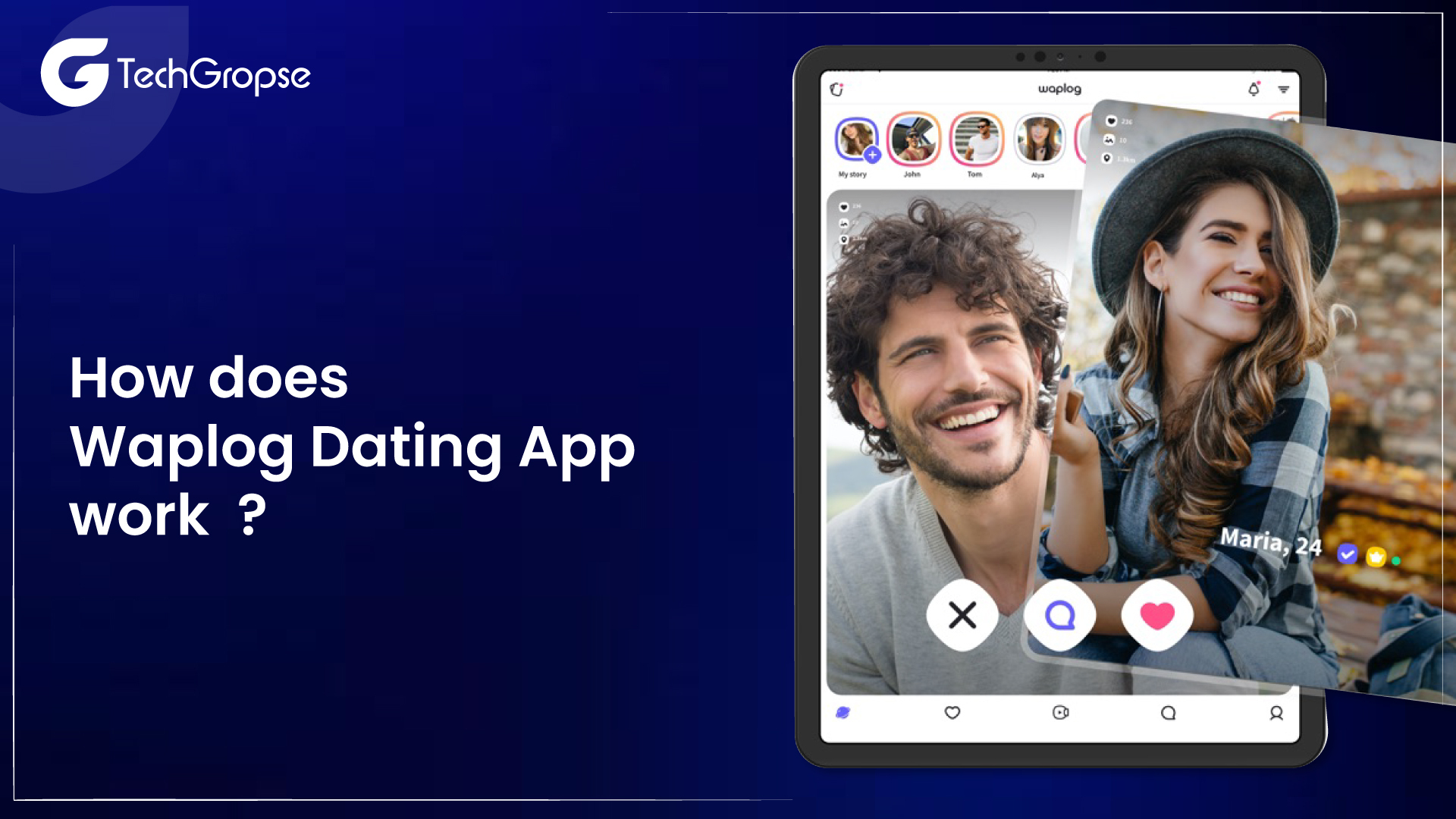 Before knowing Waplog dating app business model you must be aware of how it works and you should hire dedicated developers to offer amazing services. Waplog is a dating app designed to help individuals connect with potential partners and build meaningful relationships.
Here's a step-by-step overview of how Waplog typically works:
Registration: Download the Waplog app from your device's app store and create an account. You can sign up using your email address or by linking your social media accounts for a quick signup process.
Profile Creation: Complete your profile by providing details about yourself like your hobbies, preferences, interests, and uploading photos. The more detailed and attractive your profile, the better your chances of finding compatible matches.
Discovery and Matching: Waplog employs an algorithm that considers various factors such as location, preferences, and interests to suggest potential matches. You can browse through swipe right to like, and profiles, or leave to pass and engage in mutual matches.
Communication: Once a match is made, you can start a conversation via the app's chat feature. This allows you to get to know each other better and explore your compatibility. Waplog also offers additional communication features like video chat for more interactive conversations.
Advanced Features: Waplog provides additional features to improve the dating experience. These may include advanced search filters to refine your matches, the ability to send virtual gifts to express interest, and the option to see who viewed your profile.
Engagement and Community: Waplog promotes active engagement within its user community. You can share public posts, and interact with other users through likes, comments, and follows. This helps in expanding your network and boosting your chances of finding expressive connections.
Safety and Privacy: Waplog takes safety and privacy seriously. The app provides features to verify profiles, report, and block users if needed and ensures the security of personal information.
Exciting Features of the Waplog Dating App
On-demand app development company offers several key features that improve the user experience and facilitate meaningful connections.
Here are some must-have features found in the Waplog Dating App:
User Profile Creation: Waplog allows users to create detailed profiles with information such as interests, hobbies, preferences, and photos. A comprehensive profile helps users attract potential matches with similar interests.
Matching Algorithm: Waplog utilizes a matching algorithm that takes into account factors like location, preferences, and interests to suggest compatible profiles to users. This feature enhances the chances of finding suitable matches.
Swipe and Match: Similar to many other dating apps, Waplog offers a swipe feature. Users can swipe right to like a profile or swipe left to pass. When there is a mutual like (match), both users are notified, enabling them to start a conversation.
Chat Messaging: Waplog provides an in-app chat messaging feature that allows matched users to communicate with each other. This feature enables conversation and helps users get to know each other better before deciding to meet in person.
Video Chat: Waplog offers a video chat functionality, enabling users to have face-to-face conversations within the app. Video chat adds an extra layer of interaction and authenticity to the dating experience.
Advanced Search Filters: Waplog allows users to refine their search based on specific criteria. Advanced search filters, such as age range, location, and interests, help users find profiles that align with their preferences.
Public Posts and Interactions: Waplog provides a platform for users to share public posts, photos, and updates. Users can engage with each other through likes, comments, and follows, fostering a sense of community and increasing opportunities for connections.
Verification and Safety Measures: To ensure user safety and authenticity, Waplog implements verification measures such as profile verification options. Additionally, the app allows users to report and block other users if necessary.
Notifications: Waplog sends notifications to users for activities like new matches, messages, and interactions. These notifications help users stay engaged and informed about their dating prospects.
Social Media Integration: Waplog allows users to sign up and log in using their social media accounts, simplifying the registration process and facilitating connections between friends or acquaintances.
Determine Waplog Dating App Business Model
The Waplog Dating App operates on a freemium business model, which combines free and premium features to generate revenue.
Here's an overview of the Waplog Dating App's business model:
1. Freemium Access
Waplog offers basic features and functionalities to users for free. This includes creating a profile, browsing and swiping via profiles, and limiting messaging capabilities. The freemium access allows Waplog to attract a large user base and make a vibrant community.
2. Premium Subscription
Waplog offers a premium subscription plan that offers users additional features and benefits. Users can select to upgrade to a premium membership for a fee, unlocking exclusive functionalities. These premium features may include unlimited messaging, enhanced visibility, advanced search filters, and the ability to see who viewed your profile. The premium subscription model generates revenue for the app.
3. In-App Purchases
Waplog contains in-app purchases to provide users with more options and virtual goods. Users can buy virtual gifts or other virtual currency-based features to improve their interactions and express interest in other users. These in-app purchases create additional revenue streams for Waplog.
4. Advertising Partnerships
Waplog forms partnerships with brands and advertisers to display targeted advertisements within the app. Advertisements are strategically placed to reach a relevant audience, leveraging the user base and engagement of the app. These advertising partnerships generate revenue for Waplog.

5. Virtual Currency
Waplog may incorporate a virtual currency system where users can earn or buy virtual currency within the app. This virtual currency can be used for different purposes like unlocking premium features or sending virtual gifts. The virtual currency model can contribute to revenue generation for the app.
Competition and Market Share Analysis of Waplog Dating App
However, the dating app market is highly competitive and subject to rapid changes. To obtain accurate and up-to-date market share data and insights.
Here are the key steps involved:
Identify Competitors: Recognize the direct competitors of Waplog in the dating app market. This can include popular dating apps such as Tinder, OkCupid, Badoo, Match.com, and others.
Analyze Features and Offerings: Consider the functionalities, features, and unique selling points of each competitor. Look for aspects that differentiate them from Waplog, like matching algorithms, user experience, communication features, safety measures, and monetization strategies.
Market Share Data: Collect market share data from reputable sources like industry publications, market research reports, or online surveys. This data can provide insights into the comparative popularity and adoption of different dating apps.
User Base and Growth: Assess the user base and growth trajectory of each competitor. Look for metrics such as active users, the number of registered users, user retention, and user acquisition strategies. This information can give you an idea of the scale and reach of each app.
User Reviews and Ratings: Read user reviews and ratings for each competitor on app stores, social media platforms, and review websites. Pay attention to positive and negative feedback to understand user perceptions and satisfaction levels.
Monetization Strategies: Analyze the monetization strategies employed by each competitor. Consider subscription models, in-app purchases, advertising partnerships, and other revenue streams. It will help you understand how they generate revenue and maintain their operations.
Market Trends and Opportunities: Stay updated on modern market trends, emerging technologies, and shifts in user preferences within the dating app industry. Identify potential gaps or opportunities that Waplog can leverage to achieve a competitive advantage.
SWOT Analysis: Conduct a SWOT (Strengths, Weaknesses, Opportunities, Threats) analysis for Waplog and its competitors. This analysis will provide a holistic view of their respective positions in the market and help identify areas for improvement or potential threats.
How Much Does Cost to Build an App Like Waplog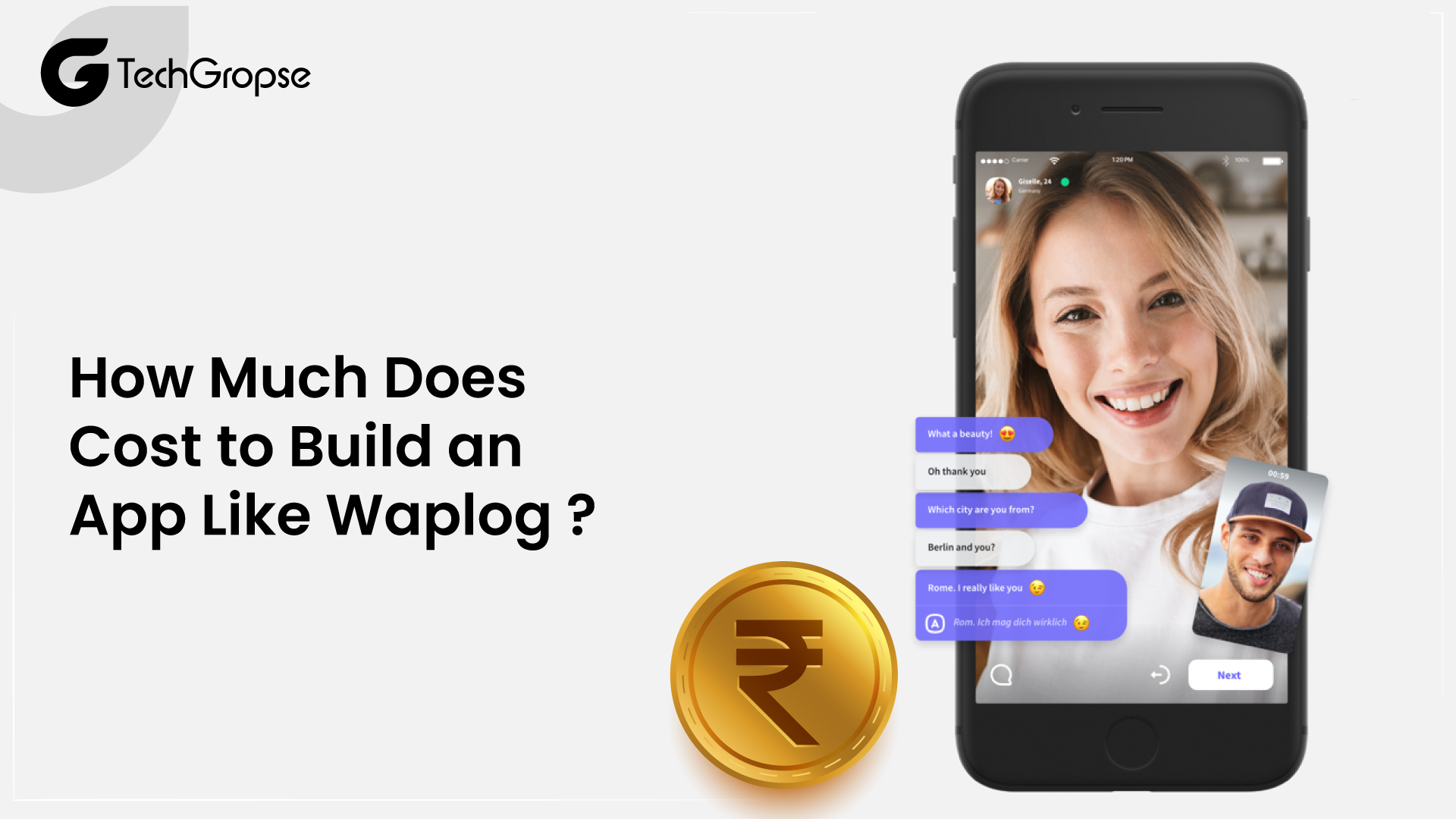 Building an app like Waplog involves different factors and Waplog app development cost
can vary depending on several variables, like features, development complexity, platform (iOS, Android, or both), design needs, and the development team's rates.
Here's a simplified table outlining the potential cost factors involved in building an app like Waplog:
| | |
| --- | --- |
| Cost Factor | Description |
| Technical Design | Creation of a technical design and architecture for the app, like APIs and database structure. |
| UI/UX Design | Designing the user interface (UI) and user experience (UX) factors of the app. |
| Front-end Development | Developing the client-side components of the app, such as the user interface and interactions. |
| Back-end Development | Building the server-side components like database management, user authentication, and APIs. |
| Chat Functionality | Implementing real-time chat features, like notifications, messaging, and in-app chat functionality. |
| Matching Algorithm | Develop an intelligent matching algorithm based on user location and preferences. |
| User Profiles | Creating features for user profiles, such as registration, login, and profile customization. |
| Additional Features | Implementing other features, including video chat, advanced search, social media integration, etc. |
| Testing and QA | Conducting thorough testing and quality assurance to ensure a smooth and bug-free user experience. |
| Platforms | Developing for one or both platforms (iOS and Android), considering the various coding needs. |
| Maintenance | Ongoing maintenance and updates to ensure app performance, compatibility, and security. |
The costs mentioned above are approximate estimates and can vary significantly depending on the specific need and market rates. To get a more accurate cost estimation, it's advisable to consult with a dating app development company or hire mobile app developers, providing them with detailed project specifications and discussing your specific needs and budget.
Top Competitors of the Waplog Dating App
Here's a list of some top competitors of Waplog Dating App along with interesting facts about each:
| | |
| --- | --- |
| Competitor | Interesting Facts |
| Tinder | Known for popularizing the swipe-based matching feature and being one of the most widely recognized dating apps globally. |
| Badoo | Operates in over 190 countries and is available in about 47 languages, making it one of the largest dating networks worldwide. |
| OkCupid | Incorporates a comprehensive matchmaking algorithm and offers an extensive range of questions for users to answer. |
| Match.com | One of the longest-standing dating platforms, founded in 1995, and has a large user base spanning multiple countries. |
| Plenty of Fish (POF) | Offers a free-to-use model with optional premium features and claims to have created millions of successful relationships. |
| Hinge | Differentiates itself by focusing on fostering meaningful connections and promoting long-term relationships. |
| Coffee Meets Bagel | Offers a curated approach to online dating by providing users with a limited number of quality matches each day. |
| Zoosk | Utilizes behavioral matchmaking technology to learn user preferences and provide personalized match suggestions. |
| Happn | Stands out by matching users based on real-life proximity, connecting individuals who have crossed paths in person. |
| Grindr | Geared towards the LGBTQ+ community, specifically gay, bisexual, and transgender individuals, for networking and dating. |
Bottom Line
The Waplog dating app has appeared as a successful player in the online dating industry, owing to its innovative business model and user-friendly features.
The app's unique approach to monetization and user acquisition has set it apart from competitors, and its future outlook looks promising.
Entrepreneurs looking to enter the online dating space can learn from Waplog's success and leverage the insights shared in this post to create a successful business strategy.
As the online dating industry continues to grow, Waplog's success story offers valuable lessons for entrepreneurs and investors alike.
FAQ: Know the Waplog Dating App Business Model
1. Is Waplog a free dating app?
Yes, Waplog is a free dating app that users can download and use without any fees. However, the app offers paid membership plans that come with additional features and benefits for users.
2. How does Waplog make money?
Waplog makes money primarily through paid membership plans, which offer additional features and benefits to users. Additionally, the app generates revenue through in-app advertising, affiliate marketing, and partnerships with other companies.
3. How does Waplog acquire and retain users?
Waplog develops and retains users using a combination of marketing channels, including social media, search engine optimization, and influencer marketing. The app also uses advanced machine learning algorithms to match users based on their preferences and behavior, which helps to enhance user retention rates.