The mobile revolution is bringing organizations another spur, and eCommerce is no exception. Online eCommerce application improves the way web-based shopping is carried out for companies. It then leads companies to take the extra miles in the specific market segments. Not only mobile apps but businesses are fast catching up with the eCommerce website development costing, as well.
The eCommerce industry has opened new markets with a seamless customer experience for business growth and development. Ecommerce mobile application development companies are also on the rise to include today's mobile users. Mobile apps have allowed e-commerce companies to meet consumer requests digitally on the mobile market, but at the same time, we have witnessed some of the most notorious e-commerce crisis.
Your eCommerce Presence Needs a Refresh
The emergence and presence of eCommerce apps became a basic necessity after the COVID-19 pandemic. Business conglomerates realized the importance and benefits of mobile eCommerce applications. Many eCommerce businesses dived in this bandwagon of online business through dedicated apps for multiplying their overall revenue.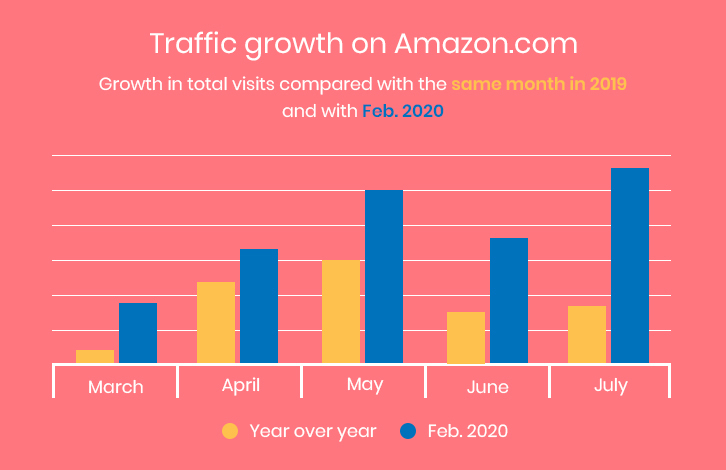 Importance & Benefits of Mobile Apps for eCommerce
The introduction of mobile apps changed the ecological structure of an online company to a user-friendly shopping experience. The mobile app is, therefore an effective solution for capturing customers' attention.
Mobile applications are essential for rising organizations to meet more market demands, thanks to modern technology. Let's pause and give you a simple image of why a dedicated application is required exactly for your e-commerce company:
1. Easy to Access
Mobile phones are easy to carry, and today it is a trend that makes connecting to a smartphone application easier than websites anywhere. The level of usability also increases for mobile apps by conveniently connecting without any issue.
When using a mobile app, consumers do not have to remember long URLs and register every time they visit the site, and when compared to web pages, the speed of an app is faster. It offers superior customer service and overall good service.
2. Dedicated Marketing Channel
Customers today are 24 x 7 connected with brands, with the help of mobile apps. Such cell phones have changed our way of connecting with brands, gathering data, and shopping. Customers are increasingly using cellular phones for shopping, and companies are forced to include these devices in their marketing strategy.
This helps to improve the way the consumer and the company interact. Brands deliver efficient and consistent engagement across mobile eCommerce to influence the capacity of the associated consumers.
3. Enhanced UX
You can make your sales or restrict how your store is presented to your customers. Customers expect easy navigation when visiting a web so they can find what they are looking for. The layout of mobile apps that can play in your hand is relatively small.
More importantly, it can be more enjoyable for consumers as mobile screens take irrelevant buttons and banners in your store's layout not to take into account. The lack of distractions would encourage your customers to hit the check-out faster and return more frequently.
4. Intelligent Data Analytics
Mobile eCommerce application enables you to capture and track customer engagement and provide valuable information. For example, about people in the crowd, their buying behavior, surveys, reviews, and overall results.
It will further allow brands to launch new offerings or update their products according to consumer requirements and create personalized content, marketing strategies, and an innovative marketing strategy. Intelligent data analytics denotes the importance of mobile applications in online business.
5. Increased Conversion Rates
The combination of UX efficiency, easy navigation, and easy operation leads to high conversion rates. Mobile applications boost the number of consumers who perform a perfect action relative to desktop and mobile websites.
In the context of application marketers, the application dedication factor strongly affects organizations. The ease of access to various e-commerce applications in fields and choices promotes users to remain in the app for a long time and multiply the chances of conversion.
6. Supreme Customer Loyalty
The main incentive to be considered is to make your mobile customer loyalty program. Billboards, posters, hot signs, paper ads, leaflets, coupons, blogs, Facebook advertising, and email marketing all affect consumers.
Organizations lose all their resources slowly. Mobile apps are ideal for creating a real and trustworthy connection and making your customers a loyal admirer. Integrated coupons in apps boost your customers' loyalty, which adds to the importance of mobile applications.
An Emergence of the Current Situation
The mobile eCommerce market's advancement has benefited companies when taking account of new opportunities with substantial sales growth potential. A robust Internet-based ecological business network has expedited business deals widely through an excellent and easy to use approach, with the advent of mobile apps. On top of it, e-commerce website development companies are also roped in to add the extra punch.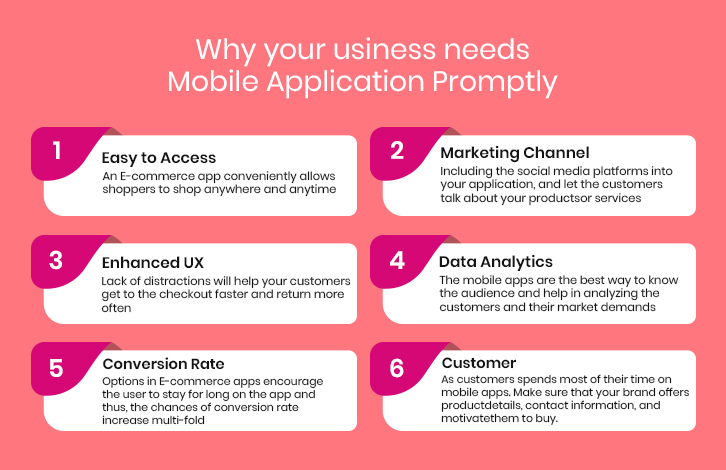 Now is the perfect time for business owners to invest in mobile app growth to satisfy the market's technology demands, get a stunning brand image, and stand out from their rivals. With the reasons given above, you can imagine why your eCommerce project needs an app. So if you are wondering how to develop an e-commerce app, you can count on us.