A few years ago, mobile app marketing overtook the era of digitalization. The last 20 years' tradition of T.V. came to a downfall. Along with the advancements in technology, year by year, new technology trends are raising mobile usage growth even more. Mobiles have become smarter than ever before. Everything is done using mobile, be it work, shopping, online meetings, entertainment, or payments. Mobile has completely changed the way we interact or perceive the world around us.
Along with it, the source of advertising has changed dramatically over the past years. With everything entering the digital platform, there comes the role of digital marketing trends. There has been a continuous debate of 'Web Vs. App' but apps have highly established themselves and outstood websites in this era.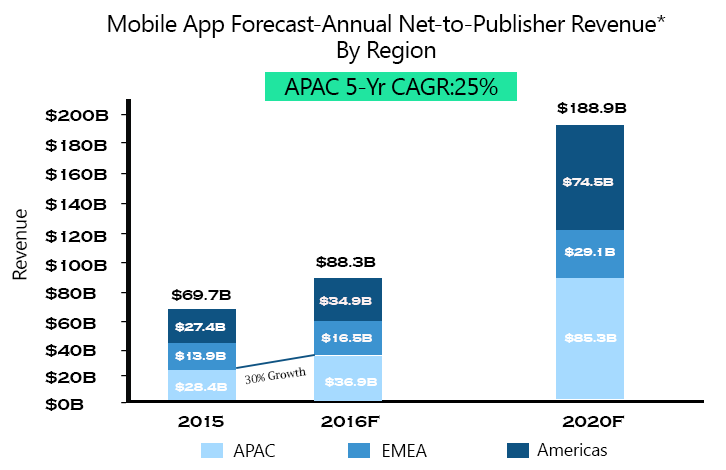 The above image shows the expected growth rate and scope of mobile marketing in 2020. With the rapid growth of the mobile app market, mobile app marketing is also increasing. The central purpose of mobile app marketing is to reach out to smartphone users in the form of advertisements. People often get confused between mobile marketing and mobile app marketing. Here is a brief explanation.
The Difference Between Mobile App Marketing and Mobile Marketing
So, what is mobile marketing? Mobile Marketing is any marketing activity that targets customers on mobile devices. Through emails, notifications, responsive web designs, social platforms, and many more, it can be in any form.
Mobile App Marketing is a marketing activity that targets the audience that uses your apps. It can be in any form, such as notifications, emails, videos, ads, etc.
How Can Mobile App Marketing Accelerate Your Business?
Why are Mobile Apps Important for your Business? Every business desires to grow its audience base, sales, market growth, and revenues, popularity. It is only possible through efficient marketing strategies. A mobile application can help your business accelerate and promote it in the best possible way when it comes to marketing.
There are already many marketing platforms available, but why is mobile app marketing crucial, and how can it accelerate your business?
Almost 80% of the population uses smartphones these days. Therefore, there could be no better way to promote your business on a platform with the largest community. The mobile app development companies are building apps that target the audience on both iOS and Android platforms to generate maximum engagement.
There are multiple ways in which a mobile application can help a business to accelerate. Let's discuss the significant benefits that a mobile application has to offer to your business.
1. Marketing
Gone are the days when entrepreneurs had to promote their startups and business through pamphlets, brochures, etc. Mobile apps seem to be better alternatives. You can promote your business launch, offers, and deals, discounts, new features, or any related things on a mobile application more efficiently.
Features like push notifications outstand mobile app marketing from other marketing platforms. With push notifications, you can send alerts to the customers about the offers or discount schemes that your brand is currently running. It helps in increasing your business revenues and sales.
2. Engagement
A well-designed app can attract customers more than a website ever can. It lets entrepreneurs directly interact with their audience without any third party. It increases the customer-engagement, which leads to better conversion rates.
A good customer-interaction outstands other marketing platforms such as social media advertising, offline advertising, or email marketing. Mobile applications enable you to make a long-lasting impact on your customers.
3. Accessibility
The number of mobile apps users increases exponentially every day and has demolished T.V.'s 20-year-old tradition as an entertainment source. You will find smartphone users from every age group. There could be no better way of exposure to such a broad audience other than the mobile app marketing strategy.
The immense exposure that mobile applications provide is another considerable factor why every business should invest in mobile app marketing and connect with their audience at a larger scale.
4. Customer Service
Customer loyalty is an essential part when it comes to business growth.
With the advanced features offered by mobile applications, customer service is the most prominent one. It enables you to provide 24*7 customer service to your customers. It allows your customers to ask their queries or drop suggestions and feedback.
For any business, it is essential to consider their customers' feedback and suggestions. Analyzing and working on them can help you to provide better and improvised solutions.
Benefits of Mobile Marketing Tools
The two essential benefits of mobile apps as a marketing tool are:
1. Push notifications
Push notifications are alerts or notifications that users get on their mobile screen in the form of advertisements. They notify users about offers, deals, discount schemes, or any relevant update. As researched and studied by mobile app developers, push notifications can increase your apps' user engagement by 88%.
Attractive push notifications can help you in better customer engagement. You can use attractive and vibrant images or videos to grab user attention.
2. In-app messages
In-app messages are the messages that appear while the uses are active on your app. It is observed that most of the users respond to in-app messages.
You can use in-app messages to show off your product or to request a review or feedback. It enables you to interact with your customers more frequently and effectively.
How to Measure the Right Mobile App Marketing Metrics?
The number of downloads matters to measure the ranking of your app. Apart from the number, there are certain metrics that you need to consider to know if your mobile marketing strategies are working or not. The best way is to go through the accessible data.
Given below are some questions that you must consider and analyze at regular intervals to measure the stacking game of your mobile app marketing.
How many users return to your app after the first use/visit?
What is the number of daily/active users?
How much time are they spending on your app during a single visit?
How much time are they spending on your app in a particular duration of time? It can be any duration that you prefer to monitor, daily, weekly, or monthly.
What is the user path that is frequently followed?
Importance of Mobile App Marketing
A mobile application has become one of the most prominent ways of marketing and promoting a business. Apps developers and mobile app development companies work consistently to provide better and improvised features to help every business grow through mobile app marketing.
Hopefully, with the above-explained facts and effects of mobile marketing, you know how crucial mobile app marketing is in 2020. There are chances of mobile app marketing to outstand every other marketing platform in the future.
If you want to get a mobile application for your business or need a consultation, you can contact us.