Released on September 19, 2019, iOS 13 soon became a popular hit. The operating system was made available in its beta version to review its performance by Software developers. There are plenty of new features included in iOS 13. It has seen one of the fastest rates of adoption in the history of mobile operating systems. Although there are several notable things about iOS 13, some of which will also be discussed in this blog, the most particular of them is its significant emphasis making apps more secure than ever.
Like the previous iOS updates, iOS 13 also emphasized the enhancement of useability, device security, peer-to-peer Hardware-Software compatibility, and inclusion of upgraded features. The new iOS 13 update provided its users with an improved personalization of applications indulging a next-level user experience.
iOS 13 is the first iOS version that will engage an exceptional emphasis on trending technology trends like Cyber Security, Artificial Intelligence, and Automation. This large-scale utilization and adoption of modern-age functionalities have helped the operating system become one of Apple's significant releases for any product or service in the past.
In this blog, we shall discuss the features introduced in iOS13 along with the facts indicating its increasing market-value & popularity.
New Features Introduced in iOS 13 Updates
The new iOS 13 update is a transformative and innovative step by Apple Inc to engage more customers and engage a rich user-experience for its users.
Let's have a look at some stunning features introduced in iOS13 update:
Dark Mode
It is one of the most popular features included in the iOS 13 release. With this feature, users can now experience a dynamic dark color theme on their devices. This feature has been designed particularly for low-light gestures and also provides an appealing look to your screen.
The fundamental idea of introducing this application was from the objective of reducing eye strains caused by mobile screens. Users can schedule the Dark Mode adaptability as per your convenience. Alongside built-in apps, this feature can also be integrated into third-party applications used on your Apple devices.
New Photos Tab
Apple enhanced its picture organization feature in iOS 13. Users now have more features to find pictures more compatible by entering literals like years, months, and days. The OS has adjusted its Photos tab at the button side of the toolbar, where users can simply tap there to get photo albums segregated in four categories as in years, months, days, and all photos at once.
While exploring videos and live pictures, users can find them moving which makes it easier to pick the desired one more interactively. Of course, static or still images are exempted from this feature.
New Photo and Video Editor
The new iOS 13 provided its users with more interactive and rich-featured photo and video editing tools. It has acquired an Instagram like interface where users can choose a tool and adjust the intensity of the effect applied.
The updated photo editing tool has included several new tools to adjust the white balance, brightness, vibrance, sharpness, and vignette in the pictures as per their choice.
On the other hand, the updated video editor in iOS 13 has involved many interactive video editing options like aspect ratio, crop, or rotate a video. Like the updated photo editor, Apple has included exposure and other filters that users can apply to enhance the videos' view.
The most peculiar thing is, users can anytime get back to the original version of the edited files.
Download Files in Safari
iOS 13 allows users to download files directly from Safari and access them from there. Downloaded files are stored in the iCloud, where they can be moved to the offline or local space anytime. Users can customize this default feature from Settings > Safari > Downloads and choosing "On My iPhone".
With this update, users can now get a centralized space where they can access all of their web downloads and attachments downloaded from Safari or Mail more interactively.
Stronger Location Access Controls
Using user privacy considerations to the next level, iOS 13 reintroduced the permissions for applications related to the location of devices. No third party application can now get location access just after a user installs it. Users needed to enable their Bluetooth and WiFi connections to allow an application to get the device's location for their internal purposes that now has been declared a non-mandatory or user-defined task.
If you do not trust an application, you do not need to allow location permission for that app and can disable it. More specifically, users will not get the 'always allow' option, used to enable an app to access a device's location every time a user uses it or even in the background.
Memoji Stickers
Online messaging has evolved dramatically over the years. After a few years, we get to see something new introduced in it and Apple has been a master in doing so.
The new iOS 13 featured memoji stickers in the emoji section of the keyword that is accessible in every messaging application being used on the device.
Many applications are supporting Memoji stickers and those that do not allow users to send them as images.
New Reminders Application
Revamping the old reminders app, iOS 13 has included compatible features to engage an organized way of tracking and managing reminders. Users can view a smart dashboard that provides users an interface comprising all essential information in an interactive format.
Users can now add media attachments in their reminders along with the task info. This feature makes the task reminders more informative and engaging. Users can leverage 60 different colors and smart icons to personalize the appearance of grouped lists and iCloud items.
Audio Sharing for AirPods
Have you ever thought of listening to a song with your friend in two different pairs of AirPods? You can do this amazing thing on iOS 13 that allows users to connect different pairs of AirPods to the same device.
Users can use this smart feature by pressing the round button on the backside of your AirPods case. You can tap the connect button on your phone. Once connected with the first pair, users can add a second pair of AirPods from the AirPlay menu.
Multitask With Apple CarPlay
If you are fond of doing multi-tasks while driving your car, now you can do it intensively. The newly introduced CarPlay feature in iOS 13 provides a smart dashboard where users can use a few important features without switching.
The applications are available in the form of tiles that allows interactive access to different features. With this feature, users can see maps alongside using other apps. The current location is the default location when you open the application to use GPS directions. Moreover, it features a high-class music streaming using different apps.
iOS 12 vs iOS 13: Comparative Study
iOS 12 is among the most popular mobile operating systems and also one of the contenders of iOS 13. Though, it is feasible to understand that iOS 13 is an updated version of iOS 12. Both operating systems have many features similar to each other's'.
If you are an existing user of iOS 12, this section will help you compare your operating system with iOS 13 and get a better idea about the advancements of iOS 13.
We shall do this comparative study based on some foundational components of a modern-age operating system. Let's begin:
Design & Interface
Despite the inclusion of so many amazing features, iOS users will always experience a familiar interface as iOS 13 has also not played too much with the benchmark design of its previous versions. This strategy is a conventional approach adopted by Apple, followed in the previous versions of iOS including iOS 12. Though iOS 13 users can explore a lot of new engagements in iOS 13, it still embarks on a conventional iOS design in its architecture.
However, like its previous versions, iOS has also indulged in a few application-oriented transformations in the design. Starting from reminders to photo tabs, iOS 13 will provide an iconic background interface for every application based on its basic layout and color combination.
Performance
Every new version takes the performance of an operating system to the next level. iOS 12 did this for iOS 11, so did iOS 13 for iOS 12. iOS 13 has done this job magnificently. Apple has claimed it to be two times faster than iOS 12 and indulges in a 30% faster facial authentication of users.
In the past, a few users reported their device being slowed down dramatically after updating to the next version of iOS that is not the case for iOS 13.
Note: Any device that supports iOS 12 can run on iOS 13 effectively.
Swipe typing
Who does not know much about the Swipe type is a feature introduced in iOS 8, letting the users type something without tapping on the screen again and again. Users can simply swipe their finger from one letter to another and so on to complete a word. Users can launch other third-party keyboards to customize their typing experience as per their choice.
This feature was discontinued in between but reintroduced with the release of iOS 13. It indulges a more interface typing experience for its users than iOS 12. It has engaged a faster and more convenient typing facility.
Siri
Apple's virtual assistant Siri came into large limelight when it evolved its translation skills in iOS 12 to provide smart suggestions and create custom activity reminders. It added a lot of significant features that helped it become one of the world's most famous AI inventions.
Afterward, iOS 13 took AI ability to the next level, where the virtual assistant can ask responsive questions and take follow-ups too with a smart shortcut to ask for manual assistance. Its ability to give smart replies is being enhanced with time and expected to become more interactive with the upcoming updates of iOS 13.
Augmented Reality
iOS 12 took advantage of all trending technologies that could make it a big hit. And, it was successful in doing so. Talking of utilization of Augmented Reality, iOS 12 integrated ARKit2 that allowed the users to leverage a quantifiable AR experience in different activities such as multiplayer AR games.
iOS 13 updated the version to ARKit3 allowing users to create more realistic AR experiences. Users can now use their cameras to see AR creations. This approach made iOS devices gain a user-centric AR experience with iOS 13 through different applications and activities.
Why Should You Update from iOS 12 to iOS 13?
The most peculiar thing about the iOS 13 update is, the new version has included a wide range of new features and revamped the old ones that were being used as it is for years, still it has not completely transformed the interface.
Users can still leverage a familiar interface in a new and dynamic look of recent iOS versions with a few advancements. The main advantages of updating your iOS device from iOS 12 to iOS 13 include a rich-featured interface, high-security standards, and enhanced user experience.
In the upcoming section, we shall bring some astounding statistics reported by prestigious institutions on iOS 13 that will further clarify it.
What Do Numbers Say on iOS 13?
In the previous sections, we tried to help you understand why iOS 13 is such a big hit and why you should update it to iOS 13. Here, we will provide you some surprising and factual statistics that witness how successful iOS 13 has been as a mobile operating system in terms of market value and popularity among the users.
Apple's official website says that 92% of the devices introduced in the last four years are using iOS 13, whereas only 7% are using iOS 12, leaving only 2% for the rest of the iOS versions released in the past.
Talking of all iPhone and iPod devices, a staggering 81% of them are using iOS 13 as their operating system. In contrast, only 13% are running on iOS 12, leaving only 6% space for all of the previous iOS version releases.
These statistics can undoubtedly be considered a breakthrough for iOS 13, becoming the most successful mobile operating system released in the history of Apple.
Let's look at graphical statistics showing the rising emergence of iOS 13 in the global market share for the operating system:
Global Version Market Share (June 2019 – June 2020)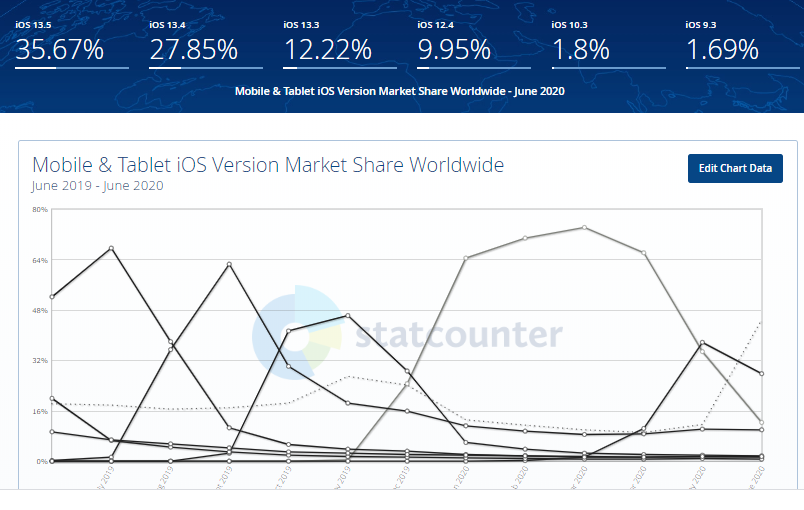 Conclusion
Apple has indulged in many significant transformations to mobility,, and iOS 13 is one such technological transformation. The mobile operating system has provided users with customer-centric solutions that have helped them leverage a rich user experience. We highlighted all significant features providing users an idea about why they should move to iOS 13.
iOS 13 update mainly focused on indulging in a more secure and user-friendly interface for its users. iOS apps have been used on a large scale by industrial enterprises to manage their customers and other resources.