Online shopping is the most convenient way to save money and get exciting offers. As a result, the demand for online shopping apps has become high. But when it comes to building an eCommerce platform, you have to check other application models. This will help you in making online shopping app development easier and more convenient.
When it comes to following a business model, you have to follow Wish. This is an eCommerce platform that connects interested buyers with international sellers. This amazing application uses an algorithmic feed along with different psychological "tricks" in order to boost sales. The best thing about this app is that it makes money via sales fees, logistics services offered to merchants and by selling ads on its platform.
As a result, many companies are deciding to build a shopping app like Wish. If you want to build an app like Wish, you are at the right place. Today, we will discuss the Wish business model and other essential things you have to know prior to investing in a new project.
What is a Wish App
Wish app was founded in 2011. It gets more popular as it connects buyers directly with sellers and provides a wide range of products at discounted prices. You know that it is operated by contextLogic Inc. a company based in San Francisco, California.
However, this application gained popularity for its marketplace model, where sellers, often based in China, list their products and buyers from across the globe and purchase them.
The platform is known for providing a vast array of products, including electronics, accessories, clothing, home goods and many more things at lower prices compared to traditional retail stores.
But you have to keep in mind that the low prices on wish often come with some trade-offs. While some buyers have a positive experience with this app, others have reported problems with product quality, shipping delays and many other things. So, while deciding to invest in e-commerce app development, don't forget to make sure that users never face such challenges.
How Does Wish App Work?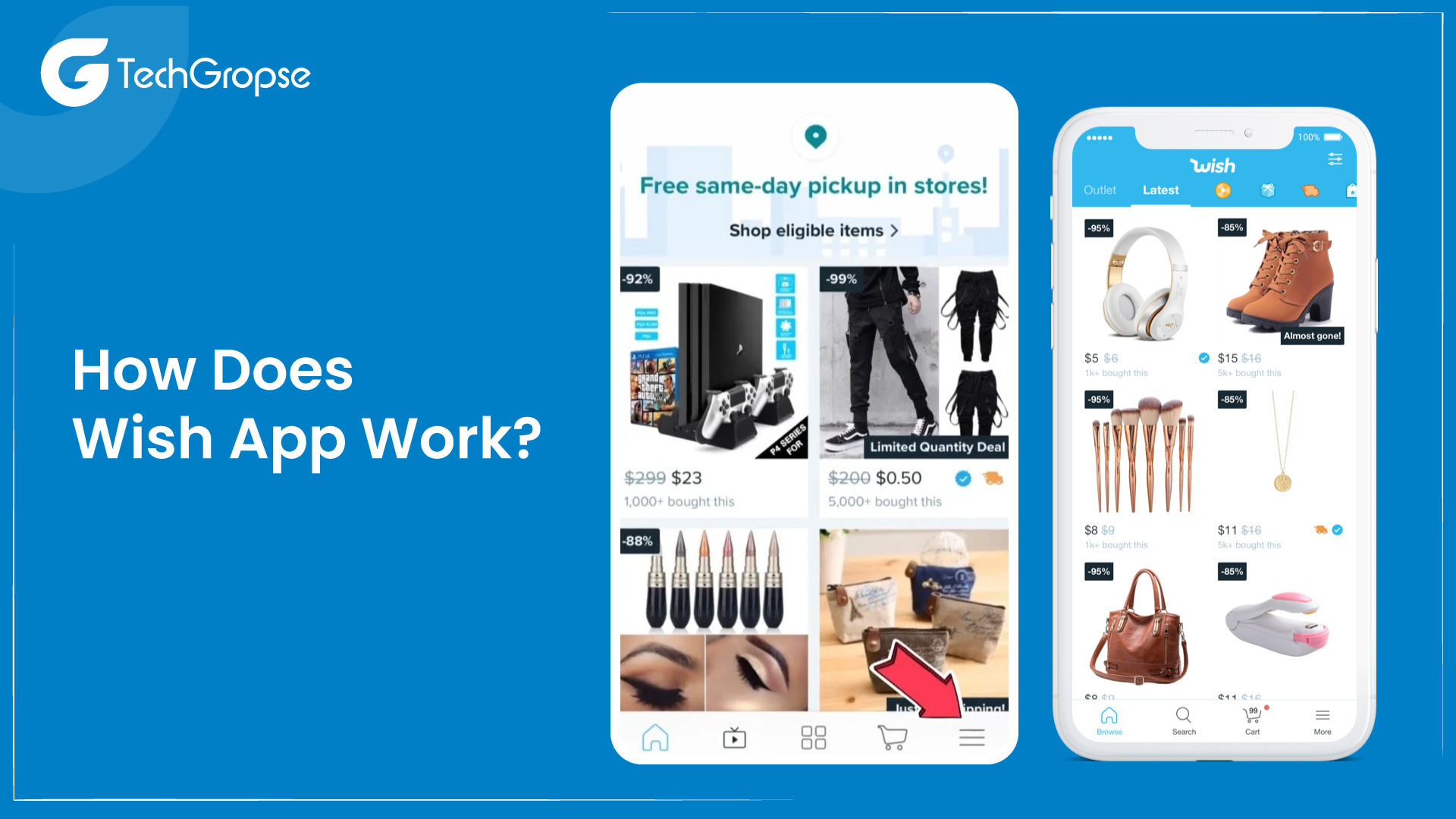 The Wish app is designed to offer a wide range of products at discounted prices that make it popular among those who are looking for affordable items. Here, is how the Wish app generally works:
Registration and Account Creation
In order to get started with Wish, users need to download the app and create an account. Registration generally requires an email id or a social media account.
Browse and Select Products
After registration, users will be able to browse the app's extensive product catalog. Wish items are diverse and span different categories such as electronics, fashion, beauty, home goods, and gadgets.
Each product listing includes an image of the product, a brief description, price, shipping details, and user ratings. Pay close attention to product details, specifications and customer reviews to determine product quality and reliability.
When users find a product they want to purchase, they can add it to their cart and proceed to checkout. Here you will be asked to enter your shipping address and select a payment method.
The app accepts a variety of payment methods including credit/debit cards and popular online payment platforms. Users can securely enter payment information within the app.
It is important to note that many of Wish's products are shipped directly from overseas sellers, mainly from China. As a result, shipping times vary widely and can take weeks or even months depending on the region and shipping method you choose.
Communication and Tracking
After placing an order, users can track the shipping progress within the app. Wish may also send order status notifications.
Reception and Confirmation
Once the product is delivered, users can rate the product and provide feedback on their shopping experience.
How Wish App Help to Make Money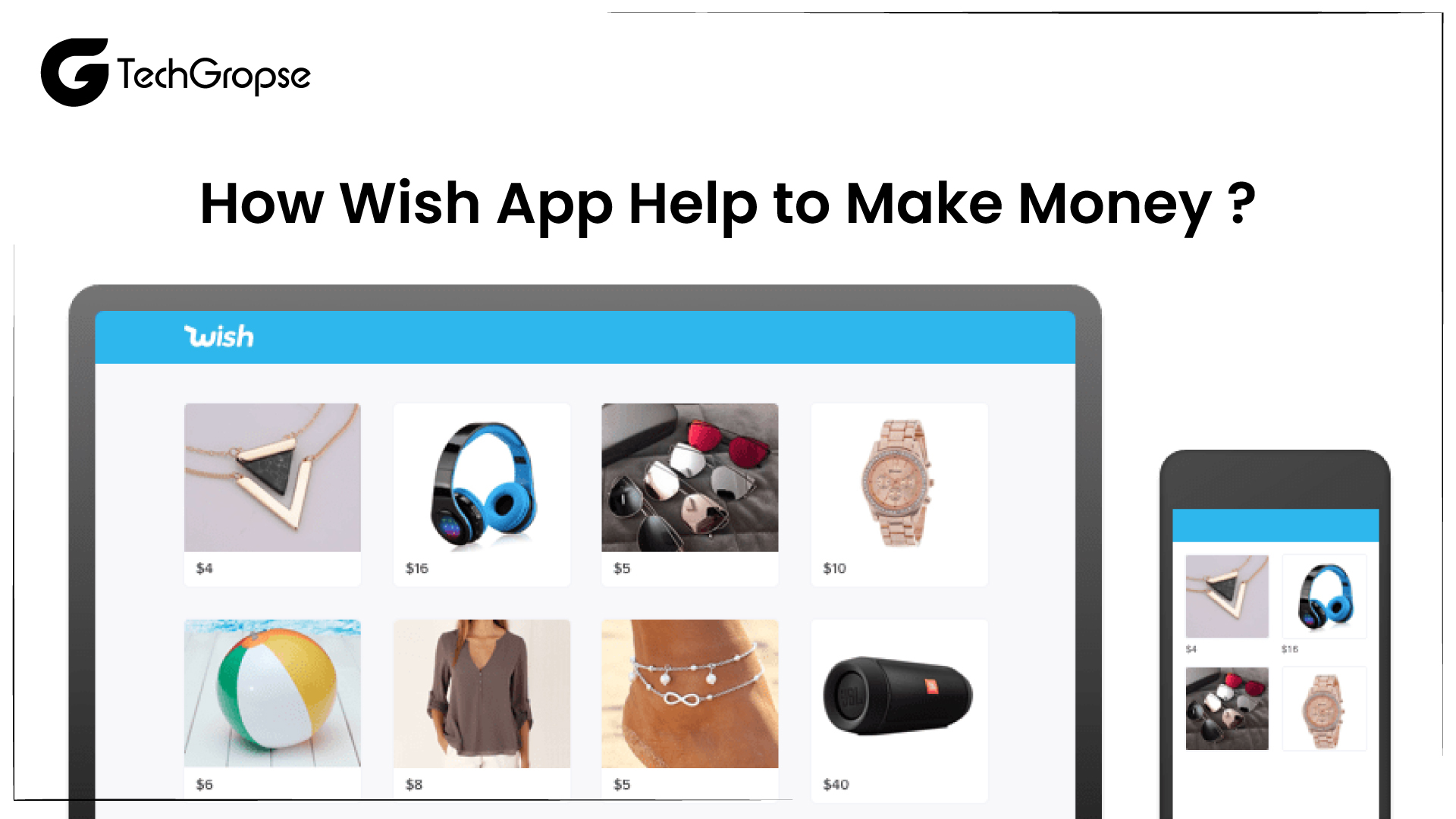 As we all know that Wish is getting more popular in less time, which is why many enterprises are searching for an e-commerce app development company that has good years of experience to build a functional app. But you know how the Wish app helps to make money. If not, in this section we will share the information on how this app helps to make money.
1. Merchant Fees
No doubt that Wish charges fees to merchants who list and sell their products on the platform. Merchants have to pay a certain percentage of the transaction value or a fixed fee for each item sold.
2. Advertising and Promotions
Wish provides various advertising and promotional options to merchants to increase the visibility and sales of their products. Merchants can pay for sponsored product placement, features listing and other promotional opportunities. It will help you in making money.
3. Shipping Fees
At Wish you will get very low-price items, and shipping costs are generally separate from the product price. The company collaborates with various shipping partners and charges shipping fees to customers based on the shipping destination and the weight of the items.
4. Wish Plus Subscription
You know that Wish Plus offers great benefits such as shipping on select items and access to exclusive deals for subscribers. The customers pay a monthly or yearly fee for these services. It means the company will generate additional revenue. Therefore, it is good to build an app like Wish.
However, it is tough to build an app like this. In such a case, you have to contact a mobile app development company that is committed to providing you with ultimate solutions as per the client's requirements.
5. Transaction Fees
Apart from the merchant fees, Wish always charges customers a small transaction fee for every purchase made on the platform. However, the fee is typically a small percentage of the total order value.
6. Data Insights and Analytics
The best thing about the Wish application is that it collects vast amounts of data on customer preferences, buying behaviour and trends. This can leverage this data to offer analytics and insights to merchants or third-party companies for fees.
Wish Business Model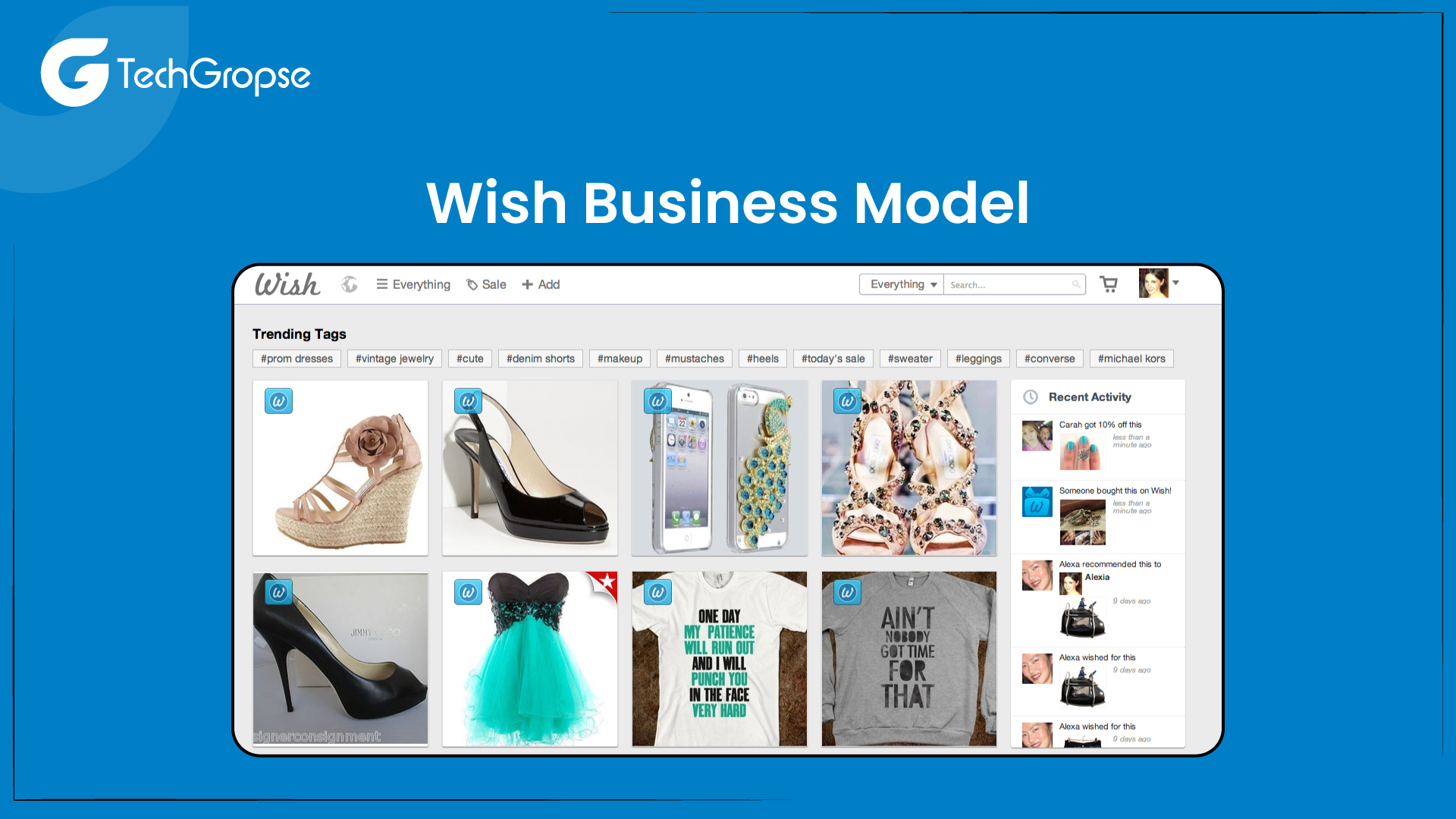 We all know that Wish is an online marketplace that connects sellers and buyers, primarily focused on selling discounted and affordable products, often directly from manufacturers in China and other countries. The platform allows merchants to list their products and allows customers to browse a wide range of products including electronics, clothing, accessories, homewares and more.
As a result, many enterprises are searching for an on-demand app development company that is committed to providing the best services. If you want to build an app like it, it is necessary to know the business model.
Key elements of the Wish business model are:
Direct-to-Consumer (D2C) Model
Wish operates on a direct-to-consumer model, eliminating middlemen and connecting buyers directly to sellers or manufacturers. This approach allows for lower prices and allows sellers to reach around the world. It means you can look out for a Wish business model to make your own app.
Wish has a global audience and serves customers in different countries. They harness the power of the Internet to facilitate international trade and transportation, making our products available to customers around the world.
Wish started as a mobile app and initially focused on mobile users. This contributed significantly to its rapid growth. They've since switched to the web version, but the mobile-first strategy remains a fundamental aspect of our business model.
A Bargain-Oriented Shopping Experience
One of Wish's main attractions is its focus on offering heavily discounted products. Vendors often offer items at significantly lower prices than traditional retailers, attracting price-conscious customers looking for bargains and bargains.
Wish offers a wide range of products across different categories, from electronics and fashion to homewares and toys. This wide variety of products allows you to find products that suit your tastes and needs.
Data-Driven Personalization
Wish uses data analytics to personalize your shopping experience. By analyzing user behaviour and purchase history, they propose appropriate products to individual customers and expand sales opportunities.
Wish integrates social elements into its platform to encourage users to share their purchases and wishlists with others. This social shopping aspect creates a sense of community and can influence purchasing decisions.
Platform Fees and Advertising Revenue
Wish generates revenue by charging a commission to sellers when listing products on the platform. Additionally, the platform can also generate revenue through advertising, allowing merchants to pay for better product placement and promotional features.
How to Build an App Like Wish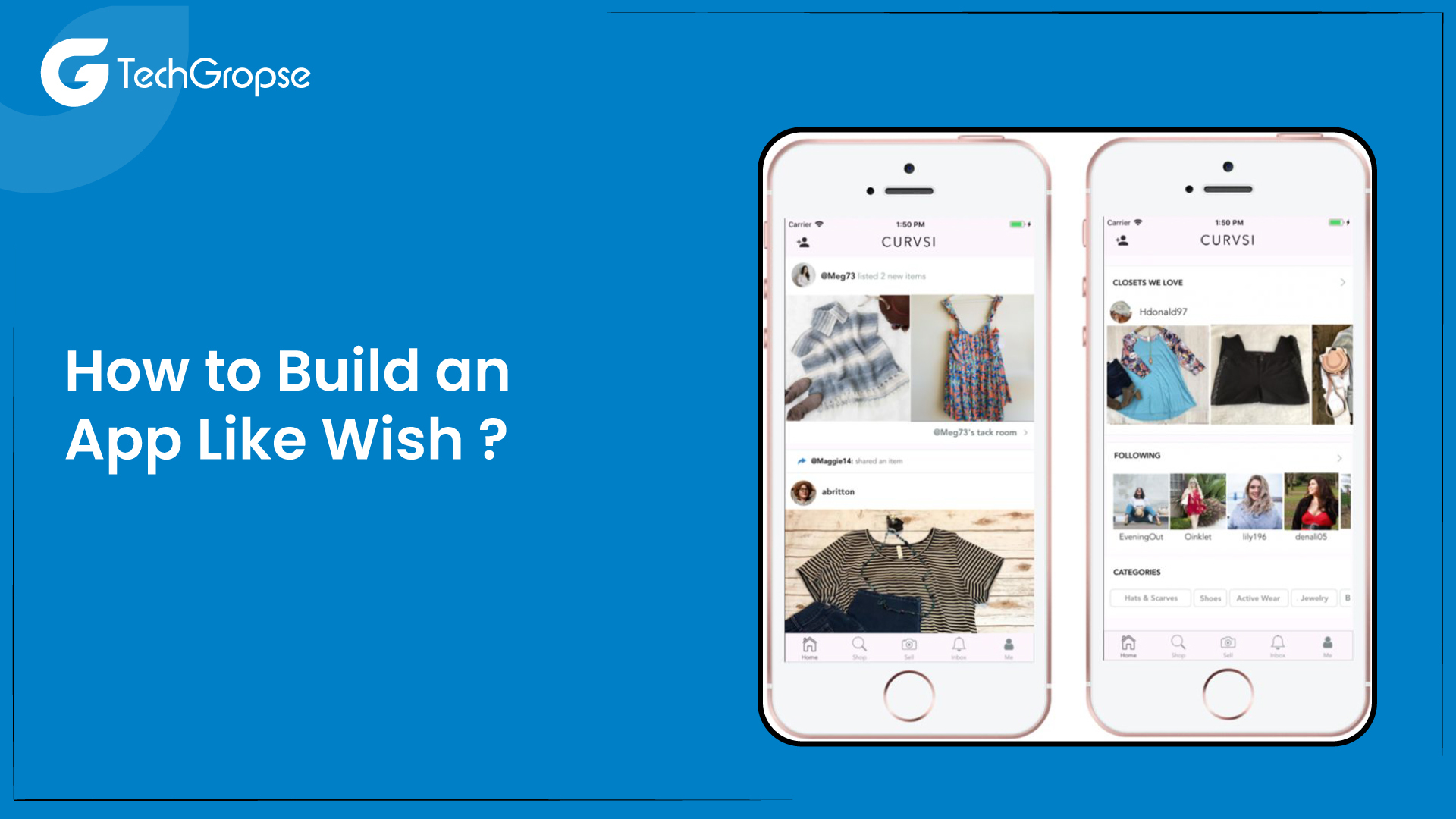 Once you know the Wish business model, you have to start the development process as soon as possible. In order to build an app like Wish, you have to follow all the steps. Below, we mentioned a list of required steps you have to follow to build an app for your business.
1. Idea generation and market research
The first step is to come up with a clear app idea and do thorough market research. Analyze existing e-commerce platforms, including Wish, to understand their strengths and weaknesses. Identify your target audience, their preferences, and their pain points. This research will help you design a unique selling proposition (USP) and features for your app.
2. Define App Features and Functionality
Create a detailed list of app features and functions based on research and audience analysis. Common features include user registration, product listings, shopping carts, payment gateways, order tracking, customer reviews, and social sharing. Also, consider incorporating innovative features to differentiate your app from the competition.
3. Choose the Right Technology Stack
Choosing the right technology stack is critical to your app's performance, scalability, and security. Consider factors such as your app's platform (iOS, Android, or both), backend development (Node.js, Ruby on Rails, etc.), and database management system. Third-party frameworks, libraries, and APIs can also improve development efficiency.
4. UI/UX Design
A user-friendly and visually appealing interface is essential to retain users. Work with experienced UI/UX designers to create wireframes and prototypes. Focus on intuitive navigation, seamless checkout, and clear product display. Make sure your app design matches your audience's tastes.

5. Develop the App
Divide your development process into sprints and start building your app. Start with a Minimum Viable Product (MVP) that contains core functionality to launch your app quickly. This approach allows us to collect user feedback early and make necessary improvements. Work closely with the development team to ensure adherence to project schedules.
6. Implement a Secure Payment Gateway
Security is very important for e-commerce apps, especially when handling sensitive user information and payments. Integrate a trusted and secure payment gateway to give your users a seamless and secure checkout experience. Implement cryptographic protocols to protect data during transactions.
7. Testing and Quality Assurance
Extensive testing to identify and fix any errors or glitches before launching the app. Conduct functional testing, usability testing, performance testing, and security testing. To ensure a smooth user experience, focus on both the frontend and backend of your app. Beta testing with a limited group of users provides valuable feedback.
8. Implementation and Marketing
Once the app has been thoroughly tested and refined, it will be officially released. Publish your app to an app store such as the Google Play Store or Apple App Store. Develop a solid marketing strategy to promote your app to your target audience. Use social media, influencer marketing, and search engine optimization (SEO) to increase your app's visibility and engage users.
The Final Note
In the last few years, the demand for shopping applications has become high. If you also want to build an app like Wish, you have to know the Wish Business model. This will help you in building a functional app for your business. However, knowing a business model is not enough for the success of your business.
You also have to hire dedicated developers who are well-experienced and knowledgeable in building a functional and easy-to-use application. Apart from this, you have to know shopping app development cost that help you in setting a budget for app development.
FAQs
1. What is the Wish App?
The Wish app is a mobile shopping platform that allows users to discover and buy a wide range of products at discounted prices directly from merchants around the world.
2. How do I create an account on Wish?
To create an account, download the Wish app from the app store, open it, and follow the registration process. You must enter your email address or use your Google/Facebook account to sign up.
3. What features should I include in my app?
Some essential features to consider include:
User Registration and Login: Allow users to create accounts and log in via email, social media, or phone number.
Product Catalog: Display products in categories with images, descriptions, and prices.
Shopping Cart: Enable users to add items to their cart and manage their purchases.
Payment Integration: Integrate secure payment gateways for seamless transactions.
Reviews and Ratings: Allow users to rate and review products.