Whether you want to go to the office, to a party, or another place, fashion comes first in your mind. In today's time, fashion is a priority in every age group. In simple terms, from kids to senior citizens, everyone is concerned about fashion. As a result, the demand for online fashion store development is becoming high.
Therefore, many companies are deciding to invest in online fashion app development. If you want to build your own app like Zalando, knowing the Zalando business model is good. This e-commerce platform provides fashion products for both men and women across categories such as accessories, shoes, or clothing.
You know that Zalando makes money through commissions from its partner program, product sales, fulfillment services, advertising, subscription, and a style box. Usually, Zalando operates on a marketplace business model. This blog post will discuss the Zalando business model, how Zalando makes money, and many other things you need to know.
What is Zalando?
Zalando is an e-commerce platform that is known for selling fashion products to customers across the European continent. The best part of the company is that it provides new and pre-owned products for women, men, and children. The users can browse a variety of categories such as clothing, shoes, accessories, and many more things.
Furthermore, it offers a wide array of brands, including Armani, Nike, etc. Even customers can return the project they don't like within 14 days. It means there is no need to worry about the money as customers can exchange the products and return within a certain period of time. Additionally, Zalando operates a few physical retail locations across Germany that are called the Zalando Outlet Store.
On the other hand, this company provides styling services called Zalon. Using a mixture of artificial intelligence and human input, the service sends customers one to two outfits every month to try out. In order to access this platform, users can visit the company's website or download the app. As a result, the demand for live video shopping app development is increasing day to day.
If you want to stay on the market, it is required to stay up to date with the latest trends and Zalando business model that help you in getting succeed.
How Does Zalando Make Money?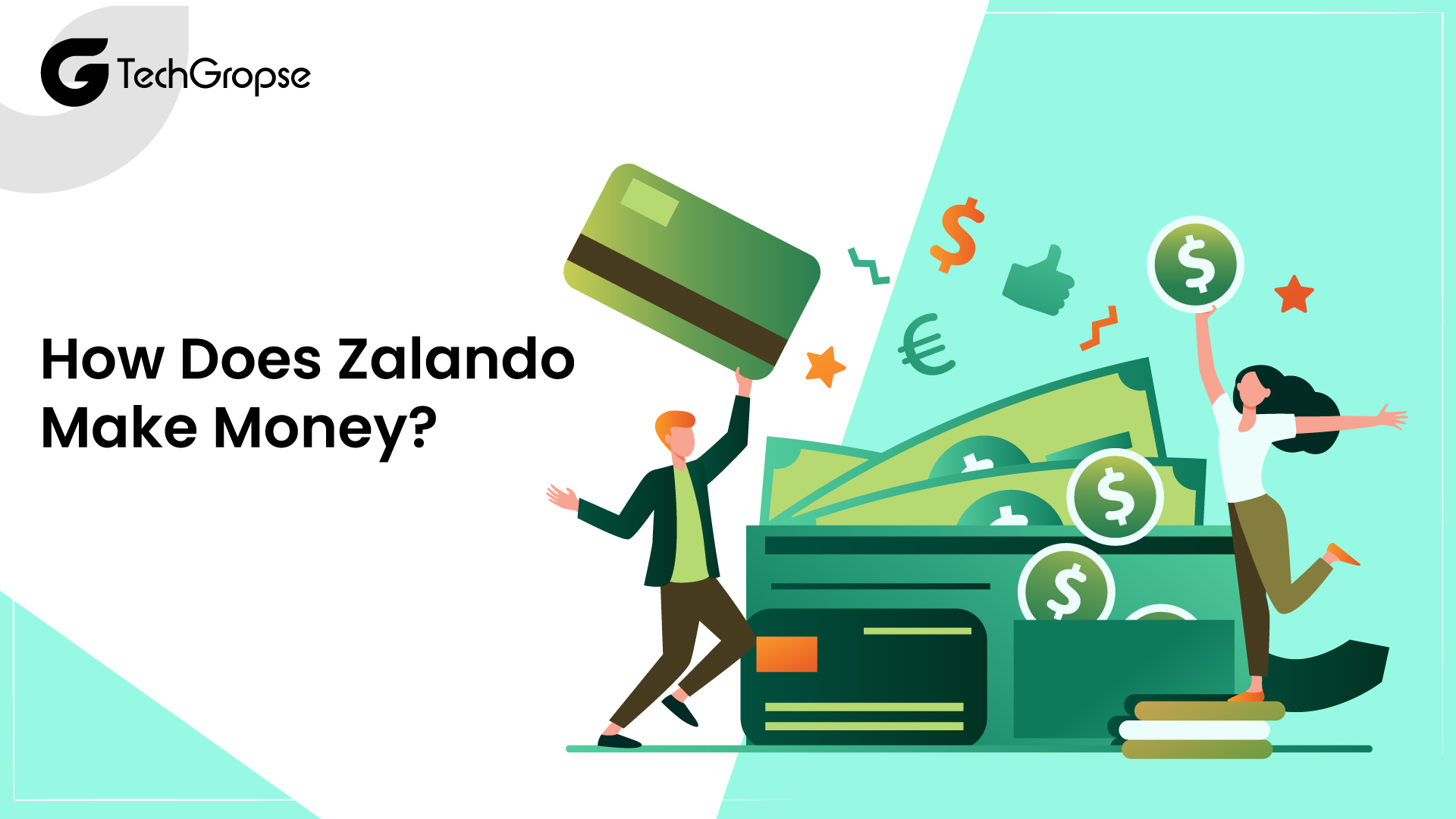 Zalando earns money by selling products, fulfillment services, affiliate commissions, subscriptions, partner programs, advertisements on its websites, and style boxes. The main purpose of Zalando's business plan is to become a platform for fashion. Another interesting thing about the platform is that it earns revenue mainly from stock purchases and reselling for a profit, like many other retailers.
Apart from this, Zalando has a  monopoly in Europe that allows it to purchase goods in bulk and provide them to its customers at competitive prices. There are many other ways that help Zalando to make money. Here are some ways Zalando generates revenue:
1. Salse of Fashion Products
Zalando's main revenue source comes from selling various fashion products on its platform. This includes clothing, shoes, accessories, and beauty products from different brands and designers. Customers can browse the website or mobile app and make purchases directly from the Zalando warehouse.
As a result, many enterprises are looking for a video shopping app development company that has years of expertise and knowledge in creating apps for various industries.
2. Partner Brand Commission
Zalando also acts as a marketplace, allowing third-party brands and retailers to sell their products on Zalando's platform. These partner brands pay a commission to Zalando for each sale made through the platform. This commission-based model allows Zalando to expand its product line without holding additional inventory.
If you want to make money, building an app like Zalando is good. However, you have to know Zalando's business model, as it will help you in taking your business to the next level.
3. Advertising and Promotions
Zalando offers advertising and promotional opportunities for brands and retailers on its platform. These brands can pay for increased visibility, prominent product placement, or a targeted marketing campaign to reach a wider audience of potential customers. If you want to make money like Zalando, building your own store is a good idea.
However, this is a tough task on your own, so you need to hire  dedicated developers with good knowledge and experience. Having appropriate skills and experience, they do the job easily without making any compromise on the quality.
4. Premium Benefits
Zalando introduced premium services such as "Zalando Plus," which offer additional benefits to subscribers, such as faster shipping, extended return times, and exclusive offers. Customers pay a monthly or yearly fee to access these premium features. Henceforth, Zalando app development is beneficial for building an app including rich features.
5. Data Analysis
Zalando is able to leverage the vast amount of customer data it collects to provide insights and analytics to brands and retailers. Zalando can generate additional revenue streams by providing data on consumer behavior and trends.
However, it's important to note that Zalando's business model and revenue stream can change over time, so you should always consult the latest information available to get the most up-to-date picture of your operations.
Zalando Business Model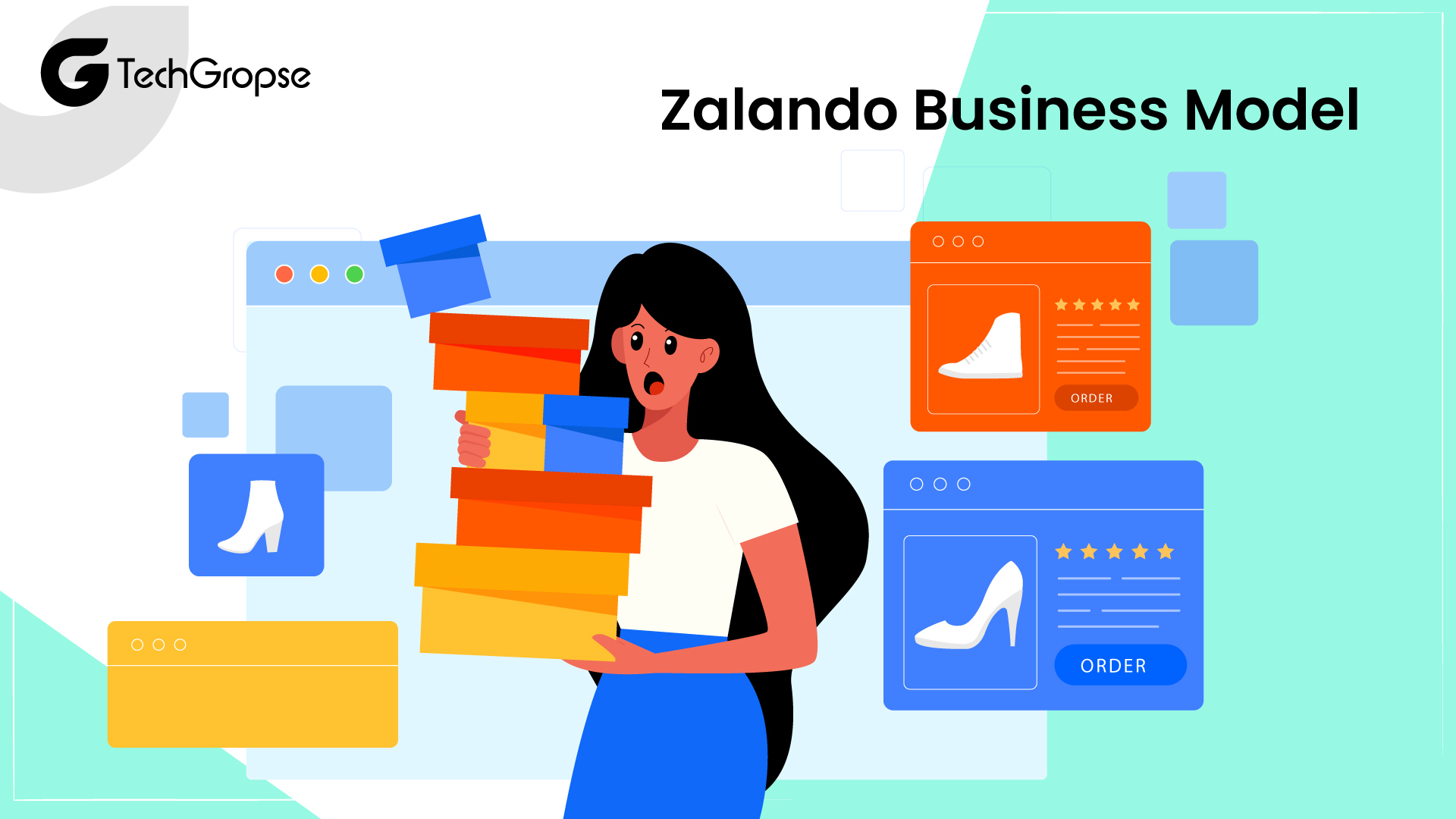 We all are aware that Zalando is a leading European online fashion platform headquartered in Berlin, Germany. The company was founded in 2008 by Robert Gentz, and David Schneider, Zalando's business model has been pivotal to its rapid expansion and continuous success. In this section, we will discuss the key elements of Zalando's business model and how it has contributed to its prominence in the online fashion industry. Let's take a look at this section:
1. Multi-Brand Retail Platform
Zalando operates as a multi-brand retail platform, offering a wide range of fashion products from different brands, designers and retailers. The company collaborates with thousands of fashion brands, from established luxury brands to emerging designers, to meet diverse customer preferences. This huge selection gives Zalando a competitive edge by offering customers a wide range of products in one place, making Zalando the ideal destination for fashion enthusiasts.
It means you can follow this model to build an app like Zalando. This will help you in taking your business to the next level. However, you have to seek the help of professionals who are well-experienced in building a functional application.
2. Customer-Centric Approach
One of the fundamental principles of Zalando's business model is to always focus on customer satisfaction. The company puts the customer at the center of its operations, aiming to deliver an exceptional online shopping experience. Zalando uses advanced data analytics and machine learning algorithms to personalize the user interface, recommend the right products, and optimize the entire shopping journey. In addition, the company offers free shipping, an easy return policy, and a customer service team that is always available to answer questions and concerns, which contributes to loyalty and High customer retention.
This is why it is an ideal model to get success. But when it comes to using this business model, you have to search for a  mobile app development company that will help you in every possible way.
3. Technology and Innovation
Zalando's success is based on continuous investment in technology and innovation. The company relies on cutting-edge technologies to improve the platform's functionality, inventory management, logistics optimization, and supply chain processes. This technology-driven approach allows Zalando to operate efficiently at scale while maintaining the flexibility to adapt to changing markets and customer preferences. It means you can use Zalando's business model to achieve success and good revenue.
However, you must seek the help of an on-demand app development company with a good portfolio and a team of skilled developers. With good years of experience and knowledge, dedicated developers build functional apps easily.
4. Data-Driven Operations
As an e-commerce giant, Zalando relies heavily on data analytics to make informed business decisions. The company collects and analyzes vast amounts of data, including customer behavior, browsing habits, purchase history, and fashion trends. By leveraging this data, Zalando gains valuable insights into consumer preferences, enabling better inventory management, targeted marketing, and improved personalization.
5. Platform Ecosystem
Zalando has strategically built an ecosystem around its core platform. This includes various services and features that complement its retail offerings. For example, "Zalando Lounge" offers exclusive deals and discounts to registered users, promoting a sense of exclusivity and encouraging customer engagement. The "Zalando Fashion Insights Hub" provides data-driven insights for brands and retailers, fostering partnerships and promoting Zalando as a valuable partner in the fashion industry.
6. Market Model
In addition to selling its inventory, Zalando has adopted a marketplace model allowing third-party sellers to list and sell their products on the platform. This approach further expands product selection, allowing Zalando to attract more customers and address niche markets. The marketplace model also generates additional revenue streams for the business through commissions on sales made by third-party sellers.
7. Logistics and Fulfilment
Zalando has developed a strong logistics and fulfillment network to ensure efficient delivery and customer satisfaction. The company operates several distribution centers strategically located throughout Europe, allowing for faster order processing and dispatch. In addition, Zalando's "Connected Retail" initiative integrates physical stores into its platform, allowing customers to access inventory from local retail partners and provide a buying experience. Multi-channel shopping.
8. Sustainability and Social Responsibility
Zalando has made significant efforts to integrate sustainability into its business model in recent years. The company is committed to promoting environmentally friendly practices, reducing carbon emissions, and supporting ethical fashion brands. This commitment meets the growing consumer demand for sustainability and strengthens Zalando's reputation as a socially responsible company. So, you can use Zalando's business model to build your own fashion store.
How to Build an App Like Zalando
As we all know, Zalando is a famous fashion store where users can easily purchase the desired things. As a result, many companies are deciding to invest in Zalando app development. But when it comes to building an app, it is necessary to follow all the steps. If you want to build a fashion store, look out the listed steps to make the development procedure more convenient.
1. Understand Your Requirements
Once you build a fashion store, you must understand what you want. If you know your requirements, building an app with rich features and technology is easier. Therefore, you have to understand the needs of your business requirements.
2. Search the Market
Now you have to search the market and understand what the users want. Knowing what the target audience wants makes it easier to fulfill their requirements. By knowing what your competitors provide, you can provide different services that are useful for the target market. As a result, you have to search the market.
3. Choose Features
Features play an essential role in the success of an app. So, while investing in Zalando app development, you must choose the features carefully. It will help you in attracting more users to build a functional app.
4. Develop the App
Once you have all the aspects, you have to develop the application. In order to make the process easier and more convenient, you can seek the help of a mobile app development company that has a team of skilled developers. With years of knowledge and expertise, they will easily do their job.
5. Test and Launch the App
After building an app, it is necessary to test it. It will help you in making sure that there are no bugs or technical issues. Once you make sure that everything is ok, you have to launch the app on the Google play store and Apple Store. It will help users easily download the app to their devices.
6. Cost to Build an App Like Zalando
Zalando app development cost depends on several factors like features, technology, experience and many other factors. Below, we mentioned some other factors that may affect the overall cost of building an app like Zalando.
7. Platform Selection
The Zalando app is available on iOS and Android platforms, each with its own development requirements. It usually costs more to develop a native app for each platform than to build a cross-platform app because the latter provides economic benefits through code reuse.
8. Design Complexity
Zalando's app has a user-friendly interface and an attractive design that enhances the user experience. Investing in a visually appealing design with easy navigation increases development costs but can also attract and retain more users in the long run.
Features and functions
The features offered by the Zalando app, such as personalized recommendations, wish lists, multiple payment options, and ease of payment, contribute to its success. The more features you integrate into your app, the higher the development costs will be.
Technology Stack
The choice of technology stack, including programming languages, frameworks, and libraries, can affect development costs. Advanced technologies and premium third-party integrations can increase costs but can lead to a more powerful and efficient application.
Data Security
As an e-commerce platform that handles users' sensitive information, Zalando prioritizes data security. Implementing robust security measures, such as SSL encryption and secure payment gateways, increases overall ecommerce app development cost.
Testing and Quality Assurance
Rigorous quality assurance and testing processes are essential to ensure the app works flawlessly and provides a positive user experience. Testing across different devices, operating systems, and scenarios increases development costs.
Location of Developers
The location of developers also plays an important role in affecting e-commerce app development costs. Once you hire developers from foreign countries such as the US, Australia, and Africa, you have to pay more than Asian countries.
Below we Estimated Zalando App Development Cost breakdown:
| | |
| --- | --- |
| Factor | Estimated Cost Contribution |
| Platform Selection | $30,000- $60,000 |
| Design Complexity | $20,000- $40,000 |
| Features and Functionality | $50,000- $100,000 |
| Technology Stack | $15,000-$30,000 |
| Data Security | $10,000 – $20,000 |
| Testing and Quality Assurance | $15,000 – $25,000 |
| Third-Party Integrations | $10,000 – $30,000 |
Note: This table is a rough estimate and can vary depending on various factors such as development team size, complexity, and many other factors. In order to know the actual cost, get in touch with a reliable mobile app development company.
The Last Note
Zalando's business model is a testament to the success of an online fashion retailer that prioritizes customer satisfaction, embraces innovation, and adapts to ever-changing market trends. By leveraging its go-to-market approach, data-driven insights, seamless user experience, and strong logistics network, Zalando has disrupted the fashion industry and established itself as the leading company in the industry. Leading in the field of fashion, e-commerce. As technology continues to advance, Zalando's commitment to innovation and focus on customers helps the company continue to grow and succeed in the dynamic world of online fashion retail.
FAQs
1. What is Zalando?
Zalando is a leading European online fashion retailer and platform founded in Berlin, Germany 2008. Zalando operates an e-commerce platform where customers can purchase a wide range of products from fashion. , including clothing, shoes, accessories, and beauty products.
2. How does Zalando make money?
Zalando generates revenue primarily through the sale of fashion products on its online platform. The company acts as an intermediary between customers and various fashion brands and retailers, allowing them to list and sell their products on the Zalando website. When a customer makes a purchase, Zalando takes a commission from the sale as revenue.
3. What is Zalando's target market?
Zalando's target market includes fashion-conscious consumers in Europe. The company mainly focuses on customers who are looking for fashion and style clothing and accessories, with a wide selection for men, women, and children.
4. How does Zalando attract customers?
Zalando engages customers through various marketing and promotional strategies. It invests in digital marketing, social networking, influencer partnerships, and other forms of advertising to reach the target audience. Moreover, it offers promotions, discounts, and loyalty programs to retain and attract new customers.