When it comes to the real estate industry, Zillow is one of the first names that comes to mind. The Zillow app, in particular, has become an amazing tool for home buyers, sellers, and renters. But have you ever wondered how the Zillow app business model works?
So let's get started!
The Zillow app business model offers the best platform for real estate agents, buyers, and sellers. They also provide an online database of millions of homes across the world.
It also gives tools for buyers and sellers to connect with agents in an easy way. The app makes profit through outstanding advertising and by charging agents for access to their platform. Zillow also offers services like mortgage and rental searches, which create extra revenue.
By providing a convenient platform for real estate transactions, Zillow has become a famous app among homebuyers and sellers, and has helped to modernize the real estate industry.
We will explore everything you need to know about Zillow's revenue streams, user acquisition strategies, and future growth plans. We will also take a closer look at the features and functionality of the Zillow app, as well as the company's competition and market share.
Whether you are a real estate professional or just a curious consumer or build an app like zillow, this post will provide valuable insights into the inner workings of one of the most successful real estate businesses on the competitive market.
What is the Zillow App?
Real estate is a booming industry and the development of technology has revolutionized the way people buy and sell properties. The Zillow app is an ideal mobile and web-based platform for real estate and rental listings, which give all essential details about properties, neighborhoods, agents, and mortgage lenders.
The Zillow app has obtained widespread popularity as it streamlines the process of finding, buying, renting or selling a home, all while providing a smooth user-friendly experience for its users.
Many real estate app development focus on the Zillow app business model to give a complete solution in just one click.
For buyers: Basically Zillow used to sell houses themselves via their Zillow offers program, but they stopped in November 2021. Now, if you want to buy a house, you can buy it from the person who owns it, buy a house, or use an agent through the Zillow Premier Agent program.
For rentals: If you are looking for a place to rent, Zillow has lots of helpful tools to help you find one. You can look at rental listings, you can also apply for a place through Zillow to make the credit and background check process faster. They also have an affordability calculator to help you figure out how much you can afford, and you can even pay your rent online through the Zillow platform instead of using checks
For Seller: Zillow is a platform where people can sell their homes. They have a tool called Zestimates that helps sellers look out how much their home is worth. This way, they can make sure they get the most money possible.
If sellers want help selling their home, they can also work with an agent from Zillow. Zillow has a feature called Agent Finder that helps people find real estate agents, home improvement professionals, and other services they might need.
History of Zillow and the Zillow App
Zillow is a leading real estate marketplace that was launched in 2006. The platform provides users with access to a huge range of properties such as homes, apartments, and condos.
The Zillow app is available on both Android and iOS devices and has been downloaded more than 10 million times on the Google Play Store alone.
| | |
| --- | --- |
| 8 Feburary 2006 | Zillow was lauched |
| 1 Septmber 2007 | Zillow raises 30 million dollar in series C |
| April 2011 | Zillow started trading on the NASDAQ |
| 19 August 2013 | Zillow acquires StreetEasey for 50 million doller |
| 16 July 2014 | Zillow acquires Restly to help developers |
| 17 Feburary 2015 | Zillow acquires Trulia for 3.5 million doller |
| May 2018 | About 36 million users per month in Zillow |
How to Make Money from the Zillow App Business Model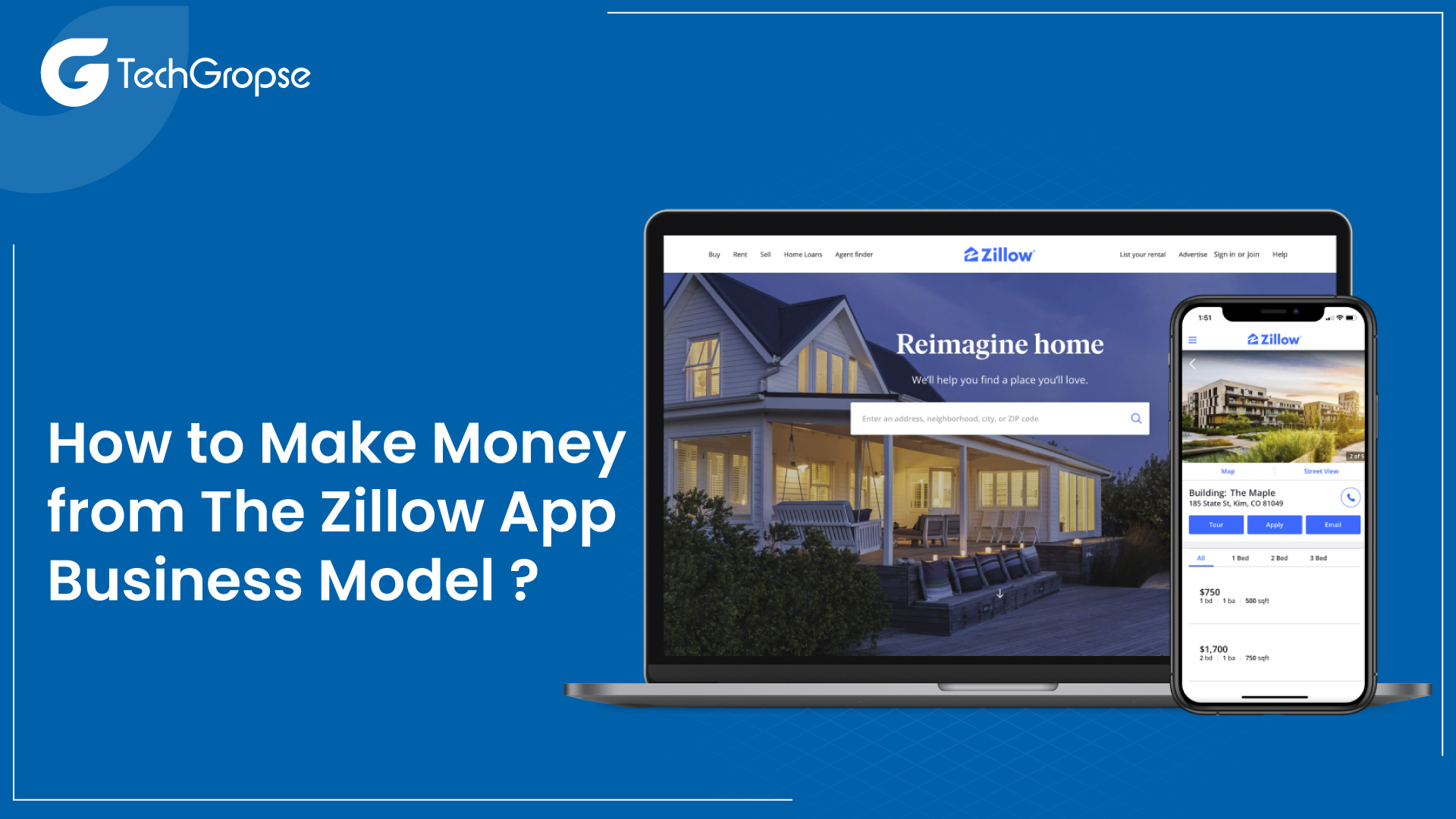 Did you know that you can list your house up for sale or rent on Zillow for free? Yup, it won't cost you a penny! And guess what? You can use their website and apps for free too! But here's the cool part is they don't charge us anything, they still generate more money from the Zillow app business model! Like, $1.1 billion a year!
Crazy, right? So, how do they do it? Let's find out!
1. Advertisement Revenue
Advertising is an essential parto of any business. Zillow generates a significant amount of revenue via advertising. Real estate agents and other businesses can advertise on the platform, and ads are displayed to users based on their search criteria and browsing history.
2. Zillow Offers Program
In 2018, Zillow introduced its Zillow Offers program, which enables users to sell their homes directly to Zillow. The company makes money by purchasing properties at an amazing discount and reselling them for a more profit.
3. Premier Agent Program
The Zillow Premier Agent program is also an important source of revenue for the company. Agents pay a monthly subscription fee to access exclusive tools and features that help them grow their businesses. The company also charges agents for advertising and other services.
4. Ad Sales to Mortgage Lenders
Zillow is a website that helps people to look at homes to buy or rent. They also let apps like zillow, people who design the structure of homes, people who fix things in homes, and people who sell to help organize homes, advertise on their website. Zillow charges the people who lend money for homes based on how many times someone clicks on their ad or how many times their ad is shown to people.
5. IMT Segment
You can make money from the Zillow app business model by using the internet, media, and technology. They sell things such as marketing services and software to make money. Zillow executes their business in three parts: Premier Agent, Rentals, and Other.
Features and Functionality of Zillow App Business Model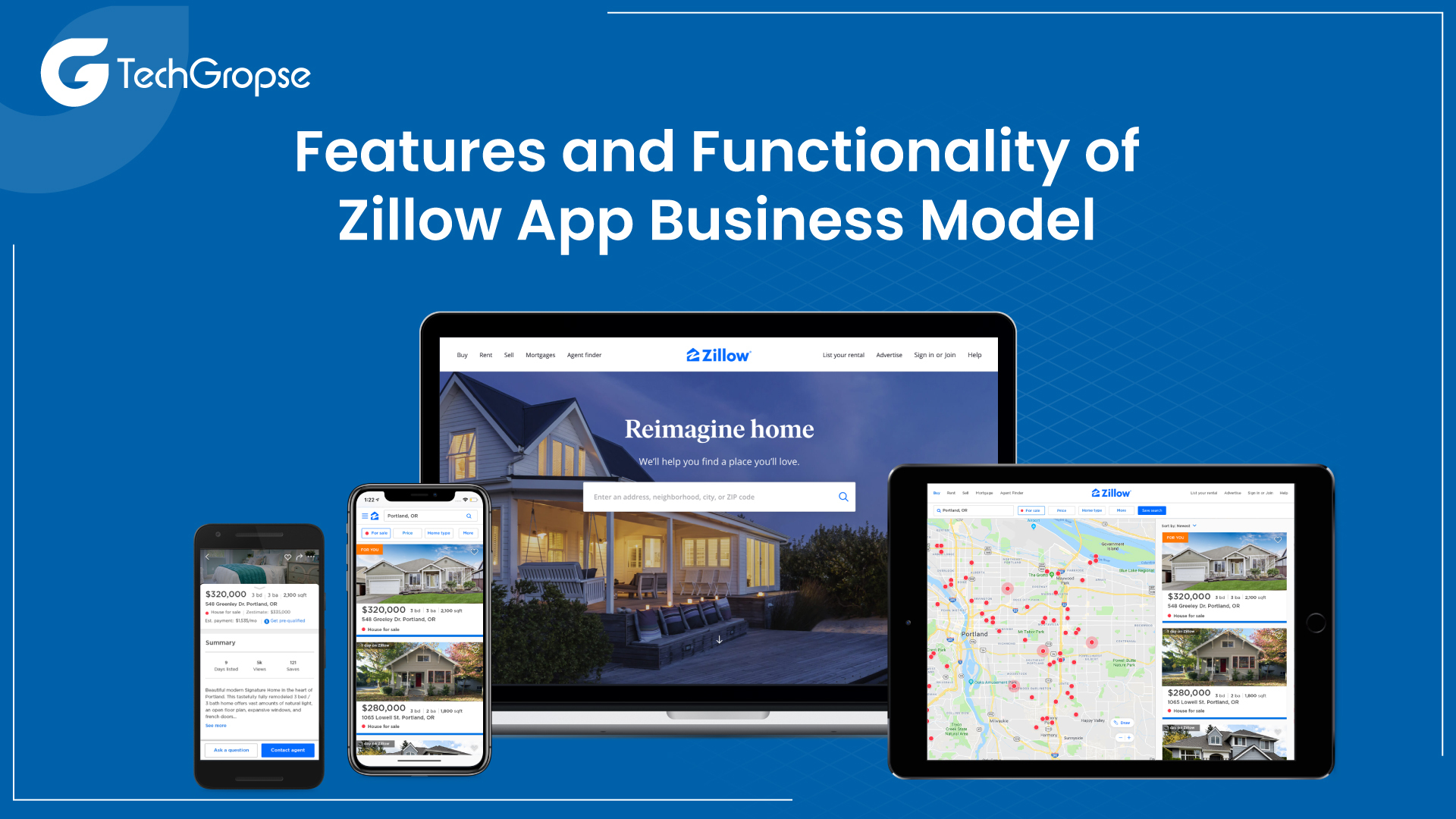 In this digital era, On demand app development company encourage startups to build Zillow app business model to boost their business growth and include amazing features to easily search for homes and apartments by location, size, budget, and amenities.
1. Property Listings and Search Filters
One of the major features of the Zillow app is the ability to search for properties based on some factors like location, price, size, and other search filters. Users can also save their searches, set up alerts, and get notifications when new homes become available. Additionally, users can view photos, videos, and virtual tours of properties, and find all essential details about local schools, crime rates, and amenities.
2. Home Value Estimates and Zestimate Accuracy
Zillow's proprietary tool, Zestimate, offers users an estimated value of their homes based on a range of factors like comparable sales, tax assessments, and local market trends. The accuracy of Zestimate can differ depending on the quality and availability of data, but it is a useful tool for buyers, sellers, and homeowners to get a basic idea of the value of their homes.
3. Mortgage Calculator and Financing Options
Users can use a mortgage calculator that guides users to estimate monthly payments based on down payment, interest rate, and loan term. Additionally, users can get pre-approved for a mortgage or connect with a lender through Zillow's partner network. This feature makes it easier for users to understand their financing goal and find a competitive mortgage rate.
Zillow App Business Model Canvas
Zillow App Business Model Canvas as it has revolutionized the way people purchase and sell real estate online. The rental app development offers a fantastic user experience by offering all the essential information, tools and resources required to make informed buying or selling decisions.
1. Key Partnerships and Suppliers
Zillow's key partnerships and suppliers include real estate agents, mortgage lenders, property managers, home insurance companies, and moving services. These partnerships offer Zillow with a stream of revenue while also helping to make a comprehensive ecosystem for users to satisfy all of their real estate requirments.
2. Key Activities and Resources
Zillow's key activities include developing and maintaining its app and website, collecting and analyzing real estate data, and creating relationships with real estate professionals and partners. Zillow's resources hire dedicated developers, its talented team of engineers, data scientists, and customer support staff, and its huge database of real estate information and analytics.
3. Value Proposition and Target Customer Segments
Zillow's value proposition is to allow a comprehensive and user-friendly platform for buying, selling, renting, and financing real estate. Zillow's target customer segments include home buyers, home sellers, renters, and real estate professionals. By serving these segments, Zillow has become a trusted and essential tool for millions of people in the US real estate market.
Zillow App Business Model Marketing Strategy
To build app like Zillow for android on demand app development company prepare a unique marketing strategy to pramote their products and services. Have a quick look at below strategy including:
1. Branding and Advertising Campaigns
Branding and advertising campaigns play an important role in its markting strategy. The company uses a multiple plateform to promote its app, such as TV commercials, billboards, online ads, and sponsorships. Zillow's ads typically focus on the app's features and benefits, like its ability to offer valid home valuations and personalized property search results.
2. User Reviews and Testimonials
User reviews and testimonials to create credibility and trust with potential users. The app has a 4.5-star rating on the Apple App Store and a 4.4-star rating on Google Play, with many users complimenting its ease of use and comprehensive property data. Zillow also features customer stories on its website and social media platforms to show the app's impact on real people's lives.
3. Social Media and Influencer Marketing
Zillow uses social media to engage with users and promote its brand. The company has a strong presence on platforms including Facebook, Twitter, and Instagram, where it shares property listings, interesting home decor tips, and industry news. Zillow also partners with influencers, such as bloggers and real estate agents, to connect new audiences.
Zillow's Future Growth and Expansion Plans
Zillow has plans for expanding their rental offerings beyond just apartments to include single-family homes as well. If you are impressed with the Zillow app business model and want to build real estate app, why do you wait? Consider all essential features and benefits to grow your business.
1. Product and Service Innovation
Zillow is innovating its products and services to enhance the user experience and make growth. The company launched Zillow Home Loans, a mortgage lending platform, and Offers, a program that allows users to sell their homes directly to Zillow for a cash offer. Zillow is also moving on AI technology like virtual home tours and augmented reality tools to boost the property search process.
2. International Expansion and Partnerships
Zillow has expanded into Canada and is considering other international markets for future growth. The company has also made partnerships with top real estate industry players like home builders and mortgage lenders, to leverage their expertise and reach new user segments.
3. Acquisitions and Mergers
Zillow has a history of getting or merging with other real estate technology companies to enhance its capabilities and market share. In recent years, the company has obtained StreetEasy, HotPads, and Trulia, among others. Zillow is expected to continue pursuing acquisition opportunities to further cement its market dominance.
Other Essential Details of Zillow App Business Model
Before build app like Zillow you must analyse essential factors of the Zillow app business model to set up a successful real estate business.
Opportunities

 

●     Innovative techs

●     Growth prospects for real estate

●     First-class financial Performance

Strengths

 

 

●     World-Class Management Team

●     Skilled Workforce/workplace

●     Brand recognition

●     Reliability

●     Coverage

●     Resources

●     Strong Financial Foundation

●     Diverse product portfolio

●     Topnotch Customer satisfaction

Competitors
●     Apartmemnts.com

●     MSN

●     Coldwell Bankers

●     Movoto.com

●     Century 21

●     Move

●     ForRent.com

●     Homes.com

●     Redfin.com

Cost Structure

●     Overheads

●     Acquisitions

●     Technological Innovations and Maintenance costs

key partners

●     Investors

●     Buyers

●     Sellers

●     Real Estate Agents and other Real Estate Professionals

 Key Activities

●     Arrangement of Physical Touring

●     Home Acquisition Finance

●     Bridge Real Estate Information Gaps

●     Generation of Leads

Zillow Channels

●     Website

●     Mobile apps (android/Ios)

●     TV and Print media ads

●     Blogs

●     Social media
The Closing word
The Zillow app has transformed the real estate industry with its excellent features and user-friendly interface. From its revenue streams to its marketing strategies, Zillow app has established itself as a major player in the industry.
As the company continues to grow and evolve, we can expect to see even more exciting developments from this industry leader. Whether you're a home buyer, seller, or real estate professional, the Zillow app business model is a powerful way that can help you make informed decisions and stay ahead of the crowd.
FAQ: Know the Zillow App Business Model
1. What is Zillow's revenue model?
Zillow makes profit through advertising, lead generation, premium subscriptions, and partner programs. In simple words, the company earns money by connecting consumers with real estate agents, mortgage lenders, and other service providers.
2. How accurate are Zillow's home value estimates?
Zillow's home value estimates, also known as "Zestimates," are based on a variety of aspects, including public records and user-submitted data. While they can be a useful starting point for estimating a property's value. It is always best to consult with a licensed real estate agent or appraiser for an accurate valuation.
3. Does Zillow's advertising model create conflicts of interest?
Some industry experts have raised concerns that Zillow's advertising model creates conflicts of interest. For example, real estate agents who pay for advertising on the platform may get preferential treatment in the form of higher placement in search results or more prominent listing displays. However, Zillow has stated that it has strict policies in place to ensure that all listings and advertising are treated fairly and transparently.