If you've ever considered creating a fantasy app similar to dream11, we at TechGropse- a Dream11 clone app development company – have put together a comprehensive tutorial on how to do it.
The Dream11 clone script is a ready-to-use Fantasy Sports App script that may assist you in creating and launching your own Fantasy Sports App similar to Dream11 and generating high money in a short period of time.
Dream11 Clone Script is a fully configurable script that includes all of the top features of the Fantasy Sports App, as well as extra features and plugins that may be tailored to meet your specific company needs.
What is Dream11 Fantasy Sports App?
Harsh Jain and Bhavith Seth launched Dream11, a fantasy sports app headquartered in India, in 2008. The inspiration for the creation of Dream11 came from the popularity of the Indian Premier League (IPL). The notion of fantasy sports arose in response to people's increased interest in cricket and other sports, and Dream11 seized the chance. Let's understand the intriguing information about Dream11 below.
People's reliance on electronics had grown to the point that no one could envisage life without them by the twenty-first century. The year is 2021, and the Internet has taken over virtually every aspect of our life. Entrepreneurs viewed this as an opportunity and launched a slew of businesses centered on providing consumers with what they wanted.
Whether it's a Fantasy sports game, the core concept is the same: consumers can obtain what they need right from their phone. Some of the apps are designed to help users get noticed while also earning money. Dream 11 and other fantasy sports apps are the same. The only difference between this and traditional methods of earning money through sports betting is that it is legal.
The software received a lot of attention soon after it was released. In a country like India, where cricket is treated as if it were a religion, everyone saw an opportunity to earn money while participating in their beloved sport. With over 20 million active users, Dream 11 is one of the first few Fantasy sports applications. We're going to provide you with a step-by-step approach to creating an app similar to dream11 today. We'll talk about features, panels, technology stacks, development costs, and how to pick the right development firm.
So, without further ado, let's get started with A comprehensive tutorial on developing app similar to dream11. 
What is the Dream11 Clone?
Nowadays, the name "online gaming" conjures up images of fantasy sports applications in our heads. The influence of these fantasy sports applications on sports fans is immense, as seen by their large user base. You may provide several sports such as cricket, football, hockey, and many more by designing this app. Let's have a look at how the app similar to dream11 works in order to gain a better grasp of the software.
How Does The Dream11 Clone Work?
With TechGropse, creating a customized app similar to dream11 is now easier than ever. We offer you our service of building a Dream11 clone tailored to your exact specifications.
You may choose to incorporate customized features that cover a variety of fantasy sports, such as football, tennis, hockey, and others. All you have to do is contact us and ask us whatever you want before we start working on your app similar to dream11. 
To sign up, users can use their social network profile or email address. They can also join by utilizing a referral code provided by other users. Profiles may be established by entering information such as an email address, a team name, a gender, a password, a mobile phone number, and other criteria as needed. Users can select their favorite sport from the selection of fantasy games. They may also choose from a variety of games on the app. 
Let's discuss the working process of an app similar to dream11- 
Users can register for free. Users can earn a registration bonus by using a Dream 11 referral code acquired from other users during the signup procedure. At the same time, for recommending Dream 11, the referrer receives a bonus payment.

Now the user must create his or her own fantasy squad, with specific limitations on how many players from each team can be selected.

 When building a new team, a user is given a set number of credits (100 credits), which they may spend to add players of their choice. Each player costs a particular amount of credits, and the user must stay under certain limits in order to choose a whole squad.




 Each contest has a set prize pool and a restriction on the number of teams that can participate.




Based on the contest and the number of teams that have entered, the platform determines how many teams will win and how the winning sums will be allocated based on their rank positions.




You get points and receive a rank at the conclusion of the game based on your team's performance during the real match. After paying a service fee, you receive rewards based on your position in a contest.
The Business Model of The App Similar to Dream11 Clone App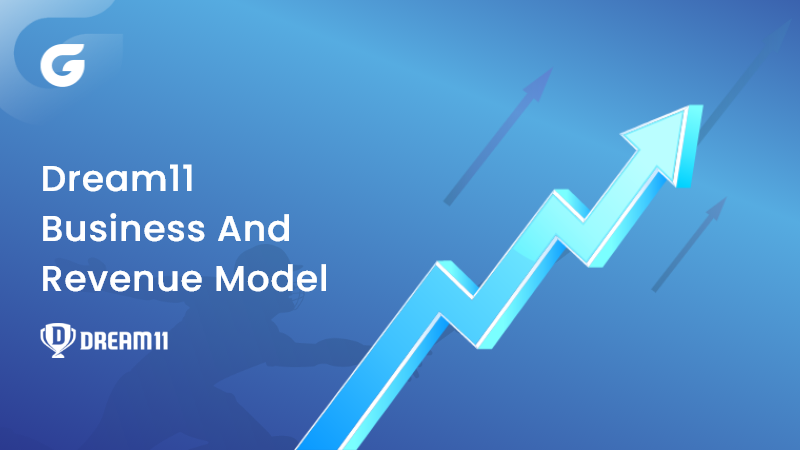 The professionals will assist you in developing an inventive and one-of-a-kind application for your Fantasy Sports business. Choosing the proper mobile app development partner to build your fantasy app is critical to realizing your dream of building a high-quality app.
You may put your aesthetics aside for a change, and what's more, there are other aspects other than unusual color choices that can help you hold your footing in the market. When it comes to mobile application development, there are a few essentials to keep in mind.
The components are as follows:
Experiment with data
When working on your fantasy cricket league app, you'll be dealing with a lot of data. Make sure your app is up to current at all times. The app's focus would be on user interaction and calculation. Make sure the computations don't go awry due to a lack of data. The easier it is to analyze data, the more popular your program will become.
The 5-Second Popularity Rule
You most likely have a user if the user can connect with your app for more than 5 seconds. It's critical that your app be interesting enough to keep visitors interested for at least 5 seconds.
Refresh the Newsroom
We make sure there's adequate capacity for the newest upgrades as we work on your app similar to dream11 improvement. These enhancements make it easier for users to interact with the app and make more informed decisions.
When it comes to fantasy cricket app development, one thing to keep in mind is that it is more about statistics and metrics than it is about aesthetics. Because you'll be bringing a large number of people to your app at once, it's critical that the login page is structured in such a manner that the bounce rate is low.
Aside from that, there are a few more things that Dream11 app developers must consider.
Features of App Similar to Dream11
Admin Login Panel 
Admin Login: The admin can use their ID and password to access their dashboard.
User Management: This gives you complete control over your user accounts and allows you to manage them by adding, editing, removing, or deactivating them.
Dashboard: The stats of fields such as Total Matches (Upcoming, Ongoing, Played Matches), Total Contestant, and Entire Earnings will be displayed in this part.
Manage Payments: The administrator will be able to control the application's numerous payment methods.
Manage Bank Withdrawal Requests: Admin will be able to see the contestant's whole request to withdraw their winnings into their respective bank. Admin has the authority to accept/reject bank information, accept/reject Pan card information, and accept/reject credit card information. View the complete list of contestants (Approved as well as Rejected), Make a monetary donation to the competitor.
Earnings: Use various filters to view all of the application's earnings.
User Panel
Login/Registration: Users can sign up using their social network identities or their email addresses. The referral code can also be used to register a user.
User Account Manager: This tool allows the user to control all aspects of their account. Users can amend, activate, remove, or deactivate their accounts using this function.
Select the Sports: After completing the user profile, the user will be sent to this page, which lists all of the sports available, including cricket, football, NBA, hockey, and others. The user may choose from a variety of sports and matches.
Establish a Fantasy Team: Users may create a fantasy team depending on the sports they've chosen.
Join a Contest or Create Your Own: The user may choose and join a contest by entering the number of teams and the entry cost, or they can create their own contest by providing the number of teams and the entry fee.
Invite and Earn: The user will be given a referral code that they may use to share with their friends in order to earn the bonus amount.
Wallet & Payment Options: Inside the App, the user has access to a virtual wallet. From here, users may easily withdraw money to their bank accounts or add money to their accounts using a debit or credit card or net banking.
Additional Features
When it comes to Dream11 app development, there are a few additional aspects to consider that make it highly appealing to utilize. These features may increase your costs, but the return on investment would undoubtedly be worth the risk.
Live Match Score: Apart from game highlights, expert commentary, and exclusive video programs, users will be able to view live results for a range of events and sports.
Integration with the Live Score API: The app similar to dream11 API provides developers with ready-to-use data that can be quickly incorporated into their platforms.
RM integration: The app is linked to the back-end service provider and assists with ticket management, user location, emailing, push alerts, and a variety of other tasks.
Push Notification: Users receive alerts and messages when it's time to create a team when the match will start, and so on.
Real-time Analytics: In apps like these, where data must be recorded in real-time, this technology is essential. The information is continuously saved and updated in real-time.
GPS Location Tracking: This function is useful for delivering app users alerts and push notifications about forthcoming or ongoing leagues and matches in their area.
Custom Mail Reminder System: Participants will get custom emails informing them of future matches or information about their chosen players or team.
Things to Consider Before Investing in a Fantasy Sports App Development
Developing and launching a Fantasy Sports app is a huge undertaking, and one must be mindful of the end result as well as things that must not be overlooked along the process. So, let's gain a better notion of what you should avoid at all costs while making a dream app like Dream11.
Defining your goals: Defining your goals is the first and most important stage in any business. To realize its ideal project, every firm requires an investment and a goal. So, before you start an online fantasy sports software company, make a budget and a major aim that will help you become a successful entrepreneur in the field.
Target Audience: In order to construct a successful fantasy sports website and application, one must first identify a suitable audience. It allows you to save money while also allowing you to target your prospects. It's also crucial to have a good understanding of your target demographic and geographic area.

Market Research: Market research is a vital phase and one of the most critical variables in the success of a fantasy sports app. The market study will assist them in distinguishing themselves from other company magnets.
Be aware of your competitors

Be familiar with the various platforms

Design the Perfect Features

Regulations, laws, and licenses

Safety and security
These are the steps that must be followed while conducting market research
Choose the correct service provider: Choosing a reputable Fantasy Sports App Development Company is the most critical step in developing your own Fantasy Sports application. Finding the correct development company to build your app is critical.
When it comes to selecting a developer, you should take your time to choose one that exceeds your demands and specifications.
Marketing: Having the greatest marketing methods on your side is the final stage in launching a successful fantasy sports business. There are several successful strategies for promoting your web company available right now. Social media marketing, affiliate marketing, advertising, rewards programs, registration bonuses, and email marketing are the different types of marketing. These are some of the most promising marketing methods for your company.
How to Develop Your Virtual Game Platform With Dream11 Clone App?
You'll need to employ a mobile game app development business to create your virtual game platform with the Dream 11 clone app.
1. Engage The Services of a Development Firm
The best way to figure out how to make a fantasy app like Dream 11 is to engage a development firm. Hiring just any firm isn't going to cut it. When choosing a firm, pay attention to communication, experience, and development costs. The following stage will occur once you have chosen a mobile app development business.

2. Pick The Characteristics You Want
After you've decided on a Fantasy cricket app development firm. You'll have to pick and choose the features you want in your app. However, keep in mind that the more features you select, the higher your development costs will be.
3. Select a Technology Stack
It's critical to get the correct tech stack for your mobile fantasy cricket app development. Your app will become unstable if the technology is too old, and it may become unbalanced if it is too sophisticated. Finding the ideal balance between the two will be the best option.
4. The Stage of Development
After you've decided on a tech stack for your project. The procedure will be in the early stages of development. The MVP for the app will be produced during this stage depending on your requests. During this stage, real app development takes place.
5. Evaluation
Testing is the final development stage of any app development project. There was a lot of testing to do. To guarantee that your mobile app is bug-free and supports all of the available devices on the market, you will need to test it on every conceivable module of Android and iOS.
Publication
It'll be time to publish the software on the App Store and the Play Store once you've completed the testing step. After you've released the app, you can start running ads and campaigns to spread the word about your Fantasy cricket app.
Advantages of Developing An App Like Dream11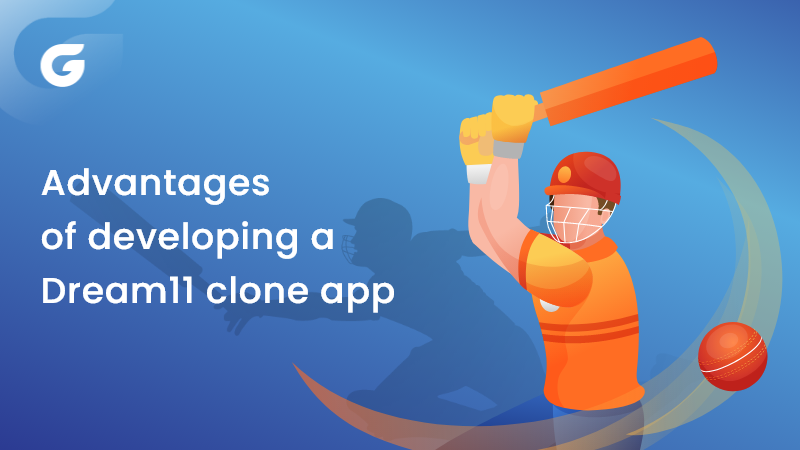 Now is the time to put your confusion behind you and get ready to construct a fantasy sports app. Because there are several advantages to beginning a fantasy sports company. Some of these were discussed further down.
There is less competition: Despite the fact that demand for fantasy sports applications is constantly increasing, there are still few opportunities for fantasy sports app development. You will have less competition in the future than in other sectors. Because the fantasy sports business was still in its early stages, it had a lower completion rate and a greater growth rate.
It is permissible: Another advantage is that fantasy sports are permitted in a number of nations. As a result, you may select a fantasy sports platform for your company. And it can assist sports fans in earning money while enjoying their favorite games.
Associated with well-known brands: Users like participating in fantasy sports for pleasure, excitement, and, most importantly, the chance to win money. Many sports are seeing their brand value rise as a result of fantasy sports applications. In the sphere of fantasy sports companies, there are several options.
Low-cost, high-return investments: One such tool is the fantasy sports website, which allows you to make cheap bets and earn huge returns. However, allow yourself some time to generate income.
Read More : Complete Guide of eSports Industry for Beginners
Strategies For Successful Growth in App Similar to Dream11 Development
To make your fantasy sports app investment a success amid the competitors, you'll need to follow three primary techniques.
Let's have a look at those tactics:
A one-stop-shop for all fantasy sports
Having all of the fantasy sports games on your platform is one of the finest methods to attract all possible consumers and get them to try out your platform. However, you can't have too many games in the app or it would become unstable. One can include the top five most popular games. Football, cricket, Kabaddi, hockey, and badminton are all available. These five games are expected to draw about 80% of the whole fantasy sports market.
Android and iOS app development
You may also invest in both Android and iOS app development. You won't have to worry about losing any of your user bases this way. Android accounts for about 79 percent of the market, while iOS accounts for nearly 21%.
Web page
Investing in website development after launching the app for both Android and iOS may appear to be a waste. But, be assured, it isn't the case. Having a website that integrates with your mobile app will help you stand out from the crowd and maintain a larger gap between you and your competitors. So keep in mind that having a responsive and engaging website is essential. You may hire a website development company for the same. 

Why Choose The Stand-alone App?
Fantasy sports are popular all around the world because they provide a convenient and high-quality gaming experience If you want to establish a fantasy sports business, now is the time to do it. It's a perfect moment to start a fantasy sports business and generate money.
By releasing a feature-rich sports application for Android and iOS platforms, you may get a significant market share. The admission fees alone generated $750 million in income for fantasy sports apps in the first quarter of 2019. By 2026, the market may expect earnings of more than $1 billion. The application's success hinged on its ability to offer a wide range of features and maintain stability.
Read More : How Can You Make Money through a Fantasy Sports App?
How Much Does It Cost to Develop a Dream11 Clone?
The expense of developing a fantasy sports app is the first thing that comes to mind when you consider starting a fantasy sports business. The pricing of a fantasy sports app is influenced by a number of things. The cost of developing a fantasy sports app for a single platform with limited functionality, on the other hand, is difficult to estimate.
When designing a sports betting app, the first consideration should be the nation in which the app will be developed, as well as the platform is chosen. Overall, the price varies depending on the client's needs.
Other factors on which the development cost of an app similar to dream11 depend are- 
Advanced Feature

Multiple Platform Requirements

Experience of  Developers 

Size of the Team

Tech Stack

Location

Additional requirements
Top 10 App Similar to Dream11 Alternatives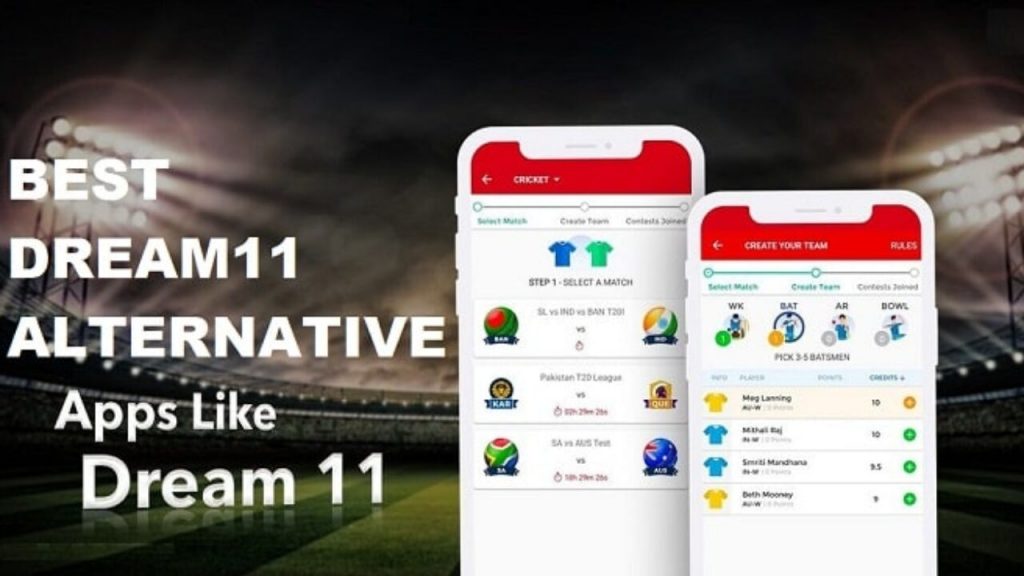 In the app store, you may find a variety of fantasy apps. Although, in the business, there are top-10 fantasy sports applications that people choose to play.
Yahoo Fantasy Sports- If you're looking for a fantasy sports app that has everything you need in one location, Yahoo Fantasy Sports is the app for you.

DraftKings- Offers big cash prizes ranging from $3 to $1 million USD, as well as free tournaments for beginners.

ESPN – Fantasy Sports – Offers a unique competition with friends, team management, expert analysis, and live score tracking.

FanDuel – Users may enter daily and weekly contests on this site. When compared to other games, the gaming charge is reasonable.

SuperDraft- Users may join major leagues such as the NFL, MLB, NBA, PGA Tour, and NHL with this app.

Draft Punk- Users may create a mock draft and keep track of up to 1000 players. It's solely for Fantasy football players.

CBS Fantasy Sports- Users can track performance, season projections, current feeds, weekly match reports, and much more with CBS Fantasy Sports.

LineStar App- Teaches users about sports analytics and how to apply their knowledge to win in leagues.

RealFevr- It's completely free, and users can take part in various events. It's a complete bundle for fantasy sports fans.

Draft Wizard- This program is also known as a good app. It offers fantasy football fans the greatest gaming experience.
Now You Know Everything There Is To Know About -How To Establish a Fantasy Sports Business?
This is the ideal moment to get started on your dream project. To construct your Fantasy Sports platform, use a top-notch Fantasy Sports App Development Company. Make sure you select the best Fantasy sports software suppliers to assist you in all aspects of the company. It comprises software development, marketing, and other activities.
Instead of just wasting time pondering, shake hands with our specialists for an on demand app development and start putting your ideas to the test.