Every day the development of eCommerce is rising. Online shopping is one of eCommerce's most common segments. With technology being convenient each day, smartphones' increased use clearly shows shoppers are comfortable on cell telephones and not on desktops.
This is the reason why mobile eCommerce apps have an incomparable friendly experience and simple affordability.
Online Ecommerce apps enhance the way web-based shopping is done for businesses. It then leverages businesses in the same consumer markets to enhance revenue. With seamless customer service, eCommerce has opened new markets for business development and growth. The development of mobile apps will also be growing to include mobile users today. Mobile apps have allowed businesses to fulfill the requests of mobile customers digitally.
Growth of ECommerce Applications
The below rising graph denotes that mobile is the leader in product browsing and visiting online shops, leaving behind the desktop even if it remains the most common way to complete the shopping. The growing use and importance of mobile apps have also encouraged small businesses to develop their sales applications.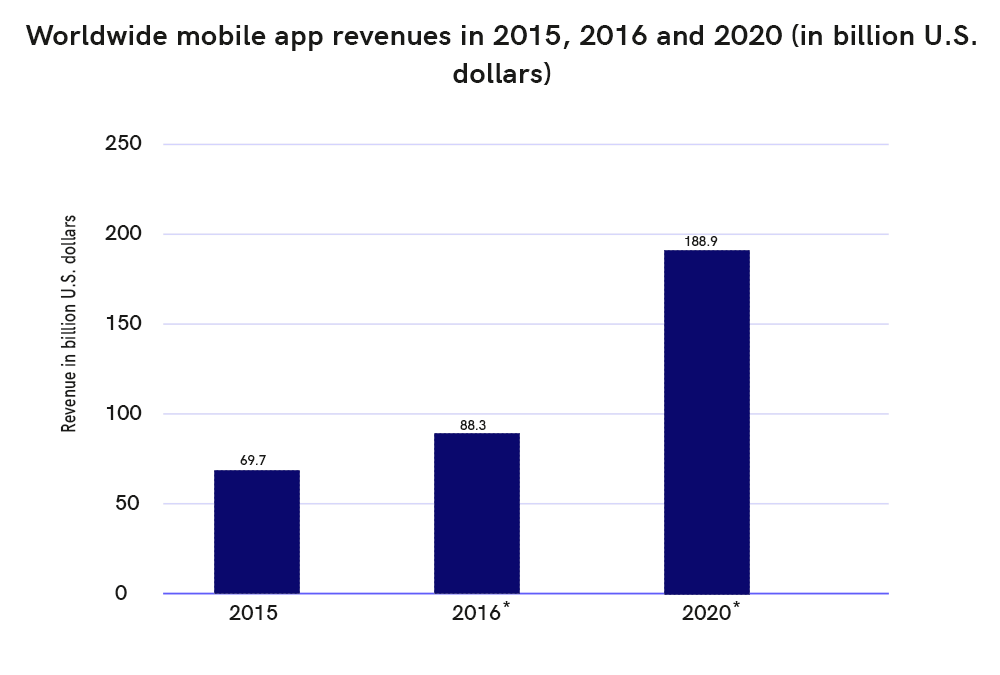 Best E Commerce Applications in 2020
We have enlisted some of the best applications of e-commerce that resonate best with customers in 2020 to fuel your inner shopping soul:
1. Amazon
Jeff Bezos founded Amazon in 1994 as an American-based e-commerce web portal. Amazon.in has been ranked 3rd online traffic and contribution in India, according to Alexa.
It is the world's largest online retailer. Amazon is the best place to shop with 197 million annual visitors for its consumers.
The broad range of products for choosing and purchasing the product is offered. The lightweight and faster functionality of this mobile app enables you to shop in a few clicks. Stable and numerous gates of payment make it secured and transparent. Localization of this app makes discounts simpler for users too. Amazon is one of the best ecommerce apps.
Key Features of this e commerce app:
Lightweight UI.
Faster, safer, and transparent payments.
Wide range of products.
Bugs and errors free.
2. Flipkart
Flipkart is an eCommerce company founded in 2007, and it is India's best online merchandise seller, accessible via an application or website. Using Flipkart, we can do online shopping throughout India. The Flipkart app provides loads of features for its base users.
Flipkart is now a part of Walmart. In 2018, Walmart purchased Flipkart. According to Alexa, Flipkart.com is India's sixth most popular website based on worldwide internet traffic. In addition to the shopping experience, one of the most popular promotions is Flipkart's biggest online shopping festival, Big Billion Days, which churns out millions of orders during the shopping season.
Key features of this application of eCommerce:
Loads of features.
Product rating for better insight.
High discounts.
Order tracking.
3. Myntra
Myntra is one of the biggest shopping e-tailers in lifestyle and fashion products. The product selection from clothes to footwear and accessories is widely available. It aims to provide its consumers with the most trendy products. In 2014, Flipkart acquired Myntra.
Myntra built a niche in eCommerce and people's subtle trust. Also, Myntra 's performance mantra is part of its hybrid logistics model, from discounts to cash on delivery benefits. It is mainly responsible for supply chain management and hires highly-skilled supply officers.
Key features of this mobile app for ecommerce:
Boasts about 100% original products.
Secured payment options.
Gift cards for customer loyalty.
Order tracking.
4. H&M
H&M is one of the world's largest trendy firms. Its user-friendly mobile application has attracted many consumers to purchase its goods. It allows users to use it through many features, such as sharing items through bar-code scanning on social media sites, a push-notification function provides prompt sales notifications.
Users are also free to check for their physical stores in a location nearby. The full-screen HD pictures are shown, and you will have an elegant range of a product with a click of a button. Minimalism and simplicity power the software, which provides several advanced features.
Key features of this one of the best ecommerce mobile apps:
Scan feature.
Store location tracker.
HD pictures for better insight.
Visual search for finding products easily.
5. Pepperfry
Pepperfry is a leading online shop with a large selection of furniture and home decoration items. It is the most common customer site for online furniture purchases with its headquarters in India. The mobile app is inspired by the Augmented Reality feature that makes selecting the right product simple for the consumer.
With this feature, shoppers can arrange their virtual life-size items to display furniture and decorations with mobile equipment at home. This allows consumers to buy the product comfortably and fittingly in their home environment. It is also convenient to purchase items without complaints, thanks to the simple and hassle-free return policy.
Key features of this ecommerce application:
Augmented reality feature.
Minimalistic design.
Store locator.
Blogs for suggestions.
6. Shopclues
Shopclues is the newest addition to India's leading e commerce apps. Compared to Amazon and Flipkart, Shopclues is a marketplace for organized categories of household goods, electrical, apparel products, and everyday supplies. The stores mass-market originates in Tier 2 and Tier 3 cities, with the rest originating from smaller cities.
Shopclues contributes to a voice for brands from unstructured markets. Shopclues has a relatively large trading base. The organization focuses on assisting small and medium-sized traders in smaller towns. One of the most significant revenue generation segments, with more than 50 million visitors on its website, was home and kitchen appliances.
Key features of this e commerce app:
Focuses on smaller cities.
Easy share options of products.
High discounts in the segment.
Secured payment option
7. Lenskart
Lenskart is India's leading supplier of eyewear and is considered as an E-Commerce giant. With augmented reality and various other special features, it allows users to confirm how a pictorial representation of a frame will look on their faces. This simplifies the shopping of customers by providing them no benefit of the doubt.
It is considered India's best E-commerce application in the eyewear segment because of its seamless user experience. Lenskart makes sure to provide every client with insane deals and offers for cutting their overall cost. It also features a smooth return policy.
Key features of this ecommerce mobile app:
Authentic products.
Live chat feature.
Book eye-checkups.
3D trial.
8. Nykaa
Nykaa has been operating since 2014 and is an eCommerce application. Overall, the Nykaa app has about 40 million installations. Nykaa provides a common beauty shopping app. You can buy makeup and cosmetics on this one of the most common apps on the Android ecosystem and is highly ranked in many countries with over 10 million installations.
The push notification feature also does some wonder because it calls on the customers to recall all their ongoing offers. Because of its secure and numerous payment gateways, it has become reliable among clients, and the products can be purchased instantly.
Key features of this ecommerce mobile app:
Product trial before purchasing.
Secured payment methods.
Authentic luxury products.
Earn through referral.
Download this for iOS & Android
9. eBay
The eBay mobile app has made it possible for consumers worldwide to sell whenever they want. The options for search are simplified, both for transactions and sales. The app features bar-code scanning, automated searches, guest checkouts, and PayPal payment gateway.
eBay uses PayPal payment gateway for simplifying the payment of users across the globe. It provides faster payment, even in different currencies as well. eBay makes sure to alert the users about the upcoming auctions or the current auction. Users don't miss good deals because of this feature.
Key features of this e-commerce application:
Do the trading across the globe.
Fast payment gateway.
Search for auctions to save more.
On-time push alerts regarding discounts.
10. TataCliq
TaraCliq is a Mumbai-based Indian E-Commerce firm. It is owned by the renowned Tata Group's Tata UniStore Limited. TataCliq operates in the segment of electronics, apparel, footwear, and accessories categories.
It primarily offers books, music, and video game accessories. TataCliq also promotes handmade gift items. It provides a flat 15% off on the first order.
This ecommerce mobile app features:
Easy returns.
Flat 15% off on first order.
Secured payment.
Wide range of products.
Quench Your Thirst for Shopping
In 2020, it is difficult to ignore mobile commerce apps' rise, mainly because of the global COVID-19 pandemic. If you are an avid shopper, then you should give the given applications a definite try. ECommerce's mobile apps will provide you the best products, in the best price segment, and without any hassle.
Some of these eCommerce mobile apps are motivated by the phenomenal concept of using a functional app that costs thousands of dollars. So, if you think that you have a unique idea, then you should proceed and process the idea of the Android eCommerce app into a beautiful reality. You should start working today to better your eCommerce mobile app by hiring the best eCommerce app development company familiar with the new technologies, trends, and eCommerce mobile app builder.
Frequently Asked Questions
E-commerce ( electronic commerce) is purchasing or selling goods electronically, either online or over the phone. Online shopping via websites and mobile apps for retail sales directly to customers and conversational commerce via live chat, chatbots, and voice assistants is also eCommerce.
1. Identify the audience.
2. Plan essential features.
3. Balancing design elements.
4. Development using suitable language.
5. Intensive testing.
6. App launch & support.
It takes roughly 18 weeks to make an eCommerce app. 10 weeks are for dedicated back-end developers, and eight weeks are for front-end developers for enhancing user experience. 

The cost of developing an e-commerce app ranges from $30,000 to $170,000 on average. The development sophistication, the flexibility of its architecture, and the app's form are the main drivers of application development costs.