"In the world of exploration and travel, build an app like Clear Trip is the first step to making every trip a memorable adventure."
Are you always on the go and need an easy way to book your flights?
Well, guess what?
Technology has changed the way we travel, and flight-booking apps are like magic. Seriously, with just a few taps on your mobile phone, you can find flights, compare prices, and book your tickets without any stress.
Flights booking app development company follows a great strategy to build a successful like Clear Trip needs careful planning, the right decision-making, and meticulous execution.
Clear Trip app is a famous travel booking and management app, that has gained widespread recognition for its seamless functionality, user interface, and excellent user experience.
There are like 6.6 billion people using smartphones all around the world. That is a whole lot of people. And because of that, mobile apps are super important in today's digital world.
Here is something cool: flight booking apps are becoming famous in the travel and tourism industry. The industry is expected to grow by 9.0% each year from 2022 to 2030.
If you want to build an app like Clear Trip you should know these apps make traveling easier for people by giving them a smooth experience and helping them with all their travel things.
In this post, we are gonna talk about all the awesome things clear trip app development, and flight booking apps can do for you, like making your travel experience even better.
So, let's dive in and find out why investing in one of these apps is worth it!
Overview of Clear Trip
Clear Trip is an innovative travel app that allows users to effortlessly plan and book their travels. Whether you are looking to book flights, hotels, or even activities at your destination, Clear Trip has got you covered.
With its sleek and user-friendly interface, the mobile app development company focuses to build an app like Clear Trip and making travel planning an enjoyable experience. Cleartrip is a widely used online travel booking platform that offers a convenient and user-friendly solution for planning and booking travel-related services.
Cleartrip allows users to effortlessly search and book flights, trains, hotels, and a range of activities. The platform provides real-time information on availability, fares, and discounts, allowing travelers to make informed choices.
Clear Trip app development company also offers features like trip planning tools, fare alerts, and the option to save traveler profiles for seamless bookings. Its complete approach to travel planning and booking has made it a famous choice for both leisure and business travelers.
Whether you are a frequent traveler or planning your dream vacation, Clear Trip's features make it a must-have app for any travel enthusiast.
Why Should You Invest in a Flight Booking App like Clear Trip?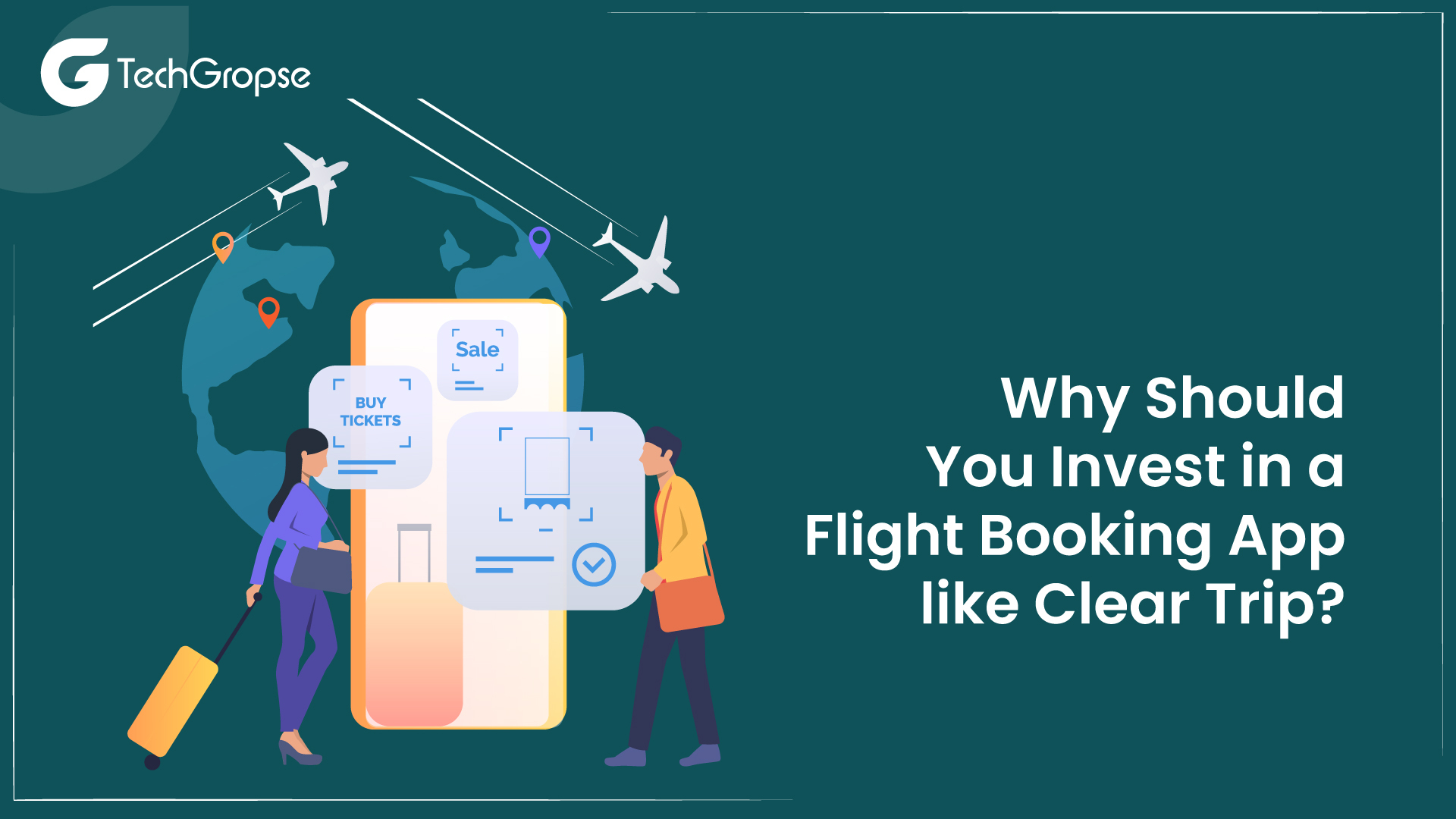 We are living in a digital world where we can get all kinds of services right at our fingertips. Life has become so much easier thanks to all these awesome apps that keep popping up.
Like, seriously, it's crazy how fast things change. Remember when we had to book flights on our computers?
"When you create an app like Cleartrip, you're not just building software; you're crafting a gateway to the world."
Well, now we can do it on our smartphones with these flight booking apps. They are like a must-have for all the fancy business people out there.
That is why flight booking apps are becoming famous right now.
A report says that lots of people get ideas for trips from Instagram and Facebook. Because of this, more and more people are downloading apps to book their plane tickets online.
research shows that a lot of people like using mobile apps to book their travel. It is just easier that way. Additionally, nearly 40% of travelers saw it quicker to book their flights via a mobile app.
Almost 80% of users like getting price alerts on their phones. It makes booking flights even better.
Travel brands that have their apps get a whopping 60% of their bookings from people using their phones.
In fact, it was worth over $500 billion in 2021. Experts think it's going to keep growing by about 9% every year until 2030.
How to Build an App Like Clear Trip?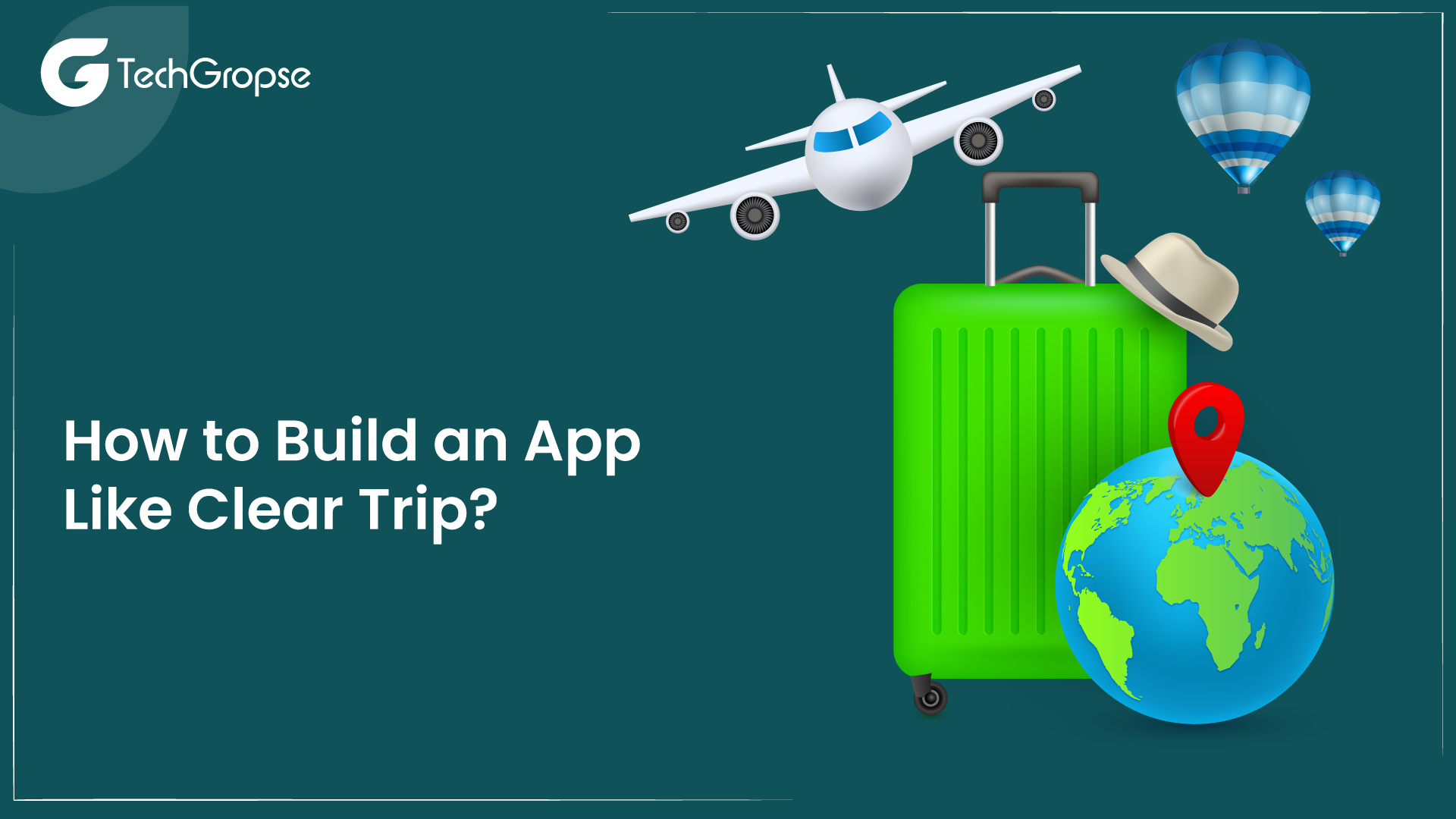 Building an app like Cleartrip, a complete travel booking platform, involves several quite complex steps. Android app development company follows careful planning, detailed development, and continuous optimization to offer a robust and user-friendly platform for travelers.
Regularly update your app based on user feedback and industry trends to stay competitive in the ever-evolving travel tech landscape.
Here is a detailed breakdown of the 10 key steps to build an app like Clear Trip:
1. Market Research and Planning
Tour and travel app development company start by conducting thorough market research to understand the travel industry's dynamics. Determine the target audience, preferences, and pain points. Study competitors like Cleartrip to gain insights into their strengths and weaknesses. Plan your app's unique selling points (USPs) like exclusive features or niche services.
2. Conceptualization and Design
Create a detailed conceptualization of your app, outlining its core features and functionalities. Design the app's user interface and user experience to be intuitive and visually appealing. Develop wireframes and mockups to visualize the app's structure and navigation flow.
3. Technology Stack Selection
Choose the appropriate technology stack based on your project's needs. Select frameworks, programming languages, and databases that are scalable, reliable, and compatible with your development team's expertise.
4. Backend Development
To build clear trip app you should develop the backend of your app to manage server-side operations. It includes database management, user management, and integration with third-party APIs (e.g., for retrieving travel data).

5. Frontend Development
Create the front of your app, which users interact with a Mobile app development company to ensure a responsive design that works seamlessly on different devices and screen sizes. Implement features for users to search for flights, hotels, trains, and activities easily.
6. Integration of APIs
Integrate third-party APIs provided by airlines, hotel chains, and other travel service providers to access real-time data on availability, prices, and reservations. Additionally, the flights booking app development company integrates secure payment gateways to facilitate transactions.
7. User Authentication and Security
To build an app like Clear Trip you have to implement robust user authentication and authorization mechanisms to protect user data and ensure secure transactions. Employ encryption and security best practices to safeguard sensitive information.
8. Booking and Payment Processing
You should hire dedicated developers to develop features that allow users to browse and book travel services effectively. Implement secure payment processing systems to manage transactions, including digital wallets and payment gateways.
9. Testing and Quality Assurance
Rigorously test the app's functionality, usability, and security. Android app development company conduct various types of testing like performance testing, functional testing, and security testing, to identify and address any issues or bugs.
10. Launch and Marketing
Launch your app on app stores (iOS and Android) or as a web application. Simultaneously, tour and travel app development company execute a comprehensive marketing strategy to promote your app. Use social media marketing, search engine optimization (SEO), email campaigns, and paid advertising to reach and attract users.
Key Features and Functionality of an App Like Clear Trip
"An amazing app like Cleartrip is not only about booking hotels and flights; it's about allowing travelers to write their own stories."
To provide a seamless and user-friendly experience in an app like Cleartrip, an ideal on demand app development company should include a range of features and functionalities that cater to travelers' needs.
Here are the essential features you should include to build an app like Clear Trip:
#Customer Panel
| | |
| --- | --- |
| Feature/Functionality | Description |
| User Registration and Profile | Allow users to create accounts, log in, and manage their profiles, including personal information and preferences. |
| Search and Booking | Provide a user-friendly interface for searching and booking flights, hotels, trains, and activities. |
| Real-time Availability and Pricing | Display real-time availability and pricing information by integrating with travel service providers. |
| Booking Management | Enable users to view and manage their booking history, itineraries, e-tickets, and hotel reservations. |
| Secure Payment Processing | Implement secure payment gateways for seamless and safe transactions, supporting various payment methods. |
| Notifications and Alerts | Send timely notifications and alerts for booking confirmations, flight updates, and promotional offers. |
| Wishlist and Saved Searches | Allow users to create wishlists for future trips and save preferred search criteria for quick access. |
| Travel Reviews and Ratings | Enable users to write reviews and rate their travel experiences, providing insights for other travelers. |
| Multi-language and Currency Support | Offer support for multiple languages and currencies for international users. |
| Discounts and Special Offers | Showcase discounts, deals, and promotions to encourage cost-effective travel choices. |
| Customer Support and Chat | Provide multiple customer support channels, including chat, email, and phone support, with 24/7 availability. |
| Social Media Integration | Allows users to share travel plans, experiences, and reviews on social media platforms directly from the app. |
| Accessibility Features | Ensure the app is accessible to users with disabilities through features like screen readers and voice commands. |
| Trip Planning and Itinerary Builder | Offers tools for users to plan trips, create detailed itineraries, and organize their travel schedules. |
| Offline Access and Data Sync | Allow offline access to travel information and sync data once internet connectivity is restored. |
| Feedback and Surveys | Collect user feedback through surveys and forms to continuously enhance the user experience. |
#Admin Panel
| | |
| --- | --- |
| Feature/Functionality | Description |
| Dashboard and Analytics | Provide an overview of app performance, including user statistics, bookings, revenue, and other key metrics. |
| User Management | Allow administrators to manage user accounts, including account creation, modification, and access control. |
| Content Management | Allow the addition, editing, and removal of travel services, like flights, hotels, trains, and activities. |
| Booking Management | View and manage all bookings, including reservations, cancellations, modifications, and refunds. |
| Payment and Transaction Logs | Monitor and review payment transactions, track financial data, and generate transaction reports. |
| Discount and Promotion Control | Manage discounts, promotions, and special offers, including the ability to set conditions and validity periods. |
| Customer Support | Provide tools for responding to user inquiries and support requests, including chat and email management. |
| Review and Rating Management | Monitor user-generated reviews and ratings, and take action when necessary, such as moderating content. |
| Inventory and Availability | Track the availability of travel services, ensuring that booking options are up-to-date and accurate. |
| Reporting and Analytics | Generate detailed reports on app usage, financial performance, user behavior, and other relevant data. |
| Content Moderation | Implement content moderation tools to ensure user-generated content aligns with community guidelines and policies. |
| Security and Access Control | Enforce security measures and access control to protect sensitive data and prevent unauthorized access. |
| Notifications and Alerts | Set up notifications and alerts for critical events, such as booking anomalies, system issues, and user complaints. |
| Data Backup and Recovery | Establish data backup and recovery mechanisms to prevent data loss in the event of system failures or disasters. |
| API Integration | Integrate with third-party APIs for retrieving travel data, managing payment gateways, and supporting other services. |
| Content Publishing | Publish travel content, including deals, promotions, and destination guides, to engage users and encourage bookings. |
| Role-Based Access Control | Assign roles and permissions to admin users based on their responsibilities and access requirements. |
How Much Does it Cost to Build an App Like Clear Trip?
Clear Trip app development cost involves various factors, and costs can differ based on your specific needs and location.
Below is a rough estimate of development costs for a Cleartrip-like app, broken down into categories:
| | |
| --- | --- |
| Cost Category | Estimated Cost Range |
| Development Team | $5,000 – $15,000+ |
| App Features and Complexity | $20,000 – $50,000+ |
| Platform (iOS, Android, Web) | $50,000 – $100,000+ |
| Design and User Experience | $30,000 – $70,000+ |
| Backend Development | $80,000 – $100,000+ |
| Third-Party Integrations | $50,000 – $100,000+ |
| Testing and Quality Assurance | $20,000 – $60,000+ |
| Security and Compliance | $20,000 – $50,000+ |
| Maintenance and Updates | Ongoing Costs |
| Marketing and Launch | Variable |
| Total Estimated Cost | $120,000 – $420,000 |
List of the Best App Like Clear Trip
Each of these travel booking apps has its unique strengths and target markets. Users can choose the one that aligns best with their travel preferences and requirements.
Here is a comparison table of top travel booking apps similar to Cleartrip, highlighting their key features and differences:
App Name
Key Features
Notable Differences
Expedia
– Extensive search options for flights, hotels, and cars.

– Bundled deals for cost savings.

– Loyalty program for members.

– Offers a loyalty program for frequent travelers.

– Focuses on a wide range of travel services.

Kayak
– Comprehensive travel search engine.

– Price alerts and fare tracking.

– Explore features for trip inspiration.

– Strong focus on flight and hotel search.

– Offers a unique "Explore" feature for flexible travelers.

Booking.com
– Wide selection of accommodations worldwide.

– User reviews and ratings.

– Secret Deals for extra discounts.

– Primarily focused on hotel bookings.

– Offers exclusive "Secret Deals."

Skyscanner
– Powerful flight search and comparison tool.

– Alerts for price drops.

– "Everywhere" option for flexible travelers.

– Emphasis on flight search and comparison.

– Unique "Everywhere" search option.

TripAdvisor
– User-generated reviews and ratings for hotels and attractions.

– Trip planning tools.

– Restaurant recommendations.

– Focus on user-generated reviews and recommendations.

– Includes restaurant suggestions.

MakeMyTrip
– Domestic and international flight booking.

– Hotel booking and holiday packages.

– Exclusive discounts for app users.

– Strong presence in the Indian market.

– Offers exclusive discounts.

Agoda
– Focus on the Asia-Pacific region.

– Insider Deals for extra savings.

– User-friendly interface.

– Specializes in the Asia-Pacific region.

– Offers Insider Deals for extra discounts.

Priceline
– Express Deals with deep discounts on hotels.

— Cruise and vacation packages.

– Focuses on offering deep hotel discounts through Express Deals.
Ready to Build an App Like Clear Trip?
If you plan to build an app like Clear Trip it requires a combination of careful planning, thorough research, and skilled execution.
By following the steps outlined in this post, you can set yourself on the path to creating a successful travel app that delivers a seamless user experience and meets the needs of your target audience.
Remember to continuously gather user feedback, adapt to changing market trends, and prioritize continuous improvement to ensure the long-term success of your app.
With dedication and a customer-centric approach, you can build an app like Clear Trip that rivals Clear Trip and adds value to the lives of travelers worldwide.
FAQ: 10 Steps to Build an App Like Clear Trip
1. Is it necessary to have prior experience in app development to build an app like Clear Trip?
No, prior experience in app development is not an absolute requirement. However, having a basic understanding of app development concepts, technologies, and design principles can be beneficial. Additionally, partnering with experienced app developers or hiring a development team can provide the expertise needed to bring your app idea to fruition.
2. How long does it typically take to build an app like Clear Trip?
The time required to build an app like Clear Trip can vary depending on various factors such as the complexity of features, team size, and development approach. On average, it can take several months to a year to develop a fully functional, high-quality travel app. It is crucial to allocate sufficient time for thorough planning, development, testing, and iteration to ensure a successful outcome.
3. What are the key challenges in building a travel app like Clear Trip?
Building a travel app like Clear Trip can come with its own set of challenges. Some common challenges include integrating complex travel APIs, ensuring seamless user experience across different platforms, optimizing app performance for a large user base, and staying competitive in a rapidly evolving market.
4. How important is user feedback in the app development process?
User feedback plays a crucial role in the app development process. It provides valuable insights into user preferences, pain points, and areas for improvement. Incorporating user feedback allows you to enhance the app's functionality, usability, and overall user experience.