Did you know that The food delivery company in the United States has surpassed a net worth of $30 billion. Now we might have the pandemic to thank for that but  With more people using their mobile phones to buy food, the concept of food delivery app is spreading like wildfire. As a result, food delivery platforms are tracking down their target market, understanding their needs, and identifying areas where they excel in climbing the edge their competitors give. 
Social networking and cell phones will soon have a future at restaurant tables. With the increased opportunities to earn fortune with food delivery apps comes the question How Much Does it Cost to Build a Food Delivery App? In this blog we will discuss everything about Food Delivery App, coming down to the final question: How Much Does it Cost to Build a Food Delivery App?
How Do Food Delivery Apps Work?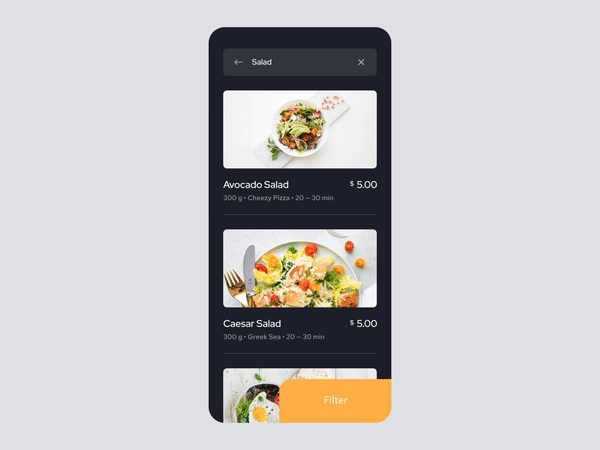 To provide your users the maximum options available you as a business or individual working on food delivery application development must collaborate with restaurants, food services, and even bakeries if that is feasible. You need to collaborate with the food services even before you think about creating an online food ordering app. 
The main purpose is to create the shared multi-restaurant delivery software app that will be used by the catering companies you are partnering with. The user's location should also be integrated in the app since this will allow app users to choose a restaurant, food item, and delivery location.
The restaurant is informed once the consumer pays or chooses COD. When the food service has finished processing the order, the delivery department is notified and the customer is served. The profit is divided between the owner of the app and the food delivery service after the delivery report has been created.
When you want to create your own food delivery app, there are several steps to keep in mind. Although it is true that you can create the app, there is a potential that you will make blunders. Even a small mistake might end up costing you a lot by delaying the launch of your company or resulting in other problems. So, it is preferable to hire a mobile app development company in USA. 
Food Delivery Apps: Markets Statistics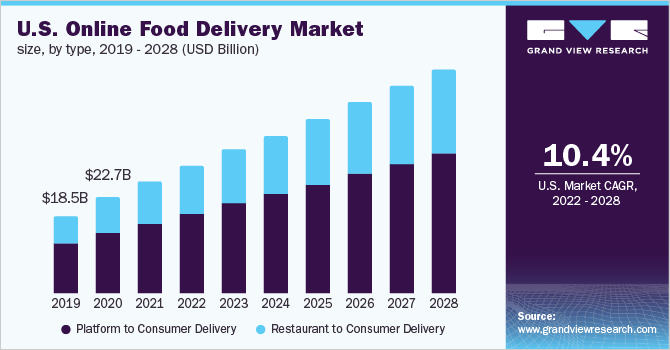 Users are downloading and using more online food delivery apps thanks to how convenient it is to get food with only a few taps on their smartphones. The rate at which demand for the development of food delivery apps is increasing shows how quickly the divide between online and offline demand is narrowing and how, in a few years, online demand will overtake the traditional offline ordering system. 
Since you are interested to develop a food delivery app and want to know the Cost to Build a Food Delivery App, let's first what you'll be getting after investing- 
The industry for online food delivery is anticipated to generate US$136,431 million in profits in 2020.

By 2024, the market for online food delivery is expected to have a share of US$ 182,327 million thanks to a projected 7.5% CAGR in turnover between 2020 and 2024.

With an anticipated US$70,741 million in sales in 2020, Platform-to-Consumer has the greatest share of the online meal delivery industry.

China is expected to generate the greatest income in the industry globally, with US$51,514 million in 2020.

USA Today estimates that the industry for online food delivery generated $17 billion in sales in 2018 and $19.472 billion in 2019. According to the same estimate, the online meal delivery industry in the United States is anticipated to reach $22.332 billion in 2021 and have more than 116.1 million consumers.

With more than 124.4 million users, the entire online food delivery industry in the US is anticipated to reach $24.461 billion in 2023.
These statistics prove why you should build food delivery app. You will be able to generate high profits while partnering with a food ordering app development company. Now we will move further to reach the crux of the topic: Cost to Build a Food Delivery App. 
Cost to Build a Food Delivery App: Deciding Factors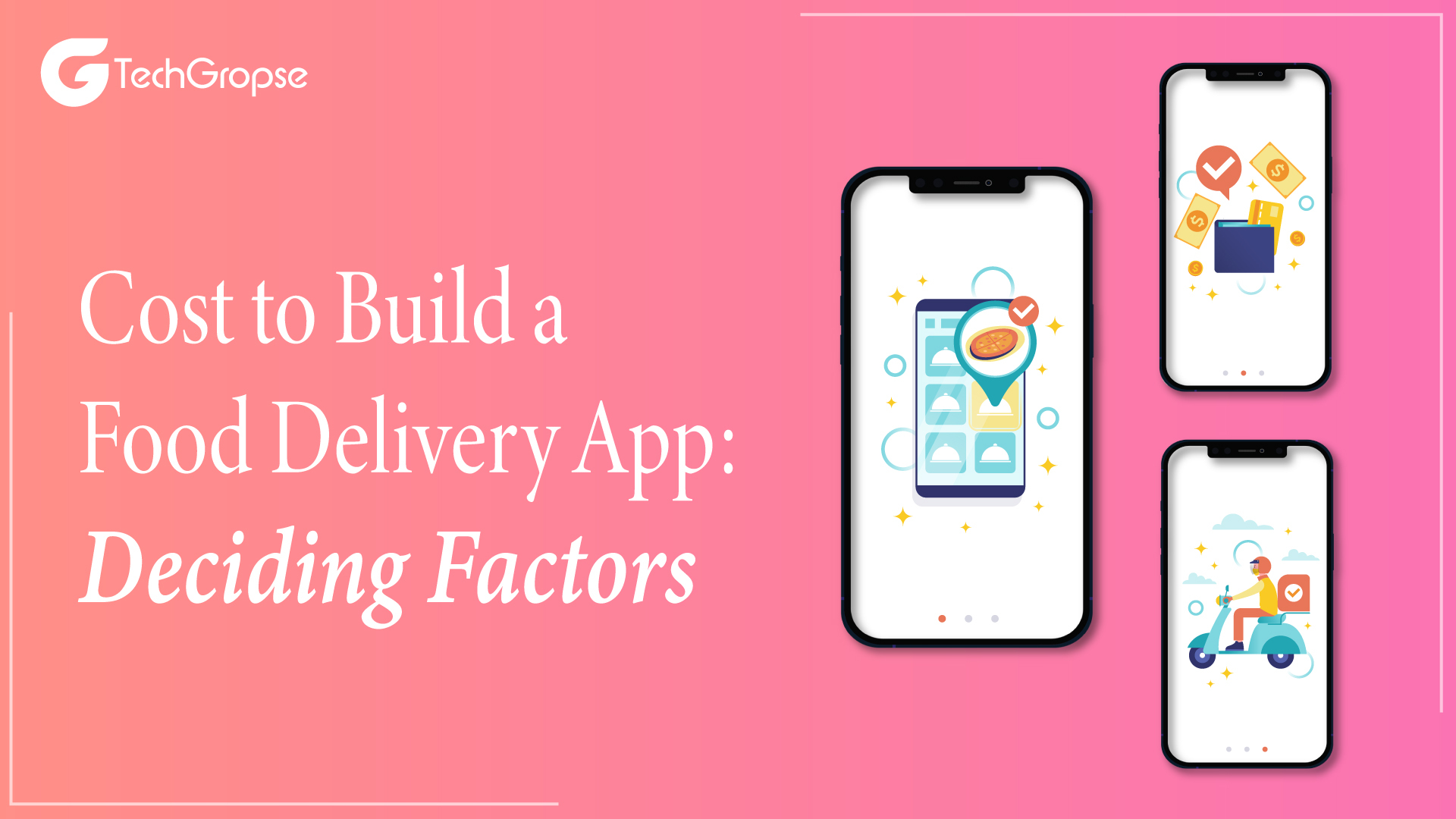 Before jumping straight to an estimated cost we would like to state that the Cost to Build a Food Delivery App depends upon a lot of factors. To make you get the best idea we have categorized them below.
Development Platform, Scope
These two elements have a big impact on the cost of food delivery apps. The market niche for developing food delivery apps has already been selected and is stable. The pricing is also impacted by the platform you choose. The cost of android app development is lower than what a leading custom iPhone app development company charges. Cross-platform app development and flutter app development are far more affordable and effective for businesses and aspiring entrepreneurs than both of these solutions.
Hours of Development 
More development time equals more features. The industry of custom food delivery app development operates around this maxim. That's understandable given that each app feature has a distinct set of technical requirements and a specified amount of time for planning, developing, testing, and deployment.
As was previously noted, the development time for food delivery applications typically ranges from 550 to 800 hours. So, to generate a quick lump sum estimate multiply your projected development hours by the developer's hourly fee.
>>> Read More: Excellent Home Based Food Business Ideas for Women in 2023 <<<
Hire on demand app developers from TechGropse since they can recommend certain APIs to shorten the time and cost of your development. APIs are simple technologies that facilitate data communication between various applications. Deploying APIs rather than building a native functionality will help you cut down development cost and time. 
Tech Stack and Tools 
A strong back-end, admin panel, and analytics dashboard are essential to build food delivery app. This can only happen when you partner with a food delivery app development company. 
Let's talk about an example here, you could want a conversion platform if one of the unique selling points of your food delivery app is the ability to accept bitcoin payments. But you must note that if you decide to add this feature you are going to have to pay for this conversion deployment. 
Simply said, you could have to stretch your development budget if your food delivery app is power-packed with the latest technologies.  For example, offering the latest tech features in your industry might really provide you an advantage over your rivals both now and in the future.
Keep in mind that your app and your app will employ many resources These resources will include third-party databases, cloud services, location and map tools, cost calculators, and chatbots. Partner with a leading on demand app development company that can provide you a dynamic tech stack for development. 
>>> Read More: Cost to Develop an App Like Talabat <<<
Development Phase 
Leading custom food delivery app development offers full-cycle development which includes prototyping, design, programming, testing, maintenance and launching services.
Logic argues that you get what you pay for. Our business experts and analysts suggest full-cycle development processes for new entrepreneurs rather than investing in stand-alone services. By doing this, you can maintain financial stability and streamline your business operations.
Here is a general outline of the phases of development so you can understand better. We have also broken down the  Cost to Build a Food Delivery App phase wise
| | |
| --- | --- |
| Stage of Development  | Cost  |
| Discovery  | 3,000 – 5,000 USD  |
| UI/UX | 12,000 – 15,000 USD  |
| Back-End and Front-End Development  | 25,000 – 60,000 USD  |
| API Integration  | 5,000 – 7,000 USD  |
| Testing  | 10,000 – 20,000 USD  |
| Deployment and Launch  | 1000 USD – Depending on your contract |
Design Complexity 
You should also be aware that the complexity of your app impacts the cost after a brief breakdown of the many phases of development and their prices. For instance, choosing a design with little branding will have a good effect on your budget. You can accomplish this if you hire mobile app developers. 
App Security 
You should also be aware that the complexity of your app impacts the cost after a brief breakdown of the many phases of development and their prices. For instance, choosing a design with little branding will have a good effect on your budget.

Because they handle customers' private information, including delivery addresses and financial information for bill payment, meal delivery apps require high-end app security. These are both really serious issues. Your app must be as secure as possible to never compromise on the protection of this data in order to provide a satisfying user experience.
To secure the security of their apps, hire dedicated developers. First, they use end-to-end encryption to prevent communications and data shared within the app from leaving it.
Second, they make sure the development toolkits are virus-free and that the back-end development uses tools that are error-free.
Each and every data security precaution has a price. Sure your priority should be to save cost of development  but protecting the privacy and data security of your users and preventing hackers from accessing your app's back end should be one of your prime concerns. 
Make sure your developers and QA team battle-test your application during the development and testing phases to prevent similar accidents. Make sure to do several instrumentation, functional, and scale tests to verify the security of your app.
>>> Read More: Grocery Delivery App Development Cost & Features <<<
Side Costs
These are extra expenses that you might or might not have to pay as your Cost to Build a Food Delivery App. Having these features will help you somewhere along your journey. 
Cost Factor 

Description 

Cost 

Infrastructure

With this comes domain, and hosting and the data servers which are used for deploying your app.

$30 – 300 per month

Patent 

This is a method to safeguard an asset's intellectual property rights; yet, it is not advised unless your food delivery app is very unique. The cost of a patent depends on the concept you wish to protect.

$3,000 – 10,000 

Marketing 

Once you have an app ready you can choose to market it out there in the world. You can do so with the help of an ASO agency. Other methods of app promotion include authority development and search engine marketing.

$200 – $2000

App Maintenance 

After launch, reputable mobile app development services typically offer a free 30- to 45-day maintenance plan.

But after the first year of the app's release, you'll need to purchase maintenance services.  This upkeep will take care of your app's stability and updates.

$1,000 – 5,000
Conclusion
The sector for online food delivery may have been dominated by huge companies like UberEats or Doordash. For startups or existing businesses, however, who want to segment the market and target particular groups with their applications, there are plenty of chances.
It's necessary to bear in mind that there are several stakeholders in this business model (users, couriers, restaurants), and you must strike a balance in providing value to each of them. Users cannot exist without couriers, and couriers cannot exist without users in this light and shadow concept (same logic goes for restaurants). This highlights the significance of expertly developed apps and simple business logic.
For a more accurate estimate Cost to Build a Food Delivery App, contact our team.