Businesses all across the world are following in the footsteps of IT discoveries and advancements. This obviously indicates that they are attempting to implement nearly all forms of advancements into their business.
Still, improvements in  ways of imparting knowledge assist the education field as well. As more educational software is developed to meet the individual as well as institutional needs of students and teachers. You can give an outstanding and engaging user experience by using these software.
You should be aware that elearning software development has several benefits, the most noteworthy of which is that it is a cost-effective alternative for all sorts of district schools and educational institutions.
So, let's take a closer look at the Education Software Examples 2022. Before listing down the best education software examples, let's first understand what education software examples are.
What is Education Software?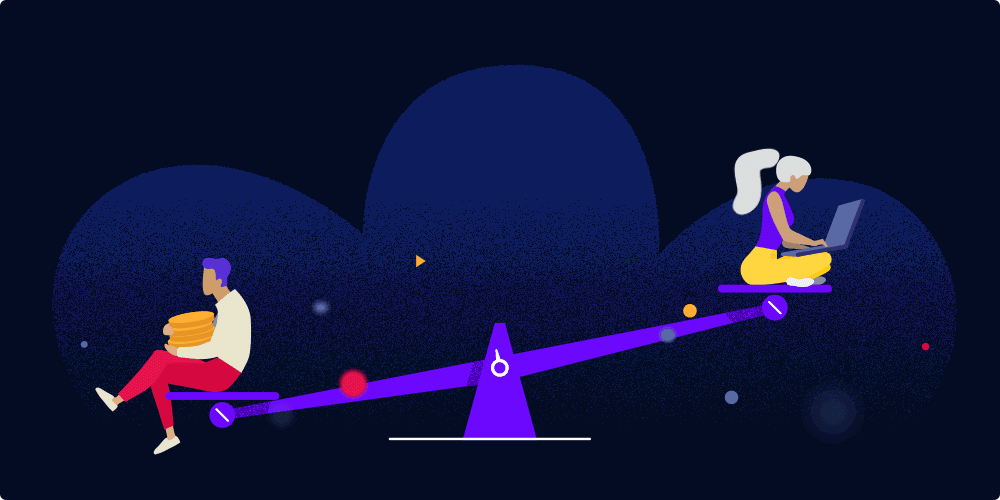 Education software is a generic term that refers to any and all software developed specifically for the education sector.In layman's term- Education Software is any computer software which is designed for educational purposes.
From student information systems and classroom administration software to reference management software and language learning software, the term encompasses it all.
All of it, however, is intended to improve the efficiency or effectiveness of some part of the education sector. Schools have a reputation for being among the last to adopt technology, but as the digital revolution has resulted in the remodeling and reformation of sectors across the board, they, too, have begun to recognize the unavoidable.
Why To Use Educational Software?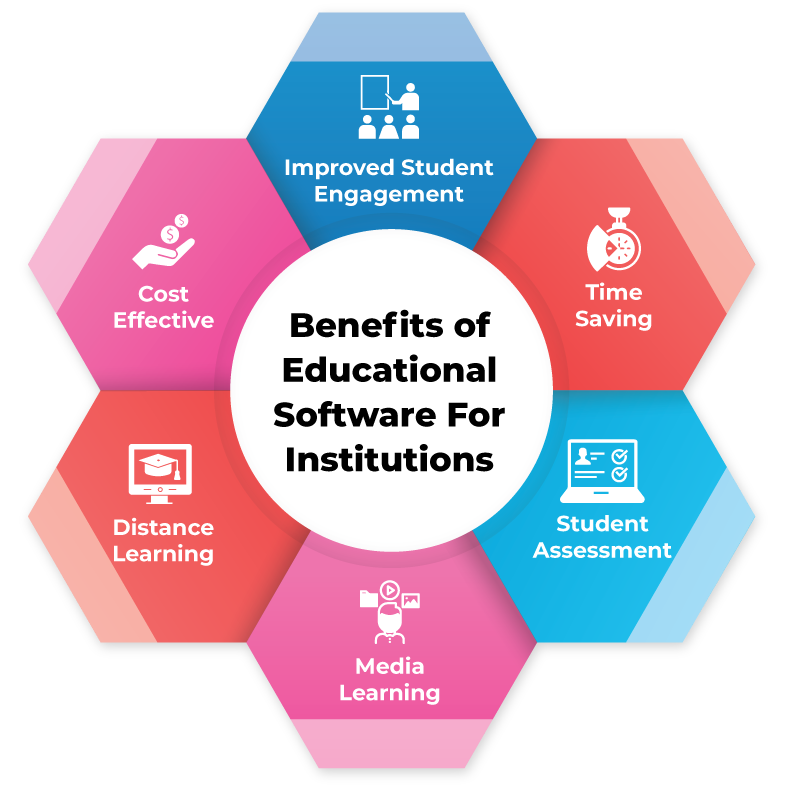 Education software helps teachers, admins, learners, and parents all at the same time. These solutions provide users a variety of advantages, ranging from better visibility and content distribution to analytics and improved forms of communication.
Education Software are more advantageous since they also provide improved efficacy, efficiency, smart content, enhanced communication, consolidation of data and information.
Smarter Content – Education software has the ability to transform the way content is prepared and delivered to students. Artificial intelligence-enabled digital content can provide information that adjusts to students' expertise levels. This "smart" information is easily modified, disseminated, and used by students of different generations. Digital content has the extra benefit of instructor monitoring and frequently includes built-in assessments that teachers can use to conduct tests and analyze student results.
Clear Communication- Seamless communication between teachers, parents, and students is essential for the learning process. To effectively teach students, there must be a high degree of respect and trust. Through forums, portals, and other interactive features, educational software and applications aid in the development of strong links between all parties. Parents and children have access to resources that facilitate communication among themselves, teachers, and admins.
Enhanced Efficiency and Efficacy – Any institution's objective is to become more productive and efficient, and education software assists businesses in accomplishing this goal. Teachers can use classroom management software to avoid distractions and enhance attentiveness on course content. Admins can use information systems' insights to impact policy and administrative choices. Admins benefit from educational software as well.
12 Education Software Examples 2022
A helpful place to begin understanding education software is identifying the best education softwares. We have listed down the list of best education softwares in 2022. If you to wish to launch an education software you should partner with a leading education app development company.
1.   Schoology
Schools can embrace Schoology's interactive tools to make the world more reachable to their students. Students are given a number of assignments since there are so many various ways to deliver knowledge.
The software is loved because of its appealing appearance, multiple features, students, and teachers. The bulk tool for tasks is likewise of great quality! Schoology has a variety of functions, such as the numerous sorts of evaluation question pieces that are available.
Thanks to custom elearnig app development, Individual assignments can also be assigned to customize training.  Its capacity to combine courses is exceptional, and you will also appreciate the messaging it provides and how it is delivered to your mail. Creating and sharing teaching resources is really useful.
Schoology provides students with a customized learning platform that allows them to engage in a one-of-a-kind digital learning experience. Students can share their work both locally and globally. Additionally, the software provides a highly customizable e-platform.
Data, analytics, and targeted learning are all part of it, as are effective communication and cooperation. Its staff is exceptional at finding innovative initiatives to increase free and business products.
After these additions have been approved or are in the pipeline, it will take some time for them to make their way from development to users. Schoology charges a monthly fee of ten dollars. It also offers a free version to its users.

2.   Google Classrooms
Google Classroom is a Google Apps is another best education software that facilitates teachers to create and manage lessons quickly, provide timely feedback, and communicate with their students.
Google Classroom is available for any device. You can use it with your phone, tablet, and laptop. With google classrooms it is easy to  create assignments, upload lesson content, make announcements, share links and YouTube videos, and do a lot more.
All contents shared in a Google Classroom will be posted to Google Drive, allowing you to view them from anywhere. In the classroom, you can also create a quiz to distribute to the students.
3.   Talent LMS
Talent LMS is another gifted product of elearning app development services. To allow other departments to browse the site, split it into sections. Everything is well-organized, and you can access information in a variety of ways.
The programme is customizable, allowing your team to design or buy courses to match your unique needs. With this education software you can also make graphs and statistics for customer based as per their usage and it is easy to track groups or development of a particular student.
TalentLMS features strong analytics and writing skills and is extremely adaptable. It  has various useful integrations, and, most importantly, is a low-cost LMS. Another significant advantage is the customer service.
To aid with any issues, there is a knowledge base, a customer success manager, a helpline, and a live chat channel. Moreover, every question you raise is met with a prompt and dedicated response.
4.   Litmos
Litmos is another great education software which is also intuitive to use. Employee, customer, partner, and compliance training are the most common applications for the software.  Litmos, when integrated into the system, provides multiple different features that are paramount for businesses.
To begin with, it makes it easier to increase the performance training of both internal and external groups. It also accelerates the rate at which you can enhance your talents. Additionally, Litmos provides a seamless online course builder in the form of a module that applies content development tools supported by multiple formats.
The software also includes virtual instructor-led training, tests, and quizzes to assess retention of knowledge. Litmos aids in the building of eCommerce, the simple management of your programmes, and the updating of each one facilitated by messages and notifications.
The good parts don't just end here, this education software also delivers learning routes, data and interactive dashboard that assesses performance to analyse the impact of learning.
5.   Wisenet
Wisenet's cloud-based platform enables higher education institutions to enhance successful learning outcomes, increase productivity, and develop business through a suite of integrated apps.
For more than 20 years, Wisenet has been the premier seller of cloud-based solutions for education and training organizations. It collaborates directly with clients to continually create all services and products while staying ahead of the competition by leveraging world-class technology.
This software allows you to grant ownership to individual leads, which is really beneficial. It's also useful for keeping track of customer information and saving all papers in one place. It aids in the reduction of time spent on processes that would otherwise take a lifetime. Furthermore, numerous users can access all client documents and information in a single location with a few taps on their screen.
6.   Workday Student
Workday Student is an information system for students and professors that ties Workday Financial Management, Human Capital Management, Payroll, and more at a single place.
It unifies an entire campus in a single cloud-based, customisable, and user-friendly interface. The workday is well-organized and easy to access. It's a multifunctional tool that can be used for HR, student data, CRM, and a variety of other things. Secondly, one login can help you do a plethora of work.
Workday Student assists great enterprises to actively participate and reduces the number of programmes that must be logged into on a daily basis. The education software is a great tool for teachers to deliver notifications, homework, comments, and other information to their students. It allows students to keep track of upcoming deadlines and also inform them to their fellow students.
It save times for students who are hunting internships and jobs since it saves all the past application data.
7.   Dyknow
Dyknow is the ultimate monitoring option for K-12 schools and districts with school-issued devices. Dyknow Classroom Management provides teachers with the resources they need to combat distractions, increase active learning, and successfully implement technology in the classroom.
Dyknow allows teachers to see real-time thumbnails of all students, block websites and applications, engage students, and review student activity history after class. Dyknow also aids K-12 administrators and technology coaches in accessing detailed device use data in order to identify squandered funds by evaluating how school-issued devices and technology tools are used.
One thing precious than any money is time, and Dyknow helps you save that.  The Real-Time Activity Tracker is useful for evaluating how many students visit certain websites and identifying a student or two who are using the system inappropriately.
This further goes on to sending private message to students who are distracted from their path. Dyknow has a feature relevant to this 'Freeze Screen' which can turn out to be really useful.
8.   ClassDojo
ClassDojo is a classroom management education software that emphasises positive reinforcement and parent communication. It's useful to be able to keep track of what happens and show the children's and parents' successes as well as areas for improvement.
You will be left in awe when you discover how appreciation and reporting language can be adjusted to the needs of the classroom. Another useful feature is the ability to display parent-child chats as well as public communications.
ClassDojo also assists parents in tracking their children's progress. This will be extremely beneficial, especially if you are a busy parent who is unable to attend school meetings. You can contact your child's teacher and request updates. This system enables you to deliver real-time feedback to students on their activities, participation, and performance.
9.   Socrative
The impact of quick feedback in the learning process cannot be overstated. Socrative is an effective approach to monitor and assess learning in the classroom or the business. Monitoring and assessment save instructors time while providing learners with engaging and interesting experiences.
Instead of monitoring the clock, learners will be actively engaged in entertaining activities that include the entire class in collaborative learning, such as the popular Space Race quiz.
Socrative is an outstanding piece of software for evaluating in-class low-stakes formations. It allows students to assess their knowledge and evaluate how the class as a whole is performing. With Socrative teachers can identify areas where students need improvement allowing them to raise questions and answer them as soon as they arise.
10.  Lanschool
Thanks to Lenovo's backing, LanSchool has been putting purposeful technology in the hands of enthusiastic educators for over 30 years.
LanSchool's classroom management, filtering, and student safety solutions improve student learning and collaboration while maximising teaching time and keeping students and school networks secure.
Monitoring, limiting exposure, and sharing programmes and information on additional screens from a central location is advantageous. Because everyone is actively involved in the subject, it tremendously aids in the distinction of a lecture.
Students will watch your screen and follow your routine in a little window. You have no problem if a pupil is unable to focus on the monitor due to lighting issues or their classroom location.
11. Kahoot
Kahoot! converts presentations, training, and events into engaging experiences in companies of all sizes. Using Kahoot!, anybody can create and deliver interesting learning experiences, known as kahoots, on any topic in minutes.
The most exciting aspect of Kahoot! is how it keeps kids interested. They can observe what their classmates are saying and reply to questions. They also compete with one another, but in a friendly way.
With Kahoot Students are kept motivated and interested in the course content. Other instructors have also created kahoots that you can see publicly and customize for your kids' lessons, making it a bit easier for a teacher to instantly put something up. The speed may be adjusted to accommodate the needs of the kids. However, while using this feature it can be a bit confusing to format math.
12. Edmodo
Edmodo assists students, teachers, parents, and administrators in improving their learning abilities. It enables learners to connect with people and customers in order to fulfil their full potential.
Edmodo is listed amongst the largest global learning network for K-12 students, teachers, and admins. It has the potential to keep clients interested throughout the learning process. Customers may activate a free administrator account using this instructional tool, which speeds up learning programmes. It also awards badges to learners who perform well on assessments.
It also offers a platform that connects students, administrators, and parents via online classroom discussions. Furthermore, Edmodo aids students in poll creation and creates a community network for greater learning and communication. Customers can also customise the app to match their individual needs while also monitoring their growth.
Conclusion
This brings us to the end of the blog. We hope that we have succeeded in taking you on a tour of all leading education software. This brings us to the conclusion  that technology is an important component of the modern- day classroom, with education software having grown in popularity over the last few decades. These software are simple, budget- friendly (some are even free), and straightforward to use.
When it comes to turning digital in the educational sector, there is a boost in this industry. Many organizations own education software and have taken standard teaching approaches to a whole new level. This engages students while also assisting teachers in keeping up with educational technologies. Hire elearning app developers to create seamless education softwares.