Technology is changing the world completely. Nowadays, various sectors have started implementing new technologies to serve the best customers. We have observed several outstanding innovations in healthcare, such as patient monitoring systems, robotic surgery and more. Therefore, healthcare app development is trending today.
Nowadays, healthcare applications are gaining popularity among people because of instant access to smartphones & internet. With the help of an application, it is easy to transform the healthcare system and patient care on different levels. Henceforth, medical agencies decided to invest in healthcare app development services. 
But when it comes to building an app, it is necessary to have healthcare app ideas that will assist you in building next-generation solutions for your medical centre. So prior to starting the project, you need to make a plan and generate new ideas that are unique and innovative from your competitors.
If you decide to build a healthcare application, we will share some healthcare app ideas that will help you craft a professional look application equipped with rich features.
Reasons to Invest in Healthcare App Development
A mobile application is an effective tool that attracts users and streamlines the hospital's functioning. From registering to discharging the patient, it can assist you in performing different operations simply and effectively. 
With an attractive app, you can serve the best to your valuable customers and improve their services. There are many other reasons to invest in healthcare applications. Some of the reasons are mentioned below: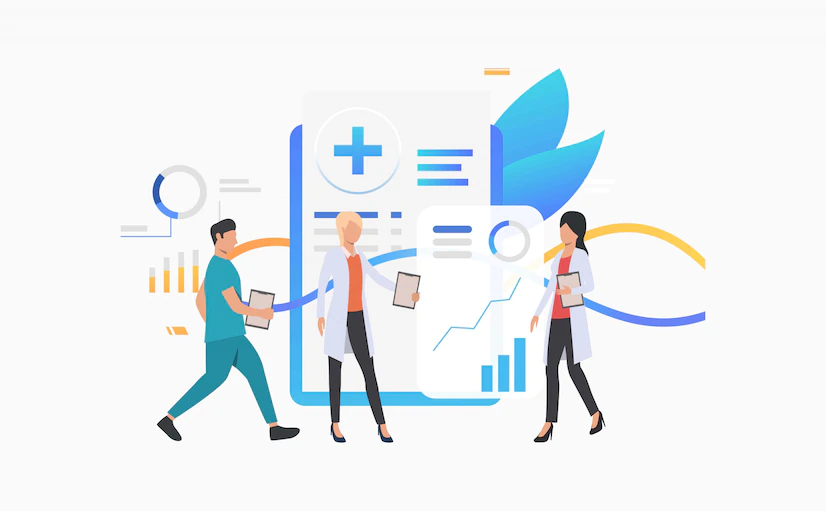 Hassle-Free Appointment Booking 
No doubt, patients must visit the hospital or call the receptionist to book an appointment. It is a time-consuming and long procedure. But having an app makes it easy to communicate with experts. In simple terms, with an app, it is easy to make the booking procedure stress-free for patients. 
Additionally, it also lessens the burden of the receptionists as they require not to make reminder calls to the patients a day before. Having an app for the hospital allows patients to find a doctor urgently and book an appointment at their convenience. Hence, you should invest in healthcare app development.
Easier Access to Medical Reports
With an app, patients do not need to rush to hospitals and laboratories to collect reports. Having an app, they can collect their report anytime and anywhere. Plus, users can consult the physician accordingly without going through the trouble of forgetting the reports at home or misplacing them. 
It not only boosts the patient's convenience but always reduces the paperwork. It means hospitals can be relaxed about the report collection. This is an excellent reason to invest in healthcare applications. 
No doubt that medical applications for patients amalgamated with a centralised database enable the physician to check a patient's medical record and, on the basis of this, provide optimal solutions to them. 
It makes sure that the doctor can pay attention to multiple patients simultaneously. As a result, the quality of services will improve the brand's reputation. Therefore, it is necessary to build an app for your healthcare industry. However, you should have healthcare app ideas that make the app development process smooth and easy. 
Dealing with bills is a hefty procedure for both the hospital staff and patients. Doubtless, keeping track of all the patients manually is a time-consuming task. However, a mobile application can cut down this lengthy process in a few minutes. 
Through an app, patients can choose their preferred payment method, pay online and get in touch with their insurer through a mobile application. In simple terms, the payment procedure becomes more comfortable for both ends. Hence, it is necessary to have a mobile app.
Medical applications can make you stand out in the market, where hospitals still need to familiarise themselves with the ample advantages of mobile technology. You can also add the push notification feature in order to inform the patients about their reports, appointment, promotion, and special offers. 
Read also: Healthcare App Development: Cost and Key Features
In order to stay in the market, it is necessary that you entice the users, and medical applications can be the best way to do so. It will allow you to gather patient feedback and analyse user behaviour. 
With appropriate information, you are eligible to determine your services and develop user-centric marketing strategies. 
Once you know why you should invest in a healthcare application for your hospital, you need to get in touch with a healthcare app development company that will provide you with an innovative and responsive application.
However, it is necessary to have top healthcare app ideas that help you in making an app that looks professional and innovative. So, when deciding to hire dedicated developers for your next project, you need to have appropriate plans.
Top 10 Healthcare App Ideas for Healthcare Startups in 2023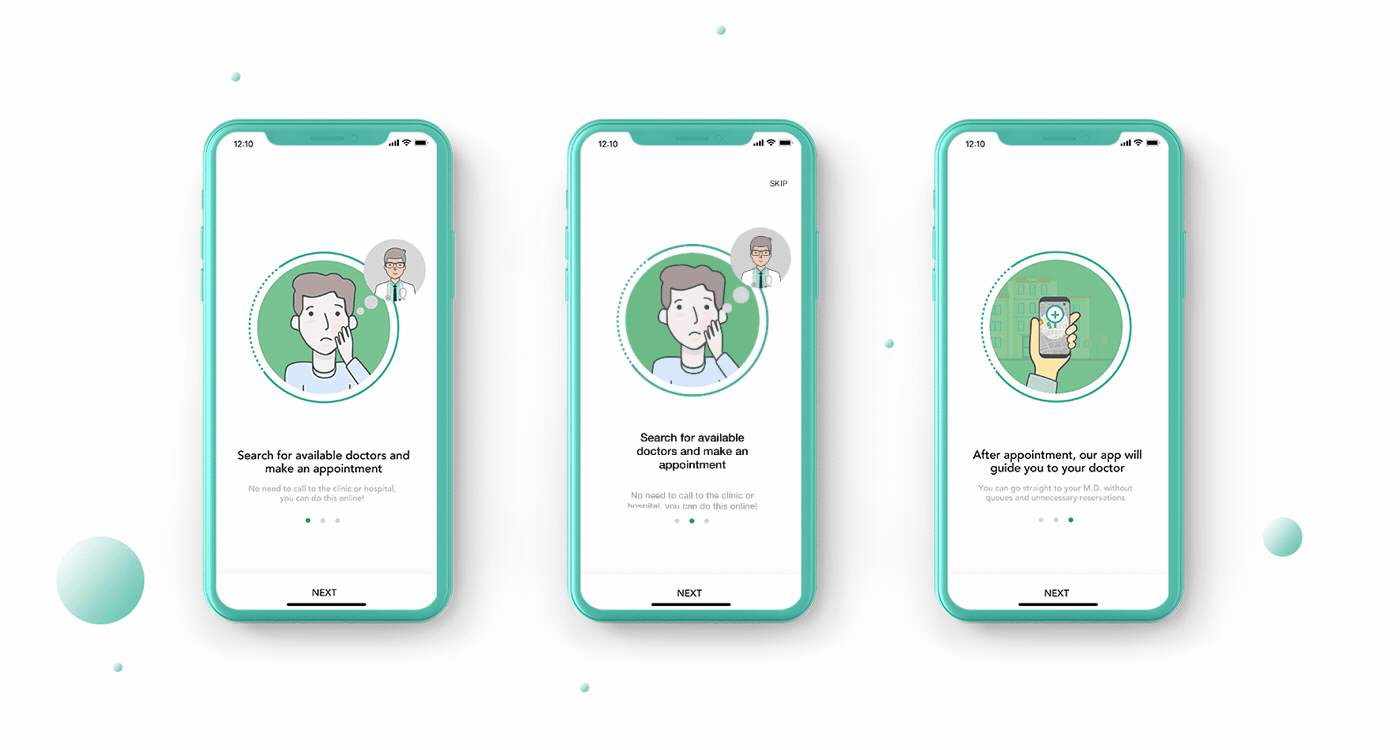 Along with the global increase in smartphone use, the demand for healthcare applications is becoming high. Mobile apps for healthcare facilities help you deliver higher-quality care and improve patient interaction and better workflow. 
A report shows that 15% of smartphone users have health applications on their smartphones. Therefore, it is a great opportunity for the medical centre to build an application including rich features. However, you should have appropriate healthcare app ideas in 2023. Below we mentioned a list of the top 10 healthcare app ideas for startups:
1. Healthcare Monitoring App
This excellent healthcare app idea is mainly developed to monitor chronic diseases such as blood pressure, diabetes, glucose level, cancer, etc. Apart from this, the application allows physicians or health professionals to monitor each patient's health status to provide them with appropriate treatment or prescription. 
To build a healthcare monitoring app for your business, you need to get in touch with a mobile app development company that will give you the ultimate solutions as per your desire. Moreover, they ensure that there is no bug or other technical glitches that may affect the application's performance. 

2. Application for Women's Wellbeing 
Undoubtedly, men and women have different needs for healthcare. When we talk about women, the structure of their bodies is completely different from men. You know that women's menstrual cycle is essential to their health and body. 
This app allows women to address their health and wellness issues and requirements. You can also build an app that will provide information on different types of diseases, such as breast cancer, PCOS and sexually transmitted diseases, as well as contact the best gynaecologists and get suggestions from them. 
However, you should get in touch with a reputable agency that is committed to providing you with android app development services within your budget. It ensures you get the possibility you want for your healthcare centre.
But building a responsive and fully functional application takes work, so you need to hire mobile app developers who will work on your healthcare app ideas. They will give you one of the best solutions that meet your business requirements. 
3. Nutritional Value Management App
It is undoubtedly difficult to take care of your diet because of a busy schedule. This is why nutritional value management apps help in finding the nutritional value of food items. This application suggests food item options based on the nutritional value measurement of every user that keeps them healthy. 
It makes sure that you get appropriate nutrients to keep healthy. For instance, this application tracks the calorie count of food consumed based on the count. So, you can take this idea from the list of healthcare app ideas to build a custom and functional application.

4. Healthcare Record-Keeping Application
There are lots of people who need more time to manage their health records. If your important documents or reports are missing, their ongoing or future treatment may be impacted. However, healthcare record-keeping applications allow patients to upload their health records and share them with their physicians after booking an appointment. 
Moreover, it allows the experts to best review the medical history and prescribes the best medication during consultation. However, you need to get in touch with a healthcare app development company that has a clear and good track record in the field of healthcare app development. So you can share your healthcare app ideas with the experts and get the desired results that you want for your next project. 
5. Health Reminder Applications
This application helps users to enhance their health by reminding them to achieve their personal health goals. You can also develop a medication reminder application that gives permission to users to monitor pills intake and set reminders regarding dosage and medication. 
Another great idea included in the list of healthcare app ideas is that you can build a water reminder app that helps the users to take water in a day. In simple terms, they can take care of their health and stay fit and healthy.
However, you need to get in touch with experts committed to providing on demand app development services to valuable customers within their budgets. 
6. Personal Medical Records App
The personal medical records app enables the patient to enter their health records and share them with their medical expertise before making an appointment. This kind of application will enable a physician to examine the patient's history and provide the best solutions to them. 
If you want to build a personal medical records app, it is necessary to have healthcare app ideas. With appropriate ideas and strategies, it is easy to build a functional and easy-to-use next-generation application for your business. 

7. Mental Health Application
Nowadays, depression, stress and anxiety are some of the basic mental ailments affecting millions. These problems are also responsible for making human life complicated and difficult. Hence, you can choose this idea from the list of top healthcare app ideas; that is a great opportunity for people who are fighting against these mental issues.
However, you need to get in touch with a reputable and trustworthy on demand app development company with years of experience designing and developing native, hybrid and custom applications for your healthcare centre. 
8. Appointment Booking App
This is another great idea in the list of top healthcare app ideas that is beneficial for the physician. Many well-known experts are showing interest in developing their own appointment-scheduling apps in order to inform their patients of their availability and give them appointment scheduling. 
Another great idea in the list of top healthcare ideas is to create a social platform for patients and physicians where patients can contact the experts based on their illness and search for scheduled calls, consultations, or schedule appointments to go home. 

9. Online Therapy Application 
An online therapy app allows users to pay a subscription for unlimited messages. Any of these healthcare app ideas will assist the patients in talking about their health problems in person. With this app, professionals can connect with each other, reach more mentally ill patients, and improve their communication skills.
Therefore, it is a great idea to develop an online therapy application that is equipped with the latest features and technology. So, there is a high chance that there is no error or technical glitches. 
10. Home Workout App
Home workout app development can be a good move that can assist you in reaping bundles if everything is executed rightly. There is no doubt that many people cannot go to the gym, which is why they prefer home workouts over visiting fitness centres. 
In the home workout app, coaches share custom exercise videos with the users and track their progress daily to make the right suggestions. Apart from this, health and fitness tips are shared for free to keep the users achieve their health goals without any issues. 
The Final Note 
Technology makes changes in the healthcare sector and improves the quality of care with evolving patients expectations. With the help of an app, you can easily communicate with the patient and provide the best services to them. If you want to build the best solutions for your hospital, it is necessary to have great healthcare app ideas.
This will make sure that you get one of the best solutions for your business. However, more than ideas are needed to develop an app. You should also hire dedicated developers who have years of experience and knowledge about technology and trends.