Think of the times when you had to wait for days to send someone a message over mail. Technology flourished and today is the time when you can send a message anywhere in the world with a simple tap in a matter of less than a second.
Messaging apps have become the oxygen of air, present in a limited amount but of great use. To think about it, there are a few messaging apps that serve the best and there are a gazillion of people who use them.
One of the best app options available to its users for messaging services is Kik. The market is open widely for new competitive options and you could be the one to harness the potential of it.
In this blog we are going to discuss in detail how one can Build an App Like Kik, something even better than Kik and earn huge profits from it.
Kik: A Historical Background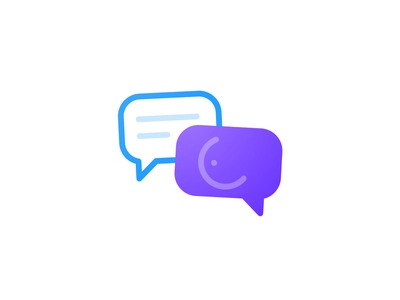 A group of Canadian University of Waterloo students who wanted to develop new technologies for usage on mobile cell phones launched Kik Interactive in 2009.
The first application created by Kik Interactive, Kik Messenger, was made available on October 19, 2010. Kik Messenger registered one million users within 15 days of its launch, and Twitter is credited with helping the new service gain traction.
Kik secured a $50 million investment from Tencent, the parent firm of well-known Chinese messaging service WeChat, on August 16, 2015. Tencent is a major player in the Internet industry.
The investment increased the company's valuation to $1 billion. Kik's CEO Ted Livingston indicated that the firm wanted to become "the WeChat of the West" and that one of the key components of its strategy was to draw in younger people.
Also in 2017, Kik made the decision to forego more venture capital investment in favor of generating close to $100 million in a well-known initial coin offering on the Ethereum network. They offered "Kin" digital tokens for sale to the participants in this crowd sale.
The Kin Coin was formally launched in beta on the Kik platform in June 2018.
Only US citizens were allowed to download the Kinit beta app when it was made available on the Google Play store in July 2018 by the Kin Foundation. It provides a variety of natural ways for users to earn and spend the Kin token; for instance, they may do short surveys to earn Kin and spend it on digital items like gift cards.
Ted Livingston, the CEO and creator of Kik, revealed in a blog post in September 2019 that Kik Messenger will be discontinued. But we  must note that this decision was later not taken into action and finally Medialab became the owner of Kik Messenger in Oct 2019.
Source: Wikipedia 
Why Develop an App like Kik? Kik Market Statistics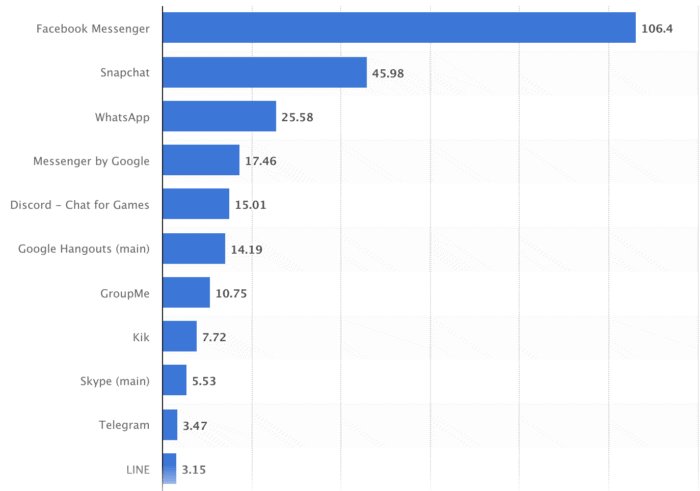 More than ten years after its launch, Kik has finally secured its reputation as a private messaging service. The market follows the notion that Kik has potential to give an edge to apps like Facebook and Whatsapp Messenger.
Following are some statistics of Kik Messenger apps which will surely make you want to invest in Messaging & Chat App Development and develop an app like Kik.
Kik figures state that there are 300 million registered users even though the app has 15 million active users per month.
The United States accounts for 7.2 million of the 15 million active monthly users. The smartphone app is used on a monthly basis by 48% of American youth.
Approximately 75 percent of its users are between the ages of 13 and 24. It is the most well-liked among teens in the US. They use it to message their app buddies.
The average monthly use for Kik's active users is 36.5 hours, or one hour per day and 2.24 minutes each session.
Among American youths, Kik ranks amongst the top 10 messaging apps.
Well-known companies like Sephora and Shopify have already started using Kik to interact with American teenagers in an effort to boost sales and brand exposure.
These statistics must've raised your eyebrows and might have compelled you to ask the question 'Why didn't I Develop an App like Kik already'? No worries if you haven't, we will guide you through the 'How' part and your app like kik will be far better than kik.
Develop an App Like Kik: The Procedure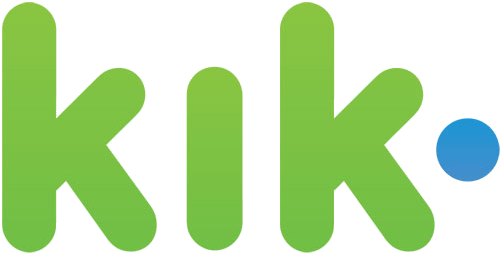 Making a number of choices early on in your business path will greatly ease the route to success. Regardless of your expertise in technology or not, you need to complete your research and cover all the bases before turning your app concept into a real life working idea.
It doesn't matter if you want to build an app like kik yourself or if you need to engage a business to do it for you, being clear about what needs to be built is essential.
Now we will discuss the procedure to build an app like kik:
1. Choose Development Platform: Native or Hybrid
You must choose the platform for which you will build before beginning the development process. Whether the messaging app is designed for iPhone, Android, or both users? This would be useful when deciding whether to create a native app or a cross-platform app.
Native applications are exclusively platform-specific, meaning they are either Android or iOS. You can opt for iPhone app development services if you wish to create an iOS app.
They feature more functionality and a better user experience. Having native applications created during the early stages of your company places a huge cost strain if you are pursuing a larger audience. Opting for cross platform app development can turn out to be much more fruitful as per financial perspective.
2. Circle your Target Audience
Who is your messaging service aimed at? Is it the general public or business professionals? You can emphasize on the scope of the product and choose the features you need to include in the app by deciding if the app is intended for enterprise-level communication or business chat.
You could be tempted to add a lot of high-end features to the app, including chatbots, IOT connectivity, and artificial intelligence, but determining your target market will help you draw the line. You can choose the mobile app's scope based on the real requirements and in-depth market research of the target audience.

3. Focus on your Minimum Viable Product
The initial release of your messaging app should be a minimal viable product, which just includes the basic features. The more advanced features can be added later.
When you get along with the development process you will notice that the additional features that you will integrate in your app will make the scope of your app like kik vary a lot. Defining the MVP can give you and the development team you are partnering with a lot of clarity and will also scale timeliness.
4. Development Phase
It's time to get started now that you have a clear idea of the finished product you want to create. If you are a techie yourself you can start with the development process right away.  If not, you should start looking for an Instant Messaging app development company of developers that can make your app concept a reality.
There are many possibilities, but choosing the team that best suits your needs might be challenging. There are several factors to take into account: remote, in-house, freelancing or full-time? Your budget size is also an important aspect in the development process.
The birth phase of the startup which requires partnering with a leading On demand app development company needs a lot of study. Make sure you choose the best app development company to build an app like kik.
5. Implement Changes
Because of the intense competition in this industry and the speed at which technology is developing, the messaging app you develop will need to be updated often to remain competitive. Since the competition comes from the top players in the market, the user experience that your app provides must remain competitive.
You can encounter certain obstacles when developing your app, but you must be able to refocus on success. They refer to this as achieving product-market fit. Since creating an app requires a lot of resources, you also need to think about how to make money from it.
The monetization strategy has to be in place whether you provide subscription-based plans or need to use an advertising-based business model, this will ensure that you are able to get long term profitability.
Build an App like Kik with Following Features: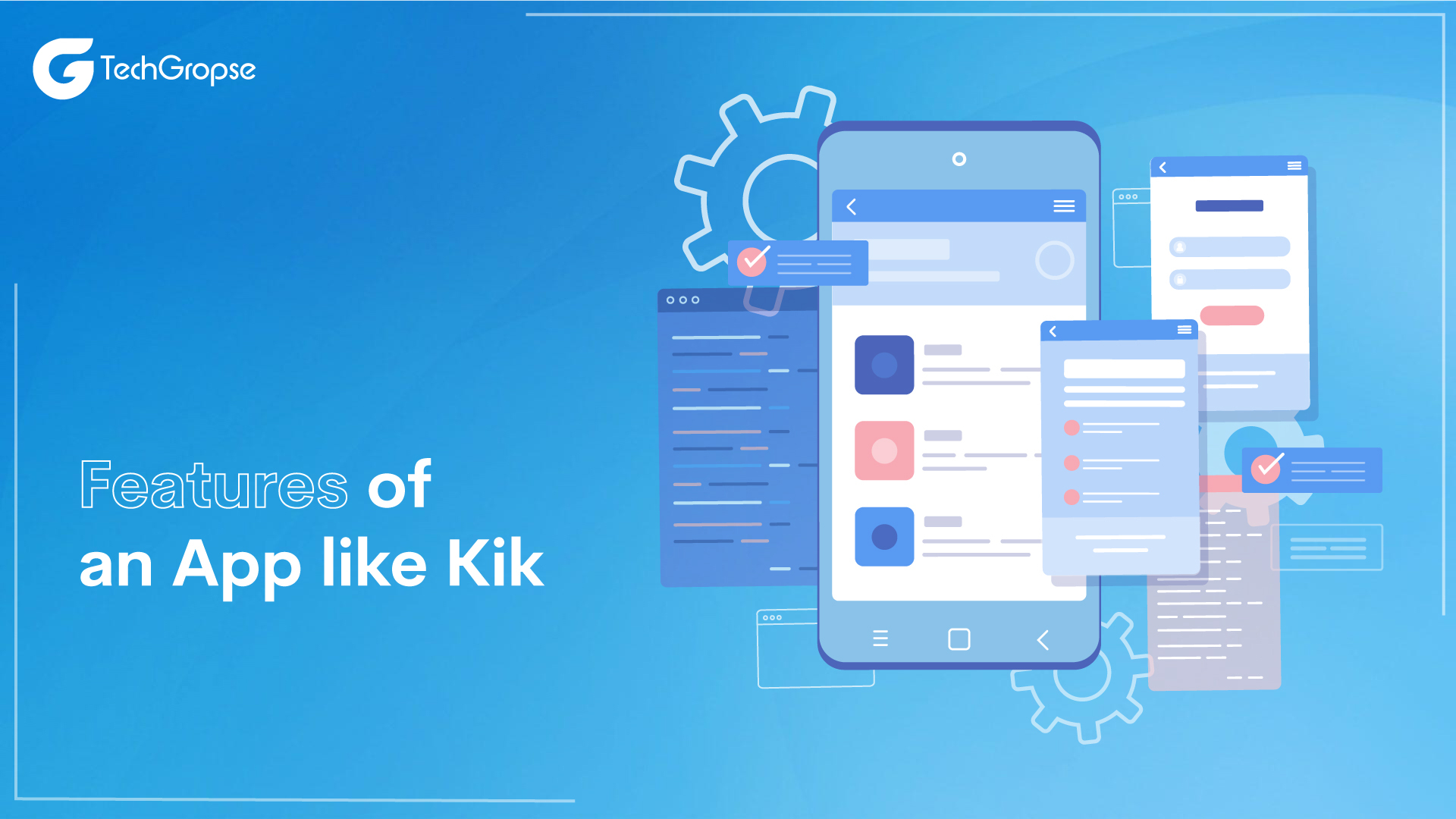 Any app's functionality and popularity truly and solely depends on the features that you integrate during the development phase. To build an app like kik that rules the market with its high performing and user-friendly features it is important that you partner with the best Messaging app development company. Now let's talk about the features that are necessary to build an app like Kik-
Privacy: By using a user ID name, the user can obtain authorisation without providing his email address or phone number.
Unlimited File Uploads: With help of on demand app developers you can develop a feature that can let users upload an unlimited number of files.
Chatting: Such a feature allows users to chat with a friend or in a group too.
Share: Hire dedicated developers to develop a feature in your app like kik with which your users can share pictures, videos, gifs and much more. Hire on demand app developers that are experienced in curating solutions for integrating share feature in your app.
Web and desktop: This feature allows users to link all their chats and multimedia to a PC or some other device they want.
Live Typing: With such a feature you can see it in real time when a person is typing a message for you. This is one of the most popular features for an app like kik.
Filter Spam Accounts: By following their images using the TinEye feature, the user may readily spot the fraudulent users who are fooling them. The user will be able to remove undesirable individuals or stalkers. The user will be able to remove undesirable users or stalkers. The user will be able to remove spam users or stalkers.
Status 'Typing': The purpose of this tool is to have fun with your buddies. Status "is typing." Others will assume you are constantly typing and be mind boggled if you switch your status to "is typing."
Kik Clone Website: Users can easily download this app to use on PC. At times when your phone is inaccessible such a feature comes handy to text someone with an app like kik.
Make friends: By using KIK, you can stay in touch with individuals in your social circle and meet new people to become friends with.
Advertisement on Kik: To use the Kik app's advertisements for a specific brand, users must email the logos of the businesses they are promoting.
Kik for PC: An app like kik is also available for window users using which users can chat with their friends. If you wish to develop an app like kik for different platforms, say- android, you can hire android app developers to build an app for the same.
Conclusion
This was all about how to develop an app like kik. In a marketplace where more and more app solutions are demanded, building an app like kik can be a huge revenue generating idea. Partner with a leading mobile app development company to build a robust app and make sure you integrate the features we mentioned above.