Automation plays a significant role in handling orders, serving clients, and completing deadlines. We all are aware of the use of software tools that can perform repetitive and tedious roles in the production.
It means business owners have more time to focus on other areas at work. It is not wrong to say that automation has an excellent impact on digital transformation.
Of course, a specialized controlled system with automated functions easily did a certain task. Moreover, it can distinguish problems which will then provide a signal to a human operator to intervene and filter the data. Henceforth, the role of automation in digital transformation is huge that helps you in taking your business to the next level.
No doubt that modern technology allows us to change the way to work faster with efficiency. We all know that businesses rely on automation to make their work easier and more efficient. Plus, it also saves the cost by reducing manpower. But many people have a question about how automation will impact their business. If you have the same query, you are at the right place.
What is Automation?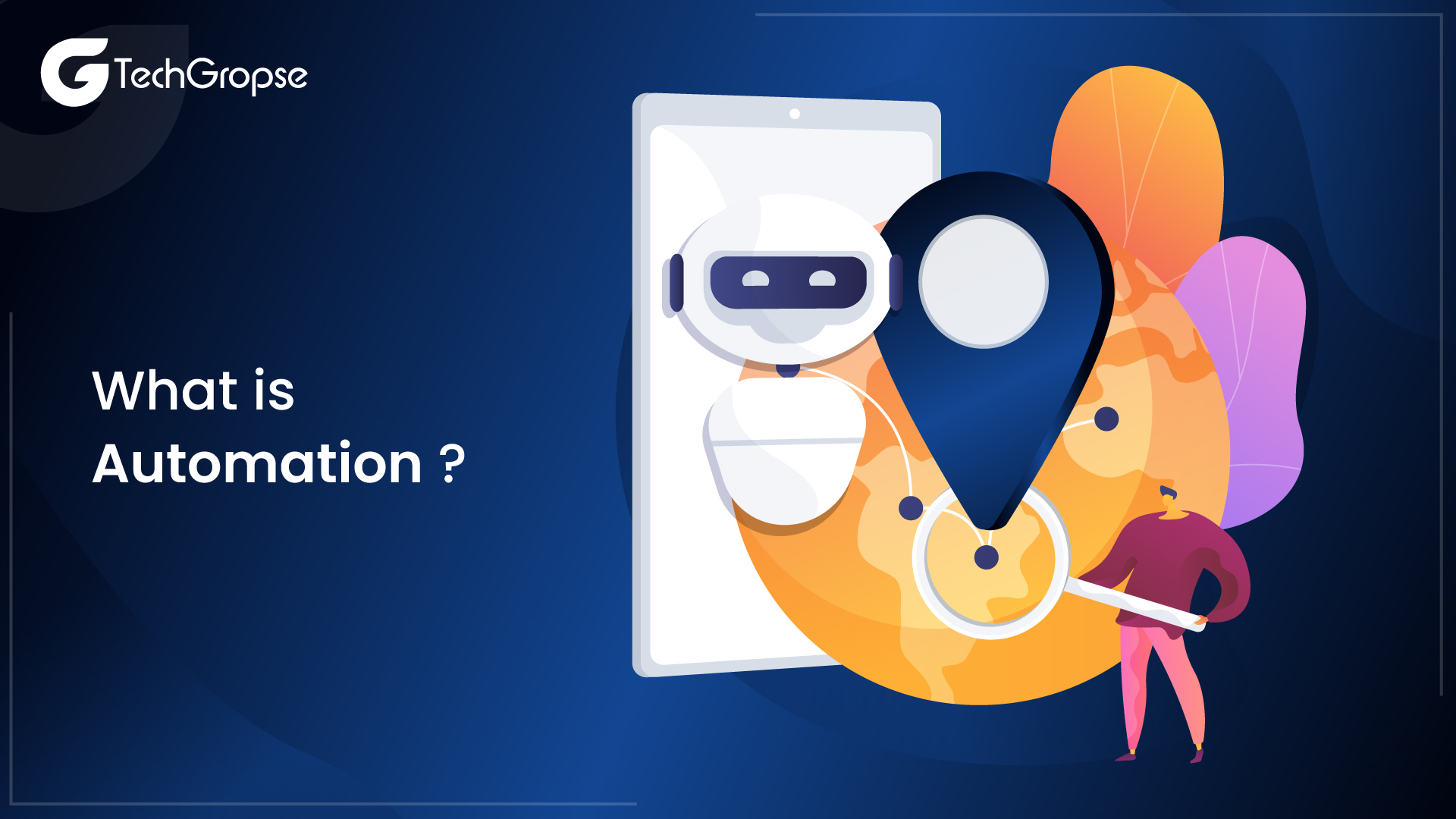 Generally, IT automation or infrastructure automation utilizes digital platforms to build reproducible instructions, workflows, and processes that reduce or replace manual work. In simple terms, it describes the app of technology to minimize human intervention with predetermined decision criteria and sub-process relationships.
Therefore, businesses are relying on automation for digital transformation. Whether it is a small or large enterprise, both have decided on the smartest way to boost productivity. Thus, they are adopting automation and digital transformation for their business. According to research, automation will accelerate the decentralization of businesses with a digital-first investment and new capabilities strategy.
Impact of Automation on Digital Transformation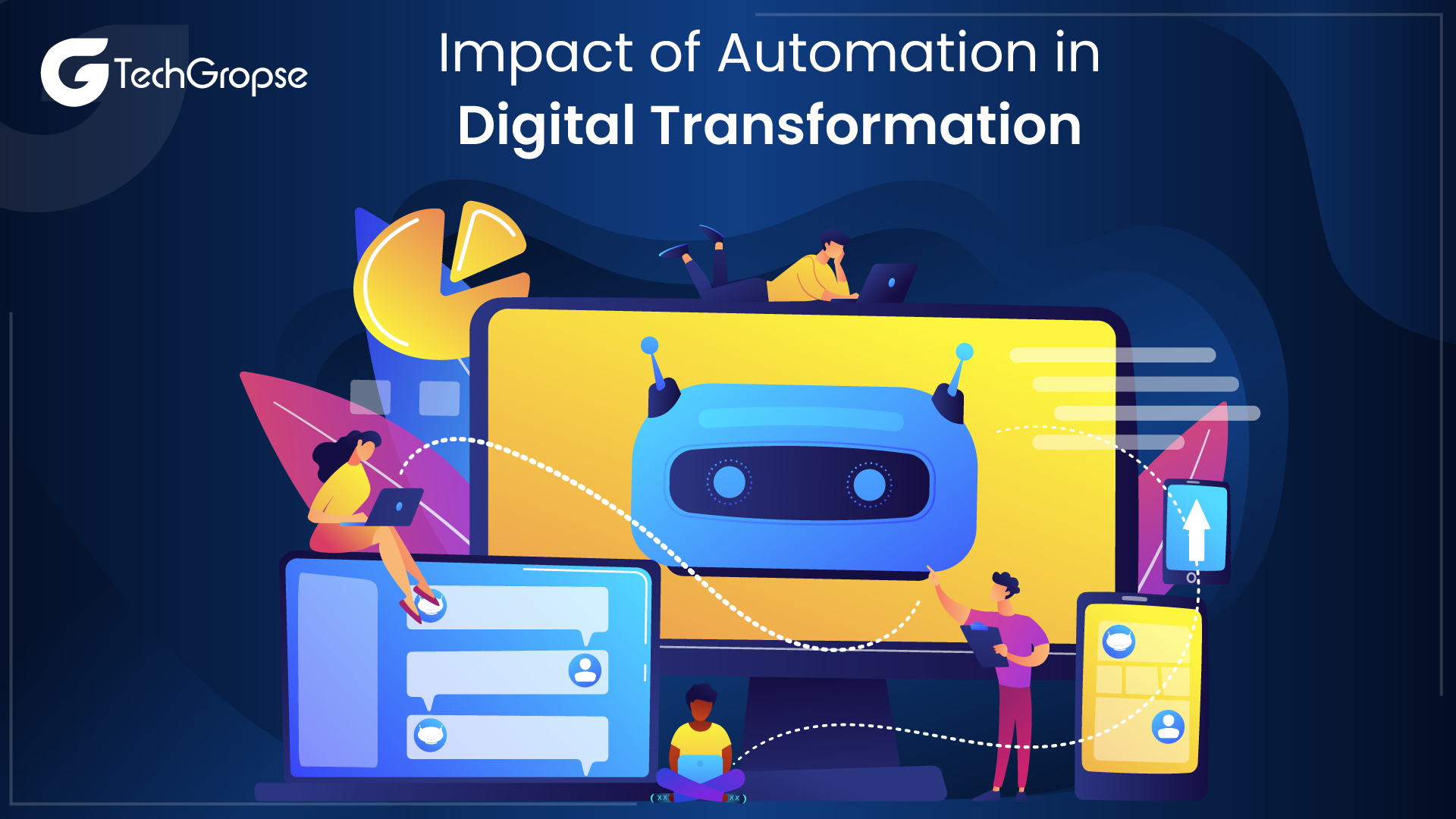 Automation will assist you in achieving the digital transformation goal by simplifying and optimizing a procedure, increasing monitoring, encouraging cooperation, and overall fostering an environment receptive to innovation. There are many other impacts of automation in digital transformation. Let's take a look at a few advantages of automation in digital transformation. 
1. Business Process Optimization 
Nowadays, you need to spend hours in order to optimize the process and workflow to get an edge over the competition. It is time-consuming, which is why businesses say goodbye to these old methods and empower digital transformation.
Automation enables businesses to build a holistic work environment that focuses on quality and speed. If organizations start integrating automation into their current style of working, they could definitely experience high growth while building a brand. 
2. Better IT Operational Efficiency 
Automation is highly beneficial for developers. In simple terms, developers don't need to write long codes. By automating tasks, they can easily tweak the overall procedure cycle. Moreover, automation leaves no chances for human error and negligence. It means you can be 100% assured of delivering fast, reliable, and accurate results.
It means there is a huge role of automation in digital transformation because it ensures the business's success and helps the owners take their business to the next level with ease. 
3. New Insights 
With the assistance of automation in digital transformation, people can get easy access to a business's analytical information that can be used to gain new insights. Moreover, it elevates business growth, and companies can use this information to explore new avenues and unlock new opportunities for the future.

4. Enhanced Productivity 
Automation and digitalization usually reduce manual labor. Since jobs get done automatically with the help of specially designed software, it provides a chance to agencies to employ their manual labor in better-suited tasks, thereby enhancing productivity.
When you choose automation, the operations carried out by computer software are error-free and instant compared to manually conducted operations. It enables work to continue at an instant pace and without any errors. In simple terms, it will boost productivity levels as more work gets done correctly in a lesser amount of time.

5. Augmented Agility 
No doubt that there are lots of technological tools available in the market in today's time that are comprehensive and advanced. So they can perform complex and intricate tasks with ease in less time. This will help businesses save minimal and precious resources on time.
On the other hand, technology can be tailored to suit the distinct requirements of different enterprises in most cases, making its infusion a helpful instrument for all firms. So, there is a huge impact of automation in digital transformation.
6. Cost-Effectiveness
Because of the efficiency of operation and minimizing errors, the use of automation is increasing day to day in businesses. Usually, automation helps the organization to reduce costs drastically and also helps to save the monetary costs as well as the implicit cost of labour & effort.
No doubt that humans take leaves because of sickness and many other reasons that may affect productivity. However, robots don't take leave, which is why automation is an ideal choice for businesses because it continues to serve top-notch, error-free work in usual circumstances.
 >>> Read More: Mobile App Development Cost: Complete Guide <<<
Overall, automation and technical infusion are a cost-saving boon for agencies in today's time.

7. Maximum ROI
It takes a lot of work to generate leads and return in a technology-free scenario. But by employing automation, you can get a high return on investment. Automation and digitization tools will increase brand reach across time zones and borders.
On the other hand, tech-based user-friendly platforms are attractive prospects that make their shopping experience easy. In simple terms, automation and digitization improve post-sales services as the automated chatbots have made the customer grievance and redressal mechanism more efficient and satisfactory. 
8. Streamlined Workflow 
Another automation perk is digital transformation, allowing businesses to exercise all of their functions. In simple terms, it simplifies workflow and allows easy and transparent tracking. It facilitates decision-making and makes forecasting more accurate, which will assist businesses in earning an edge over their competitors in the long run.
Digital Transformation vs. Automation, Which One is Better?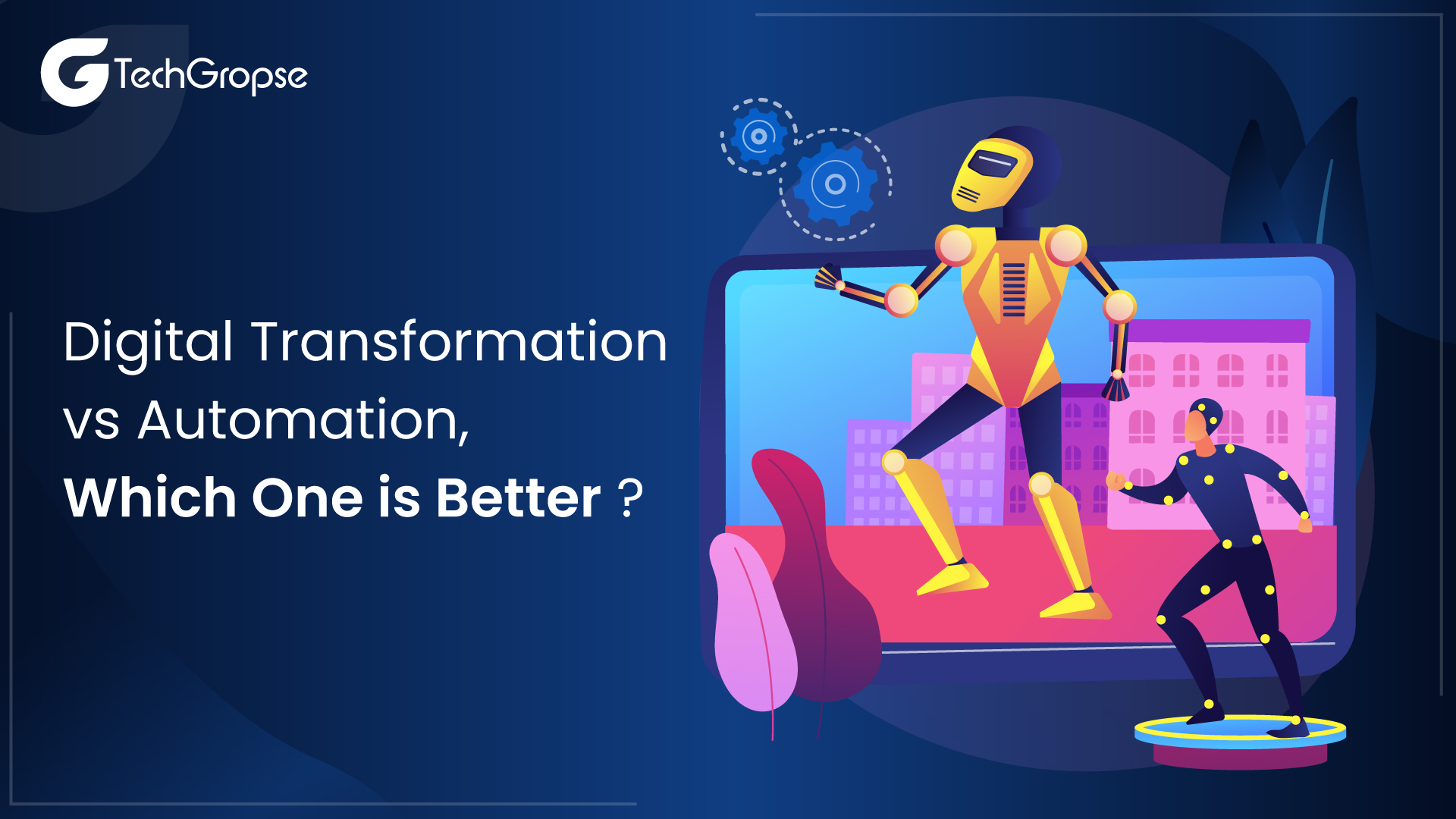 These are some ways automation impacts digital transformation. However, the question is what is better between digital transformation vs automation. We will answer all your questions in this section if you have the same query.
The basic difference between digitalization and automation is that digitalization refers to the procedure of capturing and storing information in digital format. However, automation refers to using technology to reduce the human workforce. Because of this difference, digitalization can be used in many different industries, while automation can be used only in manufacturing and other industrial applications.
In addition, digitalization can be used in order to improve customer experience by creating more personalized and convenient services. Automation's main purpose is to streamline production procedures and make them more efficient. But you know that automation and digitalization can be used together to assist businesses in maximizing their potential and improving their operations.
Businesses can use automation and digitalization to collect and analyze customer data for better marketing and design products based on that data. However, the primary difference between digitalization and automation is that digitalization captures and stores information using digitized formats, while automation uses to automate the procedure.
However, both can be used together to assist businesses in improving their operations. So, it is difficult to say what is better between digital transformation and automation. Both have some advantages and disadvantages that make them more attractive, so both can be used to boost business.
Top Automation Trends in 2023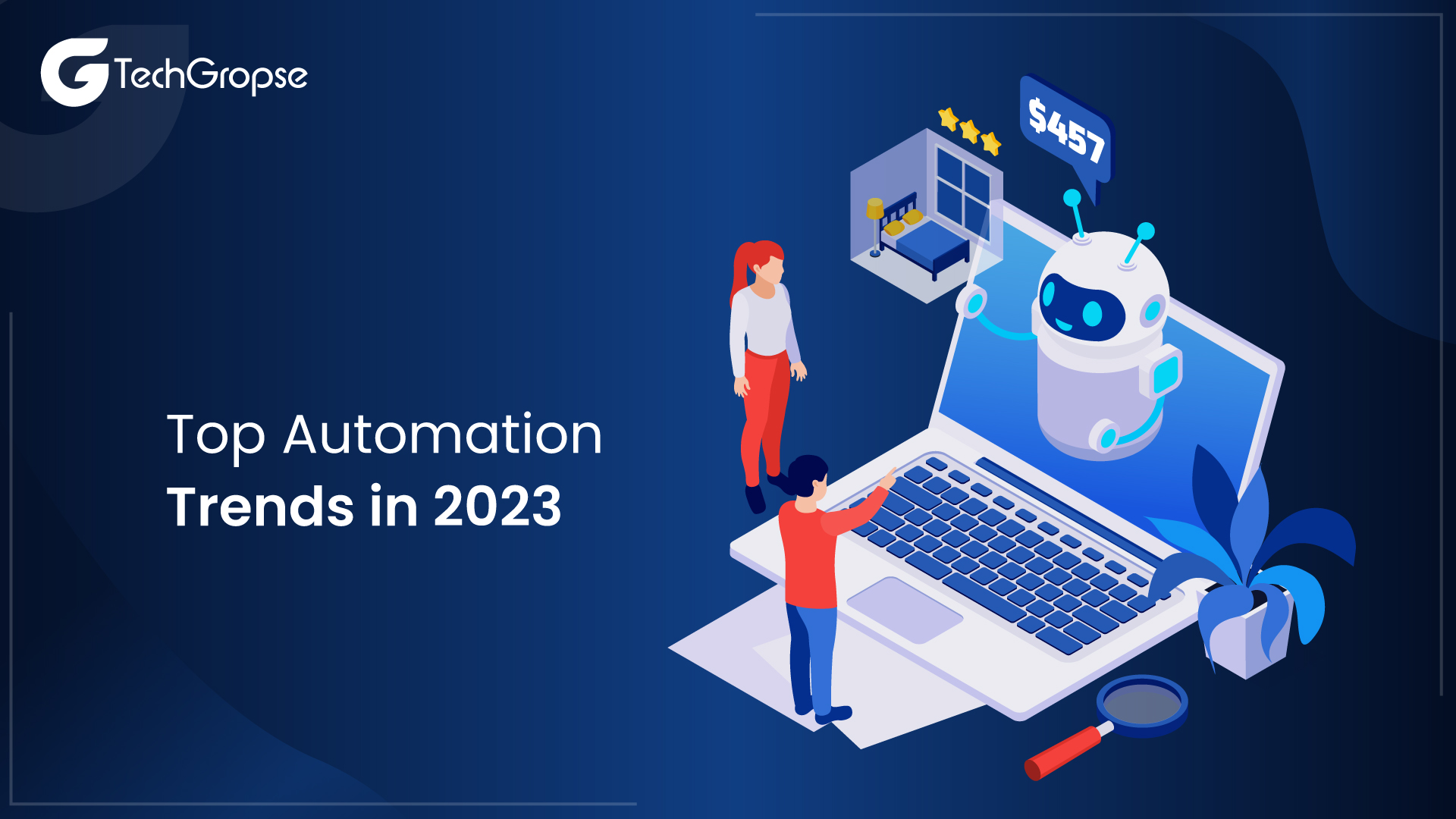 Automation helps owners to take their businesses to the next level. We know that 2023 will light the fires for many enterprise automation because organizations expect to leverage automation.
Here, we mentioned top trends in  2023 that will help you understand how automation helps ensure your business's success. 
Workflow automation, Management, and Orchestration
No doubt that speed and efficiency are the top priority for many businesses. This will involve leveraging intelligent automation technologies such as RPA and AI-driven decision-making. Moreover, workflow automation and orchestration technology have become more available than ever before. 
Low and No Cost Automation 
You know that low and no code automation is a game changer. This will allow businesses to create and deploy enterprise apps with little to no coding experience. In 2023, enterprise automation using LNCA is expected to increase productivity.
Intelligent Document Processing 
Intelligent document processing can understand a document's intent and context. Its increased accuracy will result in faster processing times and improved customer experience. Therefore, it is a great idea to use automation for digital transformation because it ensures the success of the business.

This trend will continue to thrive in enterprise automation in 2023. You will also see increased adoption of enterprise automation technology and a wider range of use cases. Moreover, it gained momentum because of its increasing capability in order to learn from humans and take over the tedious tasks that were once completed manually. 
API is usually code-based intermediaries that will enable two applications in order to communicate with each other. This is a key for hyper-automation and digital transformation because they facilitate data transfer between various independent systems, and APIs can automate backend procedures.
These are automation trends in 2023 that help enterprises to boost their business and generate more revenue. Automation and digital transformation can also work together to get a return on investment.
Summing Up
Nowadays, automation and digitization have become the norm of the day. Businesses across industries early adopt this technology in its big and small functions to avail themselves of the best-possible advantages.
If you want to implement automation in your business's digital transformation but need an idea about how automation impacts digital transformation, then the blog will be helpful to you.
Plus, you will also know which digital transformation is better than automation for your business. This blog will help you understand the role of automation in digital transformation and trends.