The Android app development industry is experiencing increased demand in the business world. Android applications have become a significant platform for indulging in marketing and customer service. It makes sense for any growing business to go for Android app development.
Android as a mobile operating system has gained immense popularity.  It has personalized the experience of users using it for different purposes. For enterprise uses, a mobile app plays an integral to engage in a systematic flow of processes. Android has helped its users in the best way possible from gaining business advantages to transforming conventional utilization of public services.
Business leaders prefer Android as the first platform they want their business apps to be available. This credibility and popularity of Android bring plenty of opportunities for Android app development companies. In recent years, organizations of different fields have started utilizing mobility in their processes, and Android apps are among the most significant assets used to fulfil the complete objective of digital disruption.
In this blog, we shall help you understand how Android can get what you want to earn from your business app.
Important Features of Android App Development
Android has helped enterprises to outreach more customers. If you explore, you can find many success stories where Android transformed the ways many organizations used to deal with their customers. In this section, you can get an idea about why this platform has become such a big bot in the world of technology with the advanced benefits of using Android app development.
There are so many users using Android because it is rich-featured and more affordable than its competitors. Among plenty of reasons to have an Android app for your business, we are going to mention the most significant ones here.
1. More Users 
Android has the world's most extensive base of users as a mobile operating system. Integrating your business to Android app development has opened more opportunities for businesses. In a highly competitive age, you might not want to lose such a great deal of users for your account. Its user-friendly approach has helped to gain such a large number of users.
2. Adoption of Technologies
Using Java programming languages for Android business app development, an app can port to other operating systems such as Blackberry, Ubuntu, and Symbian, etc. This further implies that with an Android app, you don't only target the Android audience, but also your app can run on multiple platforms. Since Android is a product developed by Google, it indulges every new technology update in its latest versions.
3. Open-Source
Being an open-source operating system has helped Android to become more accessible to its users. Like Google's many other products and services, it is free of cost and provides high-class services with apt utilization of technology. It cut the cost of the entire project and offers top-class enterprise solutions to the business with no charges.
4. Customization Options
The Android app development industry has taken customization to the next level. If we make an application, its features can be utilized interoperably on different platforms and versions. Users can customize the basic view of the interface. Customization lets your business be on the same page as current market trends, which are extremely useful for the growth of your brand value.
5. Social Integration
Social apps are the best to publicize your apps. Android is highly optimized on the working of social networking apps. By integrating the most popular social apps, organizations can engage a vast space of users and enhance their business growth.
6. Regular Updates
Whenever Google launches an Android version, it indulges in some transformative solutions that enhance the user-friendliness and security of its applications. If you regularly monitor the world of technology, you can observe that there are already talks of its next version in the market every time an Android version. This active approach of regularly transforming and adding new elements makes Android technologically stronger than its contenders, notably iOS.
7. Testing Opportunities
Before you make your Android application to a broad audience, you can release its beta version for the members of the Android app development company and developer community through Google Play. It is simpler than any other operating system. Since both Play Store and Android are Google products, Play provides Android app developers this fantastic facility to devoid of all possible errors and incompatibilities in the applications, if there are any.
Other significant advantages of Android app development for your business include its better hardware compatibility, intuitive support, and a lot more. With a wide range of services revolving around the field of Android application development, users can promote their products and services in a better way.
Android App Development Methodologies You Can Prefer
Over the last few years, the Android app development industry has created more opportunities for app developers looking to do something different in the field of enterprise application development. Though there are several popular methodologies Android app development companies are utilizing these days, there are two methodologies that have gained immense popularity in the industry with high credibility, and these are:
#1. Native App Development
Native app development is an app development approach for developing Android apps that can be deployed on a particular platform or device. As the native app is coded for a defined platform, it interacts and utilizes all features and software installed. Being device-specific, a native app can use device-specific hardware and software, which enable the app to take advantage of the Android app development platform, for example, GPS, camera, etc. It is one of the best android app development benefits native apps to provide over the web and cloud-based apps.
#2. Hybrid App Development
On the other hand, Hybrid app development is nothing but an approach to utilising several technologies to develop an application compatible with different platforms. This approach is widely appreciated as it allows companies to outreach more users by investing less time and effort in developing platform-oriented applications. Hybrid apps are developed using technologies like HTML, CSS, and JavaScript.
Both methodologies have their perks and conditional demerits. Many would argue that Native Android apps have a better user experience, whereas others can say Hybrid apps provide complete device access. This may result in indulging in a healthy argument to find out the best app development approach. 
How to Choose the Best Android App Development Company?
Before you start searching for the topmost Android app development companies, do some basic things that will help you further. Think of why you need a mobile application and what you want it to do for your business. It will also be a good idea to set your budget if your money is a constraint.
You may have so many alternatives to avail of Android application development services from, but what you want it to be cost-efficient, conforming to your project requirement, and indulging in extensive support. Going through public reviews can be the best way to identify any aspiring organization or individual's performance. Online reviews can help you ensure that the company you want to hire holds adequate expertise and experience to handle your project or not. Also, it is better to have a look at the projects the company has completed previously.
Asking for a portfolio is a directly helpful approach to learning about a company. You can go through all the essential characteristics related to their work and experience at once. Also, public review and listing websites such as Good Firms and Clutch are great platforms to attain the most authentic and appropriate reviews, rates, and other vital details of the Android app development service providers interactively.
What Do the Reports Say?
Google has always been recognized for its transformative technology solutions. In this sequence, the company continues to create its wide-ranging impacts in the world of mobility. As discussed in the earlier sections, Android has gained a competitive advantage over its contenders in the global mobility market. Android has become a popular choice for developers to create next-age solutions for their customers with no geographical dependency.
Let's look at a few reports proving the predominance of Android app development in the world of mobility:
As per the prestigious website 'Android Authority,' Android has occupied more than 80% of the entire mobile app customer market, leaving just 13% its biggest contender Apple. 
The latest versions of Android have registered a staggering increase in the rate of distribution.
Android Version Distribution statistics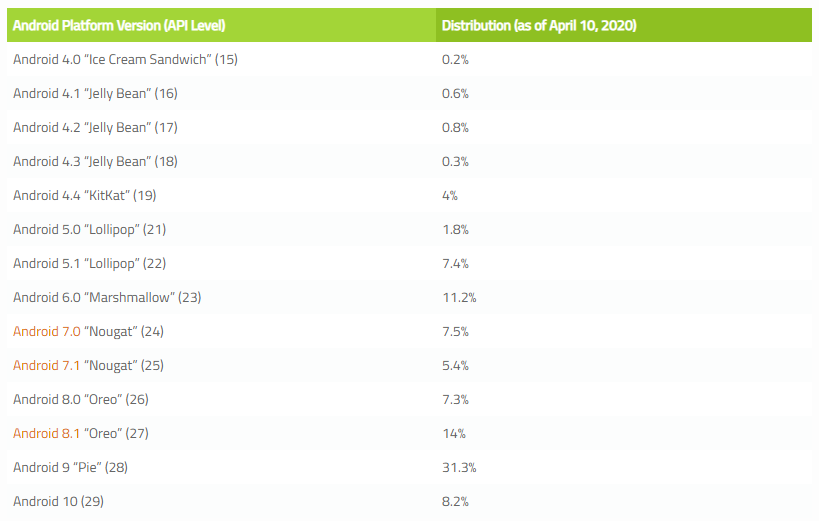 According to StatCounter, Android 10 accounts for 22.06% of the total market share from June 2019 – June 2020.
Android Version Market Share Worldwide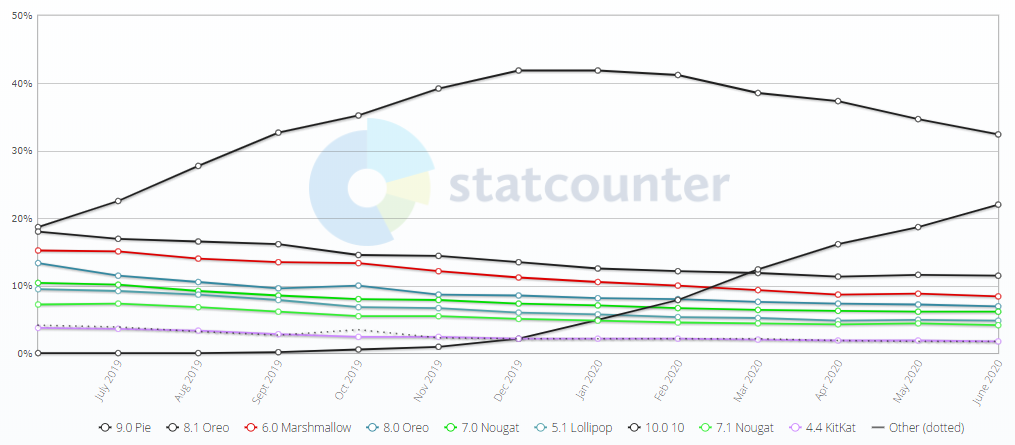 Businesses are evolving the ways they can utilize this vibrant operating system in the best way possible. Thus, it is not possible to overlook Android to develop your business app. Android is generally identified as an affordable mobile operating system, but alongside it is also one of most advanced platforms of this age. Therefore, we tried to cover all the crucial aspects to help you understand why to choose Android app development, as there are so many mobile apps that were first introduced on Android and later on its contending platforms.
If you are an aspiring business leader, you can reach out to us to get a robust Android app developed for your business in the least time and at affordable prices.