Thanks to apps like Airbnb, finding accommodation around the world has become a task of a few taps.
These apps help people discover accommodation options anywhere from quirky to palatial with their budgets ranging from friendly to princely. 
There has been quite a talk in the market about apps like Airbnb. These accommodation apps have turned out to be quite a player performing dynamically in all aspects.
With Airbnb and similar apps, users can conveniently communicate with travel companies to book tickets while availing themselves of exciting deals. 
If we look at the travel companies' point of view, they get a platform to highlight their services on top apps like Airbnb.
On the other hand, traveling to places has become economical and convenient for users of apps similar to Airbnb. 
In the tech-driver world of today investing in robust and highly functional travel planner apps like Airbnb can turn out to be extremely fruitful for startups, entrepreneurs, and established companies. 
Here in this blog, we will discuss How to Develop An App like Airbnb along with topics that circle the development process, cost of development, and much more. 
What is Airbnb?
Vacation home rentals are becoming increasingly popular among group travelers seeking lodgings that combine the comforts of home with the conveniences of a hotel.
"The World's Most Amazing Vacation Rentals," a Netflix original series, is also available.
It's a billion-dollar-valued home rental booking app that's fast-growing. This app offers an enticing marketplace for consumers looking for low-cost flats, homes, or short-term rentals.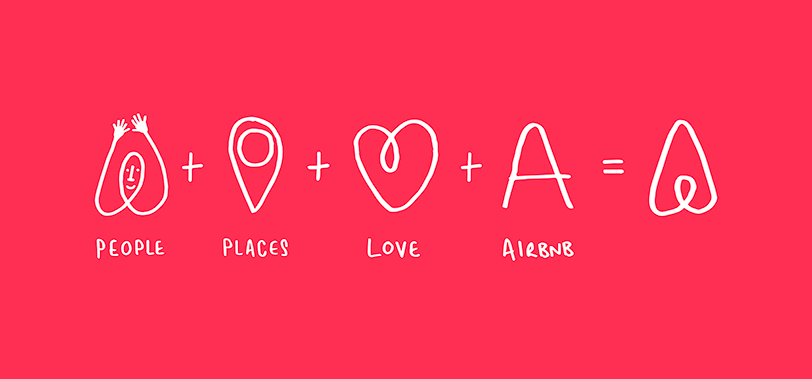 Because it is such a prominent digital platform, it provides a completely new level of experience than a traditional hotel or room booking.
Property owners may use this smartphone application to list their homes or flats. As a result, millions of users throughout the world admire it.
The Story of Airbnb 
A conference for industrial designers was held in San Francisco in 2007. There was a lack of rooms as a result of the crowds, so Mr. Brian Chesky and Mr. Joe Gebbia saw it as a chance to create a small business called AirBed & Breakfast, where they rent out their flat for a few days and provide three airbeds, breakfast, and internet access.
Nathan Blecharczyk, their third partner, joined the company in 2008, and Airbedandbreakfast.com was born.
As the company's popularity grew, it was renamed Airbnb, where BnB stands for bread and breakfast.
The firm began its worldwide expansion in 2011 when it launched its first international office in Hamburg, Germany; following nine years of development, it went public in 2020.
The following are some of the company's recent important statistics:
There are 100 million users on the platform.

A total of 640,000 hosts

There are around 2-3 million listings available.

Airbnb hosts 500,000 visitors every night.

The revenue is projected to be approximately $900 million.
So, if you're thinking about starting your own business with a mobile app that works like Airbnb but doesn't know where to begin, go no further; we'll show you how to create a comparable platform for an excellent service.
How does Airbnb work?
It's a vibrant travel planner marketplace that provides clients and property owners with a wide range of possibilities.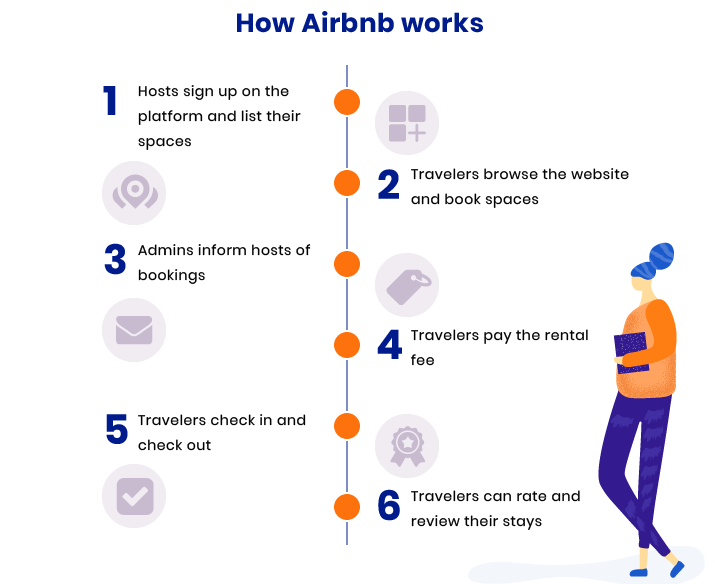 If you want to create apps like Airbnb, look into the functioning mechanism, which comprises both the client's and the host's perspectives.
How does Airbnb work for a host?
The host panel makes it easier for hosts to handle their jobs, therefore here are some important points about it.
The host can register via phone, social media account, or email. You'll see an option to Become a Host in the upper right corner; when you select it, a page will open that will lead you to the registration window. You may register there

The host then navigates to the property detail registration page after signing up. They must provide information such as an address, area specifics, a profile photo, the sort of apartment they have, and the number of visitors they can accommodate.

The host must next post authentic photographs of the property with the aid of an Airbnb professional photographer as the following stage.

The next action is to specify a price. They may deal directly with passengers via App and online after filling in all of the data and setting up the profile.

Depending on the host's availability, the request might be approved or rejected.

After the visitor has checked in, the host will be paid within 24 hours.

At their control panel, the host may also monitor the general status.
How does Airbnb work for travelers?
Here is some important information regarding how the traveler's panel works and how a guest might utilize it to book accommodations.
Travelers may register using their phone number, social network id, or email address on the website or through the app. The registration link may be found in the upper right corner of the page.

Then they must set up their profile, which includes their name, profile photograph, address, and ID number, among other things.

They are permitted to arrange lodging after completing the registration process.

The user will receive a confirmation message through SMS and push notifications after the booking is completed. Google Pay, Credit Card, Debit Card, PayPal, and other payment methods are all accessible.
The Business Model of Apps Like Airbnb
Airbnb allows Hosts to sublet out their additional estate or house for additional cash. On the other hand, it allows any guest to reserve a property, flat, or house in various parts of the globe.
Airbnb is accessible as a travel application that can be made available on leading mobile platforms such as Android and iOS, and it can now be operated on smartwatches too.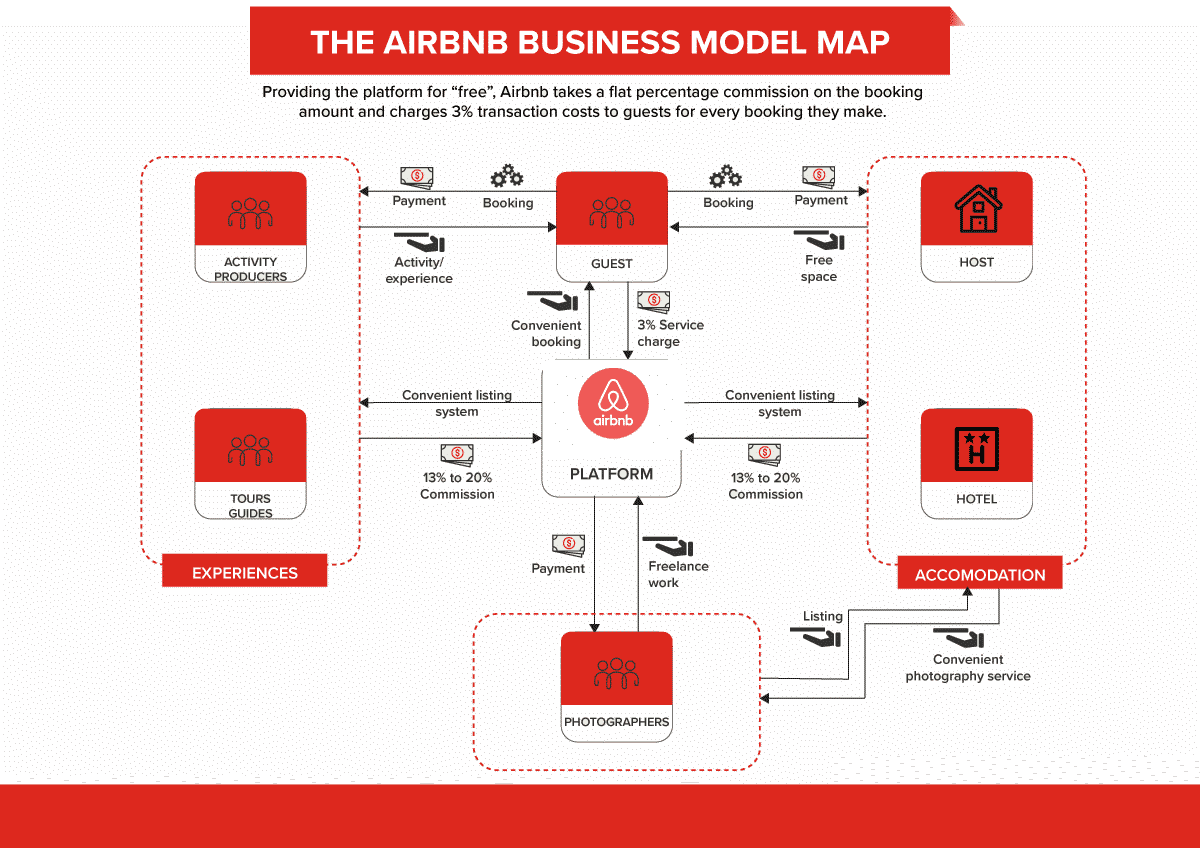 Airbnb's revenue model is rather straightforward; it charges a fee of the service charges.
Here is the business model that apps like Airbnb operate on-
Hosts –

The property owners who have registered their property are known as 

hosts. The commission is computed and submitted to Airbnb for each booking.

Guests – The travelers who are traveling for holiday or workstation can rent a room or apartment or any listed individual property at a reasonable price where Airbnb takes its fee.
Freelance Photographers – Every listed property has a picture gallery that is presented on a portal or App. Airbnb has a network of independent photographers that work for the company and are compensated through the web.
Target Audience 
Airbnb is the ideal alternative for tourists looking for a place to stay and hosts looking to make money, therefore this is the target demographic.
Travelers who want to make the most of their time.

Travelers looking for a comfy place to stay while exploring the destination.

Travelers on Business

Property owners seeking a way to supplement their income.
Different types of channels
For Android and iOS, there is a mobile app for the Web Portal.

Digital Marketing & Promotion
Expenditures 
Web portal and mobile app maintenance.

Employees in groups.

Take care of your digital payment alternatives.
Which features should you integrate while developing apps like Airbnb
?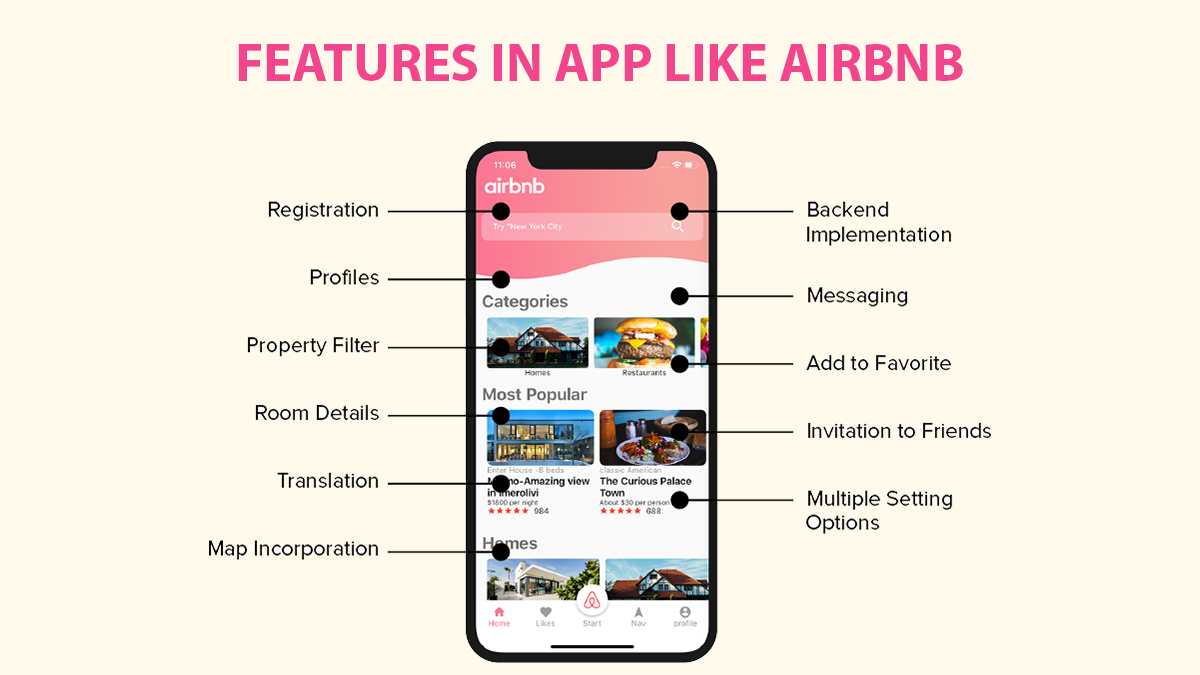 The Airbnb app was created with a two-sided marketplace in mind: the traveler and the host. Here are some of Airbnb's must-have and maintenance features. The travel application must offer these elements.
Know more with: Travel Planner App Development – Cost and Key Features
Features for Travelers
Sign-up/Log-in-

Sign up and register for a new account using an email address or a cell phone number. The login procedure should be simple, and it should allow users to log in using social network identities such as Facebook, Twitter, or Google.

In-App Chat- This is one of the most useful features, and it's essential for providing excellent customer service and engagement. Customers may connect with executives at any moment to get answers to their questions.
Push Notifications- It keeps users or other associates up to date on informational matters. If a guest has reserved a room at a specific location, he or she will be alerted through push notification.
Search Filter- The user may utilize the powerful search tool to look for locations and available lodging. Airbnb has updated its technology to allow customers to search for places by carefully matching listings and dates. This is a function that must be included in apps like Airbnb.
Interaction with the Host- Even before making a reservation, the visitor can communicate with the host via chat and SMS. They also have the authority to accept or reject requests, as well as to initiate a new request at any time.
Payment Alternatives- A variety of payment options, including currencies, are available for guests to select from. They will receive a receipt with payment information when they have made the payment. Most Airbnb-like applications have this feature, and for new apps, it's a requirement to stay afloat in the market.
Wishlist: If a traveler has missed an opportunity owing to a high rental rate, they may keep it in their Wishlist and be notified when the desired rates become available.
Booking- This is a must-have function that allows guests to pick dates, properties, and make reservations.
Coupons-  A discount can be obtained by entering the coupon details. They receive the voucher by recommending others.
Geolocation Feature-  Apps like Airbnb include geolocation capabilities backed by Google Maps, allowing users to easily identify listings in their chosen location (s).
Help- The FAQ sections allow visitors to search for answers to particular questions. It is present in the sense that it is OK, but if it is not, they may contact assistance via chat. In Airbnb, there is a feature called login for customized assistance that allows users to communicate with executives. You may also pick from a variety of FAQ categories, such as booking and traveling, hosting stays, hosting experiences, and managing corporate travel, on a website.
Reviews and Ratings- User Reviews, Ratings, and Feedback: Users can freely contribute their reviews, ratings, and feedback.
Sharing- Users can share the download link with their friends or other users. Existing users will also benefit from this since they will obtain the benefits. The App, on the other hand, will see an increase in downloads.

Features for Host 
Signing Up as a Host-

The hosts must also join up to list their unoccupied property. The beginning method is identical to that of the visitor's App. In this section, hosts must offer their phone number or email address.

Host Profile- After completing the sign-up process, hosts can create a profile by giving information such as their name, address, phone number, alternate phone number, and email address. They have the ability to change the password as well. Airbnb apps must have robust profile management functionality, and developers must consider both guest and host profile management.
Listing- This feature allows hosts to update information such as images of the properties mentioned, amenities, rate setting, basic identifications, address, property-related paperwork, and bank account information.
Approval-  In the event of a problem or the unavailability of rooms or property, the host can accept or reject the request.
Messaging- This feature allows you to communicate with your visitors. They have the ability to send a booking confirmation notification. This functionality may appear conventional, but it is quite useful, especially when working with on demand app development. When the messaging option is well-designed, it improves the user experience.
Rating and Feedback- Guests are rated and given feedback on their behavior throughout their stay by the property owner.
Account Details- This option allows you to remove or add information to your account.
Help- If the host has any questions or concerns about their property, they can consult the FAQ section.
Sharing- Hosts can invite their friends via App or social media, just like the guest panel.
Booking Information- This option allows you to see prior and current reservations, as well as payment and income history.
Features for Admin
It is the most significant element of Airbnb-like programs that allows administrators to govern and oversee them.
Dashboard-

 If we're talking about Airbnb particularly, the officials are in charge of the admin panel. But, in this case, we're talking about the aspects that should be considered while creating a vacation rental app. So, the simple argument is that it would be great if it provided a robust method for task management.

Info Update- When new listings are uploaded, the admin reviews them and decides whether or not to remove or update the information.
Booking History- Admin has access to the whole history of prior, current, and pending bookings. The host and visitor can also remove, alter, or update the request.
Feedback- All feedback received by hosts and guests is posted here so that the administrator may see whether any affiliate has lodged a complaint.
Insights– It's also one of the most important elements to add to the building of a vacation rental on-demand app. It enables managers or administrators to collect data and generate reports in order to prepare for future growth.
For apps like Airbnb, the qualities we outlined previously are needed. We can't afford to overlook any feature mentioned since the market is so crowded and the competition is cut-throat.
Hire dedicated app developers from a top on-demand app development company to fashion such features in Airbnb Similar apps. 
Tech- Stack Required Airbnb Similar Apps
The technological stack is critical since it is one of the aspects that determine whether or not an app will succeed.
There are other applications similar to Airbnb on the market, all of which compete with one another.
If a mobile app development business wants to create vacation rental sector solutions, it must take the following into account:
Programming Language:

HTML5, CSS, JavaScript, Swift, Kotlin, and Ruby are some of the programming languages available.

Front End Frameworks: Ruby on Rails, Angular, React.js, and Express.js are examples of front-end frameworks.
Back End Frameworks: Django, Node.js, and Meteor.js are examples of back-end frameworks.
Server-Side Technology: Amazon S3, EBS, Amazon EC2, AWS, Microsoft Azure, Google Cloud, Digital Ocean
Database: PostgreSQL, MySQL, MSSQL, MongoDB, Azure Document DB, and Cassandra are examples of databases.
Communication: Twilio Voice & Phone is a service that allows you to communicate with others.
Voice & Phone Verification: Braintree and PayPal have accepted methods of payment.
How to build Apps Like Airbnb?
Airbnb has achieved exceptional success in such a short period of time, inspiring numerous developers and organizations to build apps like Airbnb and jump on the success bandwagon.
While there may be some high-level business, technical, and architectural problems in designing an app, it's still a smart idea to start from the ground up.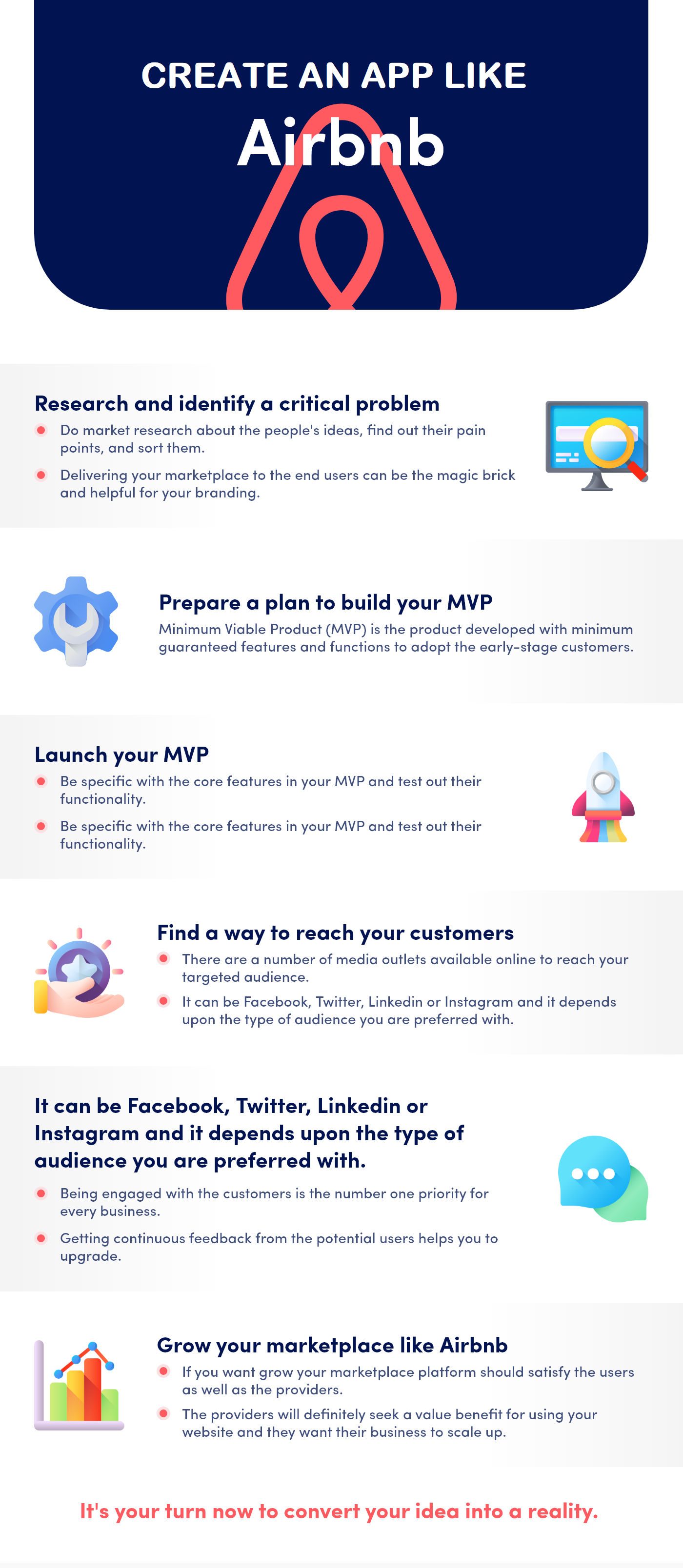 To create Airbnb similar apps, we must follow the methods outlined below. These procedures will assist you in starting the development process while saving money and time.
Idea Finalization –

Having a great idea isn't enough; you also need to figure out what the app's goals and objectives are. It's also important to record the concept and high-level goals, as they serve as the basis for the whole app development process.

Select a Platform – Web, Android, and iOS are the platforms to consider. However, in this case, you'll need to engage separate devs for each. Another option is Cross-Platform app development, which allows developers to create native-like apps for a variety of platforms utilizing a single code base.
Wireframing – Creating a wireframe before designing an app comparable to Airbnb is a great idea. It offers an idea of how the project will look after it is completed.
Frontend – From the user's perspective, UI/UX is the most crucial aspect of any program. Although it should be constructed in such a way that it effortlessly navigates consumers from one part to the next.
Landing Page – It functions similarly to a welcome page, but it is particularly significant because it is accessed first. It will explain what your App is about, and you may also show the latest changes there.
After the program has been created and tested, it may be offered on a variety of application platforms for people to download. It is crucial to release regular updates and problem fixes.
This is done to improve user data security and the implementation of new features to increase the app's popularity among users
How much will it take to build apps like Airbnb?
The cost of building an Airbnb-style app is mostly determined by the hourly rates of the crew you employ.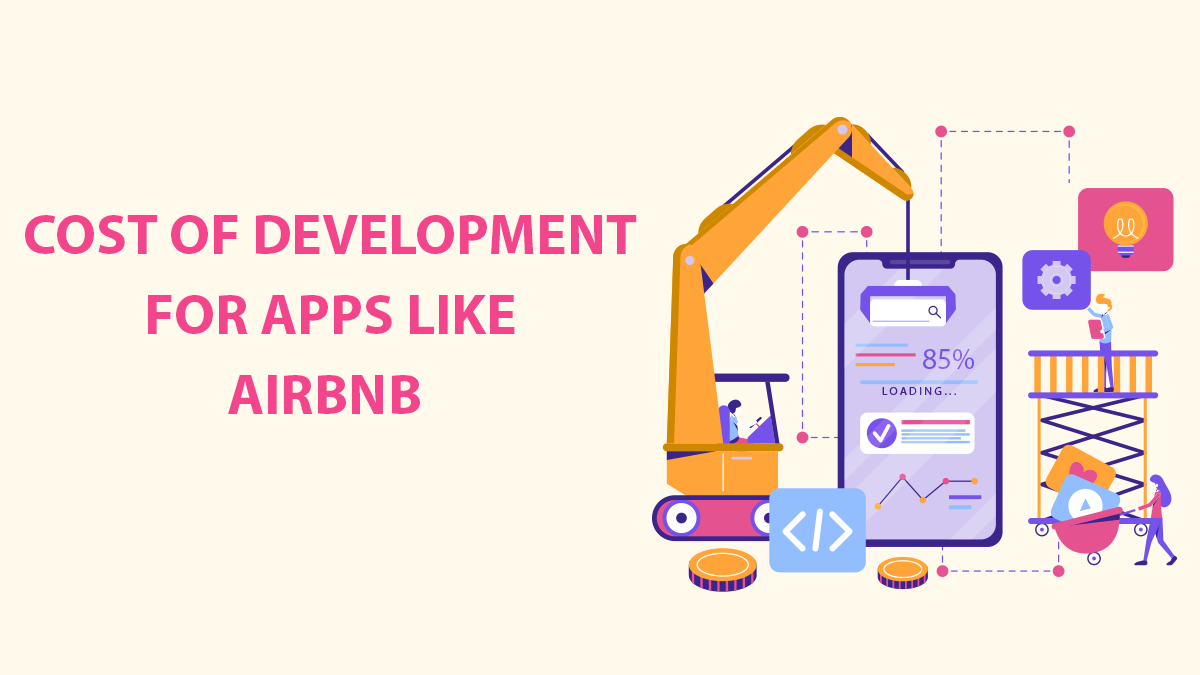 This is the primary reason why the majority of western countries outsource their projects to make apps similar to Airbnb to Asian nations such as India. A comparison of average hourly rates in different areas may be seen here.
There are also a number of elements that influence it. These elements include:
Platforms

Team Size 

Location

Features For Host Panel, Guest Panel, and Admin Panel

Tech Stack 
It takes an average of 600 hours to construct an Airbnb-like app. The typical cost will be between $30k and $50k.
The rest is up to you to decide what other extra features you wish to incorporate in your Airbnb clone app development. 
Top 5 Apps Like Airbnb in The Market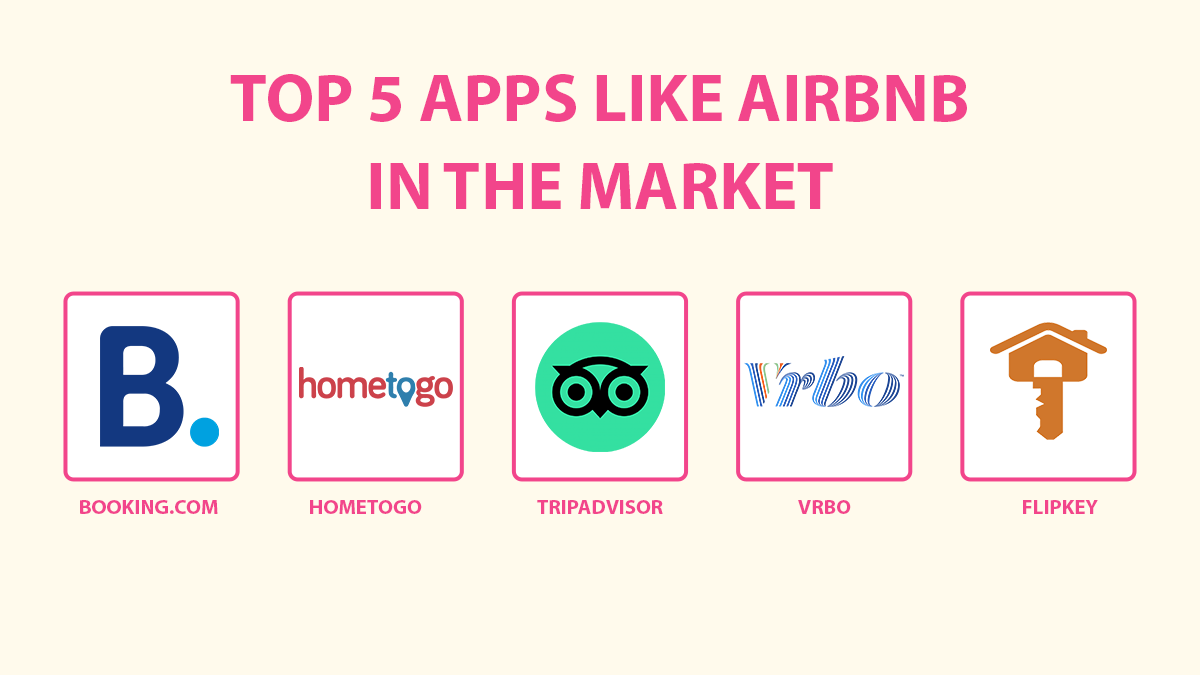 Booking.com
HomeToGo
TripAdvisor
Vrbo
Flipkey
1. Booking.com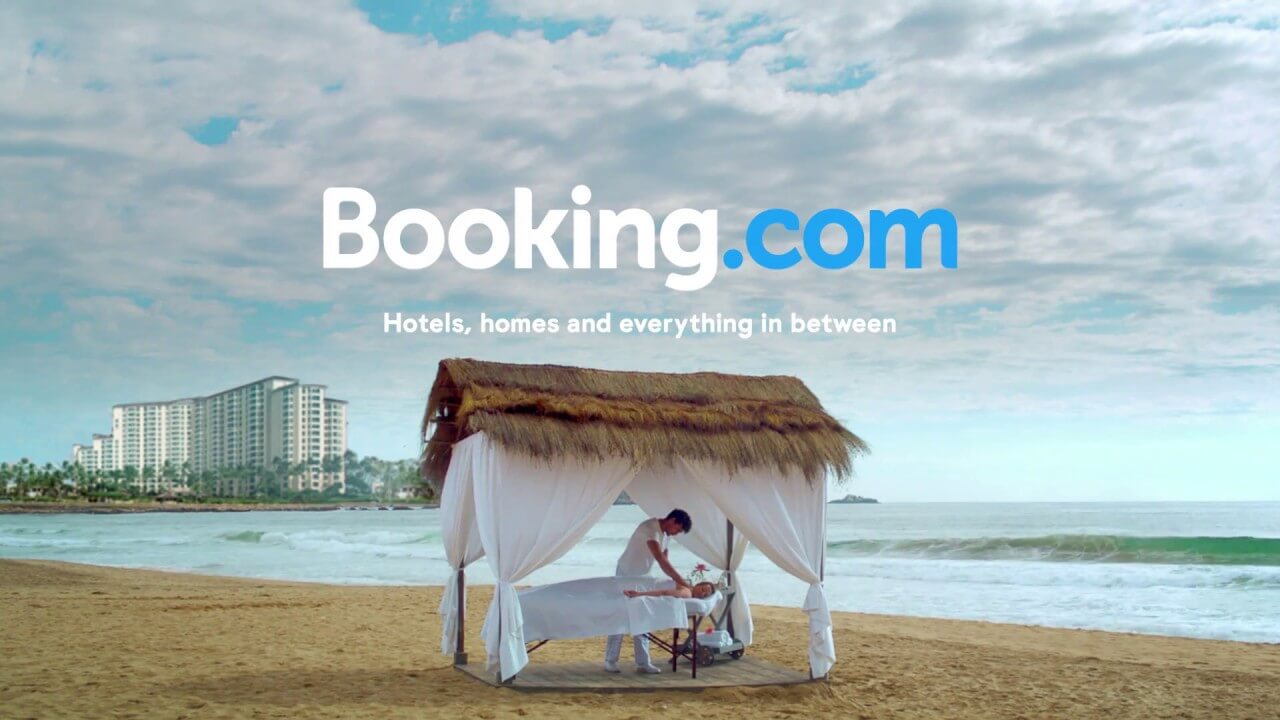 Booking.com is number one. It is one of the best Airbnb alternatives, offering a variety of services. According to similarweb.com, it has had 466.51 million visits to date, with referral traffic accounting for 13.06 percent of total traffic. It is similar to TripAdvisor, however, it focuses on accommodations. It has almost 100,000,000 downloads.
2. HomeToGo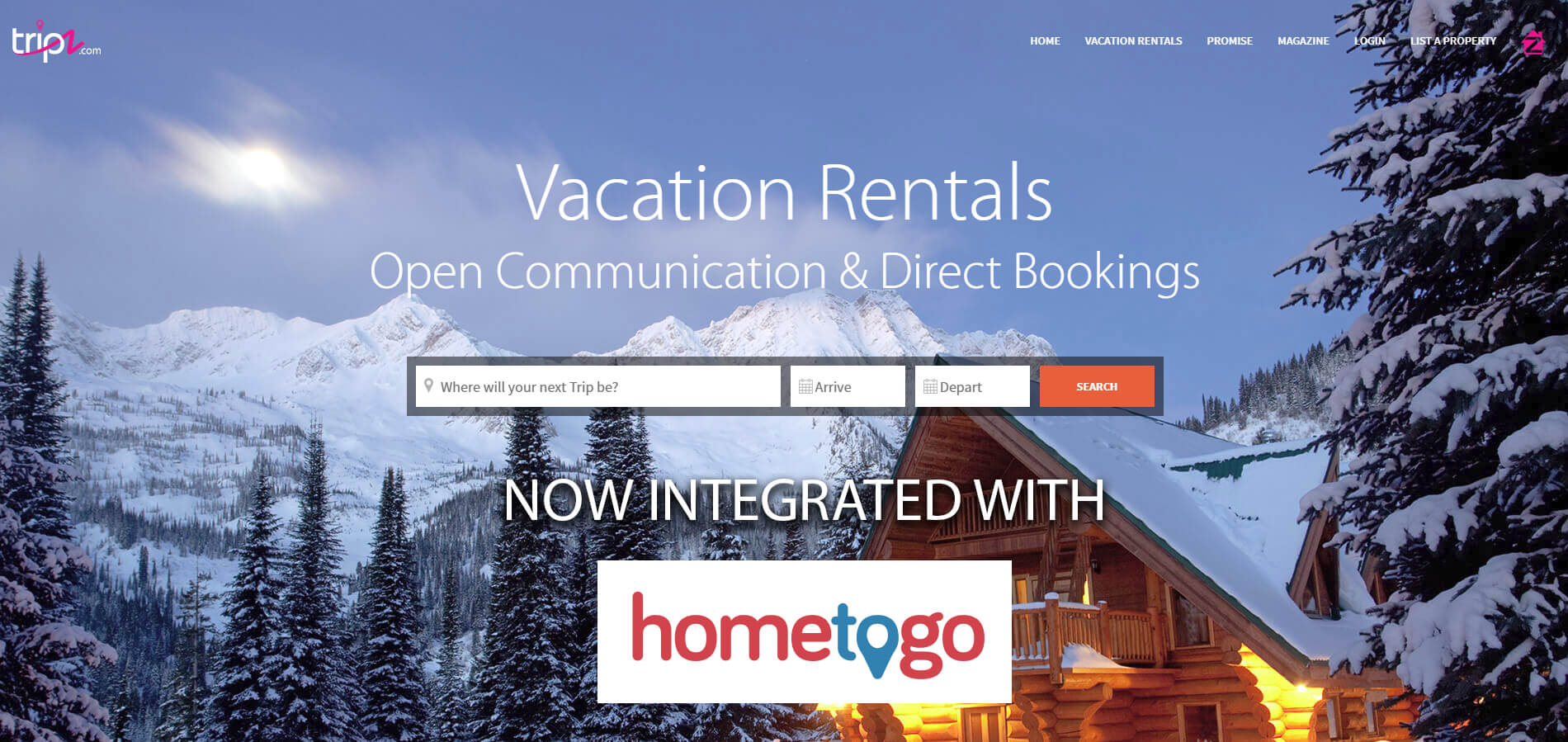 It's also one of the holiday aggregator applications, similar to Airbnb.
It receives 78.94 percent of its traffic from the United States, which encourages others to pay specialized developers to create vacation rental apps. It provides services in English, German, Dutch, French, Spanish, and other languages.
3. TripAdvisor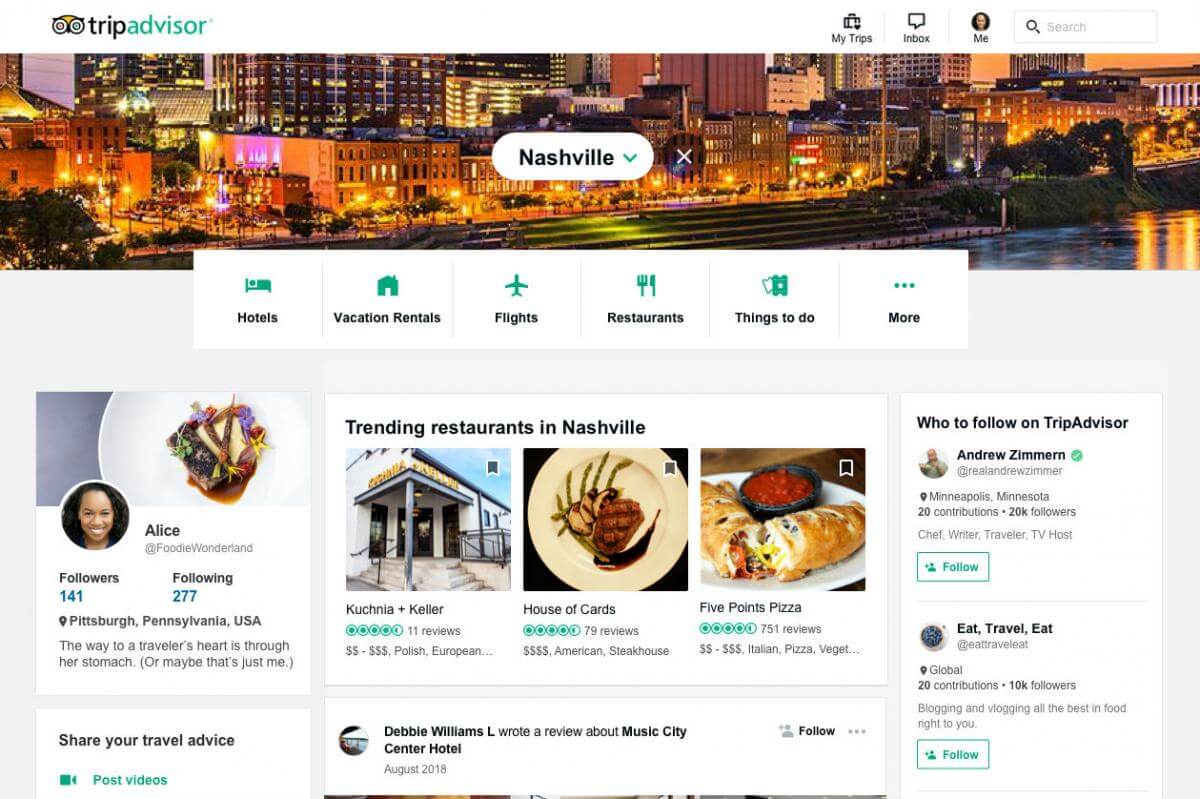 It's unnecessary to introduce TripAdvisor. It is one of the most popular online vacation rental markets, allowing users to locate low-cost lodging, flights, and vacation packages from service partners. It may be downloaded through the Google Play Store and the Apple App Store
4. Vrbo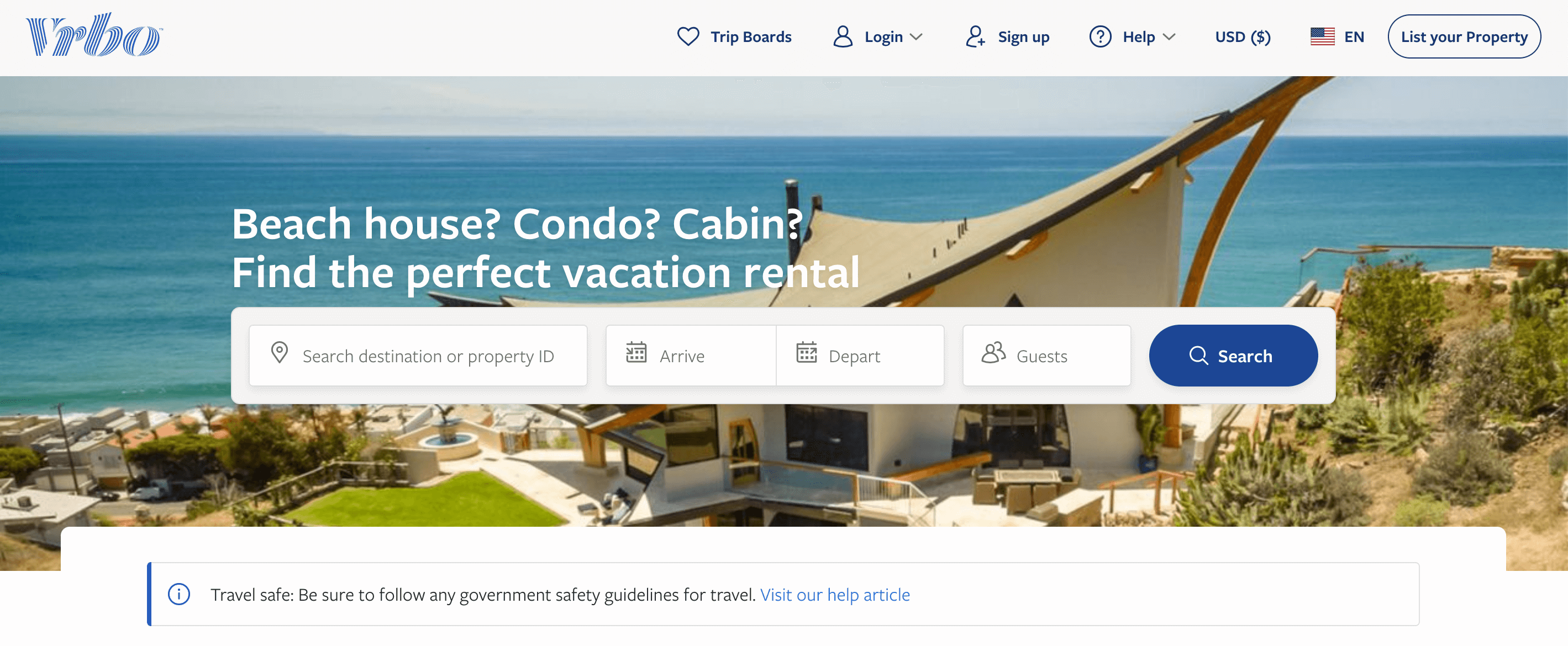 It has a global reach of 191 countries, making it a formidable rival to Airbnb.
It has a location that is easy to identify and share, a fluid user experience, real-time photos, and more. It has received over one million downloads to date. It is most popular in the United States, where it has received 80.77 percent of all traffic to date.
5. Flipkey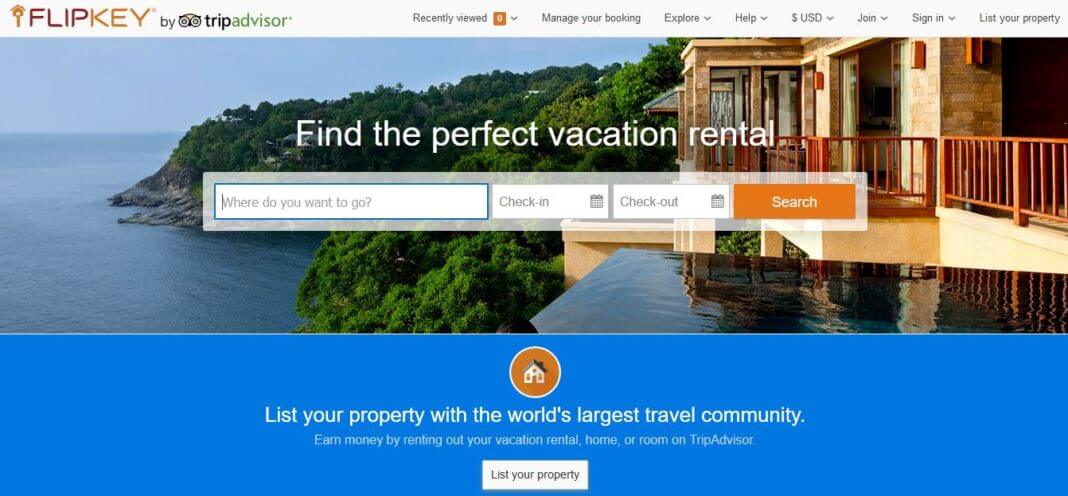 Its distinguishing feature is that it operates on a pay-per-booking basis. The user will only pay once they have received a reservation. Flipkey is one of TripAdvisor's initiatives, with 300,000+ homes listed from 160 countries.
Conclusion 
The travel business has a lot of room for expansion. Despite the COVID scenario, this market is expected to develop significantly in the future years, and investing in vacation booking apps like Airbnb is a win-win situation for any startup or mid-sized business.
We've addressed all of these areas of the development in this blog, and we're confident that with the aid of this blog, you'll be able to figure out the main components and features, as well as the time and money it'll take to construct top apps like Airbnb. 

You may hire mobile app developers or hire a software development firm to assist you to examine business requirements and integrate cutting-edge technology and tools to create a viable application.
Connect with a leading mobile application development company. Our team of mobile developers for hire will provide a top-of-the-line solution with all of the desirable features at a reasonable cost.